INTERVIEW WITH CROUX RECORDS - FR + ENGLISH - EXPERIMENTAL LABEL
Complètement fous et aptes pour le suicide commercial, tels sont les zinzins du label Croux Records. De quoi largement être captés par le radar anar du Scribe !! CROUX se fichent de proposer une sélection d'artistes "bien propres" et se laissent guider par leur inspiration dans un joyeux bordel qui fait plaisir à voir à une époque ou la stratégie capitaliste semble avoir imbibé tous les secteurs, y compris l'underground. Voila pourquoi il faut défendre ce type de labels inclassables, qui nous proposent des artistes et groupes hors normes qui font avancer le schmilblick !
Bref, vous retrouverez en fin d'interview les liens vers les artistes de ce label dont j'ai déjà parlé ou que j'ai interviewé ! Bienvenue dans le Croux de Léo et Hugo !
Interview datant de Février 2020, remise à jour en Juin
"violence auditive & beaux objets"
Bonjour Croux records ! Merci de répondre aux questions du Scribe...Pouvez vous nous présenter le label ? Qu'est ce qui vous a amené à le créer ? Vos choix musicaux ?
Salut, et merci pour l'interview.
Alors le CROUX, c'est Hugo et Léo. C'est une aventure qui a commencé à la villette sonique ou on était comme chaque année complètement bourrés et Hugo à la recherche de toutes les cassettes possibles… s'en est suivi une brève discussion d'alcooliques avec Vince de
N
oyades qui nous disai
t
avoir peut-être des cassettes en stock chez lui (dans ma tête
G
o
-F
ast
, leur dernier album,
dans la sienne
leur démo).
A
près échange de mails une fois sobre on s'est bien rendu compte que la cassette n'existait pas… et Vince nous a proposé de la sortir. Il nous en fallait pas plus pour qu'on se dise que c'était le signe qu'on attendait pour sortir les albums qu'on aimait en K7 et Vinyles, avec un seul mot d'ordre "violence auditive & beaux objets". Si nous on aime ça, alors pourquoi pas d'autres?
A titre d'exemple vous sortez en 2020 le nouvel album du groupe Punk/Grind/Metal

Satan, comment avez vous été amenés a collaborer avec eux ?
Alors SATAN (vivement la sortie de l'album et leur concert au CROUX FEST), c'est d'abord leur chanteur Léo qui nous a contacté pour son projet solo BIÈRE NOIRE. On connaissait déjà son premier EP (L'Albatros) et nous a proposé son second. On a écouté et échangé pas mal avec lui. C'est une sorte de pop gothic industrielle inclassable, à la limite du kitch. Au fil de la discussion il nous dit "non mais moi j'aime pas les groupes de rigolos à la Ventre de Biche etc. moi je ne fais pas ça pour rigoler, j'y crois à mort". On a trouvé cette sincérité géniale, le mec est vraiment à fond dans son délire, il fallait donc absolument qu'on l'accompagne dans sa démarche pour sortir son EP. Puis avec ça c'est un super illustrateur (Riton La Mort) et sa compagne une super peintre (Alice Assouline), donc on a mis tout ça dans un livret et on a sortie l'EP. Notre grand rêve pour lui, lui faire partager la scène avec Eros Necropsique!
Donc ça c'est pour Bière Noire, mais évidement on connaissait aussi SATAN depuis un moment pour les avoir vu sur scène. On a écouté le nouvel album et ce fut une pure claque. Puis dans l'attitude, la démarche, leur recherche, c'est vraiment un groupe taillé pour le CROUX, bien loin des groupes de Black aux cheveux bien peignés qui occupent le devant de la scène depuis un moment à coup de post-atmo-core.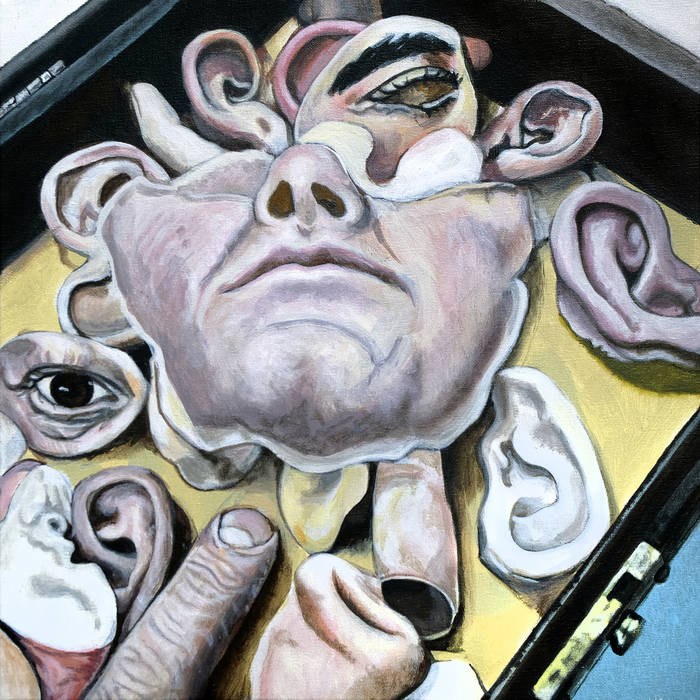 Noyades, un autre groupe que vous produisez, fait du "psychedelic hard transe". Vous n'avez pas de limites en termes de genres ?
Non pas vraiment, est-ce que tu manges la même choses tous les jours? Plus sérieusement, plutôt que de parler de style, il faut parler de ligne éditoriale. Sinon ça reviendrait à sortir le même album encore et encore à la façon de peintres pompiers. C'est ce que font certains, pas nous.
Noyades, c'est juste une grosse baffe. Sous ce sobriquet de Psycho-transe-punkoïde en faite c'est trois petits génies. C'est une leçon de basse gratuite à chaque concert, un batteur qui t'explique comment être créatif avec juste un tom et une caisse claire, un gratteux qui pousse le mur du son sur scène comme en studio avec un putain de feeling. Et c'est une putain d'énergie qu'on a du mal à définir et qu'on ne peut pas contrôler!
Accès de faiblesse, quant a eux, font dans la Noise mâtinée de Black Metal. Un mot ?
Yes, c'est un side project du mec de Choisir Le Pire basé à Metz. On se connait depuis plus de 15 ans, il a évolué comme nous du black metal vers des scènes plus expérimentales. Il a réussi avec A.D.F à faire ce qu'on a longtemps chercher à faire: du black, mais sans guitares ni batterie. Il en a extirpé l'essence pour en faire cette déferlante de 13 minutes de noirceur électronique. Au final, ça synthétise ce qu'on cherche quand on écoute Xasthur ou Profanum en en gardant que le strict minimum.
Autre groupe emblématique, Nuit Noire, projet complètement barge mêlant Punk, Black Metal, histoires de fées enfantines. Ce groupe est connu pour avoir influencé Neige d'Alcest. Comment votre collaboration a t'elle commencé ?
Nuit Noire, c'est notre rêve de gosse. On a grandi avec les premières démos et on a jamais lâché. Du coup quand on a commencé le label on l'a très vite contacté car ça coïncidait parfaitement avec la sortie de son dernier album "Sa Majesté la Nuit". Neige nous a tout de suite témoigné tout son soutien, car on partage la même passion pour ce groupe. Vous ne trouverez jamais dans la scène un mec aussi sincère dans sa démarche, avec une telle dévotion pour mener son projet à bien envers et contre tout! Et c'est ça aussi le black metal, ça a toujours été ça! C'est quoi tous ces groupes ultra normés? C'est ça la "rébellion"? Tous le monde le même perf, la même zik, les mêmes textes de merde?
D'une certaine manière Neige partage la même démarche avec Alcest. Franchement, c'était un Ovni quand Alcest a commencé à quitter son terreau black metal, il a tenu et voilà ou il en est. J'ai plaisir à penser que sans Nuit Noire il ne l'aurait pas forcément fait. Du moins, de cette façon.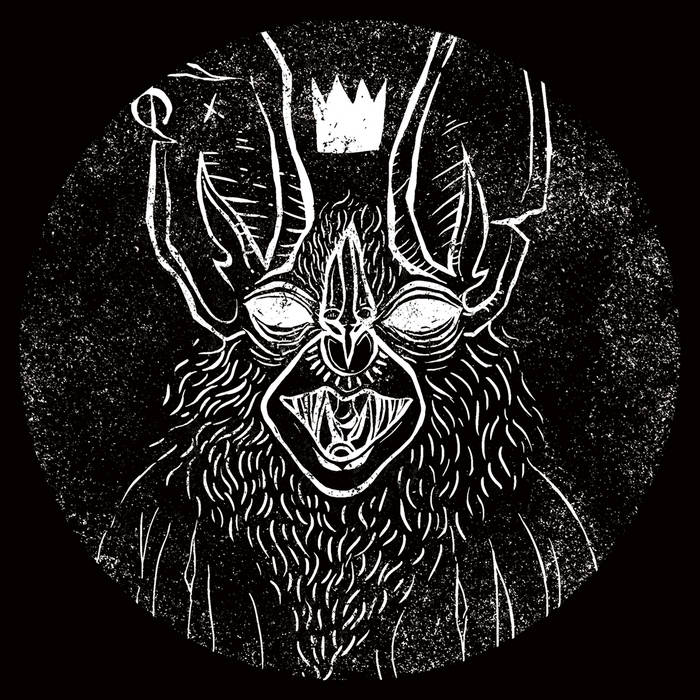 C'est quoi vos critères de sélection ?
C'est vraiment au feeling, difficile d'avoir du recul là dessus. La on est entrain de préparer le Croux Festival (27&28 mars à Paris), il y a beaucoup de styles différents, et en même temps une sorte de cohérence qui en ressort, quelque chose de noir, de garage, de hors norme.
PS : le COVID est arrivé et le CROUX Fest ne c'est pas fait. Mais ce n'est que partie remise. Entre temps on a préparé de nouvelle sortie, et la solidarité autour des artistes et des disquaires c'est fait sentir. Puis bon, on reste Underground, peut on tomber plus bas que bas?
Là on prépare plusieurs projets. Il y a le groupe Bisou de Saddam qui prépare son nouvel album. On a hâte! Puis la K7 de SOLAN est bientôt prête.
Et après, après… d'autres surprises, nos oreilles traînent partout.
PS : dans la foulé du Covid on a signé Vaurien, black metal urbain de paname, très prometteur.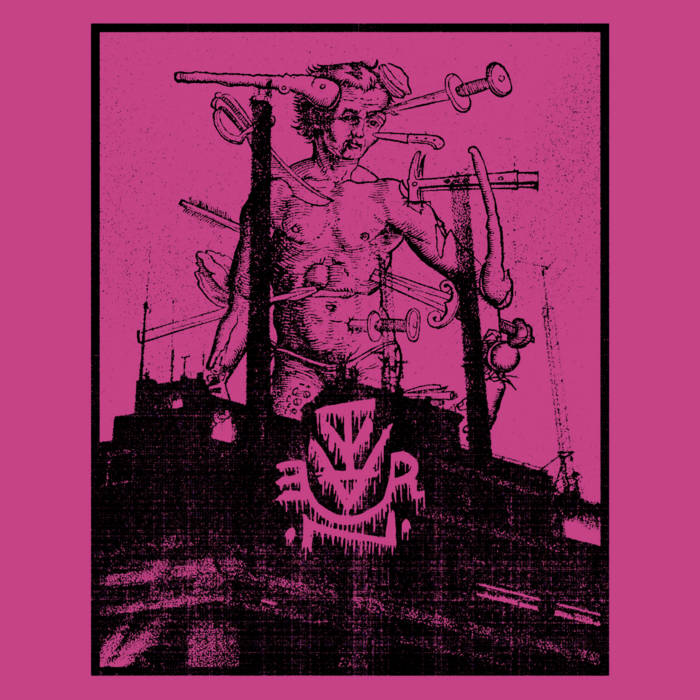 Comment aimeriez vous qu'on voit le label ?
On sait pas, on te dirait bien qu'on aimerait être le prochain MUTE records, mais c'est vraiment beaucoup trop de travail.
Vos 20 albums préférés de tous les temps ?
-
Xasthur - To Violate The Oblivious
-
Yussuf Jerusalem - Blast From The Past
-
Judas Priest - Painkiller
-
Mayhem - Live in Leipzig
- Black metal for my funeral - stuffer over and over
-
Nuit Noire - Lunar Déflagration
-
Aluk Todolo- Occult Rock
-
Noir Boy George - Metz Noire
-
The Moon Lay Hidden Behind The Cloud
- Ventre de biche - viens mourir
-
Abruptum - De Profundis Mors Vas Cousumet
-
Lugubrum - Face Lion Face Oignon
-
Diabolos Rising -
Blood, Vampirism And Sadism
Libre a vous de conclure comme vous le souhaitez :
Comme disait Jean-Louis Costes dans "œuvre au Noir" (merci AMORTOUT) : "tu crois que l'enfer c'est un logo dans le dos, une pochette de disque, que c'est en buvant des bières avec ton groupe de rock le week-end que tu échapperas au Paradis?!"
Completely crazy and fit for commercial suicide, such are the lunatics of label Croux Records. Enough to be widely picked up by the Scribe's anar radar ! CROUX don't care to offer a selection of "clean" artists and let themselves be guided by their inspiration in a joyful mess that is a pleasure to see at a time when the capitalist strategy seems to have soaked all sectors, including the underground. That's why we have to defend this kind of unclassifiable labels, which offer us out of the ordinary artists and bands that make the schmilblick move forward!
In short, you'll find at the end of the interview the links to the artists of this label that I've already talked about or that I've interviewed! Welcome in the Croux of Leo and Hugo !
Hello Croux records! Thank you for answering the Scribe's questions...Can you present us the label ? What led you to create it ? Your musical choices ?
Hi, and thanks for the interview.
So the CROUX is Hugo and Leo. It's an adventure that started in the sonic villette where we were like every year completely drunk and Hugo looking for all the possible cassettes... followed by a short alcoholic discussion with Vince de Noyades who told us he might have some cassettes in stock at his place (in my head Go-Fast, their last album, in his his demo). After exchanging emails once we were sober, we realized that the tape didn't exist... and Vince offered us to release it. We didn't need more than that to tell ourselves that it was the sign we were waiting for: to release the albums we liked on K7 and Vinyl, with one watchword "hearing violence & beautiful objects". If we like that, then why not others?
As an example, you release in 2020 the new album of the Punk/Grind/Metal band Satan, how did you collaborate with them?
So SATAN (eagerly awaiting the release of the album and their concert at the CROUX FEST), it was first their singer Leo who contacted us for his solo project BIÈRE NOIRE. We already knew his first EP (L'Albatros) and offered us his second one. We listened and exchanged a lot with him. It's a kind of unclassifiable industrial gothic pop gothic, on the verge of kitsch. During the discussion he says "no, but I don't like funny bands like La Ventre de Biche etc. I don't do it for fun, I believe in it to death". We thought this sincerity was great, the guy is really into his delirium, so we absolutely had to accompany him in his approach to release his EP. Then with that he's a great illustrator (Riton La Mort) and his girlfriend a great painter (Alice Assouline), so we put all that in a booklet and released the EP. Our big dream for him, to share the stage with Eros Necropsique!
So that's for Bière Noire, but of course we knew SATAN for a long time for having seen them on stage. We listened to the new album and it was a pure slap in the face. Then in the attitude, the gait, their research, it's really a band made for the CROUX, far away from the well-combed Black bands that have been in the spotlight for a while with their post-atmo-core.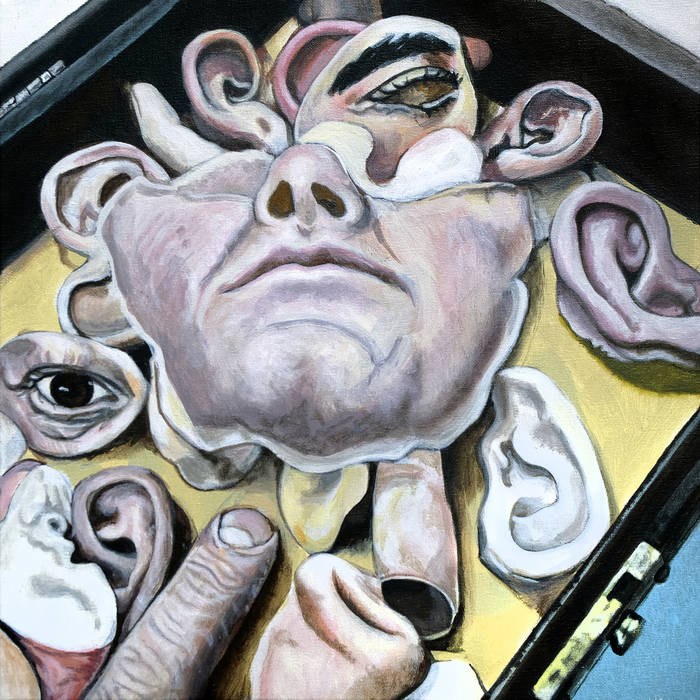 Noyades, another band you produce, does "psychedelic hard trance". You have no limits in terms of genres?
No not really, do you eat the same thing every day? More seriously, rather than talking about style, you have to talk about editorial line. Otherwise it would be like releasing the same album over and over again like firemen painters. That's what some people do, not us.
Drownings are just a big slap in the face. Under that nickname of Psycho-trance-punkoid it's actually three little geniuses. It's a free bass lesson at every gig, a drummer who tells you how to be creative with just a tom and a snare drum, a scratcher who pushes the wall of sound on stage and in the studio with a fucking feeling. And it's an energy that's fucking hard to define and you can't control!
Accès de Faiblesse, as for them, are a part of Black Metal's Noise Mastinated. A word?
Yes, it's a side project of the guy from Choisir Le Pire based in Metz. We've known each other for more than 15 years, he's evolved like us from black metal to more experimental scenes. He managed with A.D.F to do what we've been trying to do for a long time: black metal, but without guitars or drums. He took the essence out of it to make this 13 minutes breaker of electronic darkness. In the end, it synthesizes what you're looking for when you listen to Xasthur or Profanum, keeping it to the bare minimum.
Another emblematic band, Nuit Noire, a completely crazy project mixing Punk, Black Metal, childish fairy tales. This band is known to have influenced Neige d'Alcest. How did your collaboration start ?
Nuit Noire is our childhood dream. We grew up with the first demos and never let go. So when we started the label we contacted him very quickly because it coincided perfectly with the release of his latest album "Sa Majesté la Nuit". Neige immediately showed us all his support because we share the same passion for this band. You'll never find in the scene a guy who is so sincere in his approach, with such devotion to bring his project to a successful conclusion against all odds! And that's what black metal is all about, it's always been that way! What are all these ultra normal bands? Is this "rebellion"? Everybody the same perf, the same zik, the same shitty lyrics?
In a way, Neige shares the same approach as Alcest. Honestly, he was a UFO when Alcest started to leave his black metal homeland, he held on and that's where he is now. I'm happy to think that without Nuit Noire he wouldn't necessarily have done it. At least that way.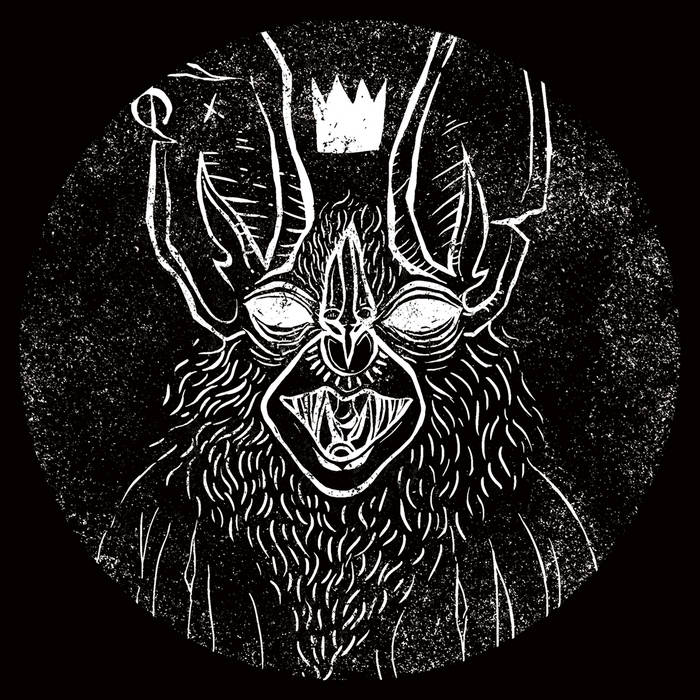 What are your selection criteria?
It's really a feeling, it's hard to have any perspective on it. We're preparing the Croux Festival (March 27&28 in Paris), there are a lot of different styles, and at the same time a kind of coherence that comes out of it, something black, garage, out of the ordinary.
PS: COVID has arrived and the CROUX Fest is not done. But it's only postponed. In the meantime, we've prepared a new release, and the solidarity around the artists and record shops is being felt. Anyway, we're still Underground, can we go lower than that?
The future for Croux?
We're preparing several projects right now. There's Saddam's band Bisou who's preparing his new album. We can't wait! Then the SOLAN K7 is soon ready.
And then, after... other surprises, our ears are everywhere.
PS: in the wake of Covid we signed Vaurien, a very promising urban black metal paname.
How would you like us to see the label?
We don't know, we'd like to be the next MUTE records, but it's really too much work.
Your 20 favorite albums of all time?
- Xasthur - To Violate The Oblivious
- Yussuf Jerusalem - Blast From The Past
- Judas Priest - Painkiller
- Mayhem - Live in Leipzig
- Black metal for my funeral - stuffer over and over
- Black Night - Lunar Deflagration
- Aluk Todolo- Occult Rock
- Black Boy George - Metz Noire
- The Moon Lay Hidden Behind The Cloud
- Abruptum - De Profundis Mors Vas Cousumet
- Lugubrum - Lion Face Onion Face
- Diabolos Rising - Blood, Vampirism And Sadism
You are free to conclude as you wish:
As Jean-Louis Costes said in "œuvre au Noir" (thank you AMORTOUT) : you think that hell is a logo on the back, a disc cover, that it's by drinking beers with your rock band on weekends that you'll escape to Heaven?!"
Thank you!
MY INTERVIEWS WITH CROUX RECORDS ARTISTS :