Fées, Punk, Black Metal et retour a l'enfance : NUIT NOIRE en interview - Fr/english
"Que la nuit vous garde, que les fées vous entourent"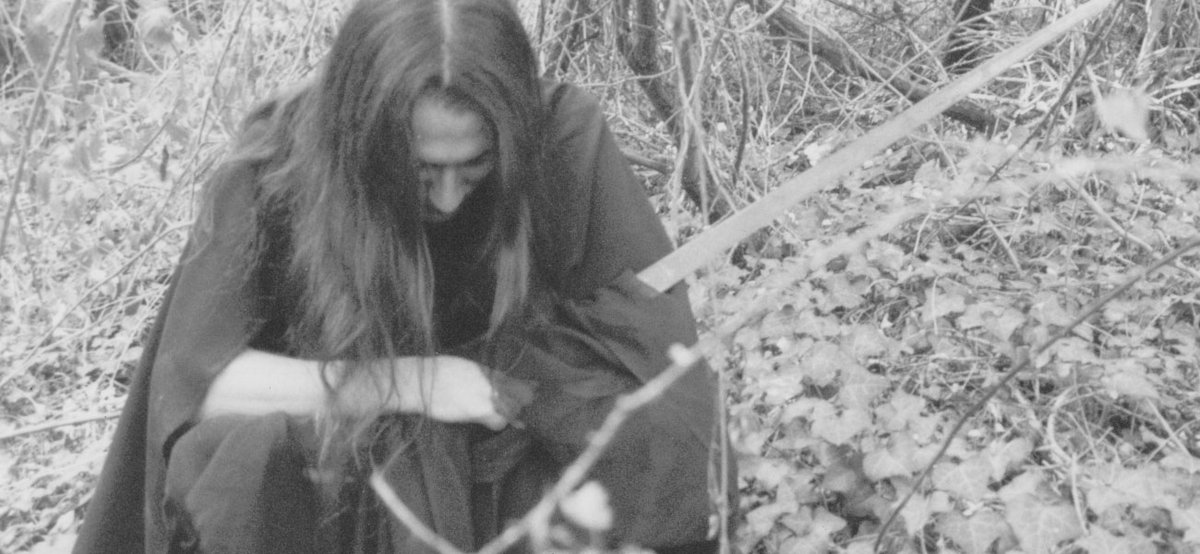 Nuit Noire, entité musicale derrière laquelle se terre l'être surnaturel nommé Tenebras est un groupe complètement a part. De part les sujets abordés dans leurs textes, comme du point de vue musical, absolument inclassables après des débuts plus orientés Black Metal pur et dur. Tenebras nous fait le guide au pays des fées zarbis, du Punk Black et de l'espièglerie macabre...
Bonjour Tenebras, et merci de te rendre ainsi dans la grotte du Scribe. Parlons d'abord de ton dernier album "Sa Majesté La Nuit". Je trouve personnellement ce disque totalement unique. Ce mix de Punk français des 80's, d'espièglerie enfantine (pour te citer) et de Black Metal n'a pas d'équivalent. Peux tu nous parler de ce disque et de ce que tu as voulu nous dire ?
Bonjour le Scribe, ravi d'être de passage dans ta grotte. Les 10 morceaux de "Sa Majesté La Nuit" ont été composés relativement vite. En été 2015 sortait l'album précédent "Deluge Of Starlight", et un an plus tard je commençais l'enregistrement de "Sa Majesté...". Avec cet album rien de particulier au niveau des thèmes, comme à chaque fois c'est la nuit et ma

féerie

qui sont abordées de plusieurs manières, mais il y a tout de même ce morceau "Il était une fois sur la terre" dans lequel j'accuse les humains, plus précisément certains d'entre eux. Ce n'est pas la toute première fois que je m'attaque aux humains mais je ne l'avais jamais fait de façon aussi concrète. Moi aussi avec l'internet j'ai toutes ces images de ce qui peut se passer ici et là de par le monde et cette fois j'avais envie de pousser un cri contre ces personnes. J'ai bien dit CES personnes car, plus j'avance dans la vie et plus j'en conclus que la plupart des hommes sont bons et que c'est seulement certains d'entre eux qui sont à la racine du mal. Après, tu me diras, c'est bien par l'intermédiaire des autres que ce mal qu'ils ont créé se propage, mais peut-on en vouloir à ceux qui les suivent puisque l'Homme est grégaire par nature? Et puis il y a le morceau "Run", j'ai maintenant 40 ans et j'en suis donc théoriquement à la moitié de ma vie, et je m'aperçois qu'il faut avancer et ne pas traîner pour atteindre ses buts, on n'a pas tout le temps du monde, et c'est quelque chose que je n'avais jamais abordé avant dans une chanson.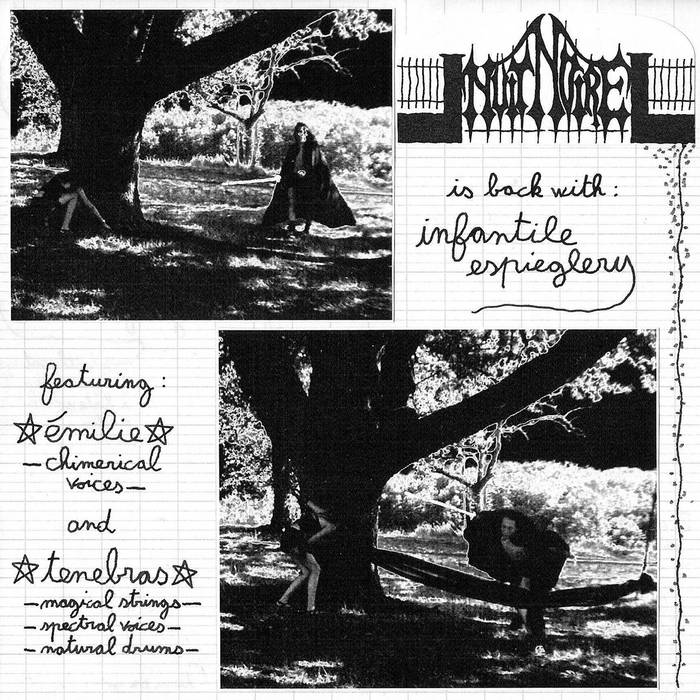 Çà fait quoi quand on est un activiste de l'underground depuis 20 ans de savoir qu'on a influencé un des plus gros groupes français contemporains, Alcest ?
On m'a dit qu'il y avait une interview d'Alcest dans New Noise et que Nuit Noire était cité, malheureusement je n'ai pas encore eu la chance de la lire! Mais je connais Neige depuis le début des années 2000, "Le Secret" n'était pas encore sorti et je me rappelle de trois conversations que nous avions eues. La première, nous avions partagé nos visions de ce que sont les fées, un peu différentes mais qui se rejoignent tout de même sur le fait que ni les siennes ni les miennes ne viennent des bouquins d'illustrations de fées, ni mêmes des légendes folkloriques, nous avons chacun les nôtres qui nous sont propres. La deuxième, je lui exposais ma notion de "riff ultime", le fait qu'un riff doit être ultime pour être utilisé dans un morceau, il était bien d'accord et je pense qu'il n'aurait pas eu besoin de moi pour suivre ce précepte de toute façon. La troisième, nous étions en crise dans Nuit Noire car j'avais changé ma façon de chanter pour utiliser majoritairement des voix claires, et il m'avait demandé si je ne trouvais pas bizarre de faire des voix claires sur des blast beats et je lui avais répondu que je n'y voyais aucun problème, puis quelques temps plus tard il y a eu le morceau "Les Iris", par exemple, où il a superbement mis en pratique cette idée, mais là encore je ne pense pas qu'il aurait eu besoin de moi. Cependant, la première fois qu'on s'est vus il m'avait dit à quel point il aimait la demo "Black Form", et il me l'a redit la dernière fois qu'on s'est vus il y a deux ans, donc cette demo a dû l'influencer d'une certaine façon, oui, mais je ne trouve pas que c'est flagrant. Alcest a une vraie identité, on peut savoir d'un morceau que c'est du Alcest dès les premières notes et je ne pense pas que ça pourrait être confondu avec du Nuit Noire. C'est fabuleux de voir où ils en sont arrivés et on dirait bien que ce n'est pas près de s'arrêter avec cette signature chez Nuclear Blast!

Dès tes débuts en 1998 tu étais déjà fasciné par les fées. D'ou t'es venu ce centre d'intérêt ?
J'ai grandi à la campagne, il y avait beaucoup d'arbres autour de ma maison, et j'adorais grimper à ces arbres, ils faisaient un peu partie de ma famille, j'ai toujours aimé les coins de nature et j'adorais les soirées d'été car je pouvais être dehors la nuit. La première fois que ma mère m'a emmené au cinéma ça devait être pour "Taram Et Le Chaudron Magique", cela aura été ma première confrontation aux ténèbres et je me souviens encore o combien j'avais été à la fois terrifié et fasciné par le sorcier maléfique, puis il y a eu "Brisby Et Le Secret De Nimh", "L'Histoire Sans Fin", "Conan Le Barbare", j'avais été immédiatement attiré par ces films, leur aura fantastique, sombre, mystérieuse. Puis vinrent les "Livres Dont Vous Etes Le Héros", ce qui m'a amené plus tard aux jeux de rôles, ceux prenant place dans les univers fantastiques étant de loin mes préférés, et le jeu de cartes "Magic The Gathering". Le metal est arrivé dans ma vie entre-temps, puis le black metal, et fatalement le groupe Summoning, quel choc... Au même moment nous découvrions avec mon frère la bande dessinée "La Graine De Folie", cette oeuvre cristallisait ce qui allait devenir mes fées. Peu de temps après, une nuit d'été de pleine lune, en pleine lecture du "Seigneur Des Anneaux", et juste après une partie du jeu de rôles "Terres De Légendes" avec nos amis d'enfance, nous nous sommes tous rendus dans un bois près de chez nous, et là j'ai senti quelque chose sous cette lune éclatante. Je savais qu'elles étaient là, les fées, en cet été de 1997. Immédiatement j'ai voulu mettre tout ça en musique, et ça s'appellerait Nuit Noire. Je dessinai le logo dans ma chambre d'adolescent, achetai le matériel avec l'argent durement gagné à mon travail saisonnier aux pêches, et en décembre de la même année nous faisions les premières répétitions dans la maison familiale.
1998, toujours, c'est la sortie de ta première démo, "Dans la nuit". Tu naviguais alors dans quelque chose de plus purement Black Metal. Quelles étaient tes influences et tes objectifs à cette époque ?
Je voulais mettre mon ressenti de la nuit en musique, ni plus ni moins. Je ne cherchais pas à faire partie de la fratrie black metal, mais étant donné que c'était l'une des seules choses que j'écoutais à l'époque, alors ma musique s'en est trouvée et est toujours lourdement influencée par le black metal et ses accords sombres et épiques, comme groupes je citerais principalement Arkham, Ancient, Mütiilation. J'aimais aussi les mélodies jouées dans les cordes aigues typiques du gothic/punk/batcave qui sont parfaites pour illustrer la féérie, le morceau "Silence" en est un bon exemple sur la première demo. Je n'avais pas d'objectif particulier avec ce groupe mais je savais déjà que ce n'était pas qu'une lubie et que je l'aurais toute ma vie.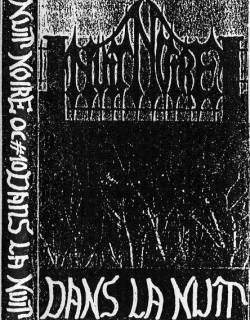 Après moult démos et splits, tu as sorti le véritable premier album de Nuit Noire, "Lunar Deflagration" en 2004. On y entend une forme de BM assez inédite, avec un chant plutôt mélodique sur un ensemble plutôt "raw". Pareil, que voulais tu dire et donner à entendre avec cet opus ?
Le premier album aurait dû être "Inner Light", mais c'est pendant l'enregistrement de celui-ci en été 2003 que j'avais décidé de chanter en voix claire, et le désaccord qui en a découlé avec mon frère Akhron a empêché sa sortie. Cinq mois plus tard j'enregistrais seul "Lunar Deflagration" dont la plupart des morceaux étaient écrits depuis longtemps, et ce qui avait été un essai vocal sur "Inner Light" a pu être totalement concrétisé sans aucun complexe sur "Lunar Deflagration". J'étais le seul pilote à bord et j'étais très déterminé à faire exactement ce que je voulais, quitte à choquer, et rien n'aurait pu m'arrêter pendant ces quatre heures de prises de son étalées sur quelques jours. Au niveau de la guitare et des thèmes c'était dans la continuité de ce qui précédait mais au niveau de la voix on pouvait entendre quelque chose qui me ressemblait vraiment. Cet album et tout ce qui a suivi est un peu le reflet de ce que je suis dans la vie, un prolétaire parmi tant d'autres qui est tout de même très différent de tous les autres ouvriers de son usine.
Sur "Fantomatic Plenitude" en 2007 tu affirmes totalement ce caractère enfantin qui fait ta marque, avec une influence punk plus présente. Que se cache derrière cet univers ? Un grand enfant qui veut retrouver ses sensations ?
Les deux petites amies que j'ai eues successivement entre 2003 et 2006 étaient toutes deux sept ans plus jeunes que moi. J'étais déjà bien installé et posé dans la vie mais j'ai dû être confronté à leur gaminerie, et ça a eu un côté rafraîchissant. Ca a très certainement contribué à cette volonté d'écrire des morceaux qui évoquent des enfantillages, et étrangement ça a touché beaucoup de monde.
Emilie Bresson t'accompagne sur cet album comme sur "Infantile Espieglery". Peux tu nous parler de votre collaboration ?
Je ne sais pas d'où est venue cette rumeur persistante qui dit qu'Emilie de Nuit Noire est la Emilie de Monarch, mais ce n'est absolument pas le cas! Emilie n'est pas du tout musicienne, elle n'a rien fait d'autre musicalement que ces deux apparitions sur les albums de Nuit Noire, et elle était l'une des deux petites amies que j'ai évoquées à la question précédente. Ça n'a pas été facile de la convaincre de poser sa voix mais elle l'a fait, ce qui a rendu "Infantile Espieglery" ce qu'il est, l'un des travaux les plus plébiscités de Nuit Noire. Et toujours à propos d'Emilie, il devrait y avoir une petite surprise sur le prochain album que je suis en train d'enregistrer, mais je n'en dirai pas plus.
Quand on t'écoute on se demande en permanence quelle est la part de 2ème degré que contient Nuit Noire. L'humour est-il important pour toi ?
Il n'y a absolument aucune intention humoristique dans Nuit Noire, ce n'est que de la fausse naïveté et tout est au premier degré. Nuit Noire est parfois pris à tort comme quelque chose d'humoristique par ceux qui croit que c'est du black metal. Mais si on le prend sans se dire que c'est du black metal, alors il n'y a rien d'humoristique. Je dirais même que le black metal fait figure d'adolescent attardé face à la fausse gaminerie bourrée de sens cachés que j'injecte dans ma musique.
"Nuit Noire est parfois pris à tort comme quelque chose d'humoristique par ceux qui croit que c'est du black metal. Mais si on le prend sans se dire que c'est du black metal, alors il n'y a rien d'humoristique. Je dirais même que le black metal fait figure d'adolescent attardé face à la fausse gaminerie bourrée de sens cachés que j'injecte dans ma musique."
Que voudrais tu que l'on conserve de Nuit Noire au final ?
Rien de particulier, que ce n'est pas le meilleur groupe du monde, ni le plus mauvais, mais que c'est sincère, et que c'est un vrai groupe de scène. Malheureusement ces dernières années il n'y a pas eu beaucoup de concerts mais, à partir de l'année prochaine, nous avons l'intention de jouer en live régulièrement avec Akhron, et à ce sujet il devrait y avoir bientôt une petite surprise en relation avec la deuxième question de cette interview, mais là encore je n'en dirai pas plus.
Peux tu nous citer tes 20 albums préférés ?
Seulement 20?? Tu es vraiment très dur Scribe! Comment vais-je pouvoir m'y prendre... Je vais tenter de choisir 20 groupes et, pour chacun d'eux, sélectionner arbitrairement un album de leur discographie. Mais te rends-tu compte que je vais devoir occulter des centaines d'artistes incroyables?? Bon, quand faut y aller, faut y aller. En avant:
GUNS N'ROSES – Use Your Illusion I
METALLICA – Ride The Lightning
MANOWAR – Into Glory Ride
CRADLE OF FILTH – Dusk And Her Embrace
ANCIENT – The Cainian Chronicle
ABIGOR – Supreme Immortal Art
SUMMONING – Old Mornings Dawn
MASTER'S HAMMER – The Jilemnice Occultist
EMPEROR – In The Nightside Eclipse
MUTIILATION – Majestas Leprosus
VLAD TEPES – War Funeral March
FIELDS OF THE NEPHILIM – The Nephilim
THE SISTERS OF MERCY – First And Last And Always
THE PIPETTES – We Are The Pipettes
LANA DEL REY – Lust For Life
Voilà, j'ai fait ce que j'ai pu, mais te rends-tu compte que je n'ai pas eu de place pour Mötley Crüe, Paradise Lost, Deicide, Death, Celestia, Peste Noire, Christian Death, The Strokes, Kim Wilde, Visage, Punish Yourself, Ramones, Lucifugum, Marilyn Manson, Mayhem, Noctis, Sonic Youth, Placebo, et bien d'autres... Mais bon, je suppose que c'était le passage obligé dans la salle de torture de ta grotte.
Es-tu sensible a des artistes hors normes comme Costes, Moyen ?
J'avais vu Costes il y a plusieurs années ici à Toulouse, c'était pour "L'Opéra Du Caca", et ça reste à ce jour l'une des plus incroyables performances scéniques qu'il m'ait été donné de voir, c'était juste hallucinant, impossible de trouver des mots à la hauteur, il fallait y être. Quant à Moyen, je ne connaissais pas avant que tu m'en parles, il officie dans beaucoup de domaines différents, même des screenshots de plaintes facebook! Je me demande ce que ça doit donner sur scène?
Je te laisse conclure : ajoutes ce que tu veux !
Que la nuit vous garde, que les fées vous entourent.
"

May the night keep you, may the fairies surround you."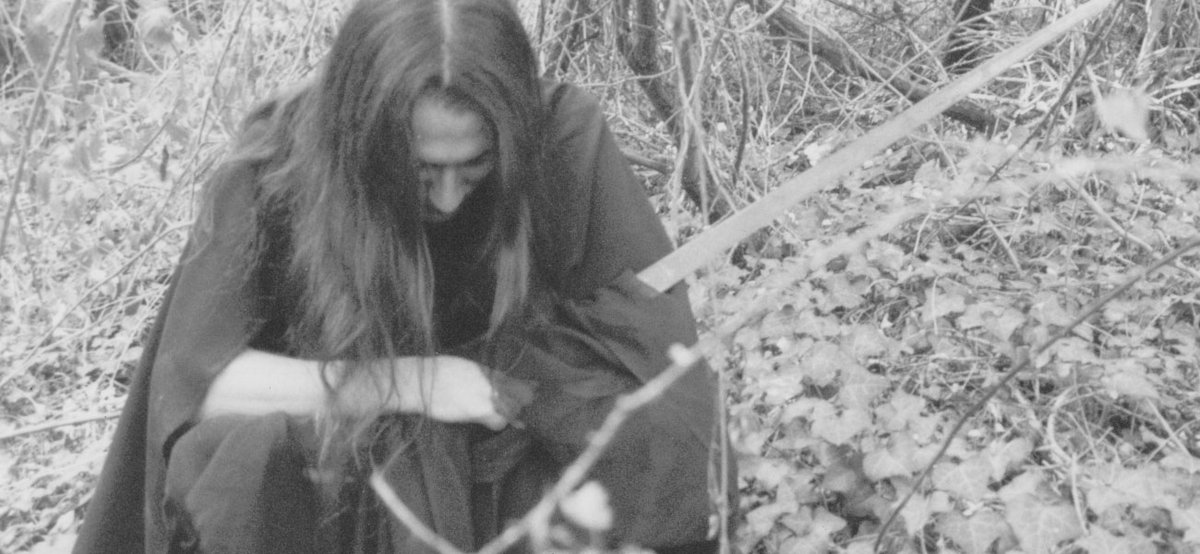 Hello Tenebras, and thank you for coming to the Scribe's cave like this. Let's first talk about your latest album "Her Majesty The Night". I personally find this record totally unique. This mix of 80's French Punk, childish spying (to quote you) and Black Metal has no equivalent. Can you tell us about this record and what you wanted to tell us ?
Hello Scribe, nice to be in your cave. The 10 tracks of "Her Majesty The Night" were composed relatively quickly. In the summer of 2015 the previous album "Deluge Of Starlight" was released, and one year later I started recording "Her Majesty...". With this album, there's nothing particular in terms of themes, as each time it's the night and my fairy tale that are approached in different ways, but there's still this song "Once upon a time on earth" in which I accuse the humans, more precisely some of them. It's not the very first time I've attacked humans, but I've never done it in such a concrete way before. With the internet I too have all these images of what can happen here and there around the world and this time I wanted to shout against these people. I said THESE people because, the more I go through life, the more I conclude that most men are good and that it is only some of them who are at the root of evil. Afterwards, you will tell me, it is indeed through others that this evil they have created is propagated, but can one blame those who follow them since Man is gregarious by nature? And then there's the song "Run", I'm now 40 years old, so I'm theoretically halfway through my life, and I realise that you have to move forward and not lag behind to reach your goals, you don't have all the time in the world, and that's something I've never tackled before in a song.
How does it feel to be an underground activist for 20 years knowing that you've influenced one of the biggest contemporary French bands, Alcest?
I was told that there was an interview with Alcest in New Noise and that Nuit Noire was mentioned, unfortunately I haven't had the chance to read it yet! But I've known Neige since the early 2000s, "Le Secret" hadn't come out yet and I remember three conversations we had. The first one, we shared our visions of what fairies are, a bit different but still agreeing on the fact that neither his nor mine come from books of fairy illustrations, nor even from folk legends, we each have our own. The second one, I explained to him my notion of "ultimate riff", the fact that a riff has to be ultimate to be used in a song, he agreed and I think he wouldn't have needed me to follow this precept anyway. The third one, we were in crisis in Nuit Noire because I had changed my way of singing to use mostly clear voices, and he asked me if I didn't think it was weird to do clear voices on blast beats and I told him that I didn't see any problem, then some time later there was the song "Les Iris", for example, where he put this idea into practice superbly, but again I don't think he would have needed me. However, the first time we met he told me how much he liked the "Black Form" demo, and he told me again the last time we met two years ago, so this demo must have influenced him in some way, yes, but I don't think it's obvious. Alcest has a real identity, you can tell from a song that it's Alcest from the very first notes and I don't think it could be confused with Nuit Noire. It's fabulous to see where they've got to and it looks like it's not going to stop with that signature at Nuclear Blast!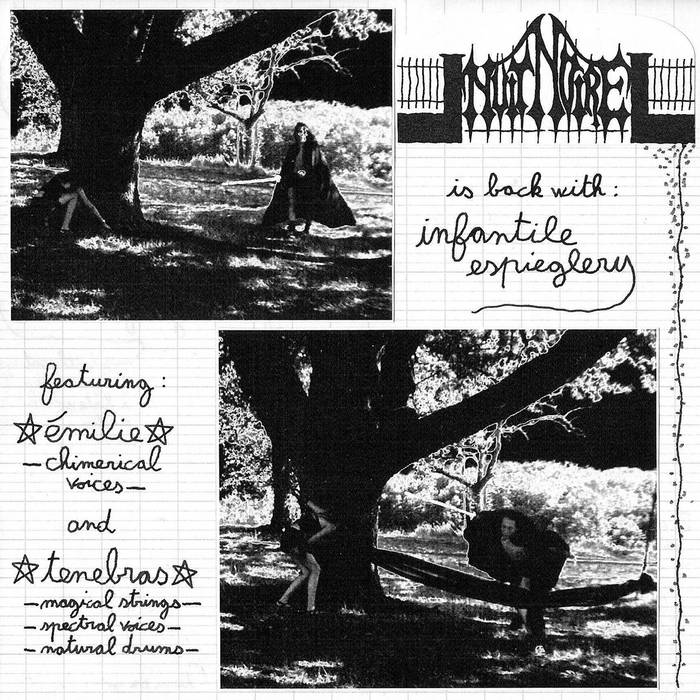 You were already fascinated by fairies when you started in 1998. Where did this interest come from?
I grew up in the country, there were a lot of trees around my house, and I loved to climb them, they were a bit like part of my family, I always liked the nature spots and I loved the summer evenings because I could be outside at night. The first time my mother took me to the cinema was for "Taran And The Magic Cauldron", it was my first confrontation with darkness and I still remember how terrified and fascinated I was by the evil sorcerer, then there was "Brisby And The Secret Of Nimh", "The Endless Story", "Conan The Barbarian", I was immediately attracted by these films, their fantastic, dark, mysterious aura. Then came the "Books Of Which You Are The Hero", which brought me later to role-playing games, those taking place in fantastic universes being by far my favorites, and the card game "Magic The Gathering". Metal came into my life in the meantime, then black metal, and inevitably the band Summoning, what a shock... At the same time we discovered with my brother the comic book "La Graine De Folie", this work crystallized what would become my fairies. Shortly after, one summer night of full moon, while reading "Lord Of The Rings", and just after a part of the role-playing game "Land Of Legends" with our childhood friends, we all went to a wood near our home, and there I felt something under this bright moon. I knew they were there, the fairies, in the summer of 1997. Immediately I wanted to set all this to music, and it would be called Nuit Noire. I drew the logo in my teenage bedroom, bought the material with my hard-earned money from my seasonal work at the peach farm, and in December of that year we did the first rehearsals in the family home.
1998, again, was the release of your first demo, "Dans la nuit". You were then navigating in something more purely Black Metal. What were your influences and goals at that time?
I wanted to put my feeling of the night into music, no more and no less. I wasn't looking to be part of the black metal siblings, but since that was one of the only things I was listening to at the time, so my music was and still is heavily influenced by black metal and its dark and epic chords, as bands I would mainly quote Arkham, Ancient, Mütiilation. I also liked the melodies played in the typical gothic/punk/batcave high strings which are perfect to illustrate the fairy tale, the track "Silence" is a good example of this on the first demo. I didn't have any particular goal with this band but I already knew that it wasn't just a whim and that I would have it for the rest of my life.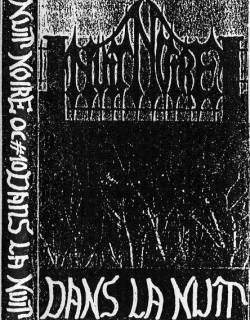 After many demos and splits, you released the real first album of Nuit Noire, "Lunar Deflagration" in 2004. You can hear a rather new form of BM, with a rather melodic vocals on a rather "raw" set. Likewise, what did you want to say and give to hear with this opus?
The first album should have been "Inner Light", but it's during the recording of this one in summer 2003 that I decided to sing in clear voice, and the disagreement with my brother Akhron prevented its release. Five months later I was recording "Lunar Deflagration" alone, most of the songs had been written a long time ago, and what had been a vocal essay on "Inner Light" could be totally realized without any complex on "Lunar Deflagration". I was the only pilot on board and I was very determined to do exactly what I wanted to do, even if it meant shocking, and nothing could have stopped me during these four hours of sound recording spread over a few days. On the guitar and the themes it was in the continuity of what had gone before, but on the vocals you could hear something that really sounded like me. This album and everything that followed is a bit of a reflection of who I am in life, a proletarian among many others who's still very different from all the other workers in his factory.
On "Fantomatic Plenitude" in 2007 you totally affirm this childlike character that makes your mark, with a more present punk influence. What's behind this universe? A big child who wants to find his sensations again?
The two girlfriends I had successively between 2003 and 2006 were both seven years younger than me. I was already well established and settled in life but I had to face their childishness, and that had a refreshing side. It certainly contributed to the desire to write songs that evoke childishness, and strangely enough it touched a lot of people.
Emilie Bresson accompanies you on this album as on "Infantile Espieglery". Can you tell us about your collaboration ?
I don't know where this persistent rumour came from that says Emilie from Nuit Noire is the Emilie from Monarch, but it's absolutely not the case! Emilie's not a musician at all, she's done nothing musically other than those two appearances on Nuit Noire's albums, and she was one of the two girlfriends I mentioned in the previous question. It wasn't easy to convince her to put her voice down, but she did, which made "Infantile Espieglery" what it is, one of Nuit Noire's most acclaimed works. And still about Emilie, there should be a little surprise on the next album I'm currently recording, but I won't say any more.
When we listen to you, we always wonder how much second degree Nuit Noire contains. Is humour important to you?
There is absolutely no humorous intention in Nuit Noire, it is just false naivety and everything is first degree. Nuit Noire is sometimes mistakenly taken as something humorous by those who think it's black metal. But if you take it without thinking it's black metal, then there's nothing humorous about it. I would even say that black metal is like a retarded teenager facing the false childishness full of hidden meanings that I inject in my music.
What would you like us to keep from Nuit Noire in the end ?
Nothing in particular, that it's not the best band in the world, nor the worst, but that it's sincere, and that it's a real live band. Unfortunately in the last few years there haven't been many gigs, but from next year we intend to play live regularly with Akhron, and on this subject there should be a little surprise soon in connection with the second question of this interview, but again I won't say more.
Can you tell us your 20 favorite albums ?
Only 20?? You're a very tough scribe! How am I going to be able to do it? I will try to choose 20 bands and for each of them, arbitrarily select an album from their discography. But do you realize that I'll have to hide hundreds of incredible artists?? Well, when you have to go, you have to go. Let's get on with it:
GUNS N'ROSES - Use Your Illusion I
METALLICA - Ride The Lightning
MANOWAR - Into Glory Ride
CRADLE OF FILTH - Dusk And Her Embrace
OLD - The Cainian Chronicle
ABIGOR - Supreme Immortal Art
SUMMONING - Old Mornings Dawn
MASTER'S HAMMER - The Jilemnice Occultist
EMPEROR - In The Nightside Eclipse
MUTIILATION - Majestas Leprosus
VLAD TEPES - War Funeral March
FIELDS OF THE NEPHILIM - The Nephilim
THE SISTERS OF MERCY - First And Last And Always
THE PIPETTES - We Are The Pipettes
LANA DEL REY - Lust For Life
Well, I did what I could, but do you realize that I didn't have room for Mötley Crüe, Paradise Lost, Deicide, Death, Celestia, Black Death, Christian Death, The Strokes, Kim Wilde, Visage, Punish Yourself, Ramones, Lucifugum, Marilyn Manson, Mayhem, Noctis, Sonic Youth, Placebo, and many others... But hey, I guess that was the way to your cave torture chamber.
Are you sensitive to unusual artists like Costes, Average ?
I saw Costes several years ago here in Toulouse, it was for "L'Opéra Du Caca", and it remains to this day one of the most incredible stage performances I've ever seen, it was just amazing, impossible to find words to match it, you had to be there. As for Moyen, I didn't know before you told me about him, he's working in many different fields, even screenshots of facebook complaints! I wonder what it must look like on stage?
I let you conclude: add what you want!
May the night keep you, may the fairies surround you.