Ma Kro de "Hallucinogen" de BLUT AUS NORD (Fr/Eng)
Blut Aus Nord Music
Jamais simple de parler d'un nouveau Blut Aus Nord quand on veut rester "objectif" (objectif impossible). Ceux qui lisent le Scribe le savent, je suis un grand fan des travaux des "Théoriciens de l'esthétisme fou " depuis longtemps, qu'il s'agisse de leurs débuts Black Metal, de leurs œuvres les plus folles et dissonantes, toujours inégalées ("M.O.R.T" au hasard), sa capacité à créer des mélodies enchanteresses, à voguer du côté de l'industriel et du Post-Punk (travaux qui aujourd'hui vont se concentrer sur ce vrai/faux jumeau qu'est Yeruselem). Après un "Deus Salutis Meae" de toute splendeur, qui clôturait un cycle, dissonant, maladif et expérimental du groupe, Vindsval nous avait prévenu que la suite serait un vent nouveau qui soufflerait sur cet immense groupe.
Surprenant...Etonnant...ces adjectifs n'ont aucune valeur pour décrire "Hallucinogen" dans la mesure ou la surprise fait partie intrinsèque de Blut Aus Nord depuis fort longtemps (toujours ?). L'album commence avec "Nobos Nebuleam", titre splendide, solennel et épique, installant le nouveau BAN dans un climat Heavy Metal (ces guitares !!!) qui copulerait avec une atmosphère religieuse (ces choeurs, c'est pas du Batushka !). Un côté éthéré plane, parfois pas si loin du Shoegaze sur ce titre. Dès "Nebeleste" le côté Heavy/Thrash revient dans les guitares, tandis que le chant semble s'envoler dans les sphères, créant un Heavy sorti d'un film de science fiction. On retrouve ici cette capacité qu'a BAN a nous noyer sous des sonorités diverses, des réverbérations grégoriennes, et ce tournoiement hypnotique qu'ils gèrent a la perfection. Malgré cela nous ne sommes pas en terrain connu, pas complètement. Mélodique, le nouveau BAN, certainement, dans la mesure ou le groupe a ici renoncé aux dissonances et sonorités industrielles qui donnaient le côté vénéneux et parfois difficile d'abord de certaines de ses oeuvres.
"Sybelius" arrive donc, avec cette majesté, cette emphase jamais rococco sur un mid-tempo qui sert a ravir la nouvelle approche du groupe. A ce stade de l'album, on peut se poser la question du rapport de BAN au Black Metal, tant il joue ici les absents, et vu que l'on connait les dernières prises de position de Vindsval, qui avoue se désintéresser totalement du genre, allant même jusqu'à dire, dans sa dernière interview chez New Noise Magazine, que c'est un des genres de Metal qu'il aime le moins aujourd'hui. Alors, le Black Metal va t'il malgré tout avoir une place sur "Hallucinogen" ?
Si "Anthosmos" démarre sur des arpèges de guitares dignes d'un Pink Floyd et que l'on s'attend à un titre plutôt lent et planant, le Black Metal fait une entrée fracassante au bout de quelques secondes, avec un Blast Beat des plus convaincants. Le chant black donne la suite, mêlé aux guitares heavy/black, créant un morceau a cheval entre ce nouveau tournant qu'est "Hallucinogen" et les "Once Was Liber" sur lesquels Vindsval s'est éclaté à faire du Trve Black.
La relation de BAN au Black Metal est sans doute beaucoup plus complexe : il ne faut pas s'arrêter aux propos d'un pionnier du genre sans doute un peu las qui va chercher son inspiration ailleurs : c'est ce qui fait le sel du groupe. Mais malgré tout, BAN reste lié au BM, il incarne même une forme unique de ce genre, et il ne faudra pas s'étonner si, à l'avenir, le groupe y revient de manière plus frontale.
Surtout que "Mahagma" le titre suivant, nous donne raison, ici pas d'intro space, le BM s'invite directement, restant toutefois mélodique et toujours gorgé de Heavy et de chants religieux éthérés. "Haalucinalhia" suit, mêlant ce mid-tempo Heavy du début d'album (on sent que le groupe s'est éclaté à lâcher des soli/phrasés dignes d'un Iron Maiden). On pense parfois à Paradise Lost, pour le côté Heavy/Goth (le Paradise Lost de Draconian Times).
"Cosma Procyris" dernier titre de cet album hallucinant, renoue avec une noirceur plus marquée, les guitares s'y font plus sinueuses (j'avoue avoir pensé parfois au grand et regretté Tiamat). Cela préfigure t'il la suite ? Impossible a savoir avec ce groupe imprévisible. Au final, un nouveau chef d'oeuvre (ça commence a faire !) plus lumineux, plus accessible (en apparence) qui se bonifie d'écoute en écoute. Quel groupe !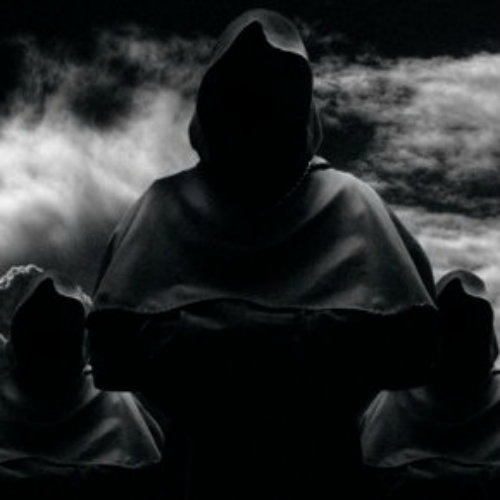 It is never easy to talk about a new Blut Aus Nord when you want to remain "objective" (impossible objective). Those who read the Scribe know that I am a big fan of the work of the "Theorists of Crazy Esthetism" for a long time, whether it is their Black Metal debut, their wildest and most dissonant works, always unequalled ("M.O.R.T" at random), their ability to create enchanting melodies, to sail on the industrial and Post-Punk side (works that today will focus on the true/false twin that is Yeruselem). After a splendid "Deus Salutis Meae", which closed a cycle, dissonant, sickly and experimental of the group, Vindsval warned us that the rest would be a new wind blowing over this immense group.
Surprising...Disturbing...these adjectives have no value to describe "Hallucinogen" in the sense that surprise has been an intrinsic part of Blut Aus Nord for a very long time (always?). The album begins with "Nobos Nebuleam", a splendid, solemn and epic title, setting the new BAN in a Heavy Metal climate (these guitars!!!!) that would couple with a religious atmosphere (these choirs, it's not Batushka!). An ethereal side hovers, sometimes not so far from the Shoegaze on this track. From "Nebeleste" on, the Heavy/Thrash side returns in the guitars, while the singing seems to fly away in the spheres, creating a Heavy that comes from a science fiction movie. We find here this capacity that BAN has to drown us under various sounds, Gregorian reverberations, and this hypnotic whirling that they manage to perfection. Despite this, we are not on familiar ground, not completely. Melodic, the new BAN, certainly, insofar as the group has renounced the industrial dissonances and sounds that gave the poisonous and sometimes difficult side to some of its works.
"Sybelius" arrives, with this majesty, this never rococco emphasis on a mid-tempo that serves to delight the band's new approach. At this stage of the album, we can ask ourselves the question of BAN's relationship to Black Metal, so much he plays the absent ones here, and since we know the latest positions of Vindsval, who admits to being totally disinterested in the genre, even going so far as to say, in his last interview with New Noise Magazine, that it is one of the Metal genres he loves the least today. So, will Black Metal still have a place on "Hallucinogen"?
If "Anthosmos" starts on guitar arpeggios worthy of a Pink Floyd and we expect a rather slow and hovering track, Black Metal makes a smashing entrance after a few seconds, with a most convincing Blast Beat. The black vocals follow, mixed with heavy/black guitars, creating a piece that straddles the new turn that is "Hallucinogen" and the "Once Was Liber" on which Vindsval had fun making Trve Black.
BAN's relationship with Black Metal is probably much more complex: we shouldn't stop at the words of a pioneer of the genre, probably a little tired, who goes elsewhere to get his inspiration: that's what makes the band so special. But despite everything, BAN remains linked to the BM, it even embodies a unique form of this kind, and it should not be surprising if, in the future, the group returns to it in a more frontal way.
Especially since "Mahagma", the next track, gives us reason, here no intro space, the BM invites itself directly, but remains melodic and always full of Heavy and ethereal religious songs. "Haalucinalhia" follows, mixing this mid-tempo Heavy from the beginning of the album (we feel that the band had a great time releasing soli/phrases worthy of an Iron Maiden). We sometimes think of Paradise Lost, for the Heavy/Goth side (Draconian Times' Paradise Lost).
"Cosma Procyris" last track of this hallucinating album, returns to a more marked darkness, the guitars become more sinuous (I must admit I sometimes thought of the great and late Tiamat). Does this foreshadow the future? There's no way to know with this unpredictable band. In the end, a new masterpiece (they already did a lot of them !) more lightful, more easy to listen to (in a first time) that sounds better and better at each listening session. What a Band !