[ENG/FR] BLASPHEMY : ROSS BAY CULT FOREVER ! INTERVIEW WITH DEATHLORD OF ABOMINATION AND WAR APOCALYPSE (BLASPHEMY/CONQUEROR)
INTERVIEW WITH

DEATHLORD OF ABOMINATION AND WAR APOCALYPSE
AKA RYAN FÖRSTER (BLASPHEMY/CONQUEROR)
It is a great privilege for me to have had this interview with Ryan Forster (aka DEATHLORD OF ABOMINATION AND WAR APOCALYPSE) a great figure in Canadian Black Metal since he founded with J.Read the Conqueror cults, more recently Death Worship, and, with great joy, permanent member of the Blasphemy gods since 1999. So we're talking about all the above-mentioned groups, the Ross Bay Cult, what TRUE Black Metal should be. An interview that makes you want to burn down your entire discotheque to keep only Venom, Bathory, Sarcofago, Blasphemy, Beherit, Conqueror, Archgoat and a few happy fews... But no, I wouldn't burn my atmospheric Black Metal nuggets!
Come on, immerse yourself in this real moment in the history of Black Metal! Le Scribe
Hail Ryan, thank you for answering my questions it's quite an honor ! We're here to talk about your two bands : the cult outfit you created Conqueror, and Blasphemy, because you're the guitarist of the band since 1999. Are you Ok ? And what's the news ?
It's Spring 2019ce while I am typing this and Blasphemy are still active on the stage and we are about to go back to Australia for another dose of desecration !!
You created Conqueror back in 1994 with James Read (vocals and drums, also member of Revenge, Axis Of Advance) in Canada. Can you tell us about the creation of this damned band ?
Back when James and I met I was trying to get a Black Metal band called Domini Ineri off the ground but I was inexperienced and couldn't get things moving. James was in Cremation and they were quite active both in recording demos and playing live. We kept meeting up at local shows and record shops and starting hanging out and showing each other new demos that we were getting in the mail. This eventually led to Cremation and Domini Inferi sharing the same rehearsal room in the local rehearsal warehouse. Soon afterwards both Cremation and Domini Inferi fell apart and that left James and I free to explore new projects. At the same time both James and I were sick of the city that we were living in and decided to move to another city and start fresh. This is something I still do to this day ! I keep moving around and now I have ended up in Germany. Back to the Conqueror story : While settling into this city that we moved to, we kept talking about our visions for a band that pushed the limits of everything ! This is when Conqueror was created ! We started to rehearse together testing out ideas and this all coalesced into Conqueror !
In 1996 you released the demo Antichrist Superiority. This is a fierce one ! The War Metal you practised was intense ! What were your influences back then and what did you want to do with Conqueror ?
We were very closed-minded. (We still are !!) and only listened to Blasphemy, Sarcofago, Order From Chaos and Bathory on repeat ! And I mean that we were playing those albums over and over like a psychology experiment ! We would rehearse at all times of the day or night at least 4 or 5 times a week and we would only talk about ideas for Conqueror the rest of the time. It was total obsession ! The plan was to keep pushing music to the limits of human ability, and pushing a nihilistic and cold ideology that would compliment the extreme music. We also thought that we would do live shows, but unfortunately back in 1996 there was not many people around on with the same mindset as we had and that never materialized.
Can you tell us the story of The Ross Bay Cult ?
This goes back to the 1960s at least ! Maybe even earlier ! The Ross Bay Cemetery located in Victoria, BC, Canada was a ritual site for the local Satanic sects. For what exact reasons they were attracted to that specific cemetery, I don't know ? But I have my theories. There were many incidents reported over the years and even a book written in the 1970s about ritual abuse ! This attracted members of the band Blasphemy, and they often visitied the cemetery and met up or scared off Satanist practicing there ! The members of Blasphemy included homages to the Ross Bay Cemetery in both their lyrics and interviews, etc. And of course as a teenager still finding my own path I was also very attracted to this entire Ross Bay Cemetery phenomenon !
Blasphemy, the original Canadian War Metal founders, were born in 1984 ! Were you a huge fan of the band ? How did you heard about them ?
I got into music at a very young age. I was attracted to Metal music in particular and I especially liked the faster songs and more heavier songs on the commercialized Heavy Metal music I was buying. For example Twisted Sister would have a radio hit, but on the same album they would have a couple of fast songs and dark and evil sounding songs. And those were the songs I liked. This led me to discover bands like Metallica and Slayer and eventually these bands weren't heavy or fast enough for me. At that time bands like Razor, Sacrifice, Sodom, Destruction, and Kreator were showing up and I ate all of that up. Of course even those bands weren't fast enough or heavy enough and I turned to Napalm Death and Carcass when they were first starting to make noise around the world. And I still wasn't satisfied. Those bands were fast, but they were missing the evil atmosphere that I was searching for. In my never-ending search, I subscribed to The Wild Rag that was a Fanzine/distro delivered to my door about every 6 weeks or so. Blasphemy signed to Wild Rags Records and I was instantly attracted to them through the interviews and advertisments in the Wild Rag. I ordered everything that I could and I was not disappointed ! Of course I was immediately a 'huge fan' !!
What is so particular in Canada to have these ultra-extreme bands ?
I don't know…. ? Canada is such a nice country with a comfortable way of life. Maybe some of us are natural barbarians and need an outlet for these urges instead of b eing in a society that cradles you from birth until death ?? That's just a thought off the top of my head….
What is War Metal to you ? And is there any difference between War Metal and Bestial Black Metal ?
I don't really think about this. When we were doing Conqueror we didn't know about a 'War Metal' genre. I had the 1st Holocausto (Brazil) album, but that was the only place that I read about War Metal. We only knew about other bands in this style that we were playing and they called themselves Black Metal. Blasphemy, Beherit, and Sarcofago were called Black Metal to us, and that is what we were emulating. Now I don't mind these terms like 'War Metal' and 'Bestial Black Metal' attached to my music because it separates us from the wimp bands that call themselves 'Black Metal' but play weak and melodic crap that is actually an insult to the term 'Black Metal'.
Conqueror's album « war cult supremacy » was released in 1999. It's a cult album in the whole world ! Did you imagine back then creating something so important ?
'War.Cult.Supremacy.' was actually recorded in 1996ce but not released until a few years later ! We didn't know that our music would actually catch on or anything. We just wanted to pay homage to our favorite bands and keep the Black Flame burning in the scene. In the mid 90s things got really bad for Metal in general. Every Metal genre was suffering with some of the worst releases I ever heard being released during these years. You had to look really underground to get killer music by bands that didn't lose their vision. Everyone talks about these bands from Norway still to this day, but to us they nose-dived almost immediately. They went from brutal Black Metal to keyboard ridden melodic garbage in just a couple of years. Or else we saw these bands in funny photo sessions looking like wrestlers

or some kind of joke. So Conqueror was also a backlash against the wimps ruining the Black Metal scene. We were just following our own path.
This album is very violent, speed and Raw. I can hear Death Metal and Old-School Black Metal like Bathory or Sarcofago in there. But to me there is also a punk side in your music ? You Agree ?
I never really listened to much hardcore music. Maybe those sounds came from the bands that we were influenced by ? I know that members of Blasphemy, Sarcofago, and Bathory had some direct punk influences, so perhaps we interpreted those influences in our own way ? I just don't relate to punk music at all.
You joined forces with Blasphemy in 1999. What is your feeling about cult albums of the band like Fallen angel of Doom and Gods Of War ?
Those are 2 of the most perfect albums ever recorded in my opinion ! Pure unhinged beastiality captured on tape in a time when no one was strong willed enough to walk their own path !

Both albums were way ahead of their time, and this music could only come from unhinged outlaws and can't be faked or recreated ever again !
You play on Live ritual : friday the 13th ? Can you tell us more about it ?
Unfortunately that was the worst show from that era of Blasphemy. We were invited to do a show at a local festival that included bands from all genres of Metal and it was pretty much a collection of some of the most boring and crappy bands possible. Only one band (Allfather) I can remember being interesting. Maybe another cool band played but I can't remember…. Anyway, the whole ordeal was ridiculous except for the fact that we met Yosuke Konishi for the first time and this is a dangerous meeting that still stays strong to this day ! Anyway, we did what we could in a shitty situation and you can hear the results in this release ! In the end we think that this was a killer record and we are satisfied with it ! It captures the anger and desecration atmosphere !
Can we imagine, one day, to have a NEW record by Blasphemy in the studio, with you playing in ?
Perhaps it will be something that you can only imagine !! It is something that I would like to see happen, but there is just too much chaos surrounding the band that we can't seem to make it happen. Every time we come close to putting something together the chaos strikes and everything falls apart !
What do you think of other subgenres of BM ? Is there anything you like ?
Yes ! Of course ! There are many killer bands ! If you say something like Black Metal Doom I am into that first Carpathian Forest demo and bands like Unholy from Finland ! I think that there are many killer Black Metal bands from all over the world and from every sub-genre !
Bathory or Venom ?
Both !!! But I lean more to Bathory because they took the ideas of Venom to a different level !
Can you list us your 20 favorite albums ?
Albums ? Yes ! If you asked for demos than I really couldn't. I have mostly been influenced by demos like The Lord Diabolos 'Down There…', Blasphemy 'Blood Upon the Altar', Pentagram (Chile) demos, Necrovore, VON, and lots more. And there have been EPs like Grotesque 'Incantation' and Hellhammer 'Apocalyptic Raids' that really made and impact on me. And also I am into Black Sabbath, Iron Maiden and Judas Priest, but I will omit these ones and stay more underground.
For albums it's something like this :
1. Blasphemy 'Fallen Angel of Doom….'
4. Beherit 'Drawing Down the Moon'
6. Sacrifice 'Forward to Termination'
8. Morbid Angel 'Altars of Madness'
9. Order From Chaos 'Dawnbringer'
10. Bathory 'The Return….'
11. Destruction 'Infernal Overkill'
12. Mercyful Fate 'Melissa'
13. Sodom 'Obsessed By Cruelty'
14. Kreator 'Pleasure to Kill'
15. Blasphemy 'Gods of War'
16. Bathory 'Under the Sign of the Black Mark'
17. Voivod 'Rrroooaaarrr'
18. Bestial Warlust 'Vengeance War till Death'
19. Celtic Frost 'To Mega Therion'
What do you think of the new « supergroup » Blasphamagoatachrist, with Nocturnal Grave...on vocals ?
This is absolutely perfect !!!! I am more than thrilled to see Black Winds back at it and delivering desecration beyond any band trying to do this style today ! So killer !!!!!
You can add whatever you want :
The new Death Worship EP 'End Times' has been unleashed and you can find some more information about this savage piece of darkness at the Nuclear War Now ! Productions website .
ROSS BAY CULT ETERNAL
⛧⛧⛧⛧⛧⛧⛧⛧⛧⛧⛧
LA VERSION FRANÇAISE
C'est un grand privilège pour moi que d'avoir pu avoir cet entretien avec Ryan Forster (aka DEATHLORD OF ABOMINATION AND WAR APOCALYPSE) grande figure du Black Metal canadien puisque fondateur avec J.Read des cultes Conqueror, plus récemment de Death Worship, et, immense joie, membre permanent des dieux Blasphemy depuis 1999. Nous parlons donc ici de tous les groupes précités, du Ross Bay Cult, de ce que le VRAI Black Metal doit être. Une interview qui donne envie de brûler toute sa discothèque pour ne garder que Venom, Bathory, Sarcofago, Blasphemy, Beherit, Conqueror, Archgoat et quelques happy fews...Mais non, je ne les brulerais pas mes pépites de Black Metal atmosphérique !
Allez, plongez vous dans ce véritable moment d'histoire du Black Metal ! Le Scribe
Je te salue Ryan, merci d'avoir répondu à mes questions, c'est un grand honneur ! Nous sommes ici pour parler de tes deux groupes : le groupe culte que tu as créé Conqueror, et Blasphemy, car tu en es le guitariste depuis 1999. Comment vas tu ? Et quelles sont les nouvelles ?
C'est le printemps 2019 pendant que je tape ceci et Blasphemy est toujours actif sur scène et nous sommes sur le point de retourner en Australie pour une autre dose de profanation ! !
Vous avez créé Conqueror en 1994 avec James Read (voix et batterie, également membre de Revenge, Axis Of Advance) au Canada. Peux-Tu nous parler de la création de ce maudit groupe ?
Quand James et moi nous nous sommes rencontrés, j'essayais de faire décoller un groupe de Black Metal appelé Domini Ineri, mais j'étais inexpérimenté et je n'arrivais pas à faire bouger les choses. James était dans Cremation et ils étaient très actifs à la fois dans l'enregistrement de démos et sur scène. Nous nous retrouvions sans cesse dans des shows et des magasins de disques locaux et nous commencions à nous montrer les nouvelles démos que nous recevions par la poste. Cela a finalement conduit à ce que Cremation et Domini Inferi partagent la même salle de répétition dans l'entrepôt de répétition local. Peu de temps après, Cremation et Domini Inferi s'effondrent et James et moi sommes libres d'explorer de nouveaux projets. En même temps, James et moi en avions assez de la ville où nous vivions et nous avons décidé de déménager dans une autre ville et de repartir à zéro. C'est quelque chose que je fais encore aujourd'hui ! Je n'arrête pas de me déplacer et maintenant j'ai fini en Allemagne. Back to the Conqueror story : En nous installant dans cette ville où nous avons déménagé, nous n'avons cessé de parler de nos visions d'un groupe qui a repoussé les limites de tout ! C'est à ce moment que Conqueror a été créé ! Nous avons commencé à répéter ensemble pour tester des idées et tout cela s'est fusionné dans Conqueror !
En 1996, vous avez sorti la démo Antichrist Superiority. C'en est une féroce ! Le War Metal que vous avez pratiqué était intense ! Quelles étaient vos influences à l'époque et que vouliez-vous faire de Conqueror ?
Nous étions très fermés d'esprit. (Nous le sommes toujours !!!) et nous n'avons écouté que Blasphemy, Sarcofago, Order From Chaos et Bathory à répétition ! Et je veux dire qu'on jouait ces albums encore et encore comme une expérience psychologique ! Nous répétions à toute heure du jour ou de la nuit au moins 4 ou 5 fois par semaine et nous ne parlions d'idées pour Conqueror que le reste du temps. C'était une obsession totale ! Le plan était de continuer à pousser la musique jusqu'aux limites des capacités humaines, et de pousser une idéologie nihiliste et froide qui compléterait la musique extrême. Nous pensions aussi que nous ferions des concerts, mais malheureusement, en 1996, il n'y avait pas beaucoup de gens avec le même état d'esprit que nous et cela ne s'est jamais concrétisé.


Peux-tu nous raconter l'histoire du Ross Bay Cult ?

Cela remonte au moins aux années 1960 ! Peut-être même plus tôt ! Le cimetière de Ross Bay, situé à Victoria, en Colombie-Britannique, au Canada, était un lieu rituel pour les sectes sataniques locales. Pour quelles raisons précises ont-ils été attirés par ce cimetière en particulier, je ne sais pas ? Mais j'ai mes théories. De nombreux incidents ont été rapportés au fil des ans et même un livre écrit dans les années 1970 sur la violence rituelle ! Cela a attiré les membres du groupe Blasphemy, et ils ont souvent visité le cimetière et se sont rencontrés ou ont eu peur des satanistes qui y pratiquaient ! Les membres de Blasphemy ont inclus des hommages au cimetière de Ross Bay dans leurs paroles et leurs entrevues, etc. Et bien sûr, quand j'étais adolescent et que je cherchais encore mon propre chemin, j'étais aussi très attiré par tout ce phénomène du cimetière de Ross Bay !
Blasphemy, les pionniers fondateurs canadiens du War Metal, sont nés en 1984 ! Étiez-vous un grand fan du groupe ? Comment avez-vous entendu parler d'eux ?
J'ai commencé la musique très jeune. J'étais attiré par la musique Metal en particulier et j'aimais particulièrement les chansons plus rapides et les chansons plus lourdes davantage que la musique Heavy Metal commercialisée que j'achetais. Par exemple, Twisted Sister avait un tube à la radio, mais sur le même album, il y avait quelques chansons rapides et des chansons sombres et malsaines. Et ce sont les chansons que j'aimais. Cela m'a amené à découvrir des groupes comme Metallica et Slayer et finalement ces groupes n'étaient pas assez lourds ou rapides pour moi. À l'époque, des groupes comme Razor, Sacrifice, Sodom, Destruction et Kreator étaient présents et j'ai mangé tout cela. Bien sûr, même ces groupes n'étaient pas assez rapides ou assez lourds et je me suis tourné vers Napalm Death and Carcass quand ils ont commencé à faire du bruit dans le monde entier. Et je n'étais toujours pas satisfait. Ces groupes étaient rapides, mais il leur manquait l'atmosphère maléfique que je cherchais. Dans ma recherche sans fin, je me suis abonné à The Wild Rag qui était un fanzine/distro livré à ma porte toutes les 6 semaines environ. Blasphemy a signé chez Wild Rags Records et j'ai été immédiatement attiré par eux à travers les interviews et les publicités dans le Wild Rags. J'ai commandé tout ce que j'ai pu et je n'ai pas été déçu ! Bien sûr, j'ai tout de suite été un'grand fan' !
Qu'est-ce qui est si particulier au Canada d'avoir ces groupes ultra-extrêmes ?
Je ne sais pas..... ? Le Canada est un si beau pays avec un mode de vie confortable. Peut-être que certains d'entre nous sont des barbares naturels et ont besoin d'un exutoire pour ces pulsions au lieu de vivre dans une société qui vous berce de la naissance à la mort ? C'est juste une idée qui me vient à l'esprit.....

Qu'est-ce que le War Metal pour vous ? Et y a-t-il une différence entre le War Metal et le Bestial Black Metal ?

Je n'y pense pas vraiment. Quand nous faisions Conqueror, nous ne connaissions pas le genre "War Metal". J'avais le 1er album de Holocausto (Brésil), mais c'est la seule fois que j'ai vu le terme War Metal. Nous ne connaissions que d'autres groupes de ce style que nous jouions et ils se faisaient appeler Black Metal. Blasphème, Beherit et Sarcofago ont été appelés Black Metal pour nous, et c'est ce que nous imitions. Maintenant je me fiche de ces termes comme "War Metal" et "Bestial Black Metal" attachés à ma musique parce qu'ils nous séparent des groupes de mauviettes qui se disent "Black Metal" mais qui jouent des conneries faibles et mélodiques qui sont en fait une insulte au terme "Black Metal".



L'album de Conqueror "War Cult Supremacy" sort en 1999. C'est un album culte dans le monde entier ! Imaginiez-vous à l'époque créer quelque chose d'aussi important ?


War.Cult.Supremacy a été enregistré en 1996 mais n'est sorti que quelques années plus tard ! Nous ne savions pas que notre musique allait se répandre ou quoi que ce soit d'autre. Nous voulions juste rendre hommage à nos groupes préférés et garder la flamme noire allumée dans la scène. Au milieu des années 90, les choses sont devenues vraiment mauvaises pour le Metal en général. Tous les genres de Metal souffraient avec les pires albums que j'ai jamais entendu sortir durant ces années. Il fallait vraiment regarder sous terre pour obtenir de la musique tueuse de groupes qui n'ont pas perdu leur vision. Tout le monde parle encore aujourd'hui de ces groupes norvégiens, mais pour nous, ils ont plongé presque immédiatement. Ils sont passés d'un Black Metal brutal à une ordure mélodique sur clavier en seulement deux ans. Ou bien nous avons vu ces groupes dans des séances photos amusantes ressemblant à des lutteurs ou à une sorte de blague. Conqueror était donc aussi un retour de bâton contre les poules mouillées qui ruinaient la scène Black Metal. On suivait notre propre chemin.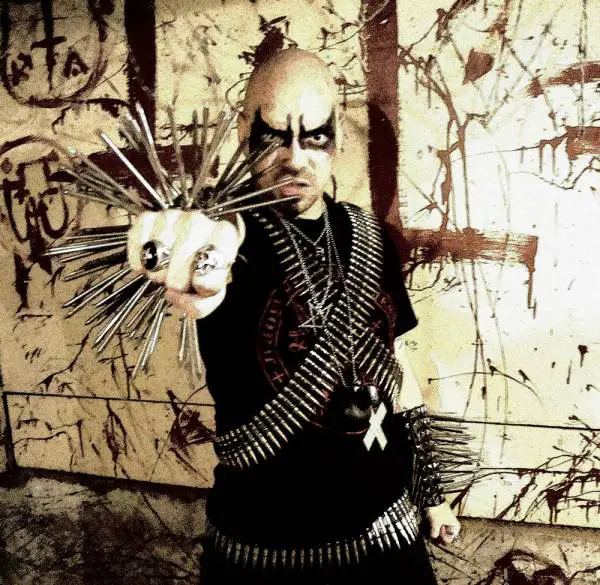 Cet album est très violent, rapide et brut. J'entends du Death Metal et du Black Metal Old-School comme Bathory ou Sarcofago. Mais pour moi, il y a aussi un côté punk dans ta musique ? Vous êtes d'accord ?
Je n'ai jamais vraiment écouté beaucoup de musique hardcore. Je sais que les membres de Blasphemy, Sarcofago et Bathory avaient des influences punk directes, alors peut-être que nous avons interprété ces influences à notre façon ? Je n'ai aucun rapport avec la musique punk.
Tu as rejoint Blasphemy en 1999. Que penses-tu des albums cultes du groupe comme Fallen angel of Doom et Gods Of War ?
Ce sont les deux albums les plus parfaits jamais enregistrés à mon avis ! Une pure bête sans charnière capturée sur cassette à une époque où personne n'était assez fort pour marcher sur son propre chemin ! Les deux albums étaient très en avance sur leur temps, et cette musique ne pouvait venir que de hors-la-loi déboussolés et ne pouvait plus jamais être truquée ou recréée !


Tu joues sur Live ritual : friday the 13th ? Peux-tu nous en dire plus ?
Malheureusement, c'était le pire show de l'époque de Blasphemy. Nous avons été invités à faire un concert lors d'un festival local qui incluait des groupes de tous les genres de Metal et c'était une collection de certains des groupes les plus ennuyeux et les plus merdiques possibles. Un seul groupe (Allfather) dont je me souviens avoir été intéressant. Peut-être qu'un autre groupe cool a joué mais je ne me souviens pas...... Quoi qu'il en soit, toute cette épreuve a été ridicule, à part le fait que nous avons rencontré Yosuke Konishi pour la première fois et que c'est une rencontre dangereuse qui reste toujours aussi forte aujourd'hui ! Quoi qu'il en soit, nous avons fait ce que nous avons pu dans une situation merdique et vous pouvez entendre les résultats ! En fin de compte, nous pensons qu'il s'agit d'un disque de tueur et nous en sommes satisfaits ! Il capture l'atmosphère de colère et de profanation !

Peut-on imaginer, un jour, avoir un NOUVEAU disque de Blasphemy en studio, avec vous en concert ?


Peut-être que ce sera quelque chose que vous ne pouvez qu'imaginer ! C'est quelque chose que j'aimerais voir se produire, mais il y a tout simplement trop de chaos autour du groupe pour que nous arrivions à le faire. Chaque fois que nous nous approchons du but, le chaos s'installe et tout s'écroule !
Que pensez-vous des autres sous-genres de BM ? Y a-t-il quelque chose que vous aimez ?
Oui ! Bien sûr ! Il y a beaucoup de groupes de tueurs ! Si tu dis quelque chose comme Black Metal Doom, je suis dans la première démo de Carpathian Forest et des groupes comme Unholy de Finlande ! Je pense qu'il y a beaucoup de groupes de Black Metal géniaux du monde entier et de tous les sous-genres !


Bathory ou Venom ?

Les deux !!!!! Mais je me penche plus vers Bathory parce qu'ils ont amené les idées de Venom à un autre niveau !
Pouvez-vous nous lister vos 20 albums préférés ?


Albums ? Si vous m'aviez demandé des démos, je n'aurais vraiment pas pu. J'ai surtout été influencé par des démos comme The Lord Diabolos "Down There...", Blasphemy "Blood Upon the Altar", Pentagram (Chili) demos, Necrovore, VON, et bien plus encore. Et il y a eu des EP comme Grotesque "Incantation" et Hellhammer "Apocalyptic Raids" qui m'ont vraiment marqué. Et je suis aussi dans Black Sabbath, Iron Maiden et Judas Priest, mais je vais les omettre et rester plus underground.


Pour les albums, c'est quelque chose comme ça :
1. Blasphemy 'Fallen Angel of Doom….'
4. Beherit 'Drawing Down the Moon'
6. Sacrifice 'Forward to Termination'
8. Morbid Angel 'Altars of Madness'
9. Order From Chaos 'Dawnbringer'
10. Bathory 'The Return….'
11. Destruction 'Infernal Overkill'
12. Mercyful Fate 'Melissa'
13. Sodom 'Obsessed By Cruelty'
14. Kreator 'Pleasure to Kill'
15. Blasphemy 'Gods of War'
16. Bathory 'Under the Sign of the Black Mark'
17. Voivod 'Rrroooaaarrr'
18. Bestial Warlust 'Vengeance War till Death'
19. Celtic Frost 'To Mega Therion'

Que penses-tu du nouveau Blasphamagoatachrist, avec Nocturnal Grave...au chant ?


C'est absolument parfait !!!!!!!! Je suis plus que ravi de voir Black Winds revenir à la charge et livrer de la profanation au-delà de tout groupe essayant de faire ce style aujourd'hui ! Alors, un truc de tueurs !!!!!!!!!



Vous pouvez ajouter ce que vous voulez :


Le nouvel EP de Death Worship "End Times" est sorti et vous pouvez trouver plus d'informations sur ce morceau d'obscurité sauvage sur Nuclear War Now ! Site web des Productions.
YOU NEED MORE WAR METAL ?