ITALIAN PREHISTORIC METAL OF DEATH : INTERVIEW WITH THECODONTION
"Thecodontion is a Prehistoric Metal of Death band from Italy formed in 2016 and about prehistory, fossils, and geologic periods. NO GUITARS - ONLY DEATH!" (Excerpt from Thecodontion's bandcamp)
Hail Thecodontion ! You're a recent band from Italy playing Bestial Death Metal/Black Metal without guitars...And with lyrics about prehistory ! Can you introduce yourselves to our readers ?
G.E.F. (vocals): We officially formed in 2016 and thus far we've released a demo and an EP, named "Thecodontia" and "Jurassic" respectively. The idea for this project actually dates back a few years before (2012-2013), back then I've already wanted to form a black metal band without guitars and with a prehistoric imagery. Then I proposed my idea to G.D. and things took a different, but more focused direction, in a natural way.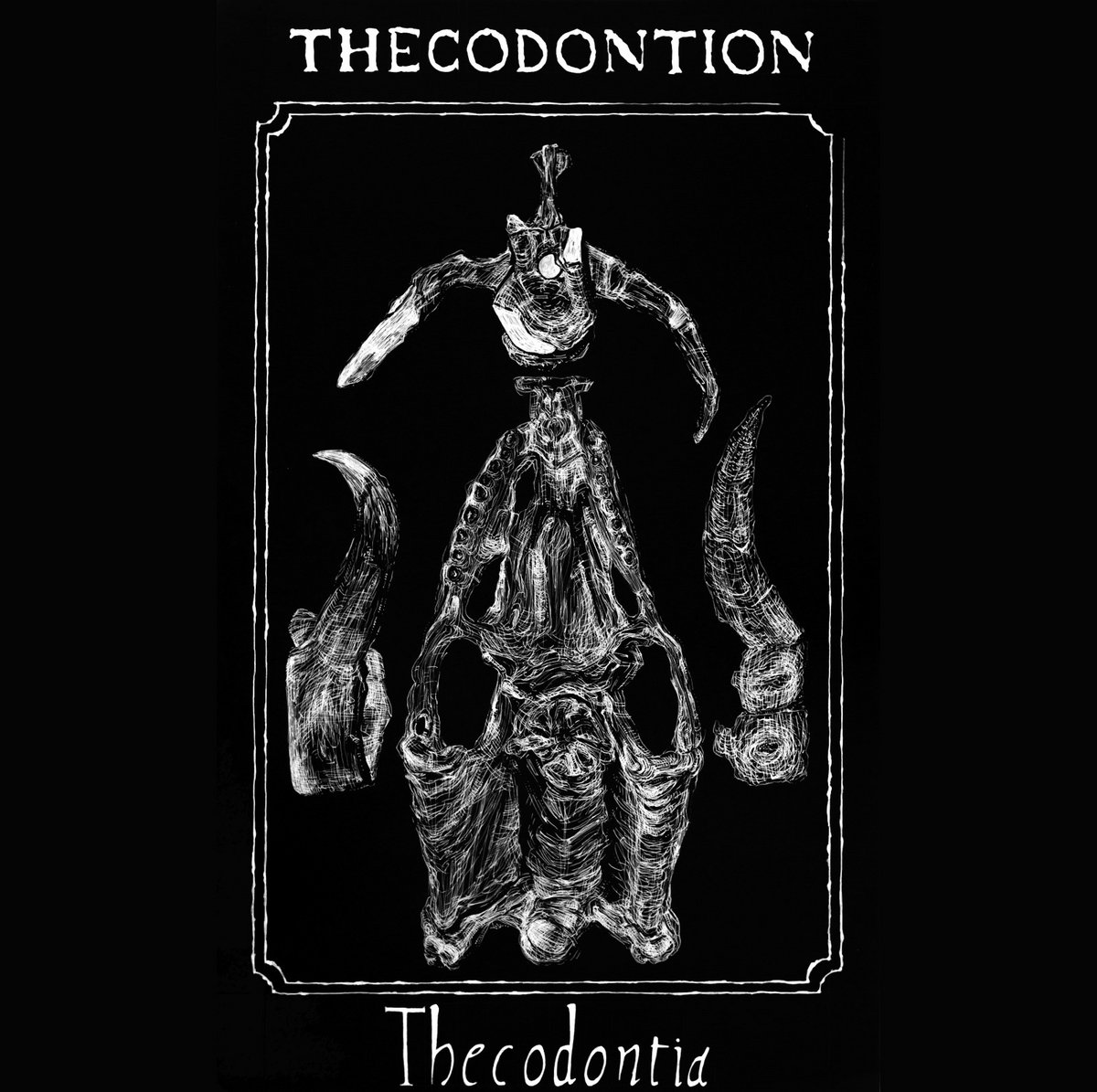 PREHISTORICAL METAL OF DEATH FROM ITALY : THECODONTION
What is the story behind your prehistoric thematic ?
G.D. (bass): I've always been interested in prehistoric creatures and fossils since I was a kid, and in my opinion prehistory as a lyrical theme fits a genre such as black/death metal perfectly. I wanted to explore this concept by using a quasi-scientific approach, instead of opting for "let's use dinosaurs instead of Satan and call it a day".
This « bestial/war metal » you play is maybe one of the most extreme kind of music ever created. What do you think about another real extreme genre, Grindcore ? (i think about it because of the proeminence of bass guitar into your music )
G.E.F.: I don't think we actually play "bestial/war metal", but we aren't interested in genre tags that much. Grindcore is an extreme genre for sure and it's one of our main influences, especially for our first two outputs.
Are you working on an album ?
G.D.: Yes, we are going to record it in July. Songs are going to be longer, darker and more complex.
I often say italian bands are always originals ! What decided you to play that kind of extreme music without guitar ?
G.D.: For me, the sound of a distorted bass guitar has a very primitive vibe and it fits the prehistoric aesthetic perfectly, it was an obvious decision. Also, I can play bass way better than guitar.
Can you give us your 20 favorite records ever ?
G.D.: I mostly listen to non-metal music actually, so in no particular order (except for the first entry on the list):
R.E.M. - Murmur, Reveal and Green
Oneohtrix Point Never - Replica
The Avalanches - Since I Left You
Discordance Axis - The Inalienable Dreamless
The Axis of Perdition - Deleted Scenes From the Transition Hospital
Death Grips - The Powers that B
Dalek - Asphalt for Eden
King Crimson - In the Wake of Poseidon
In Flames - Whoracle
Clarence Clarity - NO NOW
Code - Resplendent Grotesque
Faith No More - King or a Day, Fool for a Lifetime
Depeche Mode - Music For The Masses
dISEMBOWELMENT - Transcendence Into the Peripheral
Disasterpeace - FEZ OST
Tangerine Dream - Logos
Fripp & Eno - Evening Star
Franco Battiato - Sulle Corde di Aries
G.E.F.: It's hard to pick my 20 favorite albums ever... I'll try making a list of ten metal albums and ten non-metal albums that influenced me the most:
Bathory - Hammerheart
Type O Negative - Bloody kisses
Portal - Outre
Bathory - Under the sign of the black mark
Judas Priest - Screaming for vengeance
Antediluvian - Throught the cervix of Hawaah
Demilich - Nespithe
Slayer - Show no mercy
Thergothon - Stream from the Heavens
Celtic Frost - To mega therion
Sonic Youth - Goo
Cocteau Twins - Treasure
Franco Battiato - Patriots
Swans - The great annihilator
Primus - Pork soda
Depeche Mode - Music for the masses
Big Black - Songs about fucking
Fabrizio de André - Non al denaro non all'amore né al cielo
Devo - Q: Are we not men? A: We are Devo!
CCCP Fedeli alla Linea - Affinità-divergenze tra il compagno Togliatti e noi

This interview will be published in a book about different kinds of Black Metal, like Post-BM, Black/Death, True Black, atmospheric black... What is the part of Black Metal in Thecodontion? What do you think about the evolutions of the genre ?
G.E.F.: Probably the vocal style and the influence of first-wave black metal on our riffs are the Thecodontion's most black metal parts. I think the evolution of the genre is a natural occurrence that actually benefited it. While some styles didn't reinvent themselves and "died", black metal found new life by blending with other genres.
When we listen to your EP Jurassic we can both learn a lot of things about prehistoric reptiles and headbang til death. Is it your goal to make a kind of « intelligent primitive music » ?
G.E.F.: Yes, we'd like to create a style of music that might go above certain stereotypes. We believe lyrics are very important and we want them to have their own right space in a song. Also, well written lyrics about a specific concept tend to give a certain degree of atmosphere and peculiarity to a band.
Are you going to play live ?
G.D.: We have already played live in the last few months and we have an upcoming show on May 9th. We also have plans for playing some gigs after recording the full length.