REVIEW - FR+ENGLISH - KOLDKRYPT - FULLMOON - 2020 FEU FOLLET PRODUCTIONS - TRUE BLACK METAL
Style : New Wave of True Black Metal
Koldkrypt...la crypte glaciale...déjà le nom impose une ambiance...et puis ce titre d'album "Fullmoon", qui sent bon le Black Metal des années 90...Une belle pochette pour un magnifique digipack et un contenu musical tout aussi splendide...Déjà un indispensable ! Alors lisez cette chronique, écoutez la musique mise en lien, et ruez vous sur cet achat que vous ne regretterez surtout pas !
Koldkrypt est un one man band originaire de Vendée dont l'horreur est le fait de ce maître sombre qu'est Typhus, également membre de Sic Temper Tyrannis (chez lesquels il officie à la guitare et à la basse). Dire que j'ai été enchanté à l'écoute de ce "Fullmoon" serait un doux euphémisme tant, dès la première écoute, j'ai été conquis par la beauté funeste de cet album, tout en atmosphères.
La noirceur intense de l'ambiance et des hurlements diaboliques de Typhus, sur un lit de trémolos de guitares et une batterie supersonique n'empêche nullement le triste sire de nous ravir les oreilles de mélodies splendides, porteuses en elles de toute la beauté du diable. Le clavier dont les nappes participent grandement à cet état de fait n'édulcore jamais le propos hautement satanique du groupe, toujours venimeux et violent, mais rajoute une touche addictive à l'ensemble qui fait de cet album un opus particulièrement dangereux car il vous accroche la cervelle direct pour ne plus la lâcher par la suite !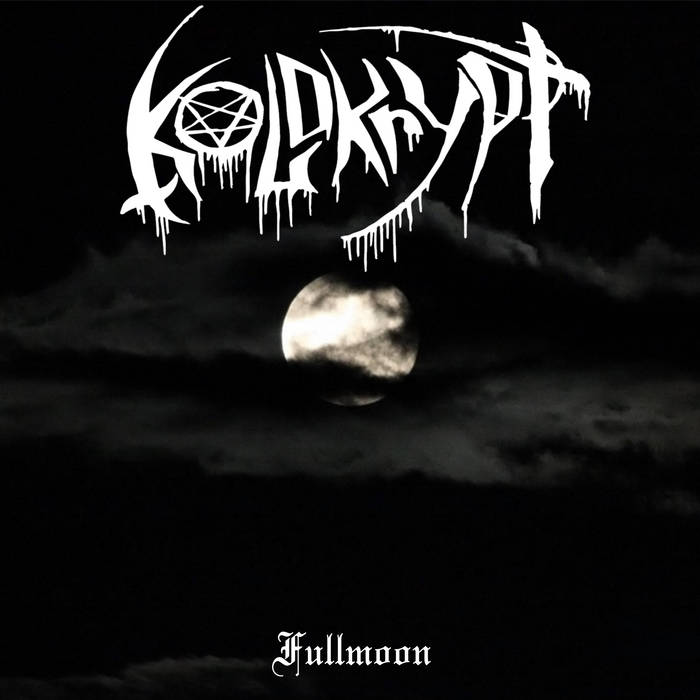 Ici, tout est parfaitement soigné, depuis les chœurs (faussement) divins, jusqu'à la composition parfaitement aboutie, dans la mesure ou notre homme a compris ce fondamental de toute musique : il faut savoir composer des chansons, des vraies, qui se nichent dans l'âme au plus profond.
Alors, au jeu des comparaisons, on peut toujours remarquer que le Koldkrypt fait une reprise de Sale Freux, et qu'il s'inscrit aussi dans un Black Metal où l'ambiance est reine. Pour autant, j'y trouve davantage de traces du Black norvégien de la 2ème vague (Darkthrone, Mayhem, Satyricon et Emperor en premier lieu) qu'une tentative supplémentaire d'imiter le breton déjà tant et tant copié !
Mais le name dropping vaut ce qu'il vaut, et il ne sert que de repère, pas plus. Koldkrypt a sa propre identité et c'est largement suffisant. Les sept titres que contient ce bel album vont vous hanter très vite, c'est pourquoi il faut répandre la mauvaise parole autour de vous.
Avec "Fullmoon" Koldkrypt frappe très fort et transforme un coup d'essai en coup de maître ! Il va falloir s'aligner maintenant les autres ! Un disque qui vous prend et ne vous lâche plus, un des meilleurs moyens de pervertir les âmes que j'ai entendu depuis longtemps ! Hail Koldkrypt !
Style : New Wave of True Black Metal
Koldkrypt...the icy crypt...already the name imposes an atmosphere...and then this album title "Fullmoon", which smells like the Black Metal of the 90s...A nice cover for a magnificent digipack and a musical content just as splendid...Already an essential! So read this review, listen to the music linked to it, and make your way to this purchase that you won't regret !
Koldkrypt is a one man band from the Vendée region of France, whose horror is due to this dark master that is Typhus, also a member of Sic Temper Tyrannis (where he plays guitar and bass). To say that I was delighted to listen to this "Fullmoon" would be a sweet euphemism, so much so, from the first listening, I was conquered by the fatal beauty of this album, all in atmospheres.
The intense darkness of the atmosphere and the diabolical screams of Typhus, on a bed of tremolos of guitars and supersonic drums doesn't prevent the sad sire from ravishing our ears with splendid melodies, carrying in them all the beauty of the devil. The keyboard, whose strings contribute greatly to this state of affairs, never water down the highly satanic purpose of the band, always venomous and violent, but adds an addictive touch to the whole which makes this album a particularly dangerous opus because it catches your brain straight away and never let it go afterwards!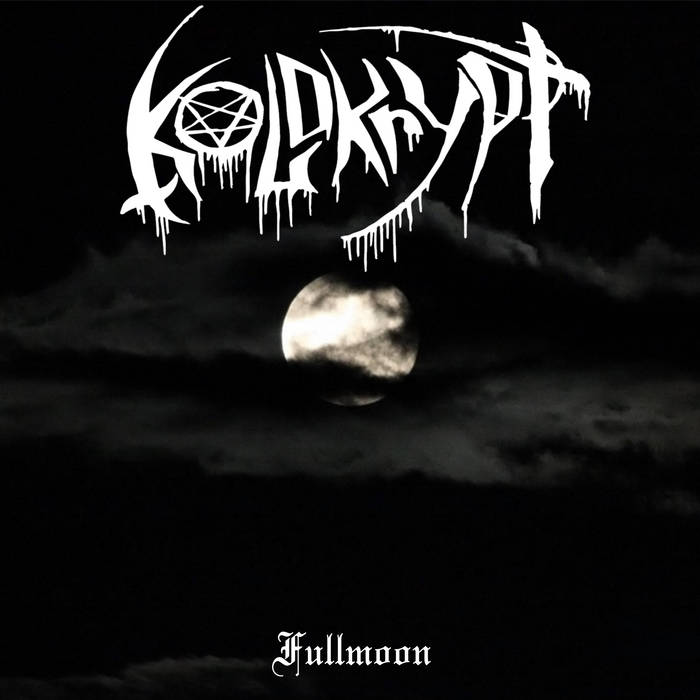 Here, everything is perfectly taken care of, from the (falsely) divine choruses, to the perfectly accomplished composition, insofar as our man has understood this fundamental of all music: one must know how to compose songs, real ones, which nestle in the deepest soul.
So, in the game of comparisons, we can always notice that Koldkrypt does a cover of Sale Freux, and that it also fits in a Black Metal where the atmosphere is queen. However, I find more traces of the Norwegian Black of the 2nd wave (Darkthrone, Mayhem, Satyricon and Emperor in the first place) than an additional attempt to imitate the Breton already copied so much!
But the name dropping is worth what it's worth, and it only serves as a landmark, no more. Koldkrypt has its own identity and that's more than enough. The seven tracks on this beautiful album will haunt you very quickly, that's why you have to spread the bad word around you.
With "Fullmoon" Koldkrypt hits very hard and turns a trial run into a masterstroke! We'll have to line up the others now! A record that takes you and doesn't let you go, one of the best ways to pervert the souls I've heard for a long time! Hail Koldkrypt!