BIRTH OF TRAGEDY - INTERVIEW WITH HOR - GREEK BLACK METAL
"Well we play traditional black metal in essence and purity but in our way. we do not re-invent the wheel and we do not care to do it. If you love black metal…then probably you will like our album" (Ophion)
Interview with Ophion from HOR
Hor is quite fascinating...This Greek duo has just released, with "Exitium", a Black Metal album of rare intensity, emblematic darkness and absolute firepower. Direct heirs of the big names of the Scandinavian scene of the 90s, they provoke a shiver comparable to what I felt at the time when I heard Satyricon or Emperor. There are worse references, don't you think? Ophion, a member of this mysterious and surprising group tells us a little more
Hor, thank you for answering my questions! Can you tell us the story of this group that seems to "come out of nowhere"?
Hi Pierre. Thank you for this interview. The band HOR was formed in November of 2017. Before that date we had some black metal projects but it was difficult for us to "Communicate" with the other members and to make the other members of our previous bands to follow our idea about what we want. They luck "professionalism" and motivation. So in 2017 me & THRONE decided to do it alone. We formed the band, we wrote new songs (we didn't want to bring anything from the previous bands) and it was the result of "Exitium" album. The truth is that it seems like we "came out of nowhere" because we didn't follow the standard path that most bands do. You know…demo 1, demo 2 etc. We feel really confident about our music, the ideas that we want to share and about the view that we have for this band that it felt pretty normal to release an album that came out of nowhere like "lightning in the dark" without any demos pre-releasing.
Your album "Exitium" is fascinating! It's hard to think you're a new band! Which bands have influenced you ?
Thank you Pierre. As fans of this music we love hundreds of bands. The truth is that I cannot name one band that has a special influence on us. I think each moment that we spend listening hours and hours of this music it was like sowing a seed in our minds – hearts and has influenced our way of thinking about music. It's obvious that we adore the Norwegian black metal sound of the 90s but we didn't ever think that we want to play like BURZUM, SATYRICON, DARKTHRONE, EMPEROR etc. We love all these bands and surely they have an influence on us as many other bands that we love, but the truth is that I cannot name a specific band as a specific influence. We follow our path influenced from what we have listened to all this years.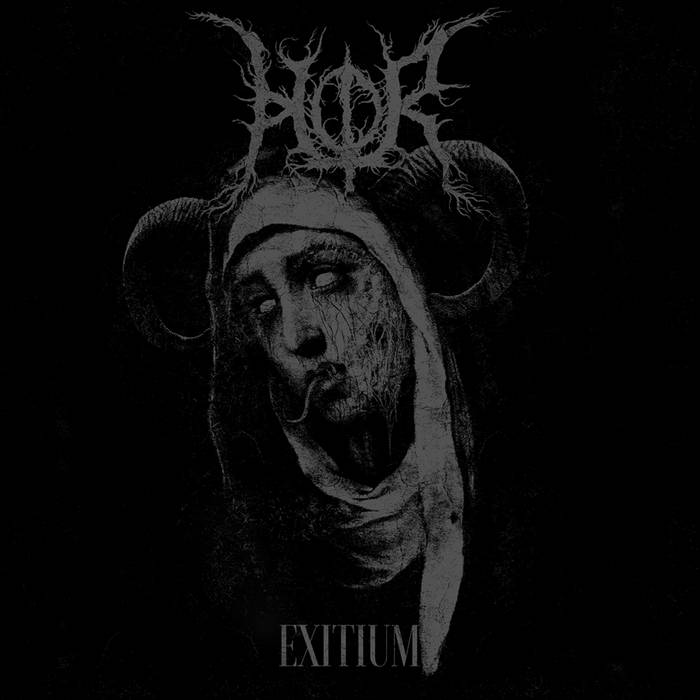 I found that your sound was closer to the Scandinavian Black Metal of the 90s than to the Greek sound, even though you are Athenians. Am I right?
Yes, you are right. Even we are born and raised in Athens we weren't very attached with the Hellenic black metal sound of the 90s. The truth is that I like only few albums with that specific greek black metal sound. The majority of the bands of that era tried to imitate the sound of Rotting Christ in "Passage to Arcturo" E.P. album with no success…and it still sounds funny. There are few bands of that era that I respect and played a role to black metal music in Greece of course, but the majority of them I cannot even call them black metal. So for our generation it was easier to get attached with the more aggressive and fast Norwegian Black metal sound than with the greek one. Thankfully there are a lot of underground black metal bands in Greece now that even if you like it or not their music, you call it Black metal.
What is the main message of this album? The themes?
Our lyrics are mainly influenced from things we read and from the things that we see, listen and irritates us in this conservative christian society that we live in. I read a lot the ancient greek philosophers and more modern literature of course. One of the main things that ancient greek philosophers studied was "death". So topics that are against all organised religions, topics that has to do with the Human kind, free-thinking and the study of death are the main things that our lyrics refer to. We do not hail Satan or encouraging the sacrifices of whores or all these cliches that 20-30 years ago seemed rebellious or cool but now...are not. We express ourselves with themes that concern us, things that we discuss in our everyday life with our friends, or things we fight against or we fight for.
Do you plan to perform live?
No, not really. I do not want to say never…because you never know what future can bring but in the instant future we are not going to perform live. We're quite perfectionists and playing live it will not be a satisfying moment for us if it will not be as we want it and when we want it. I never say never, but we will do it when we feel that we want to communicate with other people through this way. Now we do not feel this way.
What is your vision of the current black metal scene?
Well the only things that have change through the previous years is the number of the albums that are released from black metal bands. More and more black metal music is released each year. It has the advantages and the disadvantages of course but we also listened to good black metal albums this year. Especially in Greece there are strong black metal bands with amazing albums that released in 2019.
Your favorite albums of all time ? In any kind ?
Hmmm…there are so fuckin' many. Well I'm a huge collector & METALLICA fan and I would definitely choose as top albums in my list "Ride the Lightning" and "Master of Puppets". But I also love: DANZIG's "How the Gods Kill" & "4", BLACK SABBATH's "Master of Reality" & "Paranoid", M.DAVIES "Kind of Blue" & "In a silent way", BATHORY's "Twilight of the Gods", PINK FLOYD's Trilogy "Dark side…Wish you were Here…Animals", "MOTORHEAD's "Bomber" & "Overkill", "Into Glory Ride", HATZIDAKIS "Gioconda's Smile", SODOM's "Agent Orange", UFO "Phenomenon", SLAYER's "Seasons In the Abyss", C.O.C. "Deliverance", All Led Zep albums, 70s-Mid 80s Deep Purple albums, SKYNYRD albums and from … Black Metal albums I love "Rebel Extravaganza", DARKTHRONE's B.M. Unholy Trilogy, "Thorns", EMPEROR's "Anthems…"& "In the Nightside Eclipse", BURZUM's "Aske" & "filosofem" … fuck, there are hundreds…I can talk hours about my favorite albums.
What will be the next step for Hor ?
We have some ideas here and there, when we feel the time is right we will enter the studio once more to record them.
If I tell you: make someone who doesn't know you want to discover you...what will you tell him?
Well we play traditional black metal in essence and purity but in our way. we do not re-invent the wheel and we do not care to do it. If you love black metal…then probably you like our album.
You can add whatever you want :
We wanna thank our French friends who have supported us since day one. Merci beaucoup for the support and of course you Pierre for this interview.
"Eh bien nous jouons du black metal traditionnel dans son essence et sa pureté mais à notre manière. Nous ne réinventons pas la roue et nous ne nous soucions pas de le faire. Si vous aimez le black metal... alors probablement que vous aimerez notre album" (Ophion)


Interview avec Ophion de Hor
Le Cas de Hor est assez fascinant...Ce duo grec vient de lâcher, avec "Exitium" un album de Black Metal d'une intensité rare, d'une noirceur emblématique et d'une puissance de feu absolue. Héritiers directs des grands noms de la scène scandinave des années 90 ils nous provoquent un frisson assez comparable a ce que j'ai ressenti a l'époque quand j'ai entendu Satyricon ou Emperor. Avouez qu'il y a pires références, non ? Ophion, membre de ce groupe mystérieux et surprenant nous en dit un peu plus

Ophion, merci de répondre à mes questions ! Pouvez-vous nous raconter l'histoire de ce groupe qui semble "sortir de nulle part" ?
Salut Pierre. Merci pour cette interview. Le groupe HOR a été formé en novembre 2017. Avant cette date, nous avions quelques projets de black metal mais il nous était difficile de "communiquer" avec les autres membres et de faire en sorte que les autres membres de nos groupes précédents suivent notre idée sur ce que nous voulions. Ils ont eu de la chance d'avoir du "professionnalisme" et de la motivation. Alors en 2017, moi et THRONE avons décidé de le faire seuls. Nous avons formé le groupe, nous avons écrit de nouvelles chansons (nous ne voulions rien apporter des groupes précédents) et c'était le résultat de l'album "Exitium". La vérité est qu'il semble que nous soyons "sortis de nulle part" parce que nous n'avons pas suivi le chemin standard que la plupart des groupes suivent. Vous savez...démo 1, démo 2 etc. Nous sommes très confiants dans notre musique, dans les idées que nous voulons partager et dans le point de vue que nous avons pour ce groupe, qu'il était assez normal de sortir un album qui est sorti de nulle part comme "Lightning in the dark" sans aucune démo de pré-édition.
Votre album "Exitium" est fascinant ! Il est difficile de penser que vous êtes un nouveau groupe ! Quels sont les groupes qui vous ont influencés ?
Merci Pierre. En tant que fans de cette musique, nous aimons des centaines de groupes. La vérité est que je ne peux pas nommer un groupe qui a une influence particulière sur nous. Je pense que chaque moment que nous passons à écouter des heures et des heures de cette musique, c'est comme si nous avions semé une graine dans notre esprit - dans notre coeur - et cela a influencé notre façon de penser à la musique. Il est évident que nous adorons le son black metal norvégien des années 90 mais nous n'avons jamais pensé que nous voulions jouer comme BURZUM, SATYRICON, DARKTHRONE, EMPEROR etc. Nous aimons tous ces groupes et ils ont certainement une influence sur nous comme beaucoup d'autres groupes que nous aimons, mais la vérité est que je ne peux pas nommer un groupe spécifique comme une influence spécifique. Nous suivons notre chemin, influencés par ce que nous avons écouté pendant toutes ces années.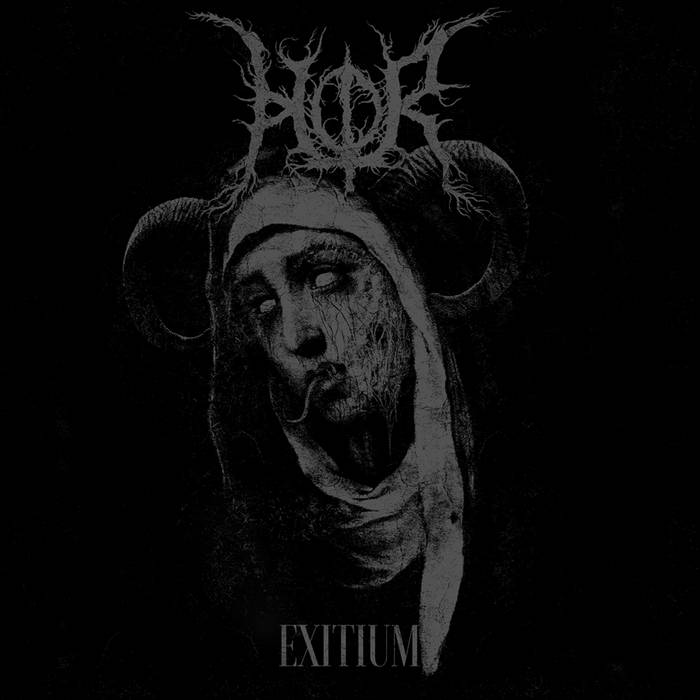 J'ai trouvé que votre son était plus proche du Black Metal scandinave des années 90 que du son grec, même si vous êtes athéniens. Ai-je raison ?
Oui, vous avez raison. Même si nous sommes nés et avons grandi à Athènes, nous n'étions pas très attachés au son black metal hellénique des années 90. La vérité, c'est que je n'aime que peu d'albums avec ce son black metal grec spécifique. La majorité des groupes de cette époque ont essayé d'imiter le son de Rotting Christ dans l'album "Passage to Arcturo" E.P. sans succès... et ça sonne toujours aussi drôle. Il y a peu de groupes de cette époque que je respecte et qui ont joué un rôle dans la musique black metal en Grèce bien sûr, mais la majorité d'entre eux je ne peux même pas les appeler black metal. Donc pour notre génération, il était plus facile de s'attacher au Black metal norvégien, plus agressif et plus rapide, qu'au black metal grec. Heureusement, il y a beaucoup de groupes de black metal underground en Grèce maintenant que même si vous aimez ou non leur musique, vous l'appelez Black metal.
Quel est le message principal de cet album ? Les thèmes ?
Nos paroles sont principalement influencées par les choses que nous lisons et par les choses que nous voyons, écoutons et qui nous irritent dans cette société chrétienne conservatrice dans laquelle nous vivons. Je lis beaucoup les anciens philosophes grecs et la littérature plus moderne bien sûr. L'une des principales choses que les philosophes grecs anciens ont étudiées était la "mort". Donc, les sujets qui sont contre toutes les religions organisées, les sujets qui ont à voir avec l'humanité, la libre pensée et l'étude de la mort sont les principales choses auxquelles nos paroles font référence. Nous ne saluons pas Satan ou n'encourageons pas les sacrifices de putes ou tous ces clichés qui, il y a 20 ou 30 ans, semblaient rebelles ou cool, mais qui aujourd'hui... ne le sont plus. Nous nous exprimons avec des thèmes qui nous concernent, des choses dont nous discutons dans notre vie quotidienne avec nos amis, ou des choses contre lesquelles nous nous battons ou pour lesquelles nous nous battons.
Prévoyez-vous de vous produire en concert ?
Non, pas vraiment. Je ne veux pas dire jamais... parce qu'on ne sait jamais ce que l'avenir nous réserve, mais dans l'immédiat, nous n'allons pas nous produire en concert. Nous sommes assez perfectionnistes et jouer en direct ne sera pas un moment satisfaisant pour nous si ce n'est pas comme nous le voulons et quand nous le voulons. Je ne dis jamais jamais, mais nous le ferons quand nous sentirons que nous voulons communiquer avec d'autres personnes par ce moyen. Or, nous ne ressentons pas cela.
Quelle est votre vision de la scène black metal actuelle ?
La seule chose qui a changé au cours des dernières années est le nombre d'albums qui sont sortis des groupes de black metal. De plus en plus de musique black metal sort chaque année. Elle a ses avantages et ses inconvénients bien sûr, mais nous avons aussi écouté de bons albums de black metal cette année. En Grèce en particulier, il y a des groupes de black metal puissants qui ont sorti des albums étonnants en 2019.
Vos albums préférés de tous les temps ? En tout genre ?
Hmmm... il y en a tellement. Je suis un grand collectionneur et un fan de METALLICA et je choisirais certainement les albums les plus populaires de ma liste, "Ride the Lightning" et "Master of Puppets". Mais j'aime aussi : "How the Gods Kill" et "4" de DANZIG, "Master of Reality" et "Paranoid" de BLACK SABBATH, M. DAVIES "Kind of Blue" & "In a silent way", "Twilight of the Gods" de BATHORY, la trilogie de PINK FLOYD "Dark side...Wish you were Here...Animals", "Bomber" & "Overkill" de MOTORHEAD, "Into Glory Ride", "Gioconda's Smile" d'HATZIDAKIS, "Agent Orange" de la SODOM, "Phénomène" d'OVNI, "Seasons In the Abyss" de SLAYER, C. O.C. "Deliverance", les albums de Led Zep, les albums de Deep Purple des années 70 et 80, les albums de SKYNYRD. Les albums de Black Metal que j'aime "Rebel Extravaganza", le B.M. de DARKTHRONE (la trilogie noire), Thorns, EMPEROR's "Anthems..."& "In the Nightside Eclipse", BURZUM's "Aske" & "filosofem" ... putain, il y en a des centaines... je peux parler pendant des heures de mes albums préférés.
Quelle sera la prochaine étape pour Hor ?
Nous avons quelques idées ici et là, quand nous sentirons que le moment est venu, nous entrerons en studio une fois de plus pour les enregistrer.
Si je vous dis : donnez envie à quelqu'un qui ne vous connaît pas de vous découvrir...que lui direz-vous ?
Eh bien nous jouons du black metal traditionnel dans son essence et sa pureté mais à notre manière. Nous ne réinventons pas la roue et nous ne nous soucions pas de le faire. Si vous aimez le black metal... alors probablement que vous aimerez notre album.
Vous pouvez ajouter ce que vous voulez :
Nous voulons remercier nos amis français qui nous ont soutenus depuis le premier jour. Merci beaucoup pour le soutien et bien sûr Pierre pour cette interview.