INTERVIEW WITH CATTLE DECAPITATION - ENG/FR - DEATHGRIND SUPERSTARS !
INTERVIEW WITH OLI PINARD
a big bravo to Vince Desca who guessed that this interview would be Cattle Decapitation !
In the space of a few years, the giants of Death/Grind Cattle Decapitation have gone from being a band to follow absolutely to being "stars" of the extreme, especially since the release of their incredible last album "Death Atlas". These militants of the animal and ecological cause have become unavoidable in the payasage, with unanimous recognition from the public and the media. Oli Pinard, the band's bass player, was kind enough to talk about the present, past and future of Cattle Decapitation, and we took the opportunity to get some news from his other flagship band Cryptopsy, who apparently is preparing something new for us, as well as from his other bands, as the Montrealer is a four-string hyperactive! (oops, sorry ! five strings !) Thanks to him for his kindness, his availability, and this great interview!
Hello Oli, and first of all thank you for answering the Scribe's questions! Let's start with the present ...You're playing the bass since 2018 in Cattle Decapitation...What does it feel like ?
Hello! It's great! I've been a friend and fan of the band for many years, I consider myself lucky to have earned the position of official bass player!
Oli Pinard torturing his poor bass !
How did the meeting with the band happen?
I met the band in 2013 during a European tour with Cryptopsy. We were in the middle of promoting our eponymous album and Cattle was supporting Monolith of Inhumanity at the time. We already had good chemistry at that time. I even played my first gig with Cattle in the summer of 2013 on the Summer Slaughter tour in Canada replacing Derek Engemann.
Cattle became a major band on the international metal scene...Did you expect that?
Yes and no. It's impossible to predict the future of a band, especially in extreme music. But in all honesty, I kind of expected it. After the Monolith of Inhumanity album, I always knew that this band would go far!
Your last album Death Atlas was widely acclaimed by the metal press and the public! How do you explain such a craze for a band that still practice an extreme Death/Grind ?
I think the success of this album is due to the fact that the band didn't go into the "Death/Grind" clichés. Death Atlas is the result of 5 musicians in search of creating a unique album that we will be proud of even in 20 years!
Not having played on the albums before Death Atlas, what is your view as a musician and music fan about Cattle Decapitation's discography ?
I discovered the band with the album ''Hummanure'', and like many people, the illustration caught my attention! I would say I wasn't too familiar with this style of music at the time. Travis Ryan's vocals were like nothing I knew, I was obsessed with them. I would say that it was when drummer Dave Mcgraw joined the band for the album ''The Harvest Floor'' that I became a part of their world 100%.
Do you share the band's concerns about deep ecology, the fight for animal rights ? Do you think we are fucked ?
Yes definitely haha. Australia and the burning Amazon and the Coronavirus are examples of the power of Mother Nature. Human activity on earth is undoubtedly harmful. It's disturbing.
You have quite a pedigree since you've been playing with the legend Cryptopsy since 2012! Can you tell us about your involvement with them?
I joined Cryptopsy at the end of 2011, at the time of the composition of the eponymous album. It was unreal for me to play with a band I had been listening to since I was a teenager! Replacing Eric Langlois on bass was one of the biggest challenges, until today. I always considered Cryptopsy as one of the biggest Death Technique bands, I had to be up to the challenge! My goal was to deliver the bass parts I wanted to hear as a fan!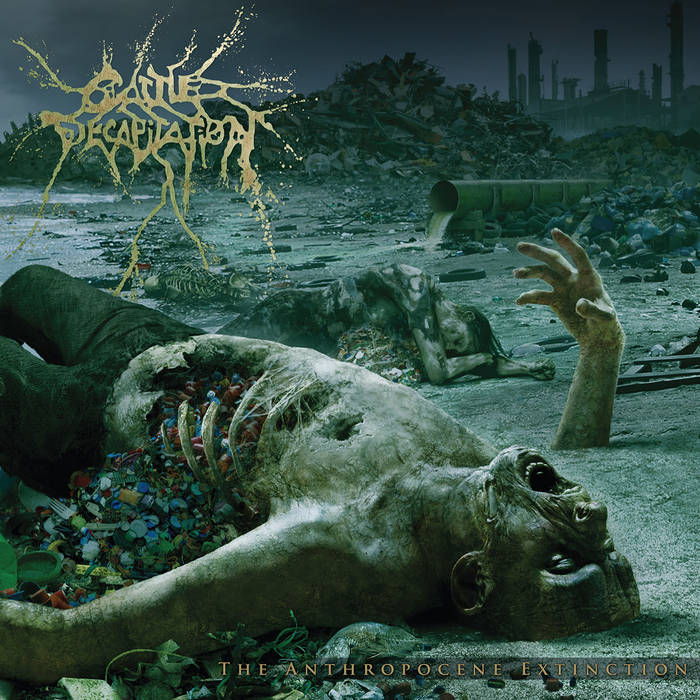 Are you specifically attracted by this kind of very technical and violent Death Metal ? Is it by taste of the challenge ?
No, only because they are the only ones who call me, joke hehe.
Yes of course the challenge to surpass myself, but I've always had the desire to play with as many musicians as possible, I'm passionate about music of all styles. I'm open to collaborate with as many people as possible.
For you who is from Montreal, playing with Cryptopsy, who is a legend of the Montreal scene, is a dream come true, isn't it?
Yes of course, as I said it's a band I was already listening to before I joined! My first gig with them was unreal for me.... to be on stage with Jon Levasseur and Flo Mounier.... I'm telling you that little 13 year old Oli would never believe that!!
Can you tell us about the role of a bass player in this kind of very powerful and extreme music?
The bass as in any style of music is used to support the band . I have always wanted to serve the song more than to show off my skills and try to impress the gallery. However, in an extreme context it is not always obvious that the bass is also in the foreground. I guess it's a matter of taste. When I write a bass line for Cryptopsy I'm in a different mindset than when I write a line for Cattle, do you understand?
Are you going to draw your inspiration from genres like Jazz or Funk, well known for the major role the bass plays in them ?
I get my inspiration from everything. Whether it's a guitar riff from Alice in Chains or a drum pass from Rush! I transpose musical and rhythmic ideas into the bass line.
When can we expect a new Cryptopsy album? How are you gonna "juggle" between Cattle and Cryptopsy?
We are currently working on a new album. No release date yet though. It's not going to be easy to juggle the two, that's why I have my buddy Dominic Grimard ( Ion Dissonance, The Last Felony) to replace me on Cryptopsy if there is a time conflict.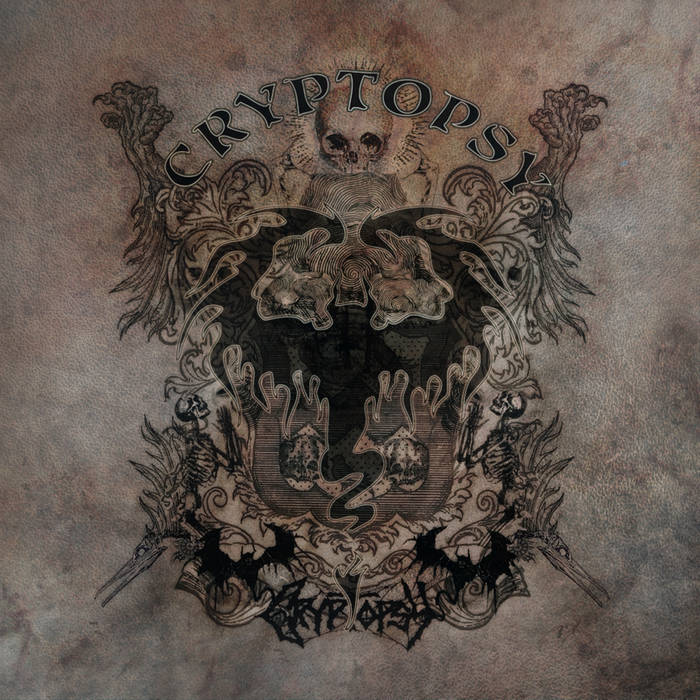 What do you say to those journalists who blame Cryptopsy for going from Brutal Death to Deathcore? Personally I don't see the problem, and I don't think you're doing deathcore but well...
I don't give a damn.... Cryptopsy is not a deathcore band and never has been. Cryptopsy is just an extreme band. Go listen to '' The Book of Suffering pt. 1-2'' and tell me it's Deathcore... lol
You're also member since 2009 of Neuraxis and Akurion, two jewels of Quebec's technical death scene...Neuraxis hasn't released anything for a long time, is the band still active ?
No the band is on break since 2011. There's no discussion back for the moment. I'm very busy with my bands, Oli Beaudoin works at the Pirate Studio and plays drums for Kataklysm and Ex Deo, Rob Milley is guitarist for Akurion and Necrotic Mutation, Alex Leblanc has sung on several projects including a new one that will be announced soon. We are all very busy.
With Akurion you will release a new album next April: "Come Forth To Me". I was able to listen to the two tracks available on your bandcamp and it looks promising! A dark and crawling Death Metal ! Can you give us a little preview of it ?
The project was created by Rob Milley and Mike DiSalvo in 2012, myself and Tommy Mckinnon joined the band later that year. For this project, we wanted to push our limits and get out of our comfort zone. For me, this is the first time I've ever used only a fretless bass. It took us 6 years to complete the tracks. The album was recorded "live" in the studio in 2018. The goal was to capture the sound and energy of the band in a practice room. It was a great challenge and I am very proud of it. The album will be released on April 10th under the Redefining Darkness label.
But it doesn't stop there! You're also involved in another band from Quebec, Vengeful, with a particularly dark and hypnotic "hallucinated and hypnotic death metal" style. Can you tell us about this band in particular ?
Vengeful is the first real Death Metal band I've been involved in.... I auditioned for the band in November 2008, I was 18 years old at the time, the rest of the band was in their thirties...I was excited to play with more experienced musicians. We released the album ''The Omnipresent Curse'' in August 2009.... to celebrate the 10th anniversary we have re-recorded 4 songs from this album, all of which will be available on our bandcamp soon! For the fans of Krisiun, Nile, Neurosis ....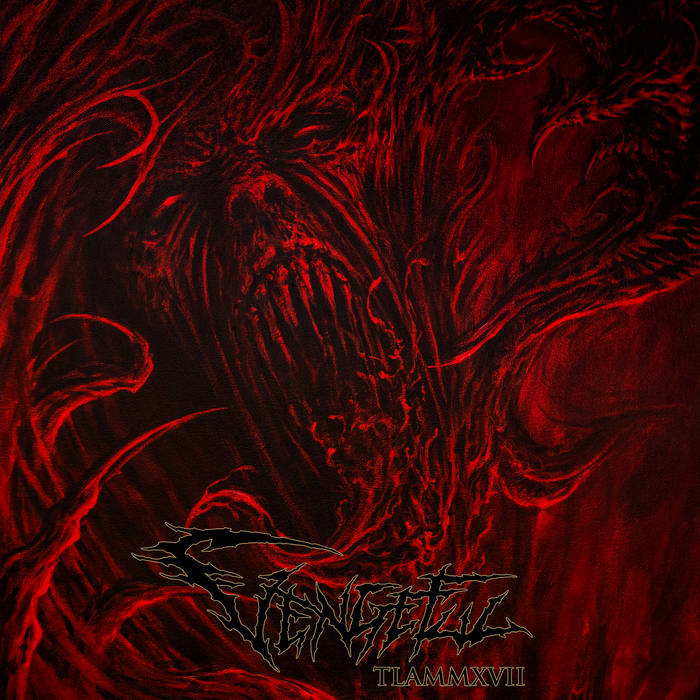 The days only last 24 hours, how do you manage your involvement in all these bands ?
I don't really have a practice routine... I practice the Cattle Decapitation and Cryptopsy set regularly... otherwise I try to keep myself in shape by playing Iron Maiden, Rush etc....
Can you tell us what are your favourite records of all time ? The ones that marked you the most, influenced you the most ?
- There are so many important albums, I'll name a few:
- Iron Maiden - The Seventh son of a Seventh Son
- Death - Individual Thought Patterns
- Cannibal Corpse - Bloodthirst
When you were a kid, did you see yourself playing in such prestigious bands?
No, I saw myself even bigger! I still dream of playing the big stadiums with pyrotechnics!!!
Let's get back to Cattle...What's next for you? Are you already working on a new album and if yes, should we expect a "sequel" of Death Atlas ?
The plan for 2020 was to continue our world tour.... Coronavirus has changed all plans... to follow
Do you have a message for a young bassist who wants to borrow your steps?
More globally, what do you want to say to our readers?
Supporting the bands you like, it's very important in the digital era to go out in the gigs and buy Merch directly from the band!!
Your vision of the extreme scene in 2020 ? Bands that you want to make discover ?
I'm glad the scene is doing so well. It's encouraging to see festivals focusing only on the underground! Lately, I listen a lot to Benighted, Sutrah
News, concerts, dates to share?
Akurion- Come Forth to Me will be released on April 10th. It will be available on our bandcamp.
Otherwise, everything is on pause for 2020...
Thank you Olivier, and, as is my habit, I'll let you conclude:
Thank you for your support!! Enjoy your time at home to discover new bands.
Entretien avec Oli Pinard (Basse)
un grand bravo a Vince Desca qui a deviné que cette interview serait celle de Cattle Decapitation !
En l'espace de quelques années, les géants du Death/Grind Cattle Decapitation sont passés du statut de groupe a suivre absolument a celui de "stars" de l'extrême, notamment depuis la sortie de leur incroyable dernier album "Death Atlas". Ces militants de la cause animale et écologiste sont devenus incontournables dans le payasage, avec une reconnaissance unanime du public et des médias. Oli Pinard, bassiste du groupe, a bien voulu parler du présent, passé et futur de Cattle Decapitation, et nous en avons profité pour prendre des nouvelles de son autre groupe-phare Cryptopsy, qui, apparemment, nous prépare du neuf, ainsi que de ses autres groupes, car le Montrealais est un hyperactif de la quatre cordes ! (Oups ! Pardon, cinq cordes !) Merci à lui pour sa gentillesse, sa disponibilité, et cette super interview !
Bonjour Olivier, et d'abord un grand merci de bien vouloir répondre aux questions du Scribe ! Commençons par le présent ...Tu es bassiste depuis 2018 au sein de Cattle Decapitation...Quel effet ça effet ?
Bonjour! C'est super! Je suis ami et fan du groupe depuis plusieurs années, je me considère chanceux d'avoir mérité le poste de bassiste officiel !
Oli Pinard torturing his poor bass !
Comment la rencontre avec le groupe s'est elle faite ?
J'ai rencontré le groupe en 2013 lors d'une tournée Européenne avec Cryptopsy. Nous étions en pleine promo pour notre album éponyme et Cattle supportait
Monolith of Inhumanity à l'époque. Nous avions déjà une bonne chimie dans ce temps. J'ai même joué mon premier concert avec Cattle durant l'été 2013 sur Summer Slaughter tour au Canada en remplacement de Derek Engemann.
Cattle est devenu un groupe majeur de la scène metal internationale...Vous attendiez vous à ça ?
Oui et non. C'est impossible de prédire le future d'un groupe, spécialement dans la musique extrême. Mais en tout honnêteté, je m'y attendais un peu. Après l'album '' Monolith of Inhumanity'' j'ai toujours su que ce groupe irait loin!
Votre dernier album Death Atlas a été largement plébiscité par la presse Metal et par le public ! Comment expliques tu un tel engouement pour un groupe qui pratique tout de même un Death/Grind qui reste extrême ?
Je crois que le succès de cet album est du au fait que le groupe n'est justement pas allé dans les clichés ''Death/Grind'' . Death Atlas est le résultat de 5 musiciens en quête de créer un album unique dont nous serons fiers même d'ici 20 ans!
N"ayant pas joué sur les albums précédant Death Atlas, quel est ton regard de musicien et fan de musique face a la discographie de Cattle Decapitation ?
J'ai découvert le groupe avec l'album '' Hummanure'' , et comme beaucoup de gens, l'illustration à capté mon attention!! Je dirais que je n'était pas trop familiarisé avec ce style de musique à l'époque. Les vocaux de Travis Ryan ne ressemblait à rien que je connaissais, j'en étais obsédé. Je dirais que c'est

quand le batteur Dave Mcgraw à rejoint le groupe pour l'album '' The Harvest Floor'' que j'ai embarqué dans leur univers à 100%.
Partages tu les préoccupations du groupe concernant l'écologie profonde, la lutte pour les droits des animaux ? Penses tu que nous sommes foutus ?
Oui certainement haha. L'Australie et l'Amazon qui brûle ainsi que le Coronavirus sont des exemples de la force de dame nature. L'activité humaine sur terre est néfaste sans aucun doute. C'est inquiétant.
Tu as un sacré pedigree puisque tu joues aussi avec la légende Cryptopsy depuis 2012 ! Peux tu nous parler de ton implication avec eux ?
J'ai joins Cryptopsy fin 2011, au moment de la composition de l'album éponyme. C'était irréel pour moi de jouer avec un groupe que j'écoutais depuis mon adolescence! Remplacer Eric Langlois à la basse fut un des plus grands defi, jusqu'à ce jour. J'ai toujours considéré Cryptopsy comme l'un des plus gros groupe de '' Death Technique '' , je devais être à la hauteur!! Je m'étais donné comme objectif de livrer les partis de basse que j'aurais voulu entendre en tant que fans !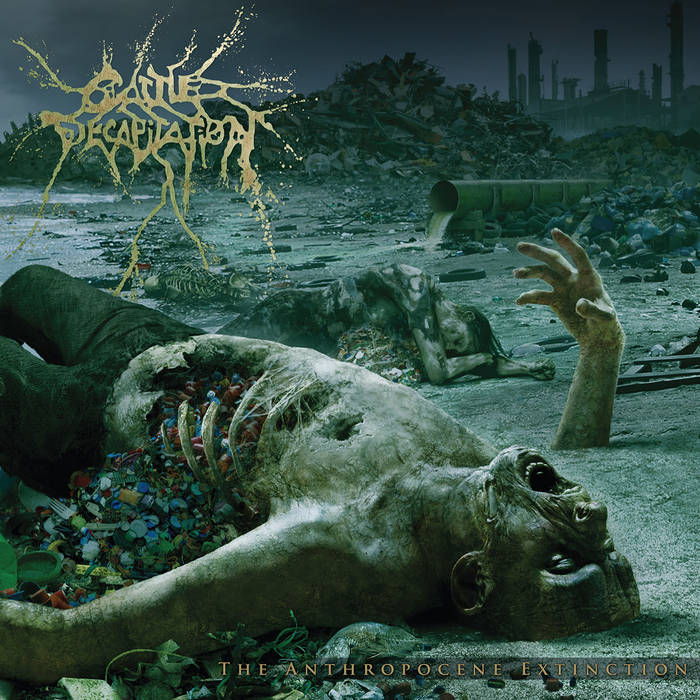 A la base es tu spécifiquement attiré par ce type de Death Metal très technique et violent ? Est ce par gout du challenge ?
Non, uniquement parce que ce sont seulement eux qui m'appellent , blague hehe.
Oui bien sur le défi de me surpasser , mais j'ai toujours eu le désir de jouer avec le plus de musiciens possible, je suis un passionné de musique de tout les styles. Je suis ouvert pour collaborer avec le plus de gens possible .
Pour toi qui est originaire de Montreal, jouer avec Cryptopsy, qui est une légende de la scène de Montreal, c'est un rêve réalisé, non ?
Oui bien sur , comme je l'ai dit c'est un groupe que j'écoutais déjà avant de joindre! Mon premier concert avec eux fut irréel pour moi.... être sur scène avec Jon Levasseur et Flo Mounier.... je te dis que le petit Oli de 13 ans ne croirait jamais ça!!
Peux tu nous parler du rôle d'un bassiste dans ce genre de musique très puissante et extrême ?
La basse comme dans n'importe quel style de musique sert de soutenir le groupe . J'ai toujours voulu servir le morceau plus que de démontrer mes ''skills'' et essayer d'impressionner la galerie. Par contre, dans un contexte extrême il ne va pas toujours de soi que la basse sois aussi à l'avant-plan. J'imagine que c'est une question de goût. Quand j'écris une ligne de basse pour Cryptopsy je suis dans un différent ''mindset'' que lorsque j'écris une ligne pour Cattle, tu comprends ?
Vas tu puiser ton inspiration dans des genres comme le Jazz ou le Funk, bien connus pour le rôle majeur que joue la basse chez eux ?
Je puise mon inspiration dans vraiment tout. Que ce sois un riff de guitare d'Alice in Chains ou une passe de batterie de Rush ! Je transpose des idées musicales et rythmiques en ligne de basse.
Quand peut on espérer un nouvel album de Cryptopsy ? Comment vas tu "jongler" entre Cattle et Cryptopsy ?
Nous travaillons présentement sur un nouvel album. Aucune date de sortie encore prévue par contre. Ça ne sera pas évident de jongler entre les deux, c'est pourquoi j'ai mon pote Dominic Grimard ( Ion Dissonance, The Last Felony) qui me remplace dans Cryptopsy si il y a conflit horaire.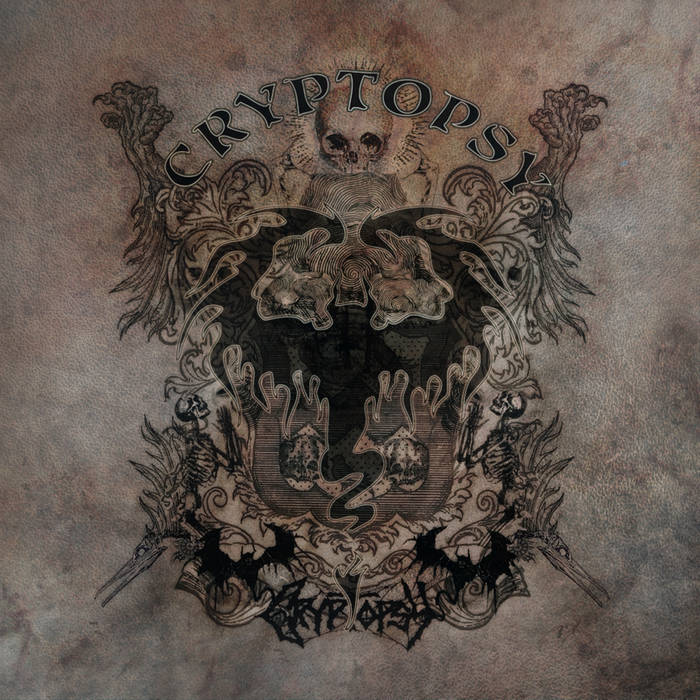 Que réponds tu à ces journalistes qui reprochent à Cryptopsy d'être passé du Brutal Death au Deathcore ? Personnellement je ne vois pas le problème, et je ne trouve pas que vous fassiez du deathcore mais bon...
Je m'en fous totalement.... Cryptopsy n'est pas un groupe Deathcore et ne l'a jamais été. Cryptopsy est un groupe extrême tout simplement. Allez écouter '' The Book of Suffering pt. 1-2'' et dite moi que c'est du Deathcore.... lol
Tu es aussi membre depuis 2009 des groupes Neuraxis et Akurion, deux fleurons du Death technique quebecois...Neuraxis n'a rien sorti depuis longtemps, le groupe est il encore actif ?
Non le groupe est en pause depuis 2011. Il n'y a pas de discussion de retour pour le moment. Je suis très occupé avec mes groupes, Oli Beaudoin travail au Pirate Studio et joue la batterie pour Kataklysm et Ex Deo , Rob Milley est guitariste pour Akurion et Necrotic Mutation, Alex Leblanc à chanté sur plusieurs projet dont un nouveau qui va être annoncé sous peu. Nous sommes tous très occupés.
Avec Akurion tu sors un nouvel album en avril prochain : "Come Forth To Me" . J'ai pu écouter les deux titres disponibles sur votre bandcamp et ça promet ! Un Death Metal rampant et sombre ! Peux tu nous en donner un petit aperçu ?
Le projet à été créé par Rob Milley et Mike DiSalvo durant l'année 2012, moi même et Tommy Mckinnon on joins le groupe plus tard durant la même année. Pour ce projet, on voulais repousser nos limites et sortir de notre zone de confort. Pour ma part , c'est la première fois que j'utilise uniquement une basse fretless. Nous avons mis 6 ans pour compléter les morceaux. L'album a été enregistré ''live'' en studio durant l'année 2018 . Le but était de capter le son et l'énergie du groupe en local de pratique. Ce fut un beau défi et j'en suis très fier. L'album verra le jour le 10 Avril prochain sous l'étiquette Redefining Darkness.
Mais ça ne s'arrête pas là ! tu es aussi impliqué dans un autre groupe québecois, Vengeful, avec un style de "death metal halluciné et hypnotique" particulièrement sombre et prenant. Peux tu nous parler de ce groupe en particulier ?
Vengeful est le premier vrai groupe de Death Metal auquel j'ai participé.... J'ai auditionné pour le groupe en Novembre 2008 , j'avais 18 ans à l'époque , le reste du groupe autour de la trentaine.... J'étais excité de jouer avec des musiciens plus expérimentés. Nous avons lancé l' album '' The Omnipresent Curse'' en Août 2009.... pour célébrer les 10 ans nous avons re-enregistré 4 morceaux de cet album, le tout sera disponible sur notre bandcamp prochainement! Pour les fans de Krisiun, Nile, Neurosis ...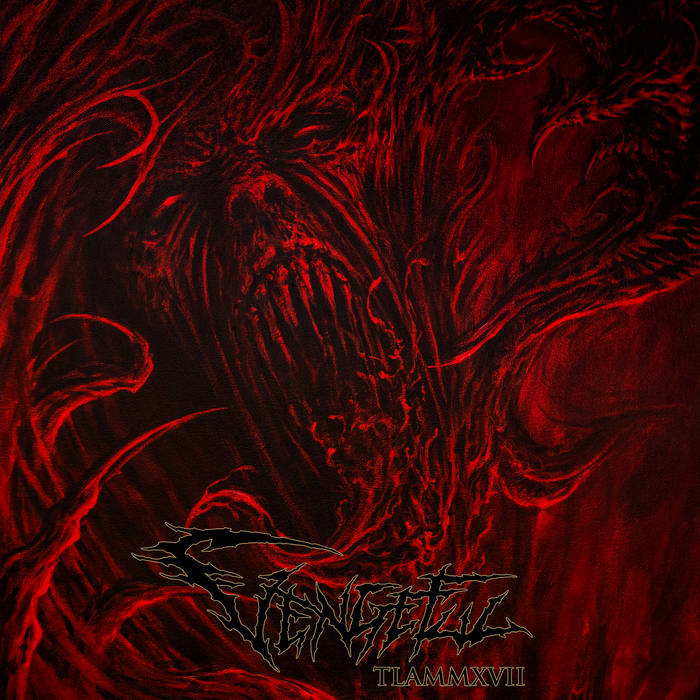 Les journées ne durant que 24 heures comment gères tu ton implication dans toutes ces formations ?
Je n'ai pas vraiment de routine de pratique... je pratique le set de Cattle Decapitation et Cryptopsy régulièrement.... autrement j'essaie de me garder en forme en jouant des morceaux d'Iron Maiden, Rush etc....
Peux tu nous dire quels sont tes disques préférés de tous les temps ? Ceux qui t'ont le plus marqué, influencé ?
-
Il y a tellement trop d'albums importants, je vais en nommer quelques un:
-
Iron Maiden - The Seventh son of a Seventh Son
-
Death - Individual Thought Patterns
-
Cannibal Corpse - Bloodthirst
Gamin tu te voyais jouer dans des groupes aussi prestigieux ?
Non , je voyais encore plus grand! Je rêve encore de jouer les gros stades avec de la pyrotechnie!!
Revenons un peu à Cattle...C'est quoi les prochaines étapes pour vous ? Travaillez vous déjà à un nouvel album et si oui doit on s'attendre a une "suite" de Death Atlas ?
Le plan pour 2020 était de continuer notre tournée mondiale.... Le Coronavirus à changé tous les plans.... à suivre
As tu un message pour un jeune bassiste qui voudrait emprunter tes pas ?
Plus globalement, qu'as tu envie de dire a nos lecteurs ?
Supporter les groupes que vous aimez , c'est super important dans l'ère digitale de sortir dans les concerts et acheter du Merch directement au groupe!!
Ta vision de la scène extrême en 2020 ? Des groupes que tu veux faire découvrir ?
Je suis content que la scène se porte si bien. C'est encourageant de voir des festivals focuser uniquement sur l'underground! Dernièrement, j'écoute beaucoup Benighted, Sutrah
Des infos, des concerts, des dates a partager ?
Akurion- Come Forth to Me sortira le 10 Avril prochain. Il sera disponible sur notre bandcamp.
Autrement, tout est sur pause pour 2020...
Merci Olivier, et, comme cela est mon habitude, je te laisse conclure :
Merci de votre support!! Profitez de votre temps à la maison pour découvrir des nouveaux groupes.