ENGLISH/FRENCH INTERVIEW - CRIMSON MOON ! HAILS THE AMERICAN GODS !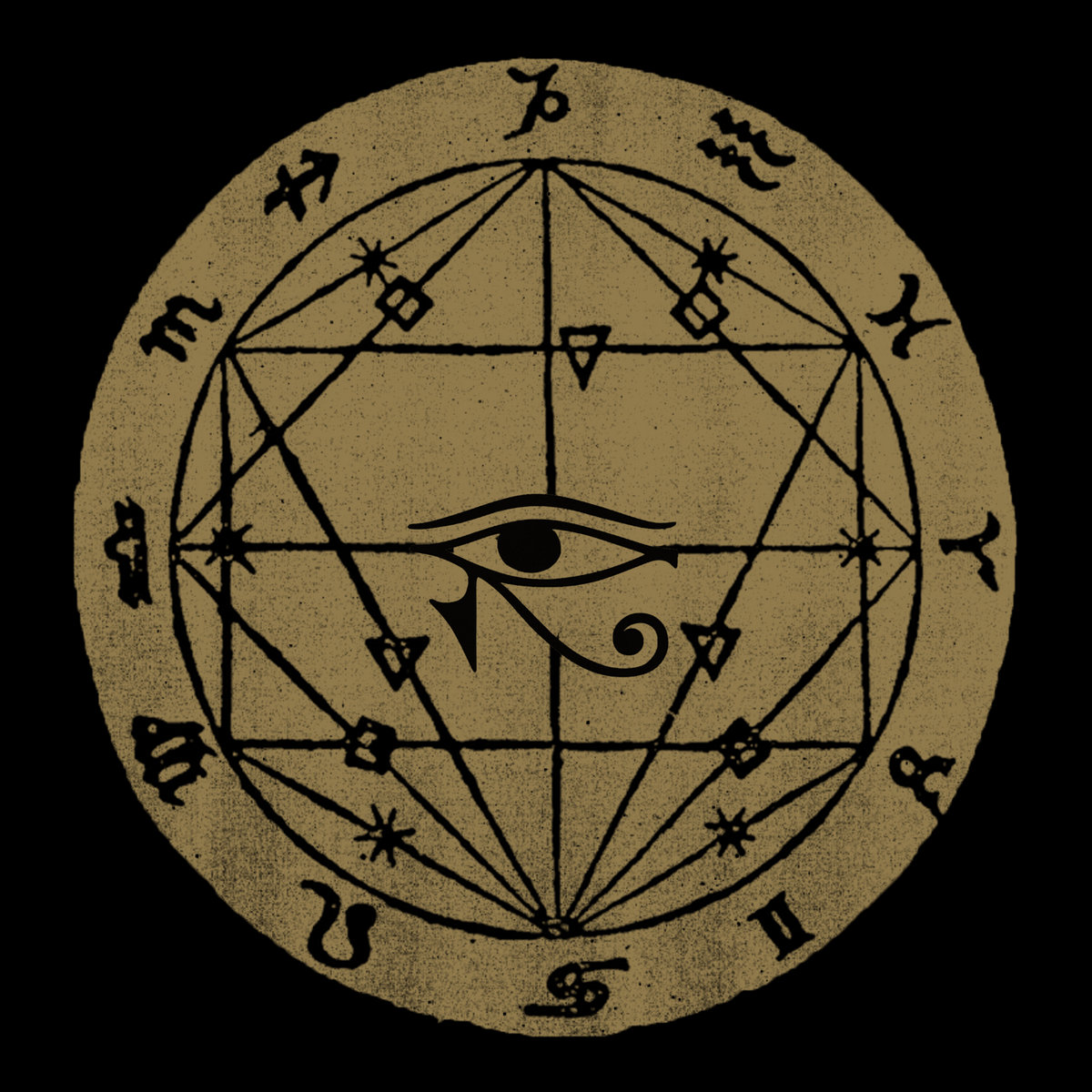 Interview with SCORPIOS ANDROCTONUS
Since 1994 the Americans of Crimson Moon, pioneers on their land, have been distilling a poisonous, vampiric and deeply occult Black Metal. On the occasion of the release of their third album "Mors Vincit Omnia" on Debemur Morti's label, I had the chance to speak with Scorpios Androctonus, leader of the macabre parade... The word is to the artist!
Hello Scorpios, and thank you for answering my questions. You recently released the new Crimson Moon album, Mors Vincit Omnia. An album of occult and evil Black Metal, as it should be, and with an absolutely splendid sound. Can you tell us about the writing and recording process of this album?
Well the album was roughly written primarily from Autumn of 2018 until aprox Winter of 2019. Since working with our new drummer, Blastum who resides in France I recorded rough demos of all the tracks at my home studio as guide tracks for the drums to be written, which were then recorded in Hybreed Studios (France). We recorded guitars in the home studio of Sabnoc, utilizing for the first time a Torpedo live load box by Two Notes Audio Engineering which allowed us to easily choose between different guitar amps for the ideal sound, after trying several options we went with Diezel and Bogner amps for the guitars, I recorded the bass, vocals and synths in my own studio and then everything was sent off to Wormhole Studios (Serbia) where Vladimir Uzelac worked his magic on the mixing and mastering. The whole writing and recording process went incredibly smooth. In fact, the only major challenges on the album didn't really present themselves until it was time to arrange the layout. Due to the packaging design for the vinyl and digipack, with the die cut and details finding someone that could execute the design properly was becoming really problematic until Daniele Valeriani (who did our cover art) stepped in and got everything in order.
Many references to classical music on this album, and prestigious guests! Proscriptor of Absu, Lord Angelslayer of Archgoat, Ixhitra of Demoncy. Did you want to strike a big blow with this album ?
Naturally yes, everything put into the album was intended for the best results. We have received (mostly) very good feedback, and personally we are completely satisfied with the album's end results. The guest appearances that took place all had their specific reasons, and were not intended for any added promotional hype. It is fair to say there are classical music influences in the song writing, as I listen to a lot of classical music and like to have different dimensions between the guitar, bass melodies.
You started in the United States in 1994 before moving to Germany in 1998. What caused this change of continent, and what did it bring to your music? You were a US Black Metal band and you became a European band ?
Correct. I moved to Germany for a number of reasons, a large factor to that choice was music related, and quite honestly I never liked living in the U.S. There were challenges involved in relocating that put a lot of things concerning Crimson Moon on a lengthy hiatus. It took me almost 20 years to finally establish a good line up, but in my opinion the wait was well worth it. I find it much more inspiring to live here as opposed to living in a big dirty city in Southern California, and there are far more greater options and locations to perform, so it is a somewhat strategic location.
What were your influences at the beginning of the band? Musically, spiritually, philosophically ?
I was a teenager when I started Crimson Moon in 1994. Musically I was just getting immersed in the second wave of black metal, and all the things that walked hand in hand with it at the time from tape trading/postal correspondence to the occult. Before really discovering black metal, I was heavily into Death Metal and it was in the midst when it was (in my opinion) at the strongest point, so there were quite a few similarities as far as philosophies and ideologies in the music. It was an obsession with darkness, which has not changed over the years.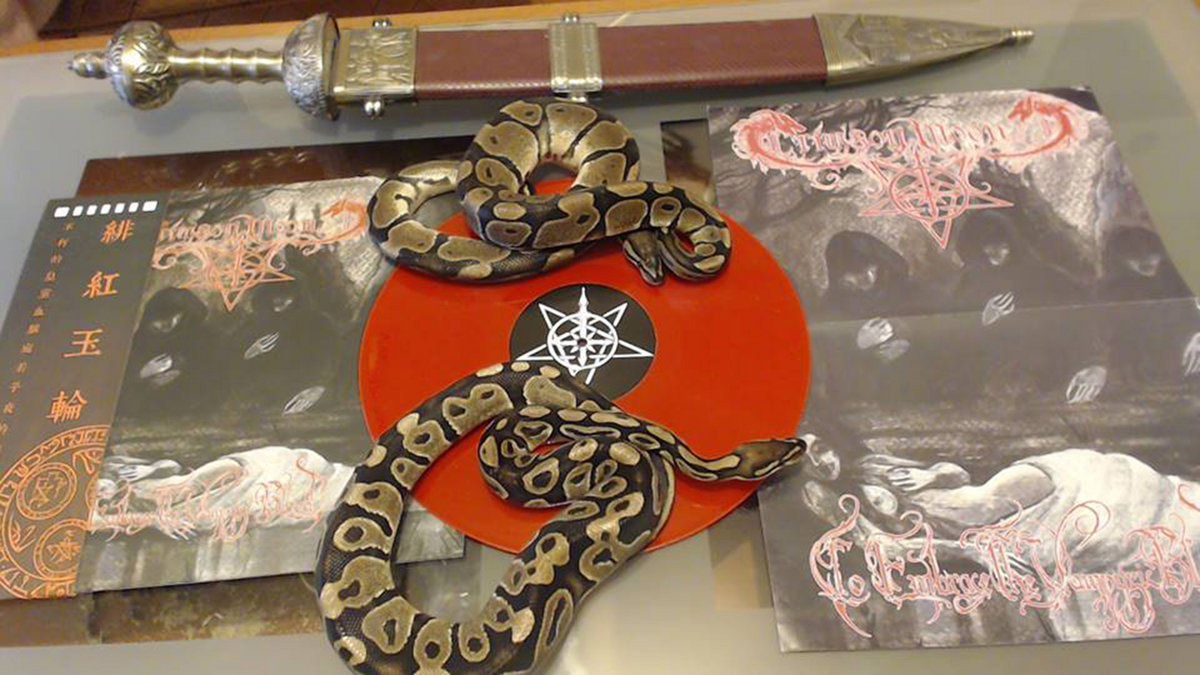 Four albums in a 25-year career, that's really not much! Is it due to your collaborations with many bands (Possession Ritual, Sabnack, Acherontas, Demoncy, Dethroned among others)? Or is it due to other circumstances? It played a role in the fact that the band is not more known than that, didn't it ?
Well, my own projects and work in other bands are not really responsible for the limited amount of releases over the band's history. Melechesh did consume a lot of my time and it got to the point that if I kept working with them I was on the brink of getting completely burnt out on music all together and got tired of wasting my time and dealing with over-inflated egos, which is very common in music, unfortunately. I had previously worked with a guitarist who joined the band a year after I started it who was extremely counter-productive, and put a lot of things on hold as he preferred to complain about things then get anything accomplished. When I finally decided to quit Melechesh in 2016, I decided it was time to focus primarily on Crimson Moon, despite no line up and finished recording Oneironaut. It was during this process I was finally able to find other musicians that I could work with and the current lineup was established. So yeah, the long periods of time between releases I doubt was a helpful thing for the band, but at the current state of how things have fallen into place, I do not have any real regrets. Finding a lineup like we currently have is extremely difficult, there is so much involved, so many aspects from musicianship to personal relations. After our last festival we played a few weeks ago, I think all the members would agree that we are now operating like a well-oiled machine.
Some bands are really willing to stoop to low levels in order to achieve some kind of popularity and fame in this music whether it's kissing asses of people in the music industry or using gimmicks to gain popularity, I have no respect for that and I don't believe fame and popularity have any place in this kind of music. I prefer to stay underrated than having Crimson Moon become the latest trend through insincere means.
In 1996 you released your first album "To Embrace The Vampyric Blood". Where did this taste for vampyric themes come from ? Were you on the same wavelength as Cradle Of Filth at that time? Did you also did a passage on Ancient in 98/99, which themselves dealt with this theme? Does vampiric Black Metal still exist today ? Did you discover young bands in this style ?
The vampyric theme at that time, was more in lines with bands like Necromantia, early Black Funeral, Zemial and Nastrond and nothing to do with what bands like CoF and Ancient later were doing. At the time I had a brief endeavor with the Temple of the Vampire, which I found many interesting theories in their books, but it ultimately made me look into sources where they took their ideas from such as Sumerian Mythology, lucid dreaming, astral projection and energy working. I played session bass for Ancient on a US and European tour in 1998, I was, and still am very fond of Svartlavheim, but a lot had changed in the band by the time I was working with them. It was a good experience for a 20 year old me to tour and play live, but I have to say it was bands/albums like that, which made the term "Vampyric Black Metal" more of a mockery than anything else. The Cainian Chronicles lyrics were all inspired by Vampire – The Masquerade, some roleplaying game I guess. I never liked CoF, or their image, which really, is all it is. I couldn't tell you much about current/new bands as I don't really follow these things much at all.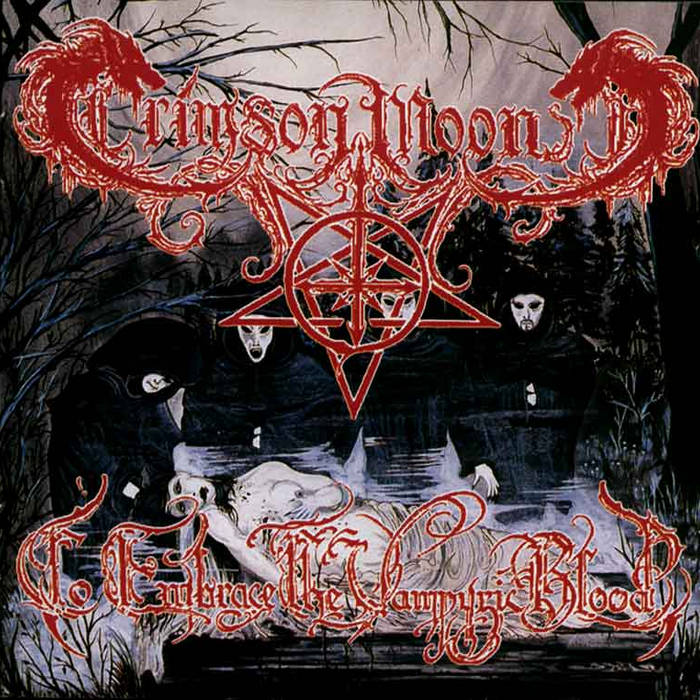 What is your vision of Black Metal over the last 25 years?
For me very little has changed on that over the last 25 years in my views on Black Metal, other than the fact when I was younger I was more infatuated in being "evil" and had a lot more negative understanding of things. To me, Black Metal has always been related to things of a misanthropic nature, but today's standards a lot of people seem to feel differently and taint the music with a plethora of ways from politics to other very human traits.
Are you going to release more albums with Crimson Moon in the next few years? Are you going to make it a priority?
Yes, it is my main priority musically. I have been writing material for a new album since the Mors Vincit

Omnia recording was completed, and things are progressing well. I hate to say a prediction when this will be ready to record and release, as that always seems to curse things. I think it is safe to predict it will not be a long wait though.
A word to the French public? And, by the way, which French bands do you like ?
We performed for the first time in France this year at the Sequane Festival and we look forward to returning to France in the near future. However securing shows for us has become less of a concern to focus on. It would seem most promoters prefer to book the same bands ad nauseum, so I guess if people are happy with that and don't show an interest to see any change in that, so be it. I am not so up to date with black metal bands in general. Our drummer has done some great work in French bands such as Merrimack and Ritualization. I think one of the best live shows I ever saw was the French legends, Magma.
Can you list your favorite albums of everytime in any genre ?
That's always a difficult question for me to answer because the music I listen to changes greatly on the mood I am in. I don't listen to music as much as I used to, when I am in working on writing material, I tend to listen to much less music in general. This kind of goes in phases for me lately, where I can go days without listening to anything and then will spend an entire night listening to whatever my mood puts me into hearing. At the moment I have several new song ideas recorded which has been the only thing in my car stereo for some time, I listen to it repeatedly to analyze, criticize and build on it.
Blank Space : you can add whatever you want :
Thank you for the interview and to the readers. I would add that those interested in seeing us perform live, ask your local promoters to book us, as we will no longer be active in searching for live shows and find our time better spent focusing on preparing material for a new album.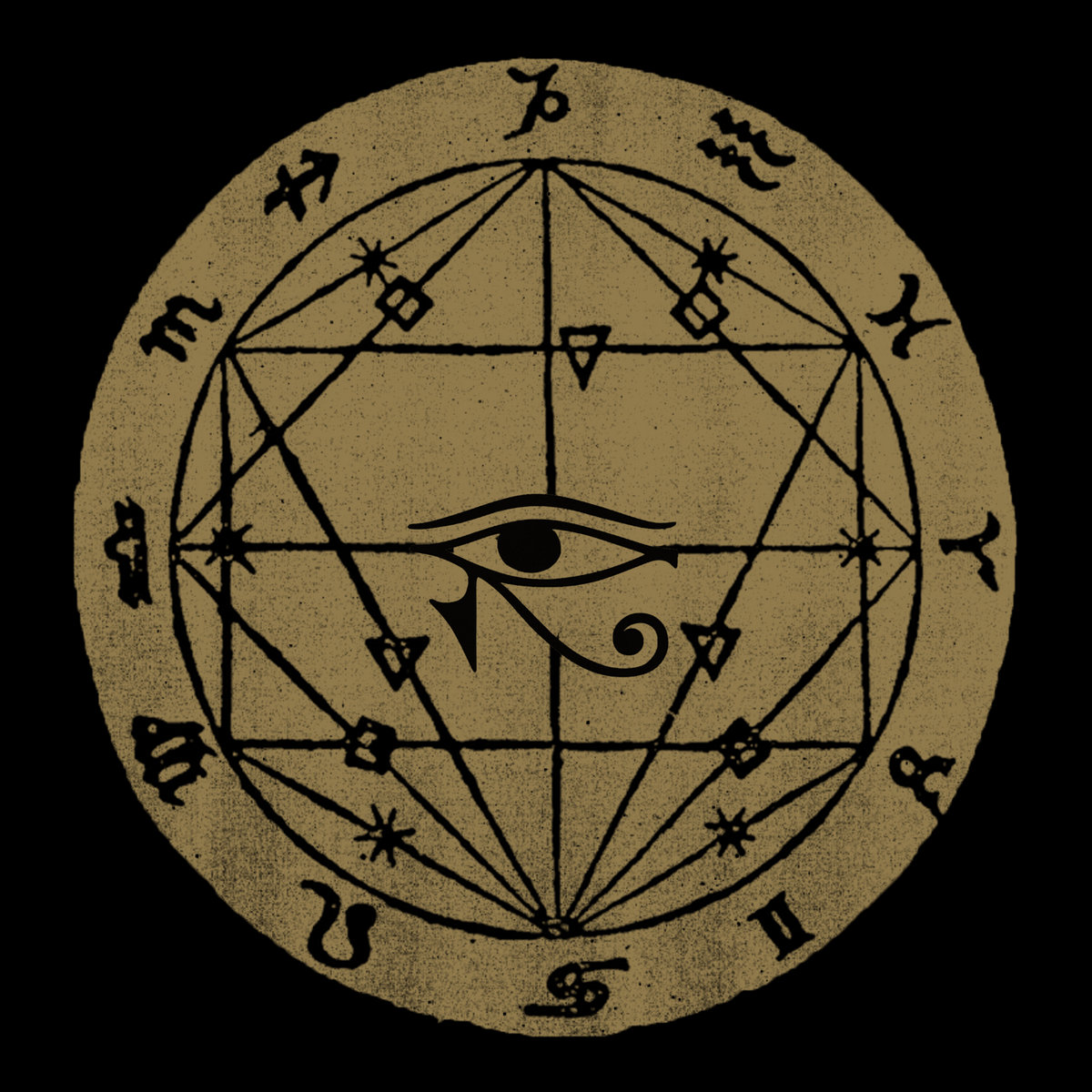 Entretien avec SCORPIOS ANDROCTONUS
Depuis 1994 les américains de Crimson Moon, pionniers sur leurs terres, distillent un Black Metal vénéneux, vampirique et profondément occulte. A l'occasion de la sortie de leur troisième album "Mors Vincit Omnia" chez Debemur Morti, j'ai eu la chance de m'entretenir avec Scorpios Androctonus, leader de la macabre parade...La parole est à l'artiste !
Bonjour Scorpios, et merci d'avoir répondu à mes questions. Vous avez récemment sorti le nouvel album de Crimson Moon, Mors Vincit Omnia. Un album de Black Metal occulte et maléfique, comme il se doit, et avec un son absolument splendide. Peux-tu nous parler de l'écriture et du processus d'enregistrement de cet album ?
Eh bien, l'album a été écrit principalement entre l'automne 2018 et l'hiver 2019. Depuis que j'ai travaillé avec notre nouveau batteur, Blastum, qui réside en France, j'ai enregistré des démos approximatives de tous les morceaux dans mon home studio comme pistes de guidage pour la batterie à écrire, qui ont ensuite été enregistrées dans les studios Hybreed (France). Nous avons enregistré les guitares dans le home studio de Sabnoc, en utilisant pour la première fois une boîte de chargement live Torpedo de Two Notes Audio Engineering qui nous a permis de choisir facilement entre différents amplis de guitare pour le son idéal, après avoir essayé plusieurs options nous sommes allés avec des amplis Diezel et Bogner pour les guitares, j'ai enregistré la basse, le chant et les synthés dans mon propre studio et ensuite tout a été envoyé aux Wormhole Studios (Serbie) où Vladimir Uzelac a travaillé sa magie sur le mixage et le mastering. Tout le processus d'écriture et d'enregistrement s'est déroulé de manière incroyablement fluide. En fait, les seuls défis majeurs de l'album ne se sont pas vraiment présentés jusqu'à ce qu'il soit temps d'organiser la mise en page. En raison de la conception de l'emballage pour le vinyle et le digipack, avec le die cut et les détails, trouver quelqu'un qui puisse exécuter le design correctement devenait vraiment problématique jusqu'à ce que Daniele Valeriani (qui a fait notre pochette) intervienne et mette tout en ordre.
Beaucoup de références à la musique classique sur cet album, et des invités prestigieux ! Proscripteur d'Absu, Lord Angeslayer d'Archgoat, Ixhitra de Demoncy. Voulais-tu frapper un grand coup avec cet album ?
Naturellement oui, tout ce qui a été mis dans l'album était destiné à obtenir les meilleurs résultats. Nous avons reçu (principalement) de très bons retours, et personnellement nous sommes complètement satisfaits du résultat final de l'album. Les apparitions d'invités qui ont eu lieu avaient toutes leurs raisons spécifiques, et n'étaient pas destinées à ajouter un quelconque battage promotionnel. Il est juste de dire qu'il y a des influences de musique classique dans l'écriture des chansons, car j'écoute beaucoup de musique classique et j'aime avoir différentes dimensions entre la guitare, les mélodies de basse.
Vous avez commencé aux Etats-Unis en 1994 avant de vous installer en Allemagne en 1998. Qu'est-ce qui a provoqué ce changement de continent, et qu'est-ce que cela a apporté à votre musique ? Vous étiez un groupe de Black Metal américain et vous êtes devenus un groupe européen ?
C'est exact. J'ai déménagé en Allemagne pour un certain nombre de raisons, un grand facteur de ce choix était lié à la musique, et honnêtement je n'ai jamais aimé vivre aux Etats-Unis. Il y a eu des défis à relever pour déménager qui ont mis beaucoup de choses concernant Crimson Moon sur une longue pause. Il m'a fallu près de 20 ans pour finalement établir une bonne ligne, mais à mon avis, l'attente en valait la peine. Je trouve que c'est beaucoup plus inspirant de vivre ici que de vivre dans une grande ville sale du sud de la Californie, et il y a beaucoup plus d'options et d'endroits pour se produire, donc c'est un endroit un peu stratégique.
Quelles étaient vos influences au début du groupe ? Musicalement, spirituellement, philosophiquement ?
J'étais adolescent quand j'ai commencé Crimson Moon en 1994. Musicalement, je me plongeais juste dans la seconde vague du black metal, et toutes les choses qui allaient de pair à l'époque, du commerce de cassettes à la correspondance postale en passant par l'occultisme. Avant de vraiment découvrir le black metal, j'étais fortement impliqué dans le Death Metal et c'était au milieu quand il était (à mon avis) au point le plus fort, donc il y avait pas mal de similitudes en ce qui concerne les philosophies et les idéologies dans la musique. C'était une obsession pour l'obscurité, qui n'a pas changé au fil des ans.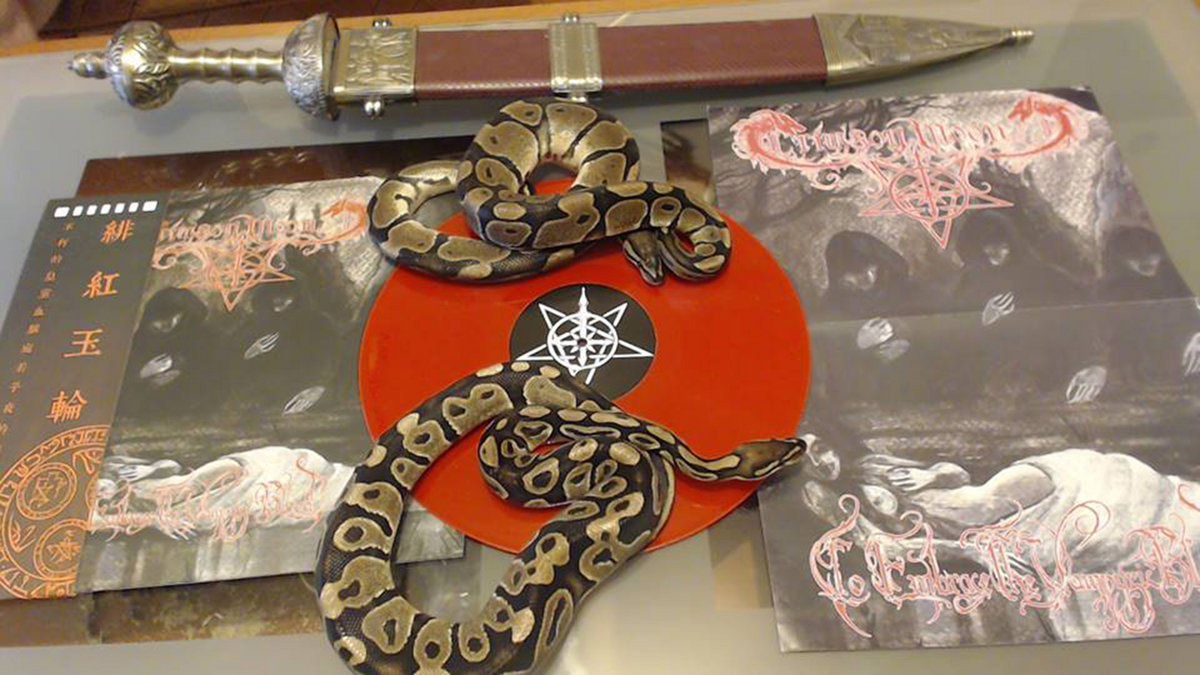 Quatre albums en 25 ans de carrière, ce n'est vraiment pas beaucoup ! Est-ce dû à vos collaborations avec de nombreux groupes (Possession Ritual, Sabnack, Acherontas, Demoncy, Dethroned entre autres) ? Ou est-ce dû à d'autres circonstances ? Cela a joué un rôle dans le fait que le groupe n'est pas plus connu que cela, n'est-ce pas ?
Eh bien, mes propres projets et mon travail dans d'autres groupes ne sont pas vraiment responsables du nombre limité de sorties au cours de l'histoire du groupe. Melechesh a consommé beaucoup de mon temps et c'est arrivé au point que si je continuais à travailler avec eux, j'étais sur le point de m'épuiser complètement sur la musique et j'en ai eu marre de perdre mon temps et de m'occuper d'egos trop gonflés, ce qui est très courant dans la musique, malheureusement. J'avais déjà travaillé avec un guitariste qui a rejoint le groupe un an après que je l'ai commencé et qui était extrêmement contre-productif, et qui a mis beaucoup de choses en attente car il préférait se plaindre des choses puis obtenir tout ce qu'il voulait. Quand j'ai finalement décidé de quitter Melechesh en 2016, j'ai décidé qu'il était temps de me concentrer principalement sur Crimson Moon, malgré l'absence de line up et j'ai fini d'enregistrer Oneironaut. C'est au cours de ce processus que j'ai finalement pu trouver d'autres musiciens avec lesquels je pourrais travailler et que le line-up actuel a été établi. Donc oui, les longues périodes entre les sorties dont je doute qu'elles aient été utiles pour le groupe, mais dans l'état actuel des choses, je n'ai pas vraiment de regrets. Trouver un lineup comme celui que nous avons actuellement est extrêmement difficile, il y a tellement de choses à faire, tellement d'aspects allant de la musicalité aux relations personnelles. Après notre dernier festival, nous avons joué il y a quelques semaines, je pense que tous les membres seront d'accord pour dire que nous fonctionnons maintenant comme une machine bien huilée.
Certains groupes sont vraiment prêts à s'abaisser à des niveaux bas afin d'atteindre une certaine popularité et célébrité dans cette musique ; que ce soit en léchant le cul des gens de l'industrie musicale ou en utilisant des gadgets pour gagner en popularité, je n'ai aucun respect pour cela et je ne crois pas que la célébrité et la popularité aient leur place dans ce genre de musique. Je préfère rester sous-estimé que de voir Crimson Moon devenir la dernière tendance par des moyens peu sincères.
En 1996, vous avez sorti votre premier album "To Embrace The Vampyric Blood". D'où vient ce goût pour les thèmes vampiriques ? Etiez-vous sur la même longueur d'onde que Cradle Of Filth à cette époque ? As-tu aussi fait un passage sur Ancient en 98/99, qui eux-mêmes traitaient de ce thème ? Le Black Metal vampirique existe-t-il encore aujourd'hui ? As-tu découvert de jeunes groupes dans ce style ?
Le thème vampirique à cette époque, était plus dans la lignée de groupes comme Necromantia, les premiers Black Funeral, Zemial et Nastrond et n'avait rien à voir avec ce que faisaient plus tard des groupes comme CoF et Ancient. A l'époque, j'ai eu une brève expérience avec le Temple du Vampire, que j'ai trouvé de nombreuses théories intéressantes dans leurs livres, mais cela m'a finalement fait chercher dans des sources où ils ont puisé leurs idées, comme la mythologie sumérienne, le rêve lucide, la projection astrale et le travail énergétique. J'ai joué de la basse de session pour Ancient lors d'une tournée américaine et européenne en 1998, j'étais, et je suis toujours très attaché à Svartlavheim, mais beaucoup de choses avaient changé dans le groupe au moment où je travaillais avec eux. C'était une bonne expérience pour un jeune de 20 ans que je tourne et joue en live, mais je dois dire que c'était des groupes/albums comme ça, ce qui a rendu le terme "Vampyric Black Metal" plus dérisoire qu'autre chose. Les paroles des Cainian Chronicles ont toutes été inspirées par Vampire - The Masquerade, un jeu de rôle je suppose. Je n'ai jamais aimé CoF, ou leur image, qui est vraiment, c'est tout ce que c'est. Je ne pourrais pas te dire grand chose sur les groupes actuels/nouveaux car je ne suis pas vraiment ces choses-là du tout.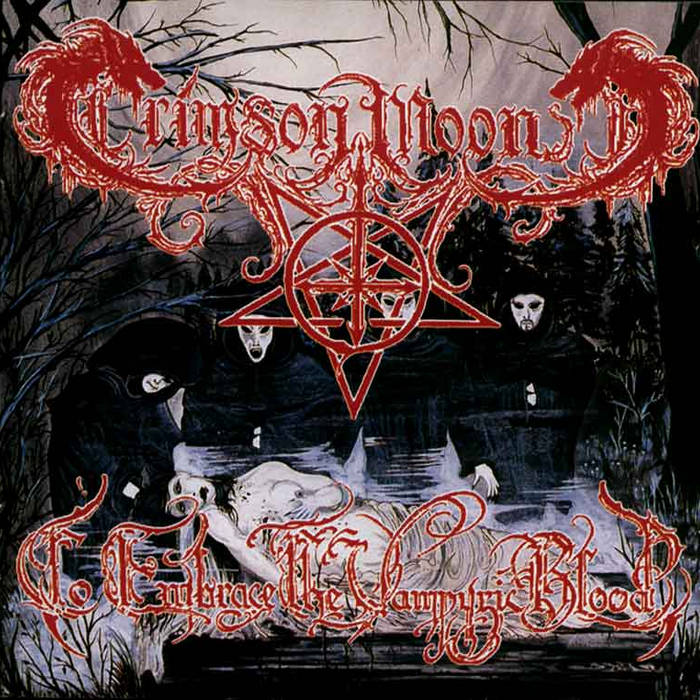 Quelle est votre vision du Black Metal depuis 25 ans ?
Pour moi, très peu de choses ont changé dans ma vision du Black Metal ces 25 dernières années, à part le fait que quand j'étais plus jeune, j'étais plus attiré par le "mal" et j'avais une compréhension beaucoup plus négative des choses. Pour moi, le Black Metal a toujours été lié à des choses de nature misanthrope, mais les standards d'aujourd'hui, beaucoup de gens semblent ressentir différemment et entachent la musique avec une pléthore de moyens allant de la politique à d'autres traits très humains.
Allez-vous sortir d'autres albums avec Crimson Moon dans les prochaines années ? Est-ce que vous allez en faire une priorité ?
Oui, c'est ma principale priorité musicalement. J'ai écrit du matériel pour un nouvel album depuis que l'enregistrement de Mors Vincit Omnia a été terminé, et les choses progressent bien. Je déteste dire une prédiction sur le moment où ce sera prêt à enregistrer et à sortir, car cela semble toujours maudire les choses. Je pense qu'il est sûr de prédire que ce ne sera pas une longue attente cependant.
Un mot au public français ? Et, au fait, quels sont les groupes français que vous aimez ?
Nous avons joué pour la première fois en France cette année au Festival de Sequane et nous espérons revenir en France dans un futur proche. Cependant, assurer des concerts pour nous est devenu moins un souci à prendre en compte. Il semblerait que la plupart des promoteurs préfèrent réserver les mêmes groupes ad nauseum, donc je suppose que si les gens sont satisfaits de cela et ne montrent pas d'intérêt pour voir un changement à ce niveau, alors qu'il en soit ainsi. Je ne suis pas très au courant des groupes de black metal en général. Notre batteur a fait du bon travail dans des groupes français comme Merrimack et Ritualization. Je pense que l'un des meilleurs concerts que j'ai jamais vu était les légendes françaises, Magma.
Pouvez-vous lister vos albums préférés de tous les temps dans n'importe quel genre ?
C'est toujours une question difficile à laquelle il m'est difficile de répondre car la musique que j'écoute change beaucoup selon l'humeur dans laquelle je suis. Je n'écoute plus autant de musique qu'avant, quand je travaille sur l'écriture, j'ai tendance à écouter beaucoup moins de musique en général. Ces derniers temps, cela se passe par phases pour moi, où je peux passer des jours sans rien écouter et ensuite passer une nuit entière à écouter ce que mon humeur me fait entendre. En ce moment, j'ai plusieurs nouvelles idées de chansons enregistrées qui sont la seule chose dans ma stéréo de voiture depuis un certain temps, je l'écoute à plusieurs reprises pour l'analyser, la critiquer et la développer.
Espace vide : vous pouvez ajouter ce que vous voulez :
Merci pour l'interview et aux lecteurs. J'ajouterais que ceux qui sont intéressés à nous voir en concert, demandez à vos promoteurs locaux de nous réserver, car nous ne serons plus actifs dans la recherche de concerts et nous trouverons notre temps mieux employé à préparer du matériel pour un nouvel album.