English/French Text : EXTREME METAL REVIEWS/ LES CROCS DU SCRIBE N° 33 : SPECIAL HASS WEG PRODUCTIONS
Welcome to this new episode of Scribe's reviews. This time again, after The Ritual Productions, Ogmios Underground or recently Maltkross, it's an issue dedicated to an underground label that you're looking at. Hass Weg Productions, label specialized in Black Metal often Old School and authentic. There is no commercialism in them, only a selection made on the basis of quality and authenticity. Thus the following groups will be reviewed here:
- MALOBESTIO- In Caudia Venenum
- CATACOMBES - Accueille Le Diable + Le Démoniaque
- MALSAINT - Anti Islamist Proselytism
- HALSFANG -Vere Papa Mortuus Est
- SIGILLUM DIABOLICUM - Monotheisme : le grand culte mortifère + Ordo Repugnant :les maux du monde moderne
- PESTIFERUM / HALSFANG - Split-lp
- PESTIFERUM - Déchus du Fléau
- ARMAGGEDON - SH 666 : The Awakening of the Baphomet's Einzatzgruppen
On the menu, therefore, Black Metal more underground than the underground, unhealthy, bad boys' music, heavy criticism of our consumerist and multiculturalist society put into scores. Thanks to Hass Weg for this partnership celebrated here, and look forward to several interviews with the above-mentioned groups in the coming weeks!
Bienvenue dans ce nouvel épisode des Crocs du Scribe. Cette fois encore, après The Ritual Productions, Ogmios Underground ou encore récemment Maltkross, c'est un numéro dédié à un label underground que vous avez sous les yeux. Hass Weg Productions, label spécialisé dans le Black Metal souvent Old School et intègre. Pas de mercantilisme chez eux, uniquement une sélection faite sur des critères de qualité et d'authenticité. Ainsi seront ici chroniqués les groupes suivants :
- MALOBESTIO pour les albums In Caudia Venenum
- CATACOMBES pour Accueille Le Diable et Le Démoniaque
- MALSAINT pour Anti Islamist Proselytism
- HALSFANG pour Vere Papa Mortuus Est
- SIGILLUM DIABOLICUM pour les albums Monotheisme : le grand culte mortifère et Ordo Repugnant :les maux du monde moderne
- PESTIFERUM et HALSFANG pour leur Split-lp
- PESTIFERUM avec Déchus du Fléau
- ARMAGGEDON pour SH 666 : The Awakening of the Baphomet's Einzatzgruppen
Au menu, donc, du BM plus underground que l'underground, du malsain, de la musique de bad boys, de lourdes critiques de notre société consumériste et multiculturaliste mises en partitions. Merci à Hass Weg pour ce partenariat ici célébré, et attendez vous à plusieurs interviews des groupes pré-cités dans les prochaines semaines !
HAILS !
Le Scribe
Black/Death Metal Old School
"A la queue Gît le Venin "
It is from Toulouse, a city known for its quality Black Metal that Malobestio comes to us. These "bad beasts" (one of whose members has been part of the historical band Sus Scrofa since 1991!!!!) deploy a Black Metal mixed with Death in a purely old-school register. It's quite simple, listening to this In Cauda Venenum one has the feeling of being literally transported to the very beginning of the 90s, a time when the boundaries between the genres were less marked and when the protagonists were above all authentic metal and underground freaks. Practicing a song in Shakespeare's language, their music is built in a relatively classical way, without looking for speed or brutality but by building tracks that work with inspired and heady riffs: Metal, what! The song can remind us of Gorgon's chris de Gorgon, with whom Malobestio share a gloriously immoderate taste for the great underground elders. So the game of comparisons is always a little sterile when it comes to veterans of the scene like here (even if the group only exists since 2016).
As it should be, their music drips with perversity, darkness and gloomy atmospheres. A group that owes only to the "first wave" tribunals such as Bathory, Celtic Frost, Venom or Death and Morbid Angel. Black/Death who refutes any superior modernity and anchors his subject in Metal with a great M. Real underground Metal lovers will love it! Note the title "Syriana" and its oriental atmosphere worthy of early Samael, absolutely exquisite! Because Toulouse residents are not satisfied with the Black/Death Metal old school "room service" but have a real personality here!
C'est de Toulouse, ville reconnue pour son Black Metal de qualité que nous viennent Malobestio. Ces "mauvaises bêtes" (dont l'un des membres fait partie des historiques Sus Scrofa depuis 1991 !!!) déploient un Black Metal mâtiné de Death dans un registre purement old-school. C'est bien simple, à l'écoute de ce In Cauda Venenum on a le sentiment d'être transporté littéralement au tout début des années 90, époque où les frontières entre les genres étaient moins marquées et où les protagonistes étaient avant tout d'authentiques dingues de Metal et d'underground. Pratiquant un chant dans la langue de Shakespeare, leur musique est construite de façon relativement classique, sans chercher la vitesse où la brutalité mais bien en construisant des titres qui fonctionnent grâce à des riffs inspirés et entêtants : du Metal, quoi ! Le chant peut rappeler chris de Gorgon, avec lesquels Malobestio partagent un goût glorieusement immodéré pour les grands anciens de l'underground. Alors le jeu des comparaisons est toujours un peu stérile lorsqu'il s'agit de vétérans de la scène comme ici (même si le groupe n'existe que depuis 2016).
Comme il se doit, leur musique dégouline de perversité, de noirceur et d'atmosphères lugubres. Un groupe qui ne doit finalement qu'aux tribuns de la "première vague" comme Bathory, Celtic Frost, Venom ou Death et Morbid Angel. Du Black/Death qui réfute toute modernité supérfétatoire et ancre son propos dans le Metal avec un grand M. Les vrais amateurs de Metal underground vont adorer ! A noter le titre "Syriana" et son ambiance orientale digne du Samaël des premiers temps, absolument exquis ! Car les toulousains ne se contentent pas du "room service" Black/Death Metal old school mais déploient ici une réelle personnalité !
Black Metal Mélodique
"Accueille le, Ecoute le, Crains le, Fuis le"
This four track EP was released after the band's first album, so you'll find it strange that I'm chronicling it first, maybe. It doesn't matter. This "one-man band" has more than one particularity: originally from Nantes, Le Démoniaque, the handyman behind Catacombs, has moved to Montreal where he produces his music. A music that can be misleading (like the Devil and the other tricksters) because, if we start at the beginning, the intro of the disc, composed of accordion, could lead us to think that we are dealing with a "rural" Black Metal band a little medieval in the lineage of Peste Noire.Oh no my good lord! Because, if the "franchouillardes" references were a little more present in the album (see below) Catacombes shows here a refinement and a sense of melody that distances it from certain much rougher and harsher groups to which its external attire (including the cover) could have made us think. The Demonik describes here a human devil, far from the crypto-Christian legends of the fallen angel with horns, hooves and forks of rigour. A devil who is none other than one of us, in all our ability to do evil (and we know that it is limitless). Musically, the group grabs us and holds us back with this diabolical, heady sense of melody and with this desire to return as soon as the fourth track ends. A record that skillfully combines beauty and ugliness, for a result that is finally original and perfectly executed (our man knows the music).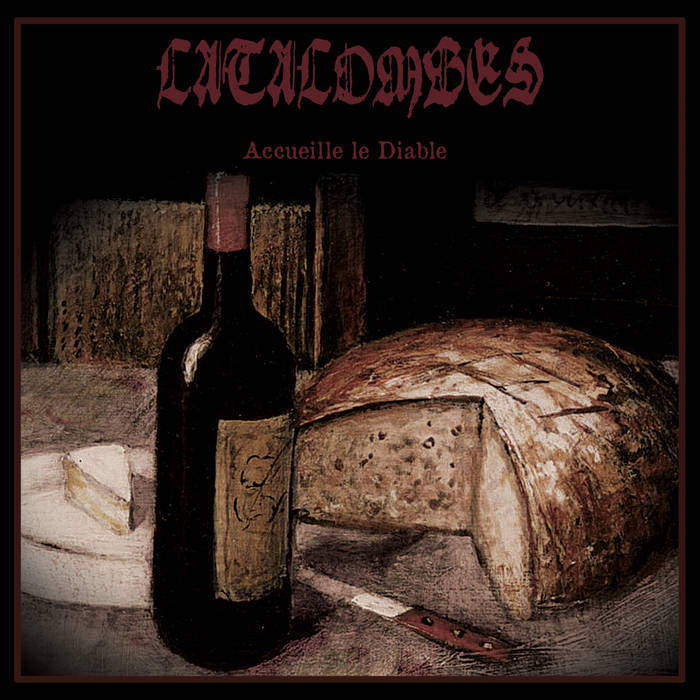 Cet EP de quatre titres est sorti après le premier album du groupe, et vous trouverez donc étrange que je le chronique en premier, peut-être. Peu importe. Ce "one-man band" a plus d'une particularité : originaire de Nantes, le Démoniaque, homme a tout faire derrière Catacombes est allé s'installer à Montréal où il produit sa musique. Une musique qui peut être trompeuse (comme le Diable et les autres tricksters) car, si l'on commence par le commencement, l'intro du disque, composée d'accordéon, pourrait nous laisser penser que l'on a affaire a un groupe de Black Metal "rural" un peu médiéval dans la lignée de Peste Noire. Que Nenni mon bon seigneur ! Car, si les références "franchouillardes" étaient un peu plus présentes dans l'album (voir après) Catacombes fait preuve ici d'un raffinement et d'un sens de la mélodie qui l'éloigne de certains groupes beaucoup plus rugueux et âpres auxquels ses atours extérieurs (y compris la pochette) auraient pu nous faire penser. Le Démoniaque nous décrit ici un diable bien humain, loin des légendes crypto-chrétiennes de l'ange déchu avec cornes, sabots et fourche de rigueur. Un diable qui n'est autre que l'un de nous, dans toute notre capacité à faire le mal (et l'on sait qu'elle est sans limites). Musicalement, le groupe nous accroche et nous retient avec ce sens diabolique de la mélodie, entêtante et avec cette envie d'y retourner dès que la quatrième piste s'achève. Un disque qui mêle habilement beauté et laideur, pour un résultat finalement original et parfaitement exécuté (notre homme connaît la musique).
Black Metal
"Je peux leur faire des choses obscènes
Et je n'aurai mmmh... pas de peine!"
So here is, after the review of the last EP, the first album of Catacombes. More aggressive in his inventions than his successor, he also refers to a more crude language, rooted in a very French slang ("Arsouille Mes ballilles", "Catin Crotin") from the end of the 19th, beginning of the 20th century. Musically, Catacombs remain in a fast and melodic Black Metal, under the influence of the great Nordic and French demons of the 90's, with sometimes a little something more of Pensées Nocturnes (the language, the universe) in less musically experimental. We appreciate here the already spectacular mastery that the Demonicaque had of his music, and the titles follow one another with fluidity and pleasure.
The lyrics are worth reading (they are incomprehensible in the song) because they are full of ideas, funny, Gallic spirit!
We saw that Catacombs later put the hola on this aspect of his universe. A record that is not musically revolutionary and will undoubtedly return quite clear references, but a very well conceived and thought-out album, with an impeccable performance. The next LP should hurt a lot!
Voici donc, après la chronique du dernier EP, le premier album de Catacombes. Plus agressif dans ses inentions que son successeur, il fait également état d'un langage plus cru, ancré dans un argot bien français ("Arsouille Mes couilles", "Catin Crotin") de la fin du 19ème, début du 20ème siècle. Musicalement, Catacombes restent dans un Black Metal véloce et mélodique, sous influence des grands démons nordiques et français des 90's, avec parfois un petit quelque chose de Pensées Nocturnes en plus (le langage, l'univers) en moins expérimental musicalement. On apprécie ici la maîtrise déjà spectaculaire que le Démoniaque avait de sa musique, et les titres s'enchaînent avec fluidité et plaisir.
Les paroles valent le coup d'être lues (elles sont incompréhensibles dans le chant) car elles fourmillent d'idées, de drôlerie, d'esprit gaulois !
On a vu que par la suite Catacombes a mis le hola sur cet aspect de son univers. Un disque qui n'a rien de révolutionnaire musicalement et vous renverra sans doute des références assez claires, mais un album fort bien conçu et pensé, avec une exécution irréprochable. Le prochain LP devrait faire très mal !

Anti-Islamist Black Metal
With Malsaint we reach the very dark side of the dark force. A controversial group if ever there was one, the combo of Kommander and Sün (two individuals who are not there to joke and who are also found in Vermine as a live band). With all the ideological paraphernalia that this type of Black Metal can carry (National Socialism, hatred and elitism), we know very well that we must not get our hands on such a fire without fireproof gloves or we will leave the epidermis there. We must recognize here the relevance and courage to attack directly the cancer that is Islamism, rather than endlessly calling for the burning of Christian churches deserted by their followers. In this unhealthy sense are in a totally Black Metal coherence: monotheism is the enemy, certainly, but Islam (and especially Islamism, its degenerate version) is the priority!
Beyond these considerations there is the content of this first cult album (the term is not usurped) released in 2014. And there, there is enough to make everyone agree: Malsaint proposes a Black Metal in which the influences of Punk and Thrash are not absent (so much the better) and which carries a coaly, poisonous and violent sound. Kommander's guitars are, however, very pleasant, juggling between Thrash and Death, with high quality solos. Sün has a croaking, rough and hateful voice, which admirably serves the group's dark purpose. Did not seek to make friends with Malsaint, these people are claimed antisocials whose faded souls are at the service of the most intransigent Black Metal. A huge album from which we are still hoping for a follow-up (the band has only released splits since then) knowing that in these times of politically correct thought, the conditions for the release of a second album of the same calibre are likely to be very complicated...
Avec Malsaint on arrive dans le côté très obscur de la force noire. Groupe polémique s'il en est, le combo de Kommander et Sün (deux individus qui ne sont pas là pour plaisanter et que l'on retrouve également dans Vermine en formation live). Avec tout l'attirail idéologique que peut charrier ce type de Black Metal (national-socialisme, haine et élitisme) on sait très bien qu'il ne faut pas mettre la main sur un tel brûlot sans gants ignifugés sous peine d'y laisser l'épiderme. Il faut reconnaître ici la pertinence et le courage de s'en prendre directement a ce cancer qu'est l'islamisme, plutôt que de sempiternellement en appeler à brûler des églises chrétiennes désertées par leurs fidèles. En ce sens Malsaint sont dans une cohérence totalement Black Metal : le monotheisme est l'ennemi, certes, mais l'Islam (et notamment l'islamisme, sa version dégénérée) est la priorité !
Passés ces considérations il y a le contenu de ce premier album culte (le terme n'est pas usurpé) sorti en 2014. Et là, il y a de quoi mettre tout le monde d'accord : Malsaint propose un Black Metal au sein duquel les influences Punk et Thrash ne sont pas absentes (tant mieux) et qui charrie une sonorité de charbon, vénéneuse et violente. Les guitares de Kommander sont toutefois fort agréables, jonglant entre Thrash et Death, avec des soli de grande qualité. Sün a une voix croassante, rugueuses et haineuse, qui sert admirablement le propos sombre du groupe. Ne cherchait pas à faire ami-ami avec Malsaint, ces personnes sont des antisociaux revendiqués dont l'âme flétrie est au service du Black Metal le plus intransigeant. Un immense album dont on espère toujours une suite (le groupe n'a sorti que des splits depuis) tout en sachant qu'en ces temps de bien-pensance politically correct, les conditions d'éclosion d'un deuxième album de la même trempe risquent d'être fort compliquées...
Raw Black Metal
"You decided to end your life, to close the black book of existence"
Do you like Black Metal that hurts? The one who doesn't come in peace ? Raw and raw Black Metal formwork stripping? Then no doubt this Halsfang album is for you! Blast-Beats that ravage, a raging song, guitars that scrape (and you who can stand it or not !): an ode to ugliness quite voluptuous.
It must be said that Balkor, who hides behind this one-man band, is not exactly a beginner. The man studied at Mourning Forest, went through Totale Angoisse and still plays bass at Pestiferum (to be continued below). This explains why, not surprisingly, we find ourselves facing this dirty and brutal Black Metal like a scroflorous rat that has not eaten for a week, we sometimes think of a Funeral Dark who would have copulated with the Darkthrone of the black trilogy, and, more prosaically, with the most heinous French scene (Ad Hominem, Antaeus). With this beautiful punk smell that all the old people of the old scene will appreciate (like me) and a mastery of the whole worthy of a Gorgon, Halsfang delights us with an uncompromising Black Metal, come to fight it out as it should.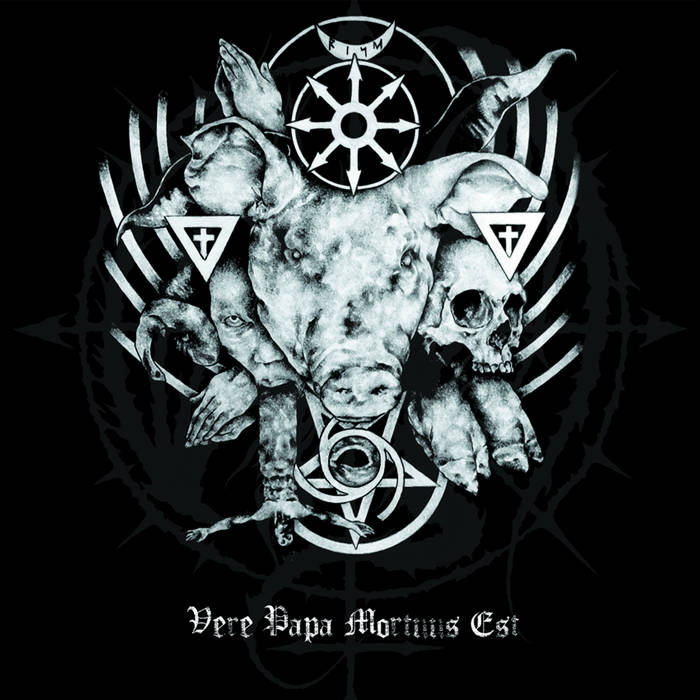 Vous aimez le Black Metal qui fait mal ? Celui qui ne fait pas de quartier ? Le Black Metal cru et brut de décoffrage ? Alors nul doute que cet album de Halsfang est pour vous ! Des Blast-Beats qui ravagent, un chant enragé, des guitares qui raclent (et toi qui tiens le choc !) : une ode à la laideur tout a fait voluptueuse.
Il faut dire que Balkor, qui se cache derrière ce one-man band, n'est pas exactement un débutant. L'homme a fait ses classes chez Mourning Forest, est passé par Totale Angoisse et joue toujours de la basse chez Pestiferum (à suivre ci-dessous). Ceci expliquant cela, pas étonnant que l'on se trouve face a ce Black Metal sale et brutal comme un rat scrofuleux n'ayant pas mangé depuis une semaine, on pense parfois à un Dark Funeral qui aurait copulé avec le Darkthrone de la trilogie noire, et, plus prosaïquement, à la scène française la plus haineuse (Ad Hominem, Antaeus). Avec ce beau relent Punk que tous les vieux de la vieille apprécient (comme moi) et une maîtrise de l'ensemble digne d'un Gorgon, Halsfang nous ravit les conduits auditifs avec un Black Metal sans compromis, venu pour en découdre comme il se doit.
Diabolicum Black Metal
"Ceci est mon corps, ceci est mon sang, allez vous faire foutre"
With Sigillum Diabolicum, the evil Auvergne congregation composed of Vk, Brk and Lkt, monotheistic cults only have to behave: their days are numbered!
This album/manifesto solemnly begins with Handel's sublime saraband while a bloody fundamentalist imam shuts himself off on poor women, while a Christian preacher strives to prove to us the benefits of submission. Not better on the Jewish side, of course. This introduction introduces a tragic notion at the beginning of this album, which will inevitably lead us to question ourselves.
The three assassins of monotheism present here then sent their own music, inspired by Peste Noire (especially the song) and the French Black of the 90's (Lord Voland) without these references ever being heavy. Musically we stay in a dirty and raw Black Metal, not very polite. The riffs whistle in our ears while Lkt's voice seems more schizophrenic every minute. With these 7 titles full of hatred towards abrahamic cults, Sigillum Diabolicum reminds us, if necessary, what Black Metal can be most useful for: especially nowadays! Thus, instead of a purely political discourse, we find here the necessary criticism of these pathetic and primitive religions which every day destroy us all a little more. The war is not over between us and these crevices, but thanks to Sigillum Diabolicum we have been revived!
Avec Sigillum Diabolicum, congrégation auvergnate malfaisante composée de Vk, Brk et Lkt, les cultes monothéistes n'ont qu'à bien se tenir : leurs jours sont comptés !
Cet album/manifeste commence solennellement avec la sublime sarabande de Haendel tandis qu'un foutu imam intégriste s'égosille sur les pauvres femmes, qu'un prêcheur chrétien s'évertue a nous prouver les bienfaits de la soumission. Pas mieux du côté du judaïsme bien sûr. Cette introduction introduit une notion tragique dès le début de ce disque, qui va forcément nous faire nous interroger.
Les trois assassins du monothéisme ici présents envoient ensuite leur propre musique, inspirée de Peste Noire (notamment le chant) et du Black français des 90's (Seigneur Voland) sans que ces références soient jamais pesantes. Musicalement on reste dans un Black Metal crade et cru, peu enclin à la politesse. Les riffs sifflent à nos oreilles tandis que la voix de Lkt semble plus schizophrène de minute en minute. Avec ces 7 titres emplis de haine envers les cultes abrahamiques, Sigillum Diabolicum nous rappelle, si besoin, à quoi le Black Metal peut être le plus utile : notamment de nos jours ! Ainsi, au lieu d'un discours purement politicien retrouve t'on ici la nécessaire critique de ces religions minables et primitives qui chaque jour nous détruisent tous un peu plus. La guerre n'est pas finie qui nous oppose à ces crevures, mais grâce à Sigillum Diabolicum nous voila ragaillardis !
SIGILLUM DIABOLICUM - Ordo Repugnant : les maux du monde moderne (2019 HASS WEG PRODUCTIONS)
Black Metal Magistral
"Ceux qui s'encrassent dans l'aberration matérialiste"
Come on, we're going to stay a little longer with Sigillum Diabolicum for this third and last album released this year, five years after Monotheisme. And what a progress! If I loved their second album (check above), what about it! Where the purpose of the previous one was based on the legitimate denunciation of the three deadly monotheisms that poison us every day, here it is indeed the greatest of the modern gods who is Mammon, the all powerful MONEY ! This is a subject that challenged me: here SD denounce the powers of money in their different incarnations, and, in my opinion, they are right! When will this stupid world finally understand that the only problem is the inequality of wealth?
Musically SD have taken another step forward here: mixing dirt and bewitching melodies (the riffs are splendid!) to produce an album halfway between madness and refined musicality. Like Diapsiquir was sleeping with Kainsmal! Because here beauty is not denied or relegated to the background, it is very present, and sometimes deliciously damaged by the ugly and therefore fundamentally Black Metal intentions of the protagonists. I don't know if you've listened to this album, but it's undoubtedly one of the jewels of this year's French underground. So, if it's not done, rush to this nugget that will bring together lovers of sulfur and beautiful music! Sigillum Diabolicum, with this album, really go from band to band to follow with hope converted from French Black Metal!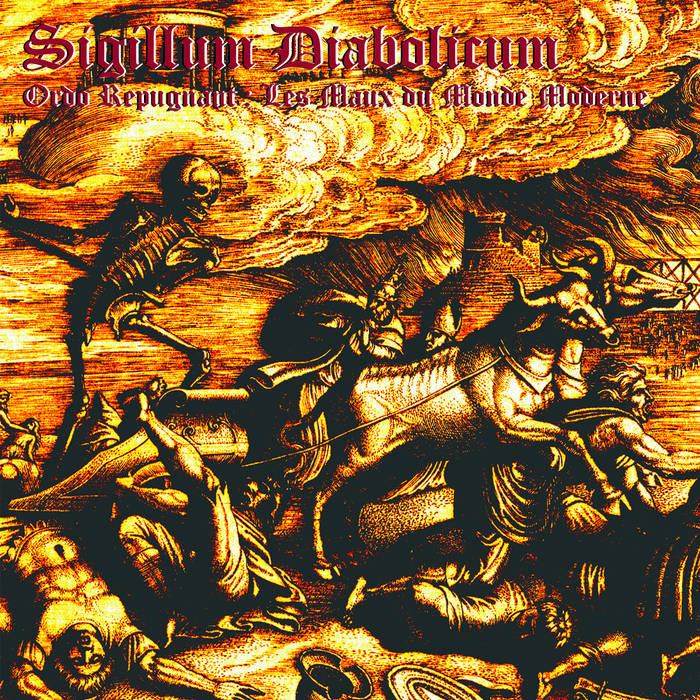 Allez, on va rester encore un peu chez Sigillum Diabolicum pour ce troisième et dernier album sorti cette année, soit cinq ans après Monotheisme. Et quelle progression ! Si j'ai adoré leur deuxième album (vérifiez ci-dessus), que dire de ce dernier ! Là où le propos du précédent s'articulait sur la dénonciation légitime des trois monothéismes mortifères qui chaque jour nous empoisonnent, ici c'est bien le plus grand des dieux modernes qui est Mammon, le tout puissant ARGENT ! Voila un propos qui m'a interpellé : ici SD dénonçent les puissances de l'argent dans leurs différentes incarnations, et , à mon sens, ils frappent juste ! Quand ce monde idiot comprendra t'il enfin que le seul problème est l'inégalité des richesses ?
Musicalement SD ont ici franchi encore un cap : mêlant crasse et mélodies envoûtantes (les riffs sont splendides !) pour produire un album a mi-chemin entre folie déglinguée et musicalité affinée. Comme si Diapsiquir couchaient avec Kainsmal ! Car ici la beauté n'est pas niée ou reléguée au second plan, elle est bien présente, et parfois délicieusement mise a mal par les intentions laides et donc fondamentalement Black Metal des protagonistes. Je ne sais pas si vous avez écouté cet album, mais il s'agit sans aucun doute d'un des joyaux de l'underground français de cette année. Alors, si ce n'est pas fait, précipitez vous sur cette pépite qui réunira les amateurs de souffre et de belle musique ! Sigillum Diabolicum, avec cet album, passent de groupe vraiment à suivre à espoir converti du Black Metal français !
Occitan Black Metal
It's a 100% Occitan game that I invite you here! In the left corner, the very angry Toulouse residents of Halsfang, whose album I reviewed a little earlier (if you don't mind, gentlemen and ladies!) and their competitive Raw/Brutal Black Metal, distinguished and violent, black as a day without bread. In the right corner the Albigensians of Pestiferum, of whom we will also find a chronicle of the album below (there also messires and ladies...) who, they, work in a more melodic Black Metal, even if the dirt is very present there.
Let's stay for a moment on the Pestiferum side of the ring: the mid-tempi are majestic here, offering a breath between two blast-beat deflagrations. Albigensians sing in French on themes such as the Middle Ages or war, which suits them particularly well. More sophisticated in its approach than Balkor's one-man band, which holds the bass here (family history), Pestiferum brings together the best of the 90's Black and a more current version, even if the modern word is absolutely not appropriate here. So, if we can criticize Albi's band, it's perhaps because his Black Metal is a little "wise" at times and lacks a little madness on the tracks of this split. Always well done, pleasant, but sometimes a little too diligent.
On Halsfang's side we find this Black Metal bulldozer both dirty and brutal that I already described in the review album above. Perhaps less Punk and more brutal Black than the album, the tracks here are of an absolute violence, while keeping enough melody to catch the metalhead on a sound walk. A strong production here reinforces the sounds of Balkor's project, dedicated to moaning and smashing the head of the first music lover lost in this hell.
On arrival a very successful split, which combines two different groups, even if some common points (notably Balkor) exist... Strongly recommended!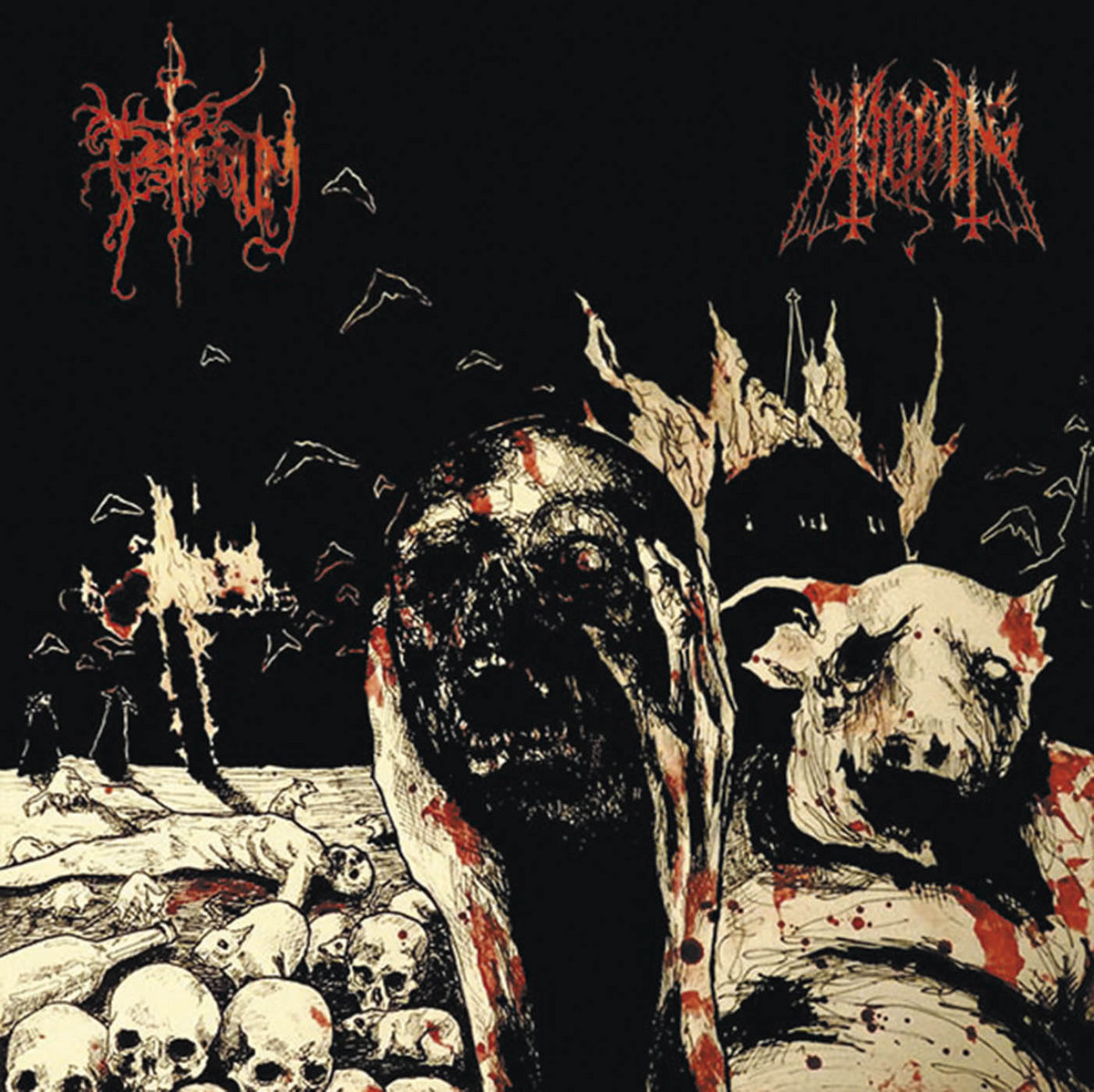 C'est à un match 100 % occitan que je vous convie ici ! Dans le coin gauche, les Toulousains très en colère de Halsfang, dont j'ai chroniqué l'album un peu plus haut (si vous voulez bien vous donner la peine, messires et gentes dames !) et leur Raw/Brutal Black Metal de compétition, racé et violent, noir comme un jour sans pain. Dans le coin droit les albigeois de Pestiferum, dont nous trouverons aussi une chronique d'album ci-dessous (là aussi messires et gentes dames...) qui, eux, oeuvrent dans un Black Metal davantage mélodique, même si la crasse y est bien présente.
Restons un instant du côté Pestiferum du ring : les mid-tempi sont ici majestueux, offrant une respiration entre deux déflagrations de blast-beats. Les albigeois chantent en français sur des thématiques comme le moyen-âge ou la guerre, ce qui leur sied particulièrement bien. Davantage sophistiqué dans son approche que le one-man band de Balkor, qui tient ici la basse (histoire de famille), Pestiferum réunit le meilleur du Black des 90's et d'une version plus actuelle, même si le mot moderne n'est absolument pas approprié ici. Alors, si l'on peut faire une critique au groupe d'Albi, c'est, peut-être, que son Black Metal est un peu "sage" par moments et manque un peu de folie sur les morceaux de ce split. Toujours bien fait, agréable, mais parfois un peu trop appliqué.
Du côté de Halsfang on retrouve ce Black Metal bulldozer à la fois crasseux et brutal que j'ai déjà décrit dans l'album chroniqué ci-dessus. Peut-être moins Punk et plus brutal Black que l'album, les titres ici présents sont d'une violence absolue, tout en gardant suffisamment de mélodie pour accrocher le métalleux en promenade sonore. Une production costaude renforce ici les sonorités du projet de Balkor, voué aux gémonies et à défoncer la tête du premier mélomane perdu dans cet enfer.
A l'arrivée un split fort réussi, qui combine deux groupes différents, même si quelques point communs (notamment Balkor) existent...Vivement conseillé !
HALSFANG
PESTIFERUM


Black Metal
"La Montée des ténèbres"
We go back in time a little bit with this second album of Pestiferum (active since 2005) which come to sow the plague and despair in our auditory conduits and our lost souls. Decorated with a beautiful cover by Vincent Devault that sets the decorum and medieval atmosphere of the opus, this album offers a majestic, sometimes epic Black Metal, ideal to prepare for war (si vis pacem parabellum). Our black plague providers (not the group) seem happy here to give us their dirty virus in order to destroy us. At that time, Pestiferum had a dirtier mix than on the split reviewed above, which highlights the melody of their compositions without risking to make their Black harmless. The song of Spernax the abject (fuck, that's the name!) is quite extraordinary, rough and crawling like a great old Lovecraft elder, worthy of the dirtiest demon and suitable for the most perverse tasks. This explains this and CDFD my dear Watson I totally adhered to this beautiful medieval and melancholic opus, which sounds like an albigensian revenge following the ignoble crusade that Catholics have provoked on their lands.
Divided into three chapters (1. the rise of darkness, 2. when the bell tolls, 3. a smell of death floats), this magnum opus describes the progress of rats and other vermin in the city until everyone dies in ignoble suffering. A beautiful and ugly record at the same time, as a pure Black Metal record must be, and the "balance" between dirt and beauty is just perfect here! A MUST HAVE !
Nous remontons ici un peu le temps avec ce deuxième album de Pestiferum (actifs depuis 2005) qui viennent semer la peste et le désespoir dans nos conduits auditifs et nos âmes égarées. Orné d'une belle pochette signé Vincent Devault qui pose bien le décorum et l'ambiance médiévale de l'opus, ce disque propose un Black Metal majestueux, parfois épique, idéal pour se préparer à la guerre (si vis pacem parabellum). Nos pourvoyeurs de peste noire (pas le groupe) semblent heureux ici de nous refiler leur sale virus afin de nous anéantir. A cette époque, Pestiferum bénéficiaient d'un mixage plus sale que sur le split chroniqué ci-dessus, ce qui met en relief la mélodie de leurs compos sans pour autant risquer de rendre leur Black inoffensif. Le chant de Spernax l'abject (putain, ça c'est du nom !) est assez extraordinaire, râpeux et rampant comme un grand ancien de Lovecraft, digne du démon le plus sale et apte aux besognes les plus perverses. Ceci expliquant cela et CDFD mon cher Watson j'ai totalement adhéré à ce bel opus médiéval et mélancolique, qui sonne comme une vengeance des albigeois suite à l'ignoble croisade que les catholiques ont provoqué sur leurs terres.
Divisé en trois chapitres (1. la montée des ténèbres, 2. lorsque sonne le glas, 3. une odeur de mort flotte), ce magnum opus nous décrit l'avancée des rats et autres vermines dans la ville jusqu'à ce que chacun rende l'âme dans d'ignobles souffrances. Un disque beau et laid à la fois, comme se doit d'être un pur disque de Black Metal, et le "dosage" entre crasse et beauté est ici juste parfait ! UN RÉGAL !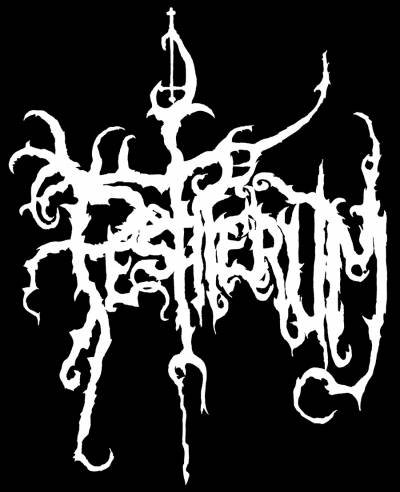 True Elitist Black Metal
We will close this special edition in ugliness with a particularly uncompromising, antisocial and elitist group, like their Malsaint label mates: the Armagedon demons.
Here any lover of political correctness will soon feel a rigor mortis that will never leave him. Rigor Mortis.
Armaggedon are among those "infrequent" that we will not see in specialized magazines because their sulphur aura is so great. This Auvergne duo composed of Ssatan and Grimvald makes the purity of its black metal a real weapon of war. And it is not this fifth album (a 6th having been released in 2018) that will see them soften their comments. These assumed radicals offer here a good summary of what Black Metal can be in its most "raw", "evil" and "Trve" definition: black and throbbing riffs, a drum set alternating spasms in blast-beats and mid-tempo and a song screamed at death, whose vocal cords must not come out unscathed. After all, isn't spitting blood the prerogative of a Black Metal vocalist? There is early Mayhem in these sounds and, of course, reminiscences of the Black Legions (Mutiilation) or a cult group like The Arrival Of Satan. Like Malsaint, Aramggedon flirt with the banks of the NSBM without putting swastikas everywhere (for which we are grateful). Here everything is only a shadow, created by shadow craftsmen who refuse any social contact other than the act of buying their music. We think of another fabulous combo from Quebec, Maëstro Cröque Mört, for the intransigence and tyranny deployed even if the fact that the Quebecois sings in French and Armaggedon in English makes the two projects very different all the same. In short, a black metal up to auboutist, raw, without frills and fleeing all light and beauty (although their radical purity has its own beauty in itself). To be reserved for an informed audience, of age for a long time, and ready to be attacked by this uncomfortable Black Metal, like the former 90's, but its purpose is not to entertain you.
Nous allons clore ce hors série en laideur avec un groupe particulièrement intransigeant, antisocial et élitiste, à l'instar de leurs camarades de label de Malsaint : les démons Armaggedon.
Ici tout amateur de politiquement correct va vite ressentir une rigidité cadavérique qui ne le quittera plus. Rigor Mortis.
Armaggedon font partie de ces "infréquentables" que l'on ne verra pas dans les magazines spécialisés tant leur aura de sulfure est grande. Ce duo auvergnat composé de Ssatan et Grimvald fait de la pureté de son black metal une véritable arme de guerre. Et ce n'est pas ce cinquième album (un 6ème étant sorti en 2018) qui les verra adoucir leur propos. Ces radicaux assumés proposent ici un bon résumé de ce que peut être un Black Metal dans sa définition la plus "brute", "evil" et "Trve" : des riffs noirs et lancinants, une batterie alternant spasmes en blast-beats et mid-tempo et un chant hurlé à la mort, dont les cordes vocales ne doivent pas sortir indemnes. Après tout, cracher du sang n'est-il pas l'apanage d'un vocaliste Black Metal ? Il y a du Mayhem première époque dans ces sonorités et, bien sûr, des réminiscences des Légions Noires (Mutiilation) ou d'un groupe culte comme The Arrival Of Satan. Comme Malsaint, Aramggedon flirtent avec les rives du NSBM sans pour autant foutre des croix gammées partout (on leur en sait gré). Ici tout n'est qu'ombre, réalisée par des artisans de l'ombre, qui refusent tout contact social autre que l'acte d'acheter leur musique. On pense à un autre combo fabuleux venu du Québec, Maëstro Cröque Mört, pour l'intransigeance et la tyrannie déployée même si le fait que le québecois chante en français et Armaggedon en anglais rend les deux projets fort différents tout de même. Bref, un black metal jusqu'auboutiste, raw, sans fioriture et fuyant toute lumière et toute beauté (encore que leur pureté radicale possède en elle même sa propre beauté). A réserver à un public averti, majeur depuis longtemps, et prêt à subir les assauts de ce Black Metal qui met mal à l'aise, à l'instar des anciens des 90's, mais son but n'est pas de vous divertir.
To conclude I would like to thank this incredible underground activist Hass Weg for trusting me in this partnership with Scibe! It is a great honour to work with quality people! Thank you and see you soon! And don't forget to click on the links to spend your money buying real underground at HASS WEG PRODUCTIONS! It's almost Nohell, so fill your hood with black nuggets!
Pour conclure je tiens a remercier cet incroyable activiste de l'underground qu'est Hass Weg pour m'avoir accordé sa confiance dans ce partenariat avec le Scibe ! C'est un grand honneur que de collaborer avec des personnes de qualité ! Merci et à bientôt ! Et pensez à cliquer sur les liens pour dépenser vos sous en achetant du vrai underground chez HASS WEG PRODUCTIONS ! C'est bientôt Nohell, alors remplissez votre hotte de noires pépites !
LA SEMAINE PROCHAINE DANS LES CROCS DU SCRIBE
NEXT WEEK ON LES CROCS DU SCRIBE