ENGLISH/FRANÇAIS INTERVIEW BLACK METAL : Obscure Anorexia ? TENEBRAE IN PERPETUUM
Hello to you Tenebrae In Perpetuum! The band has been in existence since 2001. Can you tell us about these almost twenty years of sick creation?
Hi! In the fall of 2001 I was going through a sort of mystic trance about Black Metal and I felt the need, the urgency I would say, to create my project that embodied as much as possible what I thought, and I still think, to be the very concept of Black Metal, from its philosophy. The musical and conceptual bases of Tenebrae In Perpetuum were born during those days and, although there has been a natural evolution, they are still present. I refer to the dark, mystical, violent and insane sound that can be heard on the entire production of the band.
In 2001, therefore, you released a first demo called "the black flames age". From the outset, it sounds like a very orthodox Black Metal opus, with this religious and black atmosphere. What were your influences at the time and what did you want to say with the band?
Tenebrae In Perpetuum was born to create the kind of music you perceived. The young bands are often born with the desire to play like their favourite bands and it was also so for Tenebrae In Perpetuum. I wanted to create dark and mystical Black Metal in the style of the early works of the Scandinavian and European bands that I listened to and loved at the time. Great sources of inspiration were Darkthrone, Emperor's and Carpathian Forest's demos, Manes, Graveland, Veles, Warloghe, Katharsis.
Your music is very tortured, painful... Where did you get this from? Is it related to the Latin soul that haunts you?
I don't know if it's the Latin soul but I suppose that the music that is written and interpreted can often reflect what its creator has inside. The creation of tortured and painful music is particularly natural to me and indeed, I would struggle to write music that does not have these characteristics. I could also define it as a kind of expressionist black poetry.
You don't sound like other Italian groups, more "Gothic" and "theatrical" like Cultus Sanguine and Opera IX. How do you explain it?
Probably because I almost never listen that kind of music. For Black Metal and above all for Tenebrae In Perpetuum, musical and attitudinal influences have always been, directly or indirectly, Scandinavian. Maybe I happened to listen to some of the Italian bands you talk about but they didn't leave me such a profound sign that they influenced my writing.
Your first eponymous EP, released in 2002, gives a clever mix of icy and tyrannical "true black" and more depressive Black Metal...How did you combine the two "genres"?
As I said before, I very easily tend to insert elements of pain and melancholy into my music and this comes naturally to me because of my personality. Even when I create violent and brutal music, despair is always evident and perhaps this union is one of the most interesting features of Tenebrae In Perpetuum.
What were and what are your views today on spirituality, human, good and evil?
I am a rather solitary and contemplative person and for this reason, I think I am also quite inclined towards spirituality, which I concretize by trying to make a sort of silence in my mind. For the rest, I don't have a great faith in mankind and I believe that we are quickly putting ourselves in a position to become extinct due to the parasitic action towards the Earth.
Your first album, "Onori funebri rituali", is the first one you write entirely in Italian, why this choice?
Except for one song, the one that gave the title to the 2001 demo, Tenebrae In Perpetuum has only ever written the lyrics in Italian. When I founded the band in the fall of 2001, I wanted to differentiate it as much as possible from another project in which I was involved (Beatrik) and singing in Italian seemed the right thing to do.
With this album you perpetuate a particularly cold and hateful Black Metal. What was your state of mind at the time? You seemed more at war with the world than with yourself, didn't you?
It is always difficult for a musician to foresee exactly what the listener perceives. I can tell you that during the first period of the band's life I was deeply and completely immersed in a Black Metal trance with regards to music, thoughts and lifestyle. It was a real beautiful time. Probably all this can be felt in the music of that period.
Which italian bands do you prefer ? (I was thinking of Altar of Perversion, Goatreich 666, Aborym or Spite Extreme Wing)
I never really cared about Italian bands. I have all heard the names but their music very rarely. In the last 10-12 years I have not even listened to more than 4-5 new Black Metal albums in general. I like the first Aborym for combining Black Metal and electronics, and the first Forgotten Tomb also. Even In Absentia Christi of Monumentum is a masterpiece for me. Of the older bands I love the works of Necrodeath and Bulldozer of the 80s. I can't name the bands of the last 10 years but I can mention Gorrch as a definitely interesting band. But for me the Black Metal band par excellence in Italy are Altar Of Perversion, both from a musical and an attitudinal point of view and I think they are better known and appreciated abroad than here in Italy.
You signed with the excellent French label Debemur Morti, how was the connection made?
We started working together in 2005, when we released the 7 "ep split with Horna, which was initially to be released on Grievantee prod. From that moment there has always been mutual respect and all our main works have come out on Debemur Morti. The label has grown a lot over the years, now it has an excellent rooster and works very professionally.
Your second album, Antico Misticismo, is really unbelievable ! It sound both very fast and angry but also very sad and melancholic. Did you realised back then

you were crossing a threshold ?
I don't understand exactly what you mean by having "crossed a threshold" but I know that for many this is the favorite album of Tenebrae In Perpetuum of the 2000s. I think it was a great evolution and improvement compared to the previous album from the point of view of songwriting and of the sound. That sound really creates an infernal atmosphere! All that reverberation creates a chaos that for me is the perfect Black Metal sound. I am still very satisfied with Antico Misticismo.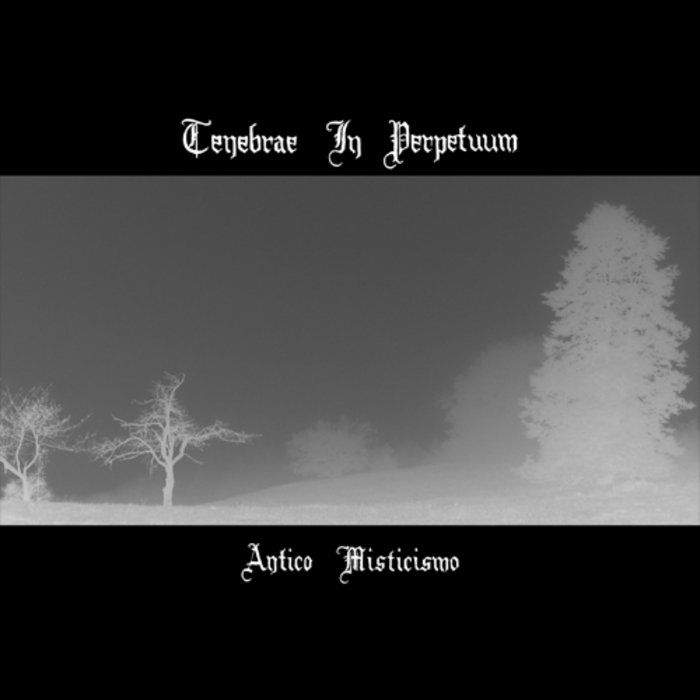 In 2009 comes the "L'eterno maligno silenzio", what can you tell us about this album?
Probably this is the release that least satisfies me because I believe I have made some mistakes. The most serious concerns the sound, the production, which is perhaps too clean and certainly too compressed and flat. The sound is powerful but lacking the atmosphere typical of previous works. Many of the songs are ok but during the writing and production of the album I went through the crisis of ideas and motivation that eventually led to officially stopping the Tenebrae In Perpetuum project in 2010. This crisis forced me to call another guy (Ildanach of Absentia Lunae that I still thank) to write the texts and to record the vocals and this was the only time that happened in 20 years of career.
Your new album, "Anorexia Obscura", is the first album you've released in ten years! What happened?

Had the group split up? I haven't been able to listen to it all yet as I write these lines, but the songs I've heard deal with mental illness, and your sound seems to be more dissonant and tortured than ever! What has changed in you over the past ten years?
In 2008/10 I was very bored and tired about black metal. I used to listen too many bands that seems all the same and without personality and I thought that even Tenebrae In Perpetuum had become one of them. I had lost enthusiasm and inspiration to be able to write new music and in 2010 I made the stop of the band's activities official. At that time I became father and I've built my house and I lacked the time and motivation.
When writing an album there are things that can be decided and planned while many others are born from a stream of consciousness that is not always possible to control.
After all these years in which I obviously suffered influences of various kinds (musical, visual, cinematographic, personal experiences, etc.) this stream of consciousness must have evolved and changed and the result was writing and producing Anorexia Obscura. This could be the reason why the album took this form. This album is certainly more experimental, complex and fragmented than the previous ones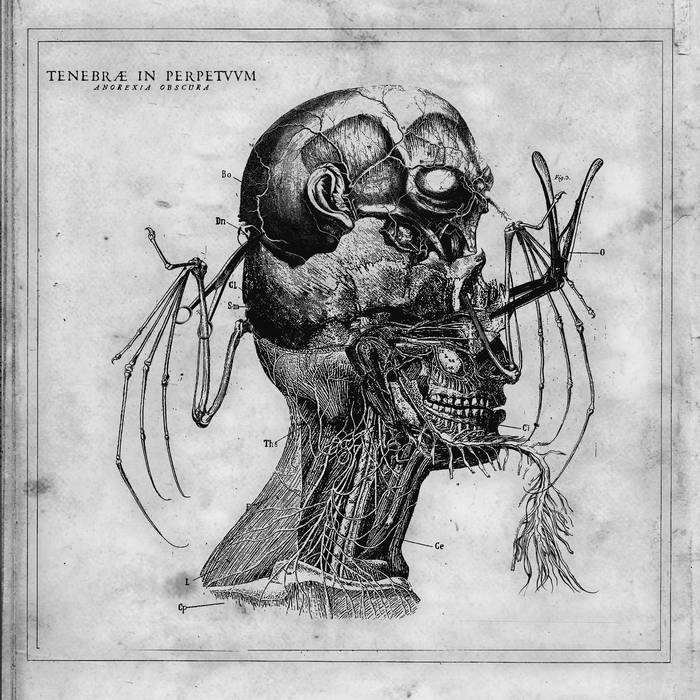 Your 20 favorite records ever, in every genre ?
I find it difficult to put extreme metal records and everything else on the same list.
For the Black Metal the titles are always the usual classics of the 90s of bands like Emperor, Manes, Darkthrone, Immortal, Carpathian Forest, Mayhem, Satyricon, Thorns, but also the first albums of bands like Graveland, Katharsis, Warloghe and much more.
For the rest of the metal I would say Cannibal Corpse - The Bleeding, Morbid Angel - FFTTF, Death - The Sound ..., Skepticism - Stormcrowfleet, Worship - Last Tape Before Doomsday, Destruction - Sentence of Death, Slayer classics, Necrodeath - Into the Macabre, etc.
As for the rest of the music my favorite albums are Portishead-s/t (1997) and Third (2008), Radiohead-Ok Computer (1997) and In Rainbows (2007), The cure – Pornography (1982), Christian Death -Only Theater Of Pain (1982), Nirvana – Bleach (1989), Talk Talk-Laughing Stock (1991), Beth Gibbons & Rustin Man-Out Of Season (2002) and some others...
I don't have much else to add but I thank you for your support!
VERSION FRANÇAISE
Bonjour à toi Tenebrae In Perpetuum ! Le groupe existe depuis 2001. Pouvez-vous nous parler de ces presque vingt années de folle création ?
Salut, à l'automne 2001, je vivais une sorte de transe mystique sur le Black Metal et j'ai ressenti le besoin, l'urgence, je dirais, de créer mon propre projet qui incarnait autant que possible ce que je pensais, et je pense toujours, être le concept même du Black Metal, de sa philosophie. Les bases musicales et conceptuelles de Tenebrae In Perpetuum sont nées à cette époque et, bien qu'il y ait eu une évolution naturelle, elles sont toujours présentes. Je fais référence au son sombre, mystique, violent et fou que l'on peut écouter sur l'ensemble de la production du groupe.
En 2001, vous avez donc sorti une première démo intitulée "l'âge des flammes noires". D'emblée, on dirait un opus de Black Metal très orthodoxe, avec cette atmosphère religieuse et noire. Quelles étaient tes influences à l'époque et que voulais-tu dire avec le groupe ?
Tenebrae In Perpetuum est né pour créer le genre de musique que vous percevez. Les jeunes groupes naissent souvent avec le désir de jouer comme leurs groupes préférés et ce fut aussi le cas pour Tenebrae In Perpetuum. Je voulais créer du Black Metal sombre et mystique dans le style des premières œuvres des groupes scandinaves et européens que j'écoutais et aimais à l'époque. Darkthrone, les démos d'Emperor et de Carpathian Forest, Manes, Graveland, Veles, Warloghe, Katharsis ont été de grandes sources d'inspiration.
Votre musique est très torturée, douloureuse.... D'où tenez-vous ça ? Est-ce lié à l'âme latine qui vous hante ?
Je ne sais pas si c'est l'âme latine mais je suppose que la musique qui est écrite et interprétée peut souvent refléter ce que son créateur a à l'intérieur. La création d'une musique torturée et douloureuse est particulièrement naturelle pour moi et, en effet, j'aurais du mal à écrire une musique qui ne possède pas ces caractéristiques. Je pourrais aussi le définir comme une sorte de poésie noire expressionniste.
Vous ne ressemblez pas à d'autres groupes italiens, plus "gothique" et "théâtral" comme Cultus Sanguine et Opera IX. Comment l'expliquez-vous ?
Probablement parce que je n'écoute presque jamais ce genre de musique. Pour le Black Metal et surtout pour Tenebrae In Perpetuum, les influences musicales et comportementales ont toujours été, directement ou indirectement, scandinaves. J'ai peut-être écouté certains des groupes italiens dont vous parlez, mais ils ne m'ont pas laissé un signe si profond qu'ils ont influencé mon écriture.
Votre premier EP éponyme, sorti en 2002, donne un savant mélange de "true black" glacial et tyrannique et de Black Metal plus dépressif...Comment avez-vous combiné les deux "genres" ?
Comme je l'ai déjà dit, j'ai très facilement tendance à insérer des éléments de douleur et de mélancolie dans ma musique et cela me vient naturellement à cause de ma personnalité. Même lorsque je crée de la musique violente et brutale, le désespoir est toujours évident et cette union est peut-être l'une des caractéristiques les plus intéressantes de Tenebrae In Perpetuum.
Quels étaient et quels sont vos points de vue aujourd'hui sur la spiritualité, l'humain, le bien et le mal ?
Je suis une personne plutôt solitaire et contemplative et pour cette raison, je pense que je suis aussi très inclinée vers la spiritualité, que je concrétise en essayant de faire une sorte de silence dans mon esprit. Pour le reste, je n'ai pas une grande foi en l'humanité et je crois que nous nous mettons rapidement en position de disparaître à cause de l'action parasitaire sur la Terre.
Votre premier album, "Onori funebri rituali", est le premier que vous écrivez entièrement en italien, pourquoi ce choix ?
A l'exception d'une chanson, celle qui a donné le titre à la démo de 2001, Tenebrae In Perpetuum n'a jamais écrit que des paroles en italien. Quand j'ai fondé le groupe à l'automne 2001, j'ai voulu le différencier le plus possible d'un autre projet dans lequel j'étais impliqué (Beatrik) et chanter en italien me semblait la bonne chose à faire.
Avec cet album, vous perpétuez un Black Metal particulièrement froid et haineux. Quel était votre état d'esprit à l'époque ? Tu semblais plus en guerre avec le monde qu'avec toi-même, n'est-ce pas ?
Il est toujours difficile pour un musicien de prévoir exactement ce que l'auditeur perçoit. Je peux vous dire que durant la première période de la vie du groupe, j'ai été profondément et complètement plongé dans une transe du Black Metal en ce qui concerne la musique, les pensées et le style de vie. C'était une très belle époque. Tout cela se ressent probablement dans la musique de l'époque.
Quels groupes italiens préférez-vous ? (Je pensais à Altar of Perversion, Goatreich 666, Aborym or Spite Extreme Wing)
Je n'ai jamais vraiment aimé les groupes italiens. J'ai tous entendu les noms mais très rarement leur musique. Au cours des 10-12 dernières années, je n'ai même pas écouté plus de 4-5 nouveaux albums de Black Metal en général. J'aime le premier Aborym pour combiner le Black Metal et l'électronique, et le premier Forgotten Tomb aussi. Même In Absentia Christi de Monumentum est un chef-d'œuvre pour moi. Parmi les groupes plus anciens, j'adore les oeuvres de Necrodeath et Bulldozer des années 80. Je ne peux pas nommer les groupes des 10 dernières années mais je peux mentionner Gorrch comme étant un groupe définitivement intéressant. Mais pour moi, le groupe de Black Metal par excellence en Italie est Altar Of Perversion, à la fois d'un point de vue musical et comportemental, et je pense qu'ils sont mieux connus et appréciés à l'étranger qu'ici en Italie. (NdS : Je pense qu'il ne sont pas assez connus en dehors de l'Italie non plus)
Vous avez signé avec l'excellent label français Debemur Morti, comment s'est faite la connexion ?
Nous avons commencé à travailler ensemble en 2005, quand nous avons sorti le 7 "ep split with Horna, qui devait initialement sortir sur Grievantee prod. Depuis ce moment, il y a toujours eu un respect mutuel et toutes nos œuvres principales sont sorties sur Debemur Morti. Le label s'est beaucoup développé au fil des ans, maintenant elle a une excellente réputation et travaille de manière très professionnelle.
Votre deuxième album, Antico Misticismo, est vraiment incroyable ! Il sonne à la fois très rapide et en colère, mais aussi très triste et mélancolique. Avez-vous réalisé qu'à l'époque, vous franchissiez un seuil ?
Je ne comprends pas exactement ce que vous voulez dire par "franchir un seuil" mais je sais que pour beaucoup c'est l'album préféré de Tenebrae In Perpetuum des années 2000. Je pense que c'était une grande évolution et amélioration par rapport à l'album précédent du point de vue de l'écriture et du son. Ce son crée vraiment une atmosphère infernale ! Toute cette réverbération crée un chaos qui est pour moi le son Black Metal parfait. Je suis toujours très satisfait d' Antico Misticismo.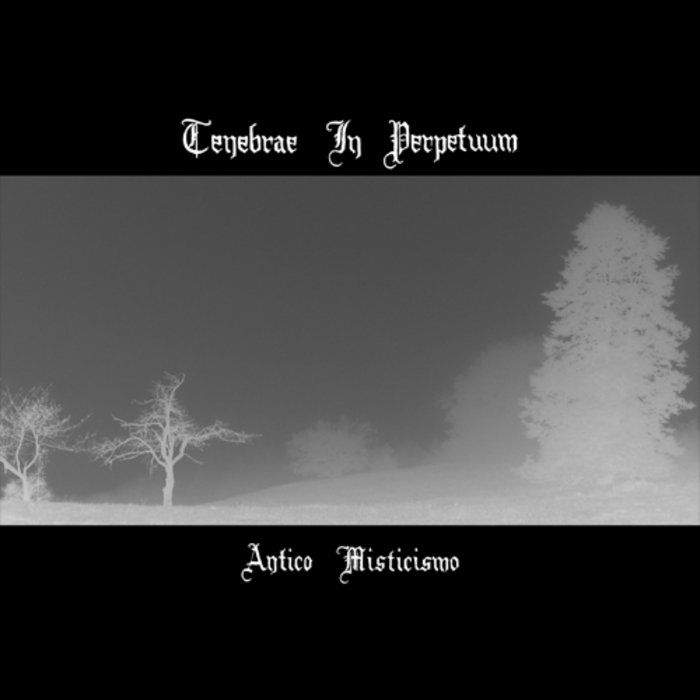 En 2009 vient le "L'eterno maligno silenzio", que pouvez-vous nous dire sur cet album ?
C'est probablement la sortie qui me satisfait le moins parce que je crois que j'ai fait quelques erreurs. Le plus grave concerne le son, la production, qui est peut-être trop propre et certainement trop comprimé et plat. Le son est puissant mais sans l'atmosphère typique des œuvres précédentes. Beaucoup de chansons sont correctes, mais pendant l'écriture et la production de l'album, j'ai traversé une crise d'idées et de motivation qui a finalement conduit à arrêter officiellement le projet Tenebrae In Perpetuum en 2010. Cette crise m'a forcé à appeler un autre gars (Ildanach d'Absentia Lunae que je remercie encore) pour écrire les textes et enregistrer la voix et ce fut la seule fois en 20 ans de carrière.
Votre nouvel album, "Anorexia Obscura", est le premier album que vous sortez depuis dix ans ! Que s'est-il passé ? Le groupe s'était-il séparé ? Je n'ai pas encore pu tout écouter au moment où j'écris ces lignes, mais les chansons que j'ai entendues traitent de la maladie mentale, et votre son semble être plus dissonant et torturé que jamais ! Qu'est-ce qui a changé en vous au cours des dix dernières années ?
En 2008/10, je m'ennuyais beaucoup et j'étais fatigué du black metal. J'écoutais trop de groupes qui me semblaient tous pareils et sans personnalité et je pensais que même Tenebrae In Perpetuum était devenu l'un d'eux. J'avais perdu l'enthousiasme et l'inspiration pour pouvoir écrire de la nouvelle musique et en 2010 j'ai officialisé l'arrêt des activités du groupe. A cette époque, je suis devenu père et j'ai construit ma maison et j'ai manqué de temps et de motivation.
En écrivant un album, il y a des choses qui peuvent être décidées et planifiées, tandis que beaucoup d'autres naissent d'un courant de conscience qu'il n'est pas toujours possible de contrôler.
Après toutes ces années au cours desquelles j'ai évidemment subi des influences de toutes sortes (musicales, visuelles, cinématographiques, personnelles, etc.), ce courant de conscience a dû évoluer et changer et le résultat a été d'écrire et de produire Anorexia Obscura. C'est peut-être la raison pour laquelle l'album a pris cette forme. Cet album est certainement plus expérimental, complexe et fragmenté que les précédents. (NdS : je confirme, je l'ai écouté depuis et c'est un album complètement fou et expérimental !)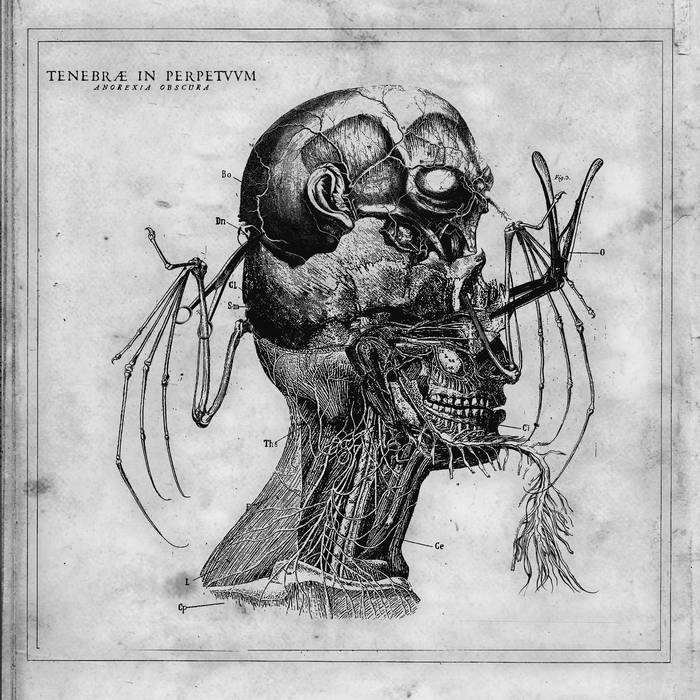 Vos 20 disques préférés, dans tous les genres ?
J'ai du mal à mettre des disques de métal extrême et tout le reste sur la même liste.
Pour le Black Metal, les titres sont toujours les classiques habituels des années 90 de groupes comme Emperor, Manes, Darkthrone, Immortal, Carpathian Forest, Mayhem, Satyricon, Thorns, mais aussi les premiers albums de groupes comme Graveland, Katharsis, Warloghe et bien plus.
Pour le reste du métal, je dirais Cannibal Corpse - The Bleeding, Morbid Angel - FFTTF, Death - The Sound ...., Skepticism - Stormcrowfleet, Worship - Last Tape Before Doomsday, Destruction - Sentence of Death, Slayer Classics, Necrode Death - Into the Macabre, etc.
Quant au reste de la musique, mes albums préférés sont Portishead-s/t (1997) et Third (2008), Radiohead-Ok Computer (1997) et In Rainbows (2007), The cure - Pornography (1982), Christian Death - Only Theater Of Pain (1982), Nirvana - Bleach (1989), Talk Talk-Laughing Stock (1991),
Ajoutez ce que vous voulez :
Je n'ai pas grand-chose d'autre à ajouter, mais je vous remercie de votre soutien !