FR/ENG INTERVIEW : FRENCH TECH BRUTAL DEATH METAL : DISOWNING
Bon, vous l'avez compris, LE SCRIBE est

TRÈS

orienté Black Metal, ce qui est peu surprenant compte tenu de mes goûts ! Il n'empêche que, de temps en temps, je me prends ma petite pêche de la part d'un groupe de Death Metal qui sait faire parler la poudre, comme c'est le cas de Disowning et de ce "Human Cattle" particulièrement impressionnant ! Je laisse donc la parole a Jesus (non pas l'autre !) et ses potes pour que vous en sachiez plus pour ce combo de Death

INRATABLE

!!!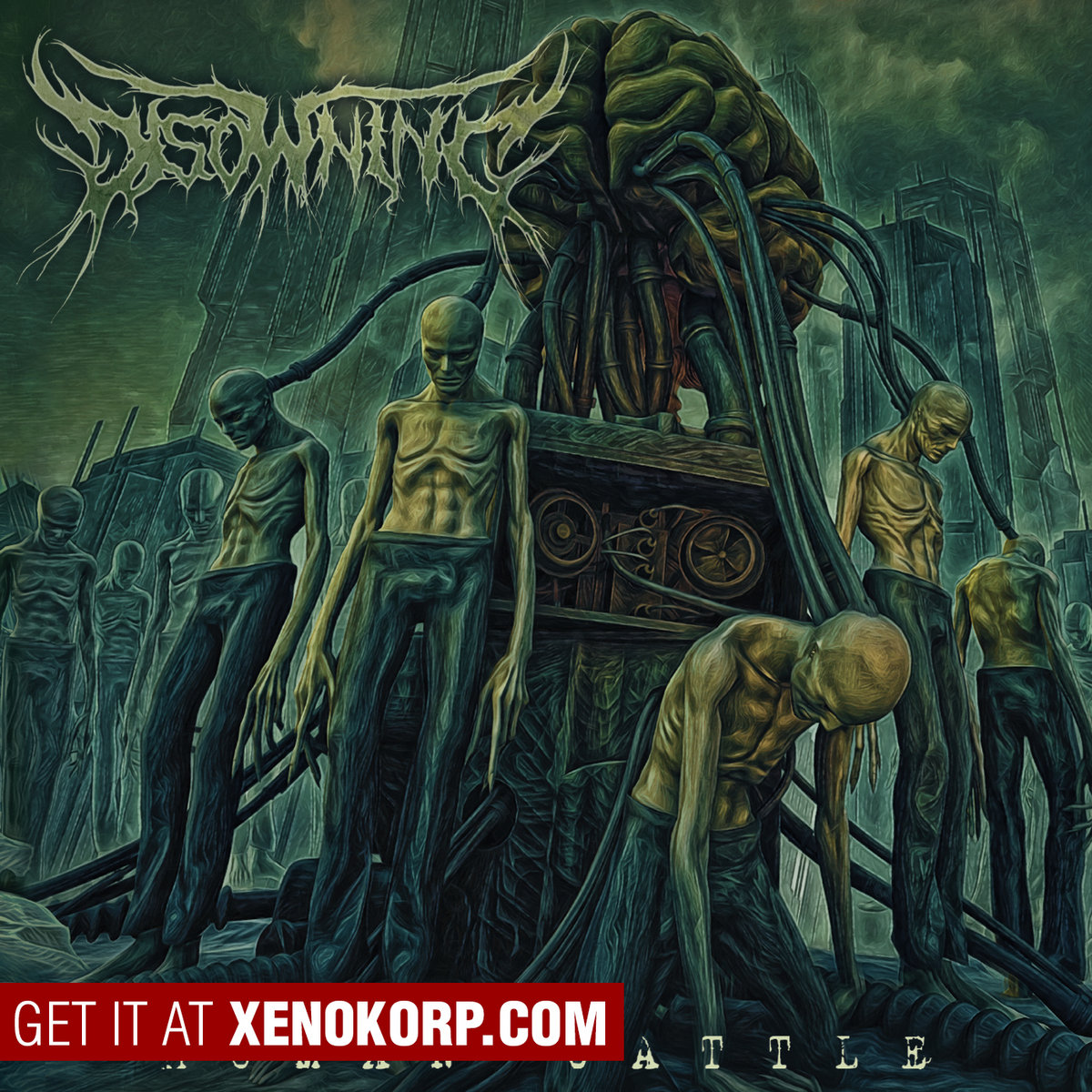 Salut Disowning ! Vous êtes un combo tout neuf, fondé en 2018, malgré l'expérience déjà importante de certains de vos membres. Pouvez-vous nous raconter comment le groupe s'est créé ?
Jesus : Le band est un peu plus âgé que ça. J'ai fondé Disowning avec Max (Drums) après Offending. Nous avons ensuite accueilli Peb (Guitare) qui avait déjà joué auparavant avec Max dans Odüm. Puis le travail de composition a débuté en trio, et très vite à 4 avec l'arrivée d'Adrien (Basse) peu de temps après. Après avoir composé les titres démo, nous avons décidé de chercher un 2nd guitariste. Hasard ou pas, Max nous a présentés un guitariste potentiellement intéressé par ce que l'on faisait : Jérôme (Hyskal) que je connaissais déjà dans ma jeunesse et que je n'avais pas revu depuis un moment !
Après mon aventure avec Offending, je me suis dit que j'allais vraiment galérer pour starter un nouveau band avec tout le travail, l'investissement et l'énergie que cela implique. Au final et à ma grande surprise, j'ai redécouvert l'essence même de ce que doit être un band dans sa globalité.
Nous sommes rapidement devenus comme une grande et véritable fratrie où chacun à trouver sa place sur un même pied d'égalité, ce qui a donné naissance à ce premier opus « Human Cattle ».
Vous sortez votre premier EP en 2018, qui annonce ce premier album a paraître en Juillet de cette année dont nous parlerons plus loin. Votre Death Metal est à la fois brutal et progressif, très original même si l'influence du grand Suffocation est bien présente. Pouvez vous nous en dire plus sur votre musique et vos influences ?
Jesus : Disons que nous ne sommes pas ancrés dans l'idée de se dire « il faut absolument faire tel type de death metal ». Nous sommes plutôt du genre à nous dire « ce que l'on compose a t-il du sens ? Et cela nous fait il vibrer ? ». On compose avant tout pour nous, c'est la base même d'un groupe de musique : produire quelque chose d'authentique, de sincère et que l'on désire partager par la suite. On est là pour se faire plaisir et s'épanouir, sinon on ne ferait pas de musique.
Il est clair que nous composons consciemment et/ou inconsciemment avec nos influences engrangées depuis toutes ces années, et également avec ce que nous sommes et ce qui se dégage de notre personne au moment présent. A vrai dire, nos influences sont tellement diverses et variées qu'il devient très très compliqué de tout lister.
J'ai eu la chance d'écouter l'album Human Cattle qui sort en Juillet, donc, et j'ai pris ma baffe ! (NDS : Cette interview date de Juin 2019) Ce disque est à la fois violent, sombre, tout en donnant à entendre un Death Metal sophistiqué et élégant. Sur certains passages plutôt doomy j'ai même pensé aux premiers Paradise Lost. Pouvez-vous nous en dire un peu plus sur ce pavé ?
Merci pour ce retour très plaisant. Il est vrai qu'au fur et à mesure des retours, je m'aperçois que l'album est apprécié à sa juste valeur. Dans le sens où les personnes comprennent ce que nous voulions amener dans notre musique. Notre death metal mélange véritablement beaucoup d'influences et de courant à vocation death, et ce autant dans le death old-school, le death nouvelle génération, mais aussi sur des versants progressifs, mélodiques... le tout accompagné d'atmosphères pesantes et sombres.
Nous sommes contents de ces premiers retours et enchantés d'être catégorisés sur plusieurs panels de styles death tout en ayant au final une réelle cohérence dans nos compositions.
A l'heure actuelle, il est compliqué de se démarquer de ses pairs avec la tonne de bands qui existent. Il est important d'avoir sa propre identité mais c'est loin d'être facile, il y a encore du chemin et on s'y emploie comme on peut.
Vous êtes chez Xenokorp, label que j'apprécie particulièrement. Un mot sur vos collègues de Ad Patres ?
Ad Patres est devenu un band incontournable dans la scène death metal française. Je les connais depuis un ptit moment maintenant. Ils viennent également de sortir un bel et nouvel album, qui je n'en doute pas fera parler de lui. J'espère qu'on aura l'occasion de fouler les planches un de ces 4 à leurs côtés. Je déplore le départ d'Arnaud, mais ainsi va la vie...
En écoutant votre album, on se dit que la scène Death Metal française se porte foutrement bien, vous êtes d'accord ?
Huumm je ne sais pas vraiment quoi te répondre. C'est vrai qu'elle regorge d'excellents albums et de très bons bands mais il faut avouer qu'elle a du mal à briller à l'international. La France n'a pas vraiment bonne presse à l'étranger si je puis dire, les groupes français doivent travailler plus fort pour être légitimés. Certains arrivent à sortir du lot et c'est tout à leur honneur ! Car il y a un vrai travail monstre d'abattu.
Pour notre part, nous verrons bien ce que disent les premières retombées de notre « Human Cattle »...
Quelles thématiques abordez-vous dans vos textes ? Qui les écrit d'ailleurs, Jesus, votre chanteur ?
Jesus : C'est effectivement moi qui écris les textes. L'être humain me fascine beaucoup. C'est un thème récurrent dans mes lyrics. Je suis à la fois fasciné et sidéré par ce que l'Homme peut produire. Je suis en perpétuelle observation.
Ici dans « Human Cattle » je dépeins très clairement ses côtés obscurs et sa déchéance qui le conduit déjà à sa perte. J'aborde l'être humain réduit à un esclavagisme moderne, lobotomisé, asservi, soumis et formaté mais également les humains qui se trouvent en haut de la pyramide ; ces derniers sont déterminés à obtenir le plus d'argent possible, le plus de pouvoir afin d'être en totale domination peu importe les moyens employés, le prix à payer et les conséquences désastreuses que cela peut impliquer en définitif.
Aujourd'hui l'Homme n'est plus rien, il n'arrive plus à penser par lui-même, il n'a plus de personnalité voire plus d'éthique ni de valeurs.
Cette thématique n'est certainement pas très originale mais en tout cas c'est ce qui m'intéresse dans ce que je pointe et je dresse dans ce concept album autour de la réalité de notre monde.
Qui est français et qui est canadien dans Disowning ?
Jesus : c'est moi qui suis au Canada, je vis présentement au Québec. Le reste de Disowning est basé sur Poitiers et ses alentours.
Pouvez-vous nous lister vos 20 albums préférés de tous les temps ?
Jesus : Je peux te dire que cela ne fut pas chose aisée ! Très très très compliqué de te sortir 20 albums de choix, il y en aurait tellement ! Disons qu'on va un peu tricher, en indiquant les albums qui nous ont vraiment marqués dans des périodes de nos vies :
- MORBID ANGEL « Formulas fatal to the flesh »
- NECROPHAGIST « Epitath »
- GOJIRA « Terra incognita »
- ABORTED « Goremageddon »
- QUEEN « Heart sheart attack »
- DEICIDE « Once upon the cross »
- DREAM THEATER « Images and words »
- IMMORTAL « At the heart of the winter »
- SYMPHONY X « Twilight in Olympus »
- SIX FEET UNDER « Maximum Violence »
- DECAPITATED « Winds of creation »
- BEHEMOTH « The Apostasy »
- THE FACELESS « Planetary Duality »
- DEATHSPELL OMEGA « Kenose »
- GUN'S N ROSES « Appetite for destruction »
- DIMMU BORGIR - « Puritanical Euphoric Misanthropia »
- La plupart des PANTERA & CANNIBAL CORPSE
Votre vision du Metal en 2019 ?
Je n'ai pas vraiment une vision type du Metal en 2019. Aujourd'hui, il y a beaucoup de bands, et il faut pouvoir tirer son épingle du jeu. Chacun joue avec les codes qu'il a envie de mettre en avant et façonne son style Metal à son image. Bref chacun fait sa petite cuisine. Qu'on le veuille ou non, c'est une musique indéfectible qui continue d'évoluer à travers le temps. Le Metal compte toujours, et de plus en plus, de fans fidèles et passionnés. On ne peut que s'en réjouir.
Un mot sur les concerts ?
Jesus : Je suis actuellement en train de travailler sur la possibilité de venir à la rentrée voire fin d'année en France pour que l'on puisse effectuer quelques dates. Et courant 2020, nous devrions effectuer des dates au Canada. Tout cela est en cours de réflexions et d'organisation. Affaire à suivre comme on dit.
Carte blanche : ajoutez ce que vous voulez :
Jesus : Merci pour ton interview et ton soutien. On espère que vous apprécierez toutes et tous cet album avec lequel nous avons mis cœurs et tripes.
N'hésitez pas à nous transmettre vos ressentis, ce que vous avez aimé ou non, du moment que tout cela reste constructif : www.facebook.com/disowning






***

THE ENGLISH VERSION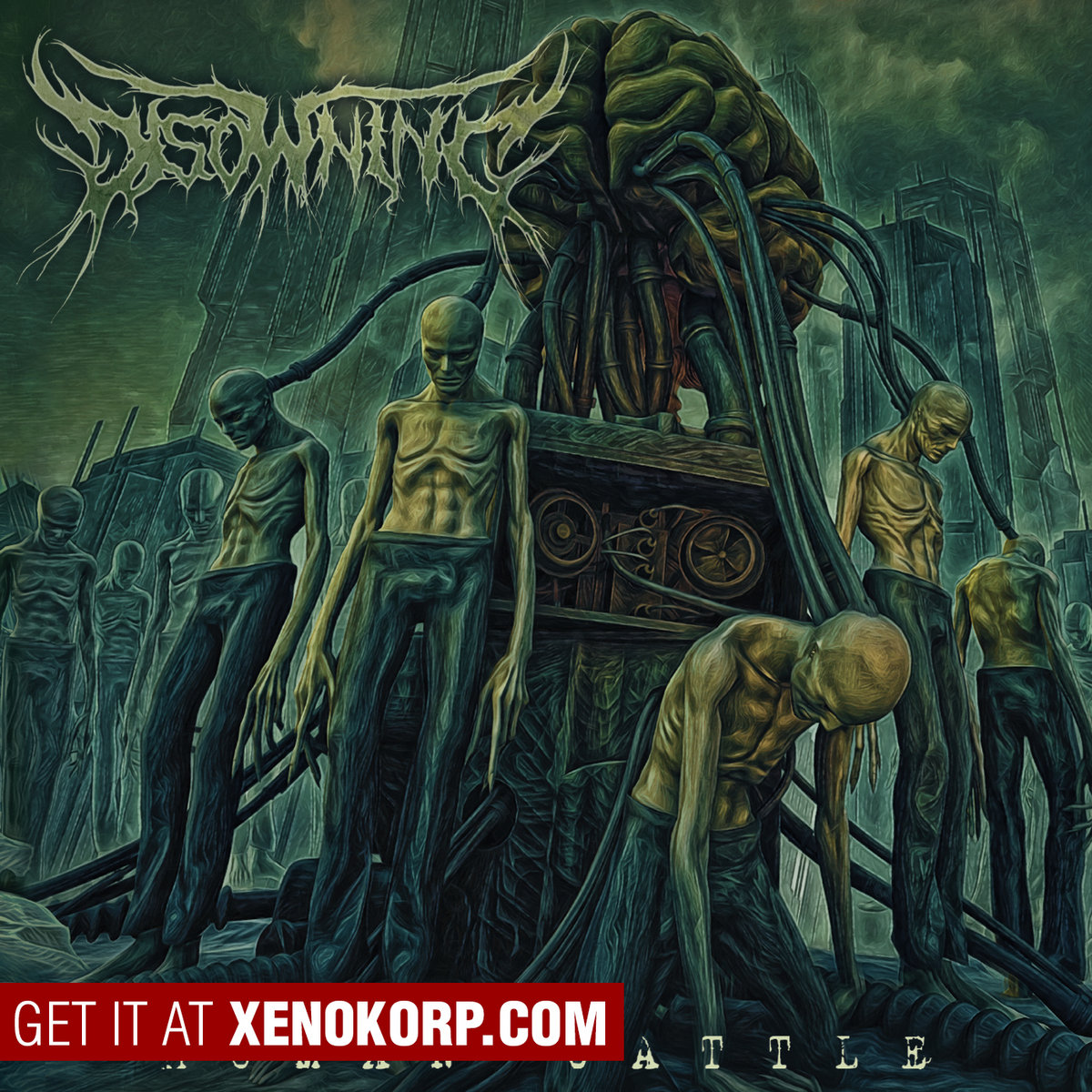 Well, you know that, LE SCRIBE is VERY Black Metal oriented, which is not surprising considering my tastes! Nevertheless, from time to time, I take my little peach from a Death Metal band that knows how to make the powder speak, as is the case with Disowning and this particularly impressive "Human Cattle"! So I give the floor to Jesus (not the other one!) and his friends so that you know more about this unbeatable Death combo!
Hi Disowning! You are a brand new combo, founded in 2018, despite the already significant experience of some of your members. Can you tell us how the group was created?
Jesus: The band is a little older than that. I founded Disowning with Max (Drums) after Offending. We then welcomed Peb (Guitar) who had already played with Max in Odüm before. Then the composition work started as a trio, and very quickly to 4 with the arrival of Adrien (Basse) shortly afterwards. After composing the demo tracks, we decided to look for a 2nd guitarist. Random or not, Max introduced us to a guitarist potentially interested in what we were doing: Jérôme (Hyskal) whom I already knew in my youth and whom I hadn't seen for a while!
After my adventure with Offending, I told myself that I was really going to struggle to start a new band with all the work, investment and energy that it involves. In the end, to my great surprise, I rediscovered the very essence of what a band should be as a whole.
We quickly became like a big and true sibling where everyone found their place on an equal footing, which gave birth to this first opus "Human Cattle".
You released your first EP in 2018, which announces this first album to be released in July of this year which we will talk about later. Your Death Metal is both brutal and progressive, very original even if the influence of the great Suffocation is very present. Can you tell us more about your music and influences?
Jesus: Let's just say that we're not anchored in the idea of saying "you absolutely have to do this kind of death metal". We are more of the type to say to ourselves, "Does what we compose make sense? And does it make us vibrate? ». We compose above all for ourselves, it is the very basis of a music group: to produce something authentic, sincere and that we want to share afterwards. We're here to have fun and grow, otherwise we wouldn't make music.
It is clear that we are consciously and/or unconsciously composing with our influences over the years, and also with who we are and what emerges from our person in the present moment. Actually, our influences are so diverse and varied that it becomes very, very complicated to list everything.
I had the chance to listen to the album Human Cattle released in July, so, and I took my slap! (NDS: This interview dates from June 2019) This record is violent, dark, and at the same time gives the impression of a sophisticated and elegant Death Metal. On some rather doomy passages I even thought of the first Paradise Lost. Can you tell us a little more about this pavement?
Thank you for this very pleasant feedback. It is true that as the feedback progresses, I realize that the album is appreciated at its true value. In the sense that people understand what we wanted to bring to our music. Our death metal really mixes a lot of influences and currents with a death vocation, as much in the old-school death, the new generation death, but also on progressive, melodic sides... all this accompanied by heavy and dark atmospheres.
We are happy with these first feedback and delighted to be categorized on several death style panels while having a real coherence in our compositions.
At the moment, it is complicated to stand out from your peers with the ton of bands that exist. It is important to have your own identity but it is far from easy, there is still a long way to go and we are working on it as best we can.

You are at Xenokorp, a label that I particularly appreciate. A word about your colleagues at Ad Patres?
Ad Patres has become a must-have band in the French death metal scene. I've known them for a while now. They have also just released a new and beautiful album, which I have no doubt will be talked about. I hope we'll have a chance to step on the boards one of these four at their side. I regret Arnaud's departure, but that's the way life is...
Listening to your album, we think that the French Death Metal scene is doing damn well, do you agree?
Um, I don't really know what to say to you. It's true that she has a lot of excellent albums and very good bands but it's true that she has trouble shining internationally. France does not have a very good press abroad, if I may say so, French groups must work harder to be legitimate. Some of them manage to stand out from the crowd and that's to their credit! Because there's a real monster job to be done.
For our part, we will see what the first results of our "Human Cattle" say...
What topics do you cover in your texts? Who writes them, Jesus, your singer?
Jesus: I am indeed the one who writes the texts. The human being fascinates me a lot. It is a recurring theme in my lyrics. I am both fascinated and amazed by what Man can produce. I am in constant observation.
Here in "Human Cattle" I depict very clearly his dark sides and his decline that is already leading him to his downfall. I approach the human being reduced to a modern, lobotomized, enslaved, submissive and formatted slavery, but also the humans at the top of the pyramid; the latter are determined to obtain as much money as possible, as much power as possible in order to be in total domination regardless of the means used, the price to pay and the disastrous consequences that this may ultimately entail.
Today, Man is nothing, he can no longer think for himself, he no longer has a personality or even ethics or values.
This theme is certainly not very original but in any case it is what interests me in what I point out and I draw in this concept album around the reality of our world.
Who is French and who is Canadian in Disowning?
Jesus: I am the one who is in Canada, I am currently living in Quebec. The rest of Disowning is based in Poitiers and its surroundings
.
Can you list your 20 favorite albums of all time?
Jesus: I can tell you that it was not an easy task! Very very very very complicated to release 20 choice albums, there would be so many! Let's say we're going to cheat a little bit, by indicating the albums that really marked us in periods of our lives:
- MORBID ANGEL « Formulas fatal to the flesh »
- NECROPHAGIST « Epitath »
- GOJIRA « Terra incognita »
- ABORTED « Goremageddon »
- QUEEN « Heart sheart attack »
- DEICIDE « Once upon the cross »
- DREAM THEATER « Images and words »
- IMMORTAL « At the heart of the winter »
- SYMPHONY X « Twilight in Olympus »
- SIX FEET UNDER « Maximum Violence »
- DECAPITATED « Winds of creation »
- BEHEMOTH « The Apostasy »
- THE FACELESS « Planetary Duality »
- DEATHSPELL OMEGA « Kenose »
- GUN'S N ROSES « Appetite for destruction »
- DIMMU BORGIR - « Puritanical Euphoric Misanthropia »
- La plupart des PANTERA & CANNIBAL CORPSE
Your vision of Metal in 2019?
I don't really have a typical vision of Metal in 2019. Today, there are a lot of bands, and you have to be able to do well. Everyone plays with the codes they want to promote and shapes their Metal style in their own image. In short, everyone does their own cooking. Like it or not, it is an unfailing music that continues to evolve over time. Metal still counts, and more and more, loyal and passionate fans. This is to be welcomed.
A word about the concerts?
Jesus: I am currently working on the possibility of coming to France at the beginning of the school year or even at the end of the year so that we can do some dates. And in 2020, we should be doing dates in Canada. All this is under consideration and organization. A case to be followed as they say.
Carte blanche: add what you want:
Jesus: Thank you for your interview and support. We hope you will all enjoy this album with which we have put hearts and guts.
Feel free to share your feelings with us, what you liked or disliked, as long as it remains constructive: www.facebook.com/disowning








OTHER XENOKORP BANDS ON INTERVIEW BY LE SCRIBE :