BEATITUDO FALSA EST : INTERVIEW AVEC MEYHNACH DE MUTIILATION (FR/ENG)
Mutiilation...ce nom résonne comme une belle flambée dans le ciel de France...Fer de lance des mystérieuses Légions Noires (qui resteront un mystère pour toujours), Meyhnach, âme sombre derrière ce combo mythique a semé des graines de noirceur indélébiles dans nos âmes abruties. Mutiilation c'est un mythe aux quatre coins de la planète, un des groupes les plus importants de toute l'histoire du Black Metal. Cette interview que Meyhnach a bien voulu me livrer sera reproduite dans mon prochain bouquin. En attendant, voici donc l'histoire de Mutiilation racontée par Meyhnach lui-même, depuis les sombres nuits de 1991 jusqu'à ce jour funeste de 2017 où le groupe a cessé d'exister...même s'il ne disparaîtra jamais de nos âmes et de nos

cœurs

noircis...
Bonjour Meyhnach. Tu fondes Mutiilation en 1991, qui est une année fondamentale dans le lancement de ce que l'on nomme aujourd'hui la deuxième vague du Black Metal. Quelles étaient tes influences à l'époque et tes objectifs avec ce groupe ? Quel regard portais tu sur la scène norvégienne émergente en comparaison avec les fondateurs (Bathory, Hellhammer/Frost ou Venom) ?
J'étais fan des groupes fondateurs comme Bathory ou Venom, ces groupes la avaient bercé ma jeunesse tout comme Slayer, Sodom ou encore Sarcofago... La vague norvégienne m'a séduit car elle proposait quelque chose de nouveau allant beaucoup plus loin en musique mais aussi en matière d'idéologie. Je pense que l'un des albums qui m'a le plus marqué à l'époque etait « a blaze in the northern sky » de Darkthrone, cela reste un chef d'œuvre encore aujourd'hui. Je pense que mes influences à ce moment là venaient de tout ce que je pouvais écouter en metal extreme, black metal ou non.
1992, tu sors la première démo du groupe, « Rites through the twilight of hell ». Un son sale, une ambiance noire de suie, l'ambiance typique de Mutiilation, malsaine au possible, est déjà là. D'où te viens cette noirceur ? Qu'est ce qui pousse un jeune homme à déployer tant de haine dans son art ?
Franchement je trouve que cette première démo est vraiment pourrie, certaines compos ne sont pas
mauvaises mais les conditions d'enregistrement étaient tellement précaires que le résultat final est
quasiment nul, si certains la trouve culte c'est tant mieux mais personnellement je préfère l'oublier
« Satanist Styrken » le premier EP, sonne toujours aussi cru (raw) et sale. Était-ce dû à l'équipement où à une volonté, à l'instar d'un Darkthrone, de revenir aux fondamentaux d'un genre ?
C'était à la base une simple démo, elle à été piratée maintes fois et pour tout te dire je ne possède même pas un exemplaire de la version ep, le son était sale mais je pense que contrairement aux démos précédentes, celle ci est tout à fait écoutable. Le son y est cru mais c'est comme ca que le black metal sonnait à cette époque...
Tu cofondes les Légions Noires à la même époque avec des bretons et des bordelais. Vous gardez un mystère épais sur tout ce qui va au-delà de la production musicale du collectif, y compris d'ailleurs sur certains enregistrements dont on ne sait plus de qui ils sont le fruit et s'ils existent vraiment. Cela était-il pour vous une sorte de geste un peu « punk » face au showbiz envahissant ? Peux-tu nous en dire un peu plus sur cette époque, les conditions de rencontre et d'émergence des membres du collectif venant de différents coins de France ? Y'a-t-il un ou deux mystères autour des LLN que tu veux bien « lever » pour nous ? Aviez-vous un projet politique et/ou spirituel précis ?
Nos projets n'étaient en rien politiques, spirituels certainement. Nous voulions contrôler la scène black metal française et éradiquer les groupes qui ne méritaient pas d'en faire partie. Ce n'était pas un mouvement punk mais un cercle fermé se tenant loin des activités humaines du show business. Je n'en dirai pas plus.(Nds : Dommage !)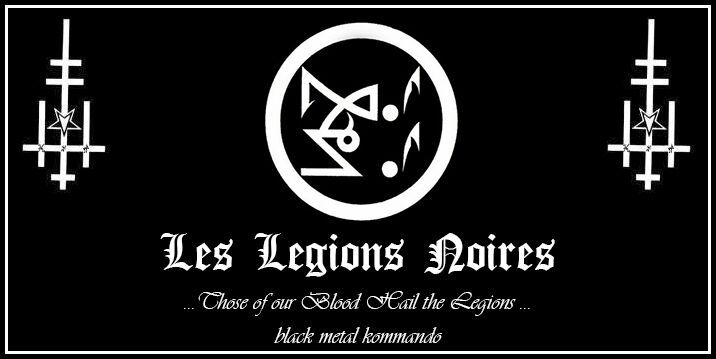 Vampires of Black Imperial Blood , le premier album du groupe, voit le jour en 1995. Guitares
désaccordées, son primitif, cris rauques sont de nouveau de la « partie ». L'album parait sur le label Drakkar prod (que je connais bien puisque je fréquentais le magasin à Avignon à l'époque, c'est du off) à l'image particulièrement controversée. Peux-tu nous raconter cette période, nous donner tes sentiments et anecdotes autour de cet album, qui est resté un classique absolu du Black Metal et a fait partie de ceux qui ont établi le Black français comme un sérieux rival à l'hégémonie Norvégienne ?
Je recherchais un label pour produire ce premier album et drakkar s'est tout simplement proposé, j'étais content du rendu bien que je n'ai jamais été payé et ce malgré tous les exemplaires par la suite réédités illégalement par ce label...mais drakkar est coutumier du fait, il s'est enrichi en ne versant jamais un sou à ses artistes. Cet album restera dans les mémoires car il est effectivement devenu un album phare du black metal français des années 90, des titres comme « Transylvania » sont devenus des classiques et n'ont rien à envier aux compositions plus récentes...
Black Millenium (grimly reborn) marque un changement dans les sonorités du groupe, même si l'ensemble reste particulièrement crade et noir. C'est un chef d'œuvre total de l'art noir et ton chant me rappelle beaucoup le Quorthon de The Return. Peux-tu nous donner ton regard sur cet album spécifique, cette époque dans ta vie et celle du groupe, et quelles étaient les images que tu cherchais à peindre ?
Black millenium peut être considéré comme un come back dans la scène car il à été composé et
enregistré après plusieurs années de silence. Je ne tenais pas à faire un album similaire à « Vampires.... » et le résultat s'en ressent, cet album est un peu plus sophistiqué. J'avais déjà quelques doute à cette époque sur le devenir du black metal et je voulais faire un retour marquant avec un léger apport d'originalité. On peut voir cet opus comme une renaissance de Mutiilation...
Au travers de ton œuvre avec le groupe, il apparaît une intransigeance, un élitisme absolu, et une volonté presque autistique de rester pur et dur (cf Destroy your life for Satan qui sort aussi en 2001).
Est–ce pour toi la seule façon dont tu peux concevoir le Black Metal, et, à l'instar d'un Euronymous, ton élitisme te poussait-il à juger qui était digne ou du nom de ce label black metal ?
C'est pour moi la seule façon de concevoir ma musique, je ne pense pas obéir à une quelconque volonté, cela sort spontanément comme la canalisation de mon angoisse ou ma colère. Cela ne m'intéresse plus de juger qui est digne ou non de jouer du black metal car ce mouvement est biaisé de toute manière, de mon coté je reste juste fidèle à mes émotions négatives, c'est ce qui alimente mon art.
Avec Majestas Leprosus en 2003 tu restes toujours dans un Black Metal raw et abrasif, aux sons saturés et grésillants. Il est clair depuis longtemps que Mutiilation est la référence absolue des groupes de cette époque cherchant à renouer avec un son « raw » et ou « true ». Pourtant, malgré l'aspect putride de ta musique, ce qui fait sa noire et fascinante beauté est cette capacité à dénicher des mélodies de guitares absolument uniques et d'une mélancolie qui arrache le cœur. Quel est ton secret ? Burzum te parait-il un « pair » approprié sur cet aspect des mélopées sublimes nageant dans le sang noir ?
Majestas Leprosus est mon album préféré et certainement le plus sombre et agressif de la discographie de Mutiilation. C'est un pur album de black metal... Je n'ai pas vraiment de secret, les compos sont toujours mélancoliques et tordues, je crois que même si je le voulait je ne pourrais pas faire autrement. Pour le son c'est moins spontané, je passe du temps à chercher le timbre de guitare qui correspond le mieux à l'ambiance souhaitée sur l'ensemble de l'album.. J'aime beaucoup le premier burzum, il y à dans ces riffs quelque chose de vraiment dépressif et dramatique, je trouve que ca à un peu changé par la suite mais je suis fan des 3 premiers disques.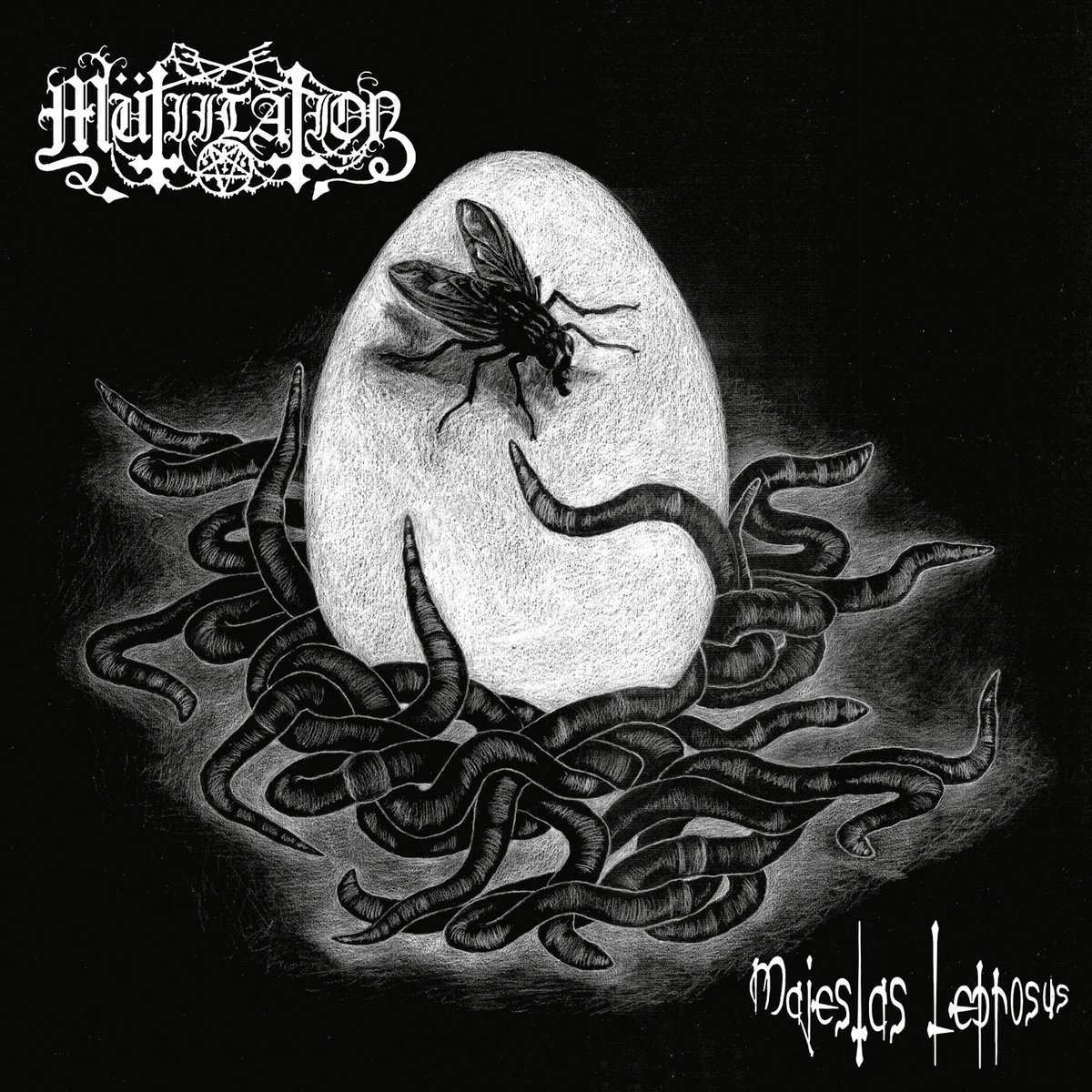 Rattenkonig, ce roi des rats de 2005, enfonce le clou niveau noirceur et glauquitude. Est-ce le reflet de ton état d'esprit ? C'est étonnant comme cet album, superbe, sonne en adéquation avec un monde rongé par le pourrissement et la dépression généralisée. Deux questions en une : es-tu quelqu'un de dépressif et que penses-tu de ce genre né des limbes de Burzum et de Mutiilation mais qui s'est ensuite « codifié » que l'on nomme « depressive Suicidal Black Metal » ?
Rattenkonig est un album assez introverti, basé sur les tourments de l'âme humaine et la folie, il reflète certainement mon état d'esprit au moment ou je l'ai composé. Il m'arrive d'avoir de longues periodes de detachement du monde qui m'entoure, d'isolement et d'abus de substances. Je ne connais pas cette appellation de depressive suicidal black metal mais je pense que le terme est approprié... cependant je trouve que c'est stupide et réducteur de tout vouloir étiqueter au point de créer un style ou une mouvance des qu'un groupe montre un peu d'originalité.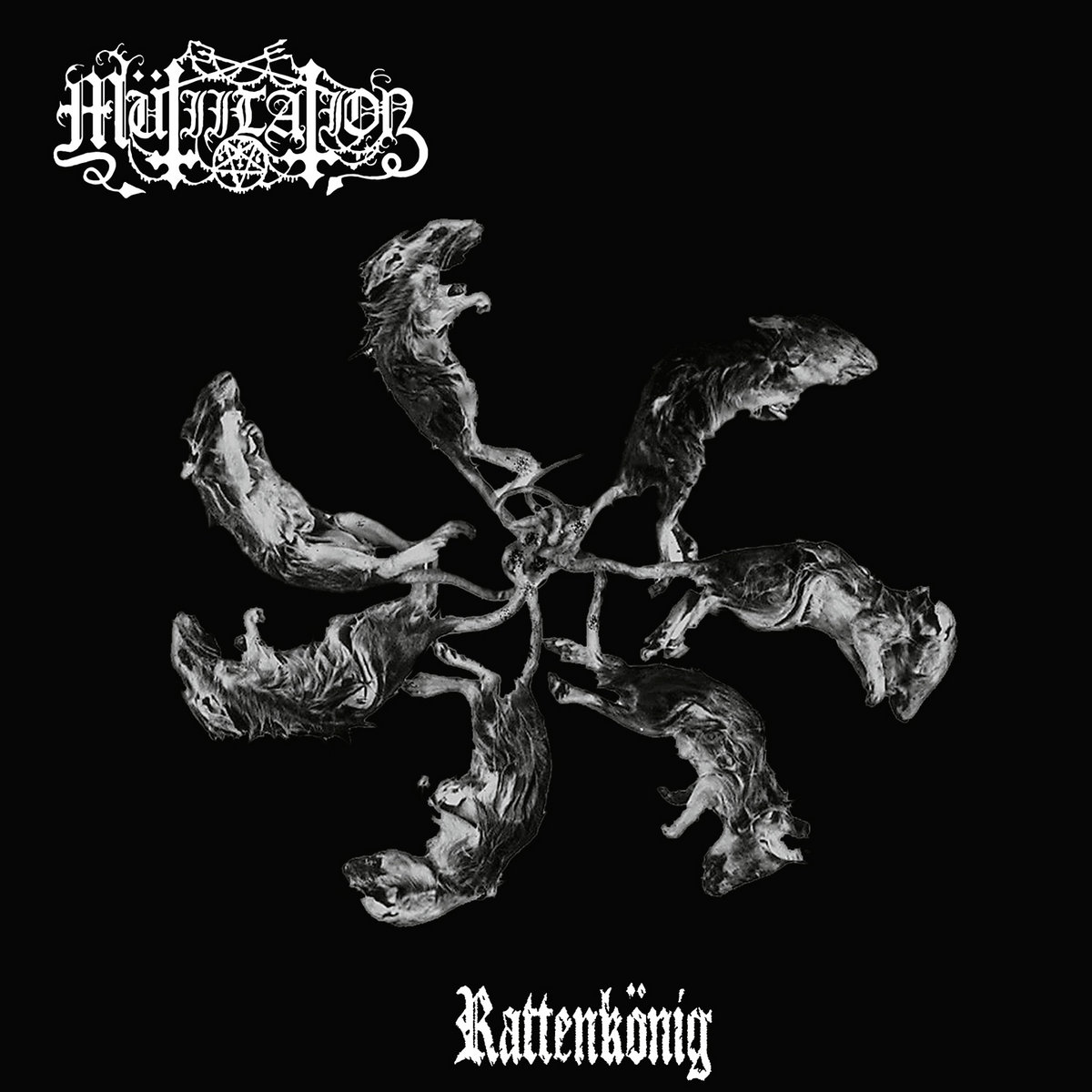 En matière de tristesse, de majesté et de mélancolie, il semble difficile de faire mieux que le dernier album (pour toujours ?) de Mutiilation, Sorrow Galaxies. De longs morceaux aux guitares pleurantes, loin de la furie de tes débuts. Quand on connait tes propos ceci a-t-il un rapport avec le fait que tu considères alors le BM comme mort et que tu chantes ici ses funérailles ? Est-il vrai, comme d'aucuns le prétendent, qu'il s'agit du seul album du groupe avec une vraie batterie ? C'est quoi ce disque : le testament d'un groupe, d'une époque révolue ? Ta tristesse semble si réelle...
Quitte à partir, autant le faire en beauté, avec Sorrow galaxies la boucle est bouclée, la saga est close.
Le batteur d'un groupe français assez connu a fait les parties de batterie et le résultat est très satisfaisant, il souhaitait rester anonyme, je ne dirais donc pas qui il est. On peut effectivement
considérer cet album comme les funérailles de Mutiilation. Cela n'a pas grand chose à voir avec la scène mais plutôt avec mon propre regard sur mon art et son évolution, mieux vaut arrêter avant de se répéter et de se mettre à faire de la merde comme font tant de groupes.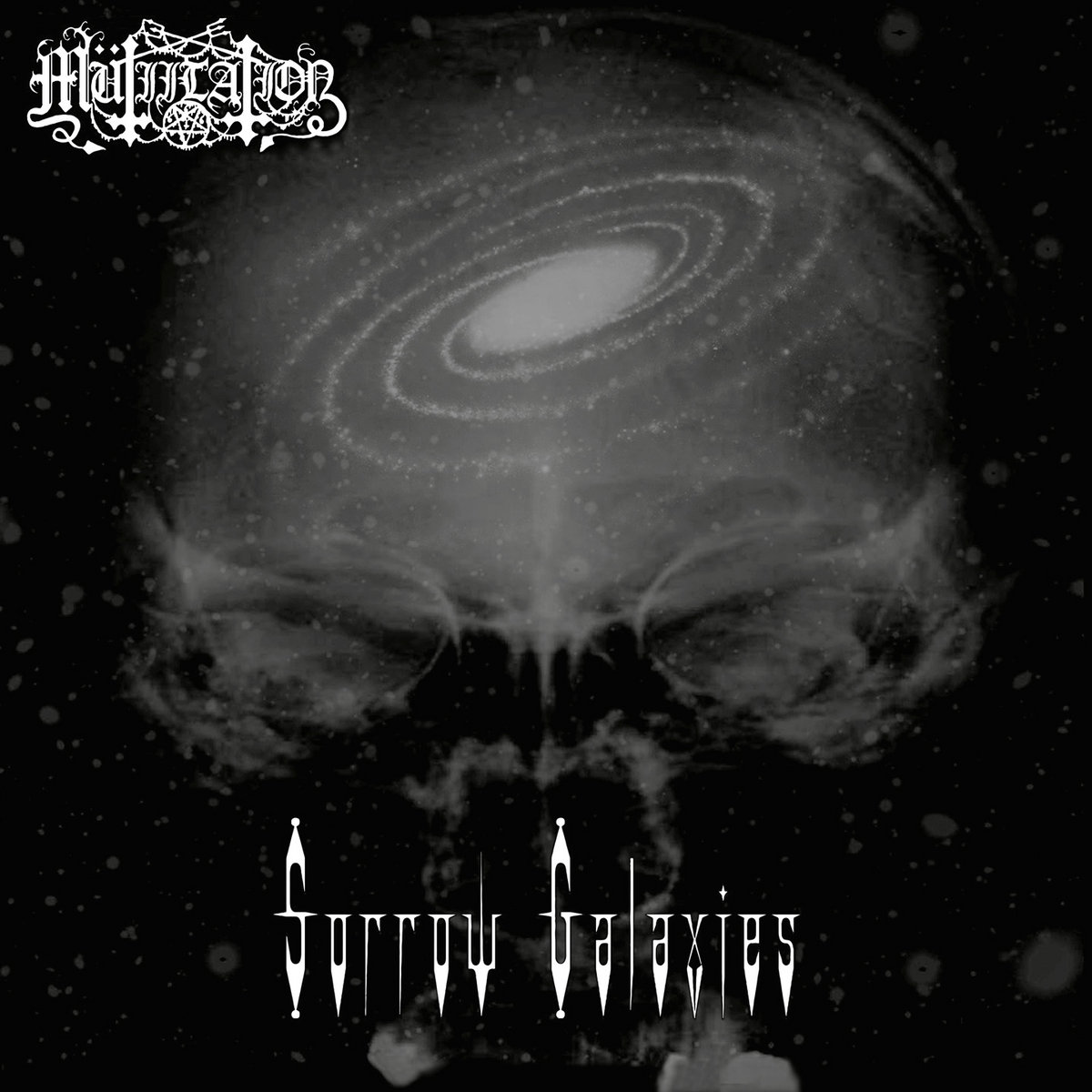 En 2017 tu déclares Mutiilation mort et enterré. S'agit-il d'une déclaration irrévocable, au vu des Lost Tapes ayant vu le jour cette année chez Osmose où pourrait-on un jour avoir l'agréable surprise d'un grand coup de pied au cul avec un nouvel album ?
Non, Mutiilation est définitivement mort et enterré, the lost tape est juste un release de vieux morceaux des premiers albums qui ont été re enregistrés quelques années apres leur premiere sortie. Le son y est assez différent que sur les originaux et je pensais que ce serait intéressant de les sortir tels quels après tant d'années.
Cette même année 2017 tu sors aussi ton premier solo sous le nom de Meyhnach chez Osmose, Non Omnis Moriar . Beaucoup plus avant-gardiste et expérimental, ce très bel album, sous-estimé par beaucoup de « journalistes » je trouve, joue dans un registre fort différent du groupe. Je pourrais même dire que, par instants, je le trouve assez en proximité avec certaines œuvres de cette autre entité que j'ai toujours vénéré, Blut Aus Nord. Qu'en penses-tu ? Es-tu toujours satisfait du disque et du résultat et penses-tu nous livrer une suite ?
Je suis très satisfait du disque mais je pense qu'il n'a pas eu une promotion suffisante, je tiens à préciser que ce n'est en aucun cas le 7eme album de Mutiilation mais bien un projet à part. Le public est resté plutôt sceptique car les gens sont ancrés dans leurs clichés et ont tendance à paniquer dès qu'ils sont un peu déroutés...je pense qu'ils me croient trop prévisible et qu'ils s'attendaient à un album de pur black metal..
Peux-tu nous citer ici tes 15 albums préférés de tous les temps, tous styles confondus ?
Darkthrone « ablaze in the northern sky » Burzum « burzum » Mayhem « de mysteriis dom sathanas »
Morgoth « eternal fall /resurrection absurd » Pestilence « consuming impulse » Venom « black metal »
Vitriol « the beginning » Deicide « deicide » Asphyx « the rack » Overkill « the years of decay »
Diapsiquir « anti » GG Allin « brutality and bloodshed for all » Motorhead « rock n roll » Iron Maiden
« seventh son of à seventh son » Bathory « blood, fire death »
j'ai du passer à coté de certains mais 15 reste un choix assez reduit...
Quelle est ta vision du BM en 2019, le vois-tu toujours comme un genre mort ou as-tu fait des
découvertes intéressantes et originales ces dernières années ?
D'autres genres musicaux récents
trouvent ils grâce à tes yeux ?
Je ne m'intéresse quasiment pas à l'actualité de la scène, cependant il m'arrive d'entendre de nouveaux groupes ou albums qui me plaisent vraiment...
Es-tu fier de ce que tu as accompli, et heureux en tant qu'homme ?
Musicalement et artistiquement en général, je pense être plutôt satisfait de ce que j'ai pu réaliser. Le bonheur par contre est une quête plutôt illusoire à mes yeux, il est naturel de chercher à se sentir bien mais qu'appelle t'on "être heureux" ? Je suis en vie et ma santé ne me joue pas encore trop de mauvais tours... Je peux considérer que c'est déjà pas mal...
Récemment un film est sorti, adapté du Lords of Chaos de Moynihan et Soderlind. As-tu aimé le livre, et as-tu vu le film ? D'une manière générale, y'a-t-il des livres sur le BM et le Metal que tu as appréciés ?
Le livre n'était déjà pas très objectif mais pouvait être instructif pour des néophytes, le film par contre est un tissu de connerie
Je n'en ai aucune idée, rien de concret pour le moment en tout cas.
Si je te dis Cosmic BM, Black/Death, DSBM, NSBM, Avant-Garde BM, que me réponds tu ?
Beaucoup trop d'étiquettes et une sur-classification de styles pour justifier des tonnes de productions sans intérêt.
Que penses-tu de Peste Noire ?
Je connais Famine depuis longtemps et je pense que l'on s'apprécie bien qu'on ne se voit que très
rarement. Je n'était pas fan de PN à ses débuts mais je trouve que les dernières productions sont
excellentes.
Tes auteurs et/ou livres préférés ?
Charles Bukowski, Michael Guinzburg, Lovecraft, Virginie Despentes, Mario Mercier, Coton, Stephen King, Graham Masterton... Mes goûts en lectures sont plutôt variés.
Merci à toi MEYHNACH, je te laisse le mot de la fin, de la longueur que tu souhaites, sur le thème que tu souhaites, ce fut un honneur !
Merci pour cette interview intéressante et bonne chance pour ton livre.
The English Version
Hello Meyhnach. You founded Mutiilation in 1991, which is a fundamental year in the launch of what is now called the second wave of Black Metal. What were your influences on at the time and your objectives with this band ? How did you look at the emerging Norwegian scene in comparison with the founders (Bathory, Hellhammer/Frost or Venom)
I was a fan of founding groups like Bathory or Venom, these groups had rocked her my youth as well as Slayer, Sodom or Sarcofago.... The Norwegian wave seduced me because it was proposing something new that went much further in music but also in ideology, I thinks that one of the albums that struck me the most at the time was "a blaze in the northern sky" by Darkthrone, it remains a masterpiece even today. I think my influences at that time came from everything I could listen to in extreme metal, black metal or not.



1992, you release the band's first demo, "Rites through the twilight of hell". A dirty sound, a dirty sound black sooty atmosphere, the typical Mutiilation atmosphere, unhealthy as possible, is already there. Where did you get it from, this darkness? What drives a young man to deploy so much hatred in his art?
Frankly I think this first demo is really rotten, some songs are not bad but the registration conditions were so precarious that the final result is almost nil, if some people find it a cult it's good but personally I prefer to forget it
"Satanist Styrken", the first EP, still sounds raw and dirty. Was it due to the equipment where to a will, like Darkthrone, to return to the fundamentals of a genre?
It was basically a simple demo, it has been hacked many times and to tell you the truth I don't even have a copy of the ep version, the sound was dirty but I think that unlike the previous demos, this one is quite listenable. The sound is raw but that's how black metal works was ringing at that time....
You co-founded the Black Legions at the same time with Brittany warriors and demons from Bordeaux. You keep a thick mystery about everything that goes beyond the collective's musical production, including some recordings of which we no longer know who they are the fruit of and whether they really exist. Was this for you a kind of punk gesture in the face of invasive showbiz? Can you tell us of them a little more about this period, the conditions of meeting and emergence of the members of the collective coming from different parts of France? Is there a mystery or two around LLNs that you want to "unravel" to us ? Did you have a specific political and/or spiritual project?
Our projects were not political, certainly not spiritual. We wanted to control the french black metal scene and eradicate bands that did not deserve to be part of it. It wasn't a punk movement but a closed circle staying away from the human activities of show business. I would not say more.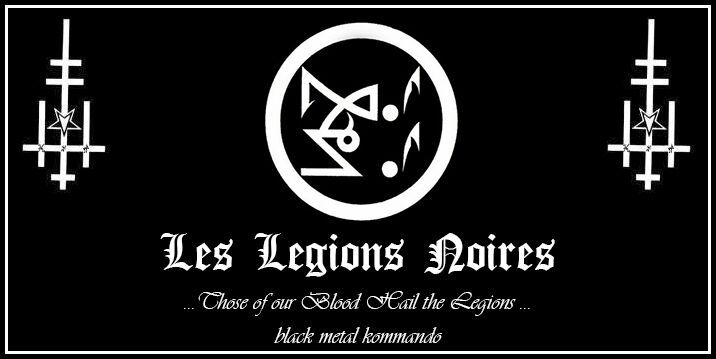 Vampires of Black Imperial Blood, the band's first album, was released in 1995. Guitars disagree, its primitive sound, hoarse cries are again part of the "party". The album is released on the label Drakkar prod (which I know well since I frequented the store in Avignon at the time, it's off) in the particularly controversial image. Can you tell us about this period, give us your feelings and anecdotes around this album, which has remained an absolute Black Metal classic and was part of those who established the French Black as a serious rival to Norwegian hegemony?
I was looking for a label to produce this first album and drakkar simply offered itself, I was happy with the result even though I was never paid for it, despite all the copies that were later reissued illegally by this label... but drakkar is customary because it has become richer by never paying a penny to its artists. This album will be remembered because it has indeed become a flagship album of the
French black metal of the 90s, titles like "Transylvania" have become classics and have nothing to envy to more recent compositions....
Black Millenium (grimly reborn) marks a change in the band's sounds, even if the whole thing remains particularly dirty and black. It's a total masterpiece of black art and your song makes me is very reminiscent of The Return's Quorthon. Can you give us your opinion on this specific album? at that time in your life and that of the group, and what were the images you were trying to paint?
Black millenium can be considered as a come back in the scene because it was composed and recorded after several years of silence. I didn't want to make an album similar to "Vampires...... "and the result is noticeable, this album is a little more sophisticated. I already had a few doubt at that time about the future of black metal and I wanted to make a significant comeback with a slight contribution of originality. We can see this opus as a rebirth of Mutiilation....

Through your work with the group, there appears an intransigence, an absolute elitism, and an almost autistic willingness to remain pure and hard (cf Destroy your life for Satan which was also released in 2001).
Is it for you the only way you can conceive Black Metal, and, like a Euronymous, your elitism pushed you to judge who was worthy or the name of this label "black metal"?
It's the only way for me to conceive my music, I don't think I obey any kind of will, it comes out spontaneously as the channeling of my anguish or anger. This does not mean I am more interested in judging who is worthy or not to play black metal because this movement is biased by Anyway, on my side I just stay true to my negative emotions, that's what fuels my art.
With Majestas Leprosus in 2003 you always stay in a raw and abrasive Black Metal, with saturated sounds and sizzling. It has long been clear that Mutiilation is the absolute reference for groups in this field. time seeking to reconnect with a "raw" or "true" sound. Yet, despite the putrid aspect of your music, what makes its black and fascinating beauty is this ability to find guitar melodies absolutely unique and of a melancholy that tears out the heart. What's your secret? Does Burzum seem like a "even" appropriate on this aspect of the sublime melodies swimming in black blood?
Majestas Leprosus is my favorite album and certainly the darkest and most aggressive of the discography of Mutiilation. It's a pure black metal album.... I don't really have any secrets, the composers are always melancholic and twisted, I believe that even if I wanted to, I couldn't do otherwise, for the sound it's less spontaneous, I spend time looking for the guitar timbre that matches the better to the desired atmosphere on the whole album... I really like the first burzum, there's in it. these riffs something really depressing and dramatic, I find that it has changed a little bit by the but I'm a fan of the first 3 records.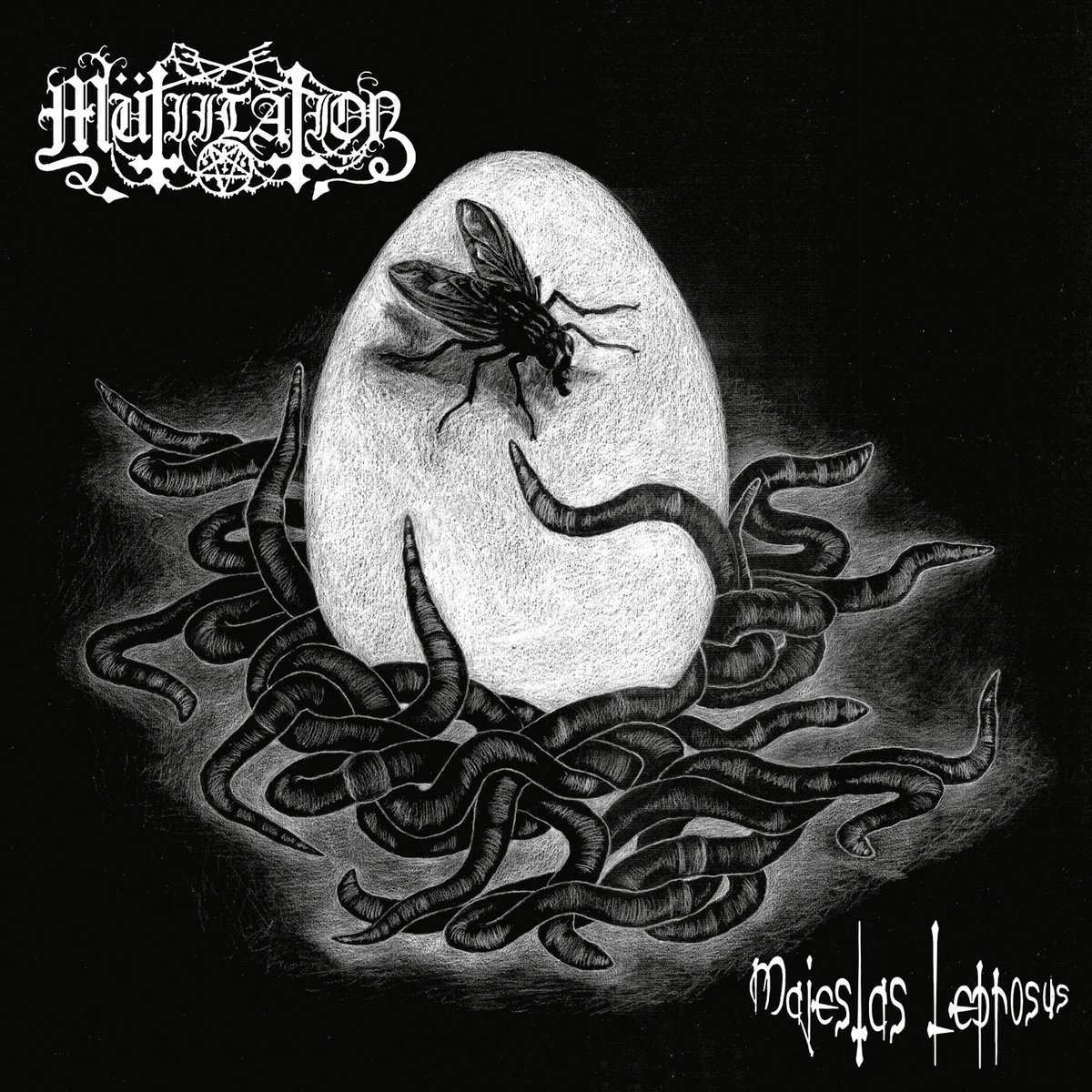 Rattenkonig, the king of rats of 2005, pushes the nail to the level of darkness and glauquitude. Is it the reflection of your state of mind? It's amazing how this album, superb, sounds in adequacy with a world eaten away by rotting and generalized depression. Two questions in one: Are you someone from depressive and what do you think of this genre born from the limbo of Burzum and Mutiilation but which then "codified" that we call "depressive Suicidal Black Metal"?

Rattenkonig is a rather introverted album, based on the torments of the human soul and madness, it reflects certainly my state of mind at the time I composed it. I sometimes have long periods of
detachment from the world around me, isolation and substance abuse. I don't know this one. name of suicidal depressive black metal but I think the term is appropriate... however I
finds it stupid and reductive to want to label everything to the point of creating a style or a movement as soon as a group shows a little originality.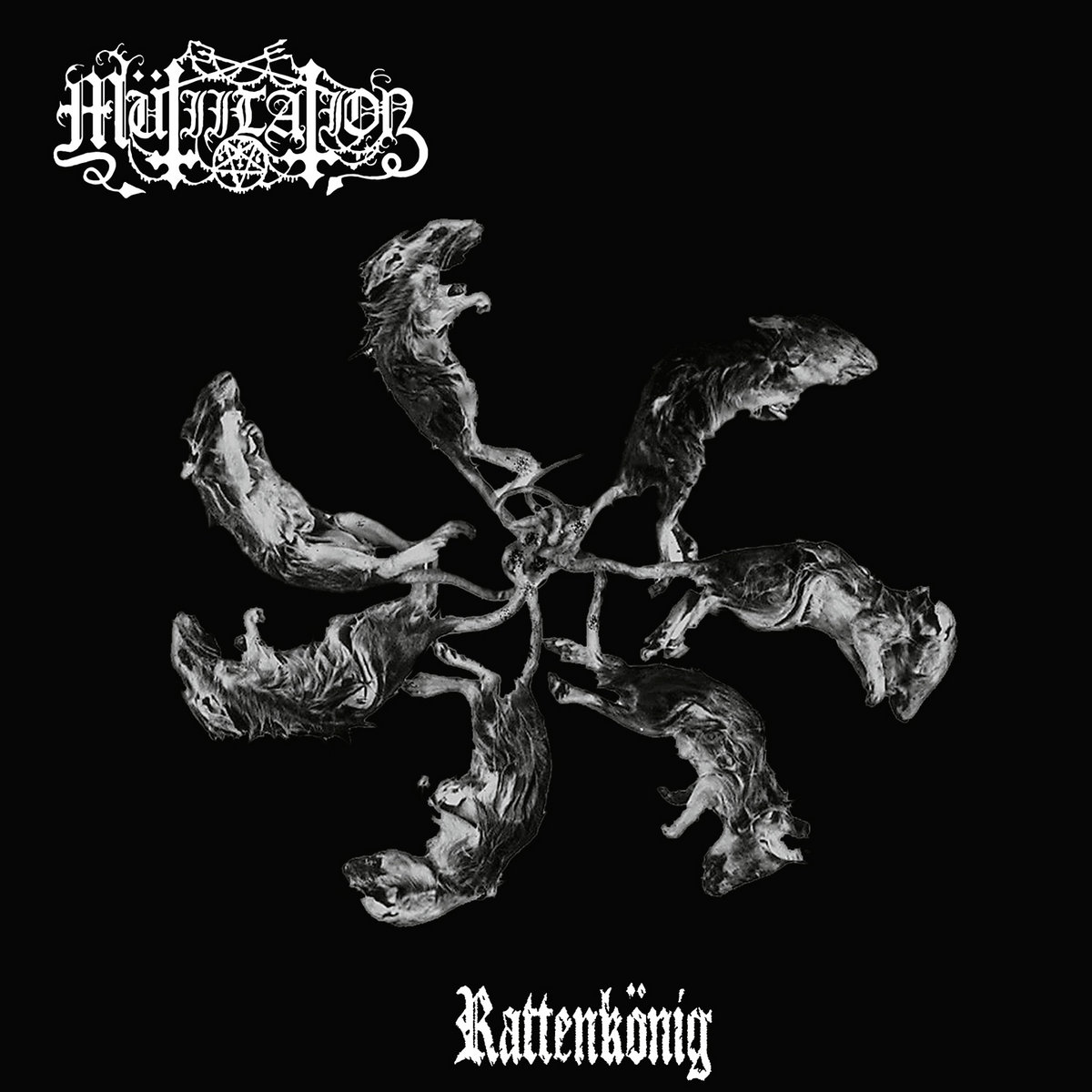 In terms of sadness, majesty and melancholy, it seems difficult to do better than the last Mutiilation album (forever?), Sorrow Galaxies. Long pieces on guitars crying, far from the fury of your beginnings. When we know what you're saying, does this have anything to do with the fact that you then consider the BM as dead and sing his funeral here? Is it true, as some claim that it is the only album of the band with a real drums? What is this album about ? : the will of a group, of a bygone era? Your sadness seems so real....
If you're going to leave, you might as well do it in style, with Sorrow Galaxies the loop is closed, the saga is closed. The drummer of a quite famous French band played the drums and the result is very satisfying, he wanted to remain anonymous, so I wouldn't say who he is. We can indeed consider this album as the funeral of Mutiilation. It doesn't have much to do with the scene. but rather with my own perspective on my art and its evolution, it is better to stop before repeating yourself and start doing shit like so many bands do.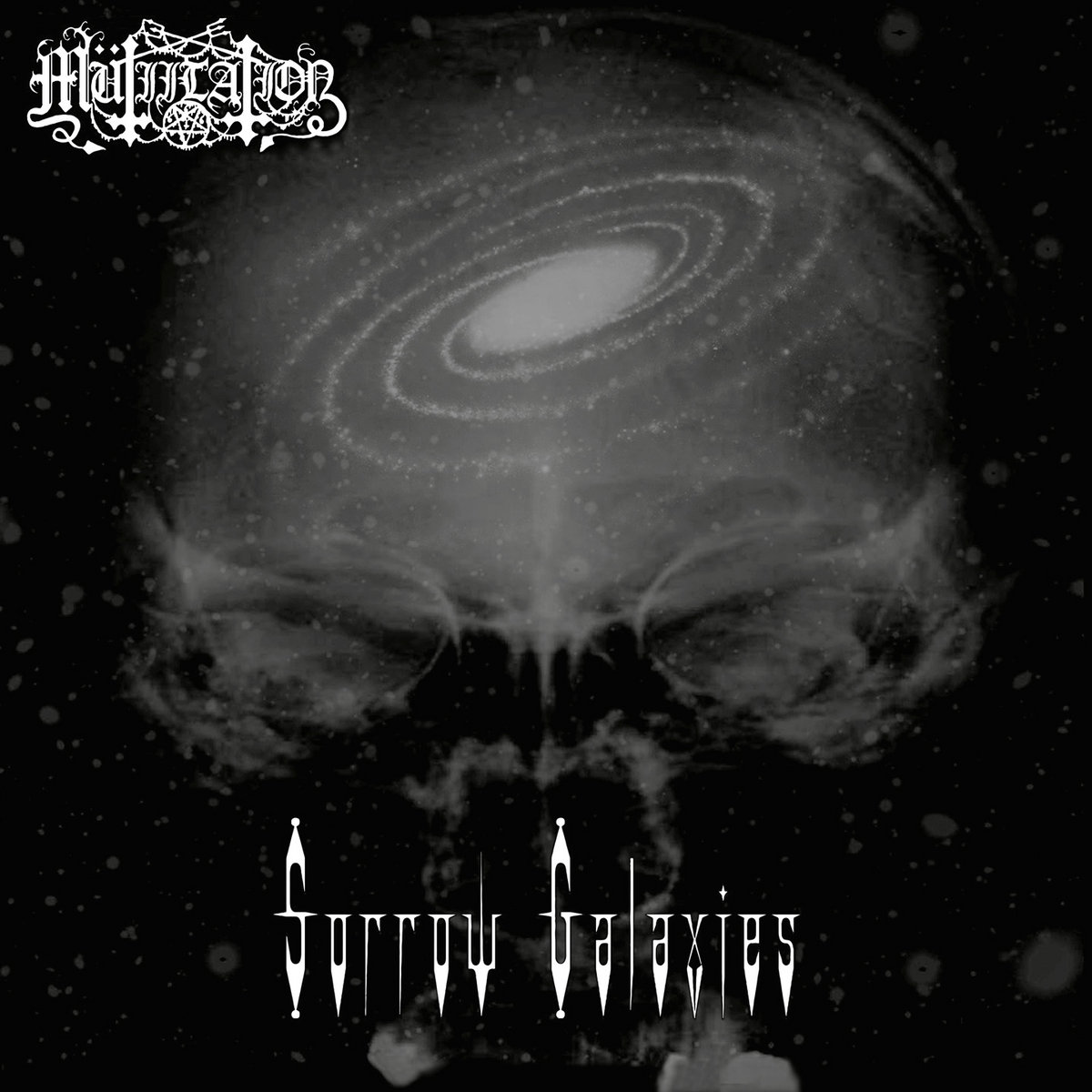 In 2017 you declare Mutiilation dead and buried. Is it an irrevocable declaration, in view of the Lost Tapes having been created this year at Osmose where we could one day have the pleasant surprise of a a big kick in the ass with a new album?
No, Mutiilation is definitely dead and buried, the lost tape is just a release of old songs from the first albums that were re-recorded a few years after their first release. The sound is there quite different from the originals and I thought it would be interesting to release them as they are after so many years.
In the same year 2017 you also released your first solo under the name of Meyhnach on Osmose, Non Omnis Moriar . Much more avant-garde and experimental, this very beautiful album, underestimated by many "journalists" I find, plays in a very different register from the band. I could even say that, at times, I find him quite close to some of the works of this other entity that I have always worshipped, Blut Aus Nord. What do you think of that? Are you still satisfied with the record and the result and do you think you can deliver a suite?
I am very satisfied with the record but I think it didn't get enough promotion, I would like to point out that it is by no means the 7th album of Mutiilation but a separate project. The audience remained
rather sceptical because people are anchored in their clichés and tend to panic as soon as they are a little confused... I think they think I'm too predictable and that they were expecting a pure black metal...
Can you name your 15 favorite albums of all time, all styles combined?
Darkthrone « ablaze in the northern sky » Burzum « burzum » Mayhem « de mysteriis dom sathanas »

Morgoth « eternal fall /resurrection absurd » Pestilence « consuming impulse » Venom « black metal »

Vitriol « the beginning » Deicide « deicide » Asphyx « the rack » Overkill « the years of decay »

Diapsiquir « anti » GG Allin « brutality and bloodshed for all » Motorhead « rock n roll » Iron Maiden

« seventh son of à seventh son » Bathory « blood, fire death »

I had to miss some of them but 15 is still a rather limited choice...

What is your vision of Black Metal in 2019, do you still see it as a dead genre or have you made interesting and original discoveries in recent years? Do other recent musical genres find favor in your eyes?
I am hardly interested in current events, but sometimes I hear new ones. bands or albums that I really like....

Are you proud of what you have accomplished, and happy as a man?
Musically and artistically in general, I think I am quite satisfied with what I have been able to achieve. The happiness on the other hand is a rather illusory quest for me, it is natural to try to feel good but what do you call "being happy"? I am alive and my health is not yet too much at stake for me bad tricks.... I can consider that it's already not bad....
Recently a film was released, adapted from Moynihan and Soderlind's Lords of Chaos. Did you like the book, and go ahead-do you see the movie? In general, are there any books on BM and Metal that you liked?
The book was already not very objective but could be instructive for neophytes, the film on the other hand is a fabric of bullshit

Your next projects?

I have no idea, nothing concrete at the moment anyway.
If I tell you Cosmic BM, Black/Death, DSBM, NSBM, Avant-Garde BM, what do you answer me?
Far too many labels and an over-classification of styles to justify tons of releases without interest.
What do you think of Peste Noire?

I've known Famine for a long time and I think we appreciate each other well that we only see each other very much rarely. I wasn't a fan of PN at the beginning but I think the latest productions are excellent.
Your favorite authors and/or books?

Charles Bukowski, Michael Guinzburg, Lovecraft, Virginie Despentes, Mario Mercier, Coton, Stephen King, Graham Masterton.... My reading skills are quite varied.
Thank you MEYHNACH, I leave you the last word, the length you wish, on the theme you want wishes, it was an honor!



Thank you for this interesting interview and good luck with your book.











AUTRES INTERVIEWS CULTES AVEC DES GROUPES DE LA SCENE BLACK METAL DE FRANCE