FR/ENG REVIEWS - LES CROCS DU SCRIBE N°36 SPECIAL FORGOTTEN WISDOM PRODUCTIONS : CROMLECH/AFFLICTION GATE/FUNERARY BELL + SORCIERES + SILURE + ERZOTH + MALFETE + NECROHORIZON
NOTATION DES ALBUMS :
Trente-sixième épisode des Crocs du Scribe ! Pour fêter ça : un épisode un peu spécial : Forgotten Wisdom Productions, excellent label de Black Metal underground est a l'honneur en doublette avec un spécial "jeunes formations prometteuses" qui le précède avec Sorcières, Silure Erzoth, Malfete et Necrohorizon ! Régalez vous mes lapins, bonne lecture et bonnes écoutes et a bientôt ! Le Scribe
Thirty-sixth episode of Les Crocs Du Scribe! To celebrate: a special episode: Forgotten Wisdom Productions, an excellent Black Metal underground label, is honored in a double topic with a special "promising young bands" that precedes it with Witches, Silure Erzoth, Malfete and Necrohorizon! Enjoy my rabbits, good reading and good listening and see you soon! Le Scribe
Voir débarquer une jeune pousse dans le Black Metal en (bientôt) 2020 est toujours intéressant : comment de jeunes gens vont pratiquer un style qui aujourd'hui commence à porter le poids de ses années (notamment dans sa version "Trve") sans donner la sensation d'un repetto, d'une énième version des mêmes standards a tout jamais figés dans les années 90 ? Car le jeune artiste ici présent (un one-man band, of course !) s'inscrit bien dans CE Black Metal là, et pas dans les hybridations Post-BM plus récentes. A l'instar de Furfur, Unseen Abyss, Oak, Black Holocaust et d'autres, Erzoth est là pour raviver la flamme des arts noirs de peur que sinon elle s'éteigne.
Erzoth, avec cette première démo, fait jaillir des espoirs pour le renouveau de ce genre relativement balisé. Influencé par Burzum ou Mayhem, le jeune homme (18 ans !) qui agit en coulisses derrière ce projet fait partie de ceux qui peuvent à l'avenir bousculer la scène. La démo n'est pas parfaite (c'est une démo ! ) et la batterie pas toujours carrée mais l'ambiance est là, et elle est bien noire et occulte comme il se doit. D'ailleurs il faut signaler que Erzoth a déjà enchaîné avec un album (uniquement dispo en digital pour l'instant) que vous pouvez écouter ici :
(Album que je chroniquerai prochainement)
Seeing a young growth in Black Metal land in (soon) 2020 is always interesting: how will young people practice a style that today begins to carry the weight of its years (especially in its "Trve" version) without giving the feeling of a repetto, yet another version of the same standards that have never been set in the 90s? Because the young artist here present (a one-man band, of course!) fits well into CE Black Metal there, and not into the more recent post-BM hybridizations. Like Furfur, Unseen Abyss, Oak, Black Holocaust and others, Erzoth is there to rekindle the flame of the black arts for fear that otherwise it will be extinguished.
Erzoth, with this first demo, raises hopes for the renewal of this relatively marked genre. Influenced by Burzum or Mayhem, the young man (18 years old!) who acts behind the scenes behind this project is one of those who can in the future shake up the scene. The demo is not perfect (it's a demo!) and the battery not always square but the atmosphere is there, and it's black and occult as it should be. Moreover, it should be noted that Erzoth has already followed up with an album (only available in digital for the moment) that you can listen to here:
MALFETE - THE OLD GHOST TOWER (2019 FEU FOLLET PRODUCTIONS)
Dungeon Synth
Bon, soyons clairs : un album dédié à Quorthon de Bathory et enregistré au cimetière du Père Lachaise avait très peu de chances de ne pas me plaire, sauf si le type derrière cet album était une pure fraude : rassurez-vous ce n'est pas du tout le cas ! Deuxième production en date pour FEU FOLLET PRODUCTIONS, label dont je pense déjà beaucoup de bien (et qui prépare la sortie du nouveau Furfur le mois prochain en CD !) et qui m'avait déjà séduit le mois dernier avec le nouvel album splendide de Oak (checkez mon Top 30 bientôt vous verrez, et en attendant relisez ma kro ici :
https://www.webzinelescribedurock.com/2019/11/freng-review-oak-ascese-black-metal.html).
Malfete propose donc du Dungeon Synth mâtiné de Dark Ambient (c'est très sombre) et d'un esprit Black Metal omniprésent pour un résultat à tous points séduisant : une ambiance macabre particulièrement aboutie, qui renvoie effectivement aux interludes des albums de Bathory, au Burzum ambient de l'époque "Tomhet", à Mortiis et aussi au big boss français du Dungeon, Erang ou encore le culte Isengard.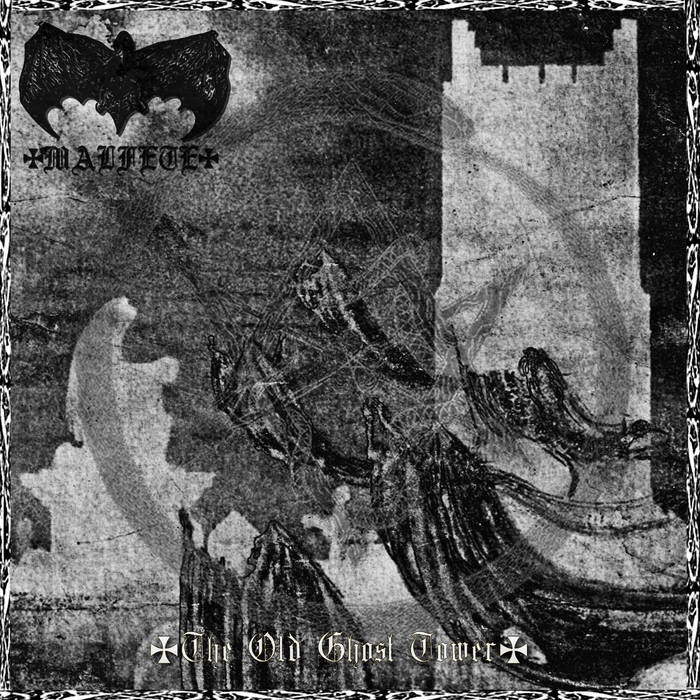 Soyons clairs : le malfaiteur ici présent est un fan du BM norvégien des années 90, et son Dark Ambient/Dungeon Synth sent plus la charogne décomposée que les chateaux forts. Un album qu'il faut posséder, car il s'agit de la bande originale de cet automne lugubre : un voyage au pays des morts dont on ne revient pas vraiment.
MALFETE SUR BANDCAMP
Well, let's be clear: an album dedicated to Quorthon from Bathory and recorded at Père Lachaise Cemetery had very little chance of not liking me, unless the guy behind this album was a pure fraud: don't worry, it's not at all the case! Second production to date for FEU FOLLET PRODUCTIONS, a label I already think a lot of good (and which is preparing the release of the new Furfur next month on CD!) and which already seduced me last month with Oak's splendid new album (check my Top 30 soon you will see, and in the meantime read my kro here:
Malfete therefore offers Dungeon Synth mixed with Dark Ambient (it's very dark) and an omnipresent Black Metal spirit for an alluring result: a particularly accomplished macabre atmosphere, which effectively refers to the interludes of Bathory albums, the ambient Burzum of the "Tomhet" era, Mortiis and also the French big boss from Dungeon, Erang or the cult band Isengard.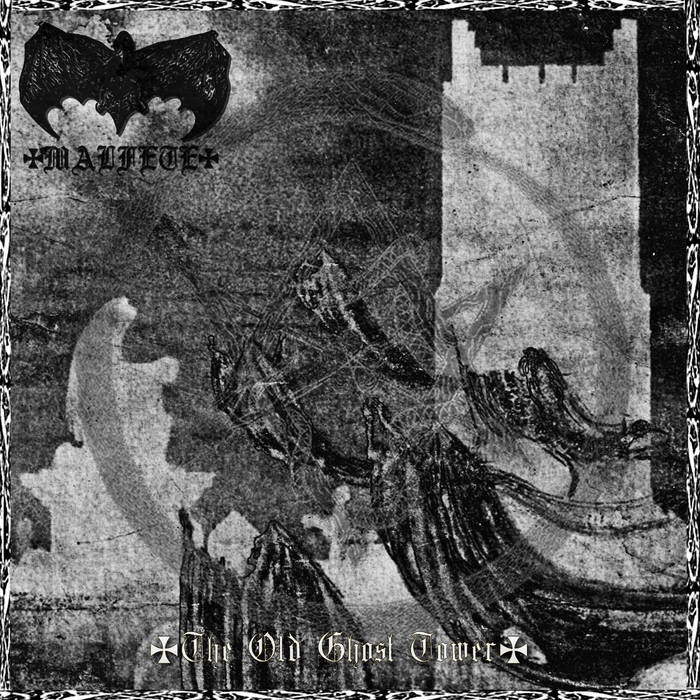 Let's be clear: the criminal here is a fan of the Norwegian BM of the 90s, and his Dark Ambient/Dungeon Synth smells more like decomposed carrion than strong castles. An album that you have to own, because it's the soundtrack to this dismal autumn: a journey to the land of the dead from which you don't really return.
MALFETE BANDCAMP
*******
Raw Black Metal from Bergerac
Tu veux du Raw ? Tu aimes la crudité sonore la plus spartiate ? Alors Necrohorizon est pour toi : enregistré sur Audacity avec un dictaphone et le logiciel Audacity, ce one-man band produit un Black Metal souvent acoustique qui n'est pas pour autant le prétexte pour masquer une ineptie musicale derrière un mur du son, car les titres ici présentés en ont dans le slip, et qui respectent aisément le cahier des charges atmosphérique du Black Metal le plus sombre : Necro, oui, tout est dans le nom du groupe : cet infâme rejeton de Darkthrone pousse au bout la logique du dénuement et d'un Black Metal sans atours, sans effets, ici seuls la guitare folk, le chant rauque et un fond de boite à rythmes vont suffire pour créer cette fameuse atmosphère méphitique que l'on aime tant.
La distorsion naturelle produite par les outils minimalistes choisis pour l'enregistrement produit son effet : ce Black Metal autistique s'incruste dans votre âme et l'on en vient à tourner et retourner la cassette pour continuer cette expérience de retour aux fondamentaux : une âme noire et un magnétophone. Le sieur derrière Necrohorizon, Mr Rabbit, a eu la gentillesse de permettre d'écouter sa démo sur youtube en plus de la cassette, pour ceux qui ne sont pas équipés, mais, honnêtement, je conseille la version cassette pour une expérience ultime aux confins du Raw.
You want it Raw? Do you like the most spartan raw sound? So Necrohorizon is for you: recorded on Audacity with a dictaphone and the Audacity software, this one-man band produces an often acoustic Black Metal which is not the pretext to hide a musical ineptitude behind a sound wall, because the titles presented here have some in the underwear, and which easily respect the atmospheric specifications of the darkest Black Metal: Necro, yes, everything is in the band's name: this infamous offshoot of Darkthrone pushes the logic of destitution and a Black Metal without finery, without effects, here only the folk guitar, the hoarse vocals and a drum machine background will suffice to create this famous mephitic atmosphere that we love so much.
The natural distortion produced by the minimalist tools chosen for the recording produces its effect: this autistic Black Metal is embedded in your soul and you end up turning and turning the tape to continue this experience of returning to the fundamentals: a black soul and a tape recorder. The man behind Necrohorizon, Mr. Rabbit, was kind enough to allow his demo to be heard on youtube in addition to the tape, for those who are not equipped, but, honestly, I recommend the tape version for an ultimate experience on the edge of the Raw.
SILURE - ROUTE DE TROCHE (2019 SILURE)
Death Metal / Black Metal / Grind / Noise
Parfois il faut peu de titres sur un disque pour que la messe soit dite : Silure, groupe qui définit sa musique comme du bruit et son objectif comme étant de déverser une "déflagration abyssale et pestilentielle" dans la mâchoire de votre pauvre Scribe. Du Death Metal Silure a retenu les riffs qui déboîtent et une batterie redoutable comme des tirs de DCA, du Black Metal une ambiance plus macabre que la mort elle-même et du Grindcore une propension à la violence qui n'a rien de galvaudée (cf ici la reprise du culte "Milk" des non-moins cultes S.O.D). Trois petits glaviots qui ont un étrange goût de revenez-y, tellement que l'on se retrouve a écouter cette démo en boucle sans y prêter attention : voici le groupe idéal : rien a foutre du style pratiqué : le but étant ici clairement de scotcher l'auditeur sur sa chaise.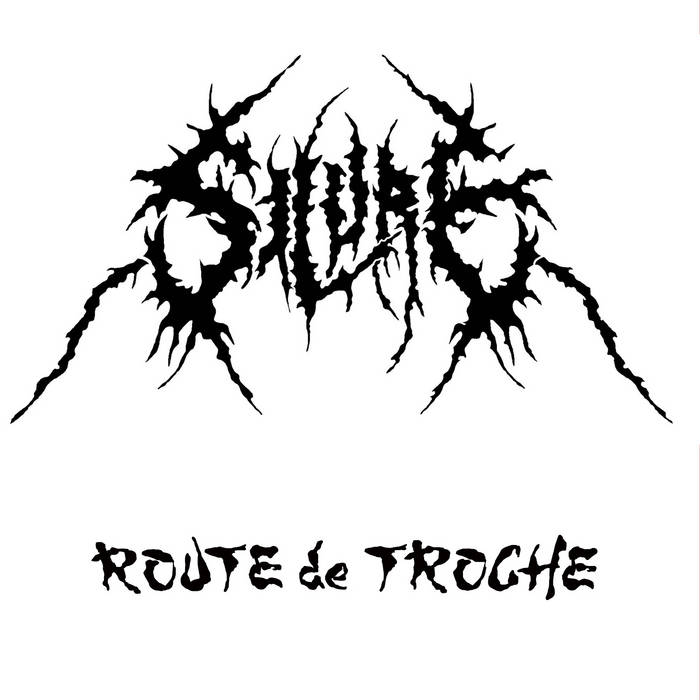 Et l'on en vient a rêver d'un album complet de ce combo, dont on se dit qu'on aura surement du mal à se remettre, et, pourtant, en ce qui me concerne, il y a de fortes chances, si l'album est du même tonneau que ces trois titres impressionnants, que j'y retourne encore et encore ! VIOLENCE AND FORCE !
SILURE SUR FACEBOOK
La Note du Scribe : 😀
Sometimes it takes few titles on a disc for the mass to be said: Silure, a group that defines its music as noise and its objective as being to pour an "abyssal and pestilential explosion" into your poor Scribe's jaw. Death Metal Silure has retained the riffs that are disjointed and a formidable drum set like flak fire, Black Metal a more macabre atmosphere than death itself and Grindcore a propensity for violence that is not overused (see here the resumption of the "Milk" cult of the non-less cult S.O.D). Three little glaviots who have a strange taste of coming back, so much so that we find ourselves listening to this demo over and over again without paying attention to it: here is the ideal group: here is the ideal group: I don't give a shit about the style practiced: the goal here being clearly to tape the listener to his chair.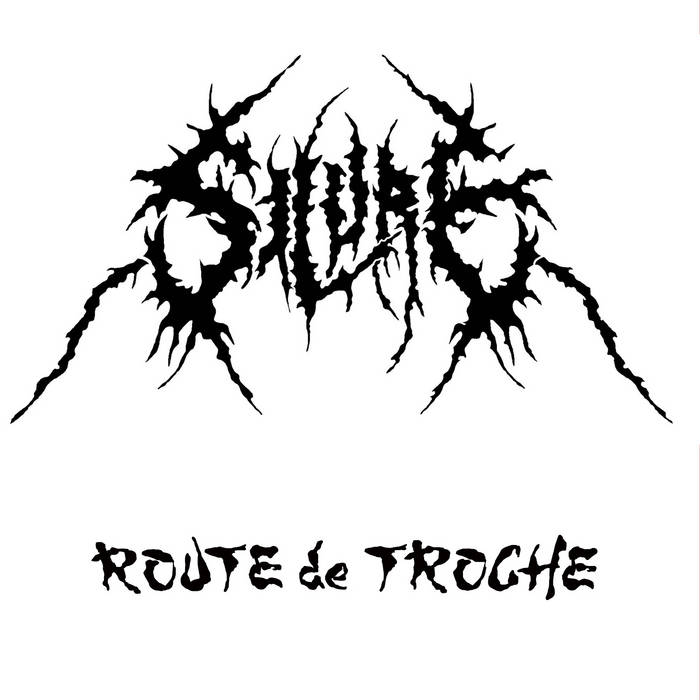 And we come to dream of a complete album of this combo, which we think will probably be hard to recover from, and yet, as far as I'm concerned, there's a good chance, if the album is the same barrel as these three impressive tracks, I'll go back again and again! VIOLENCE AND FORCE!
***************
Dark Folk Metal /Pagan Black Metal / Heavy Death Metal
Les Lillois de Sorcières pratiquent une fusion de genres tout à fait savoureuse puisqu'ils mélangent Black, Heavy et Death Metal a une base Dark Folk. La sauce prend immédiatement sur ce premier EP et ce dès le titre d'ouverture, l'éponyme "Sorcières". Utilisant les ambiances folk et la mélodie pour mieux distiller la noirceur de leur musique les nordistes nous décochent une flèche de cupidon musicale avec cet EP parfaitement abouti de part en part et mené de main de maître par des musiciens aguerris (dont un ancien Lappalainen). Créant une atmosphère médiévale inspirée, les instruments folk utilisés avec finesse viennent se greffer de façon naturelle avec les guitares Heavy/Death et le chant Death du groupe.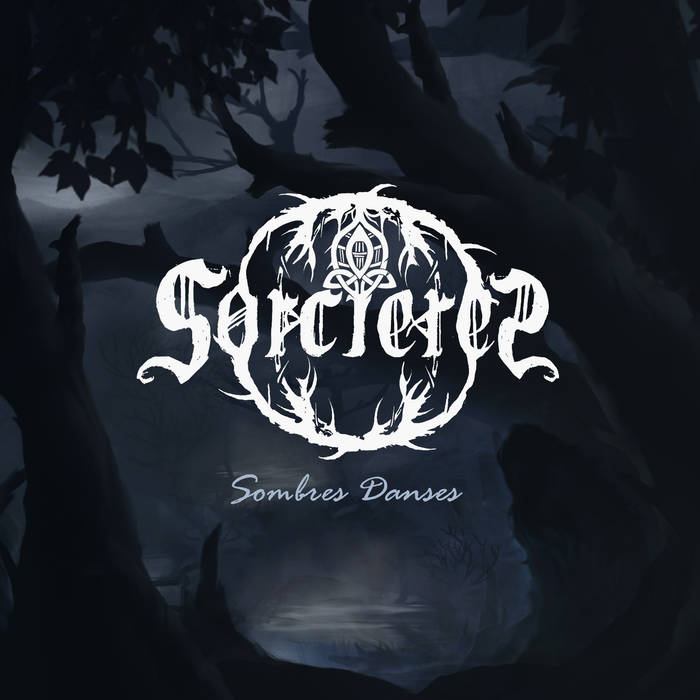 A l'arrivée on se trouve en présence d'un EP plutôt original, avec un grain de son particulier (la production est parfaite !) pour un groupe, comme je l'ai dit, qui maîtrise parfaitement son sujet : difficile de démarrer de façon plus prometteuse !
The french band Sorcières practice a very tasty fusion of genres since they mix Black, Heavy and Death Metal with a Dark Folk base. The sauce immediately takes on this first EP and this as soon as the opening title, the eponymous "Sorcières (Witches)". Using folk ambiences and melody to better distill the darkness of their music, the northerners shoot us an arrow of musical cupid with this EP perfectly accomplished from start to finish and masterfully led by experienced musicians (including an old Lappalainen). Creating an inspired medieval atmosphere, the folk instruments used with finesse are naturally complemented by the band's Heavy/Death guitars and Death vocals.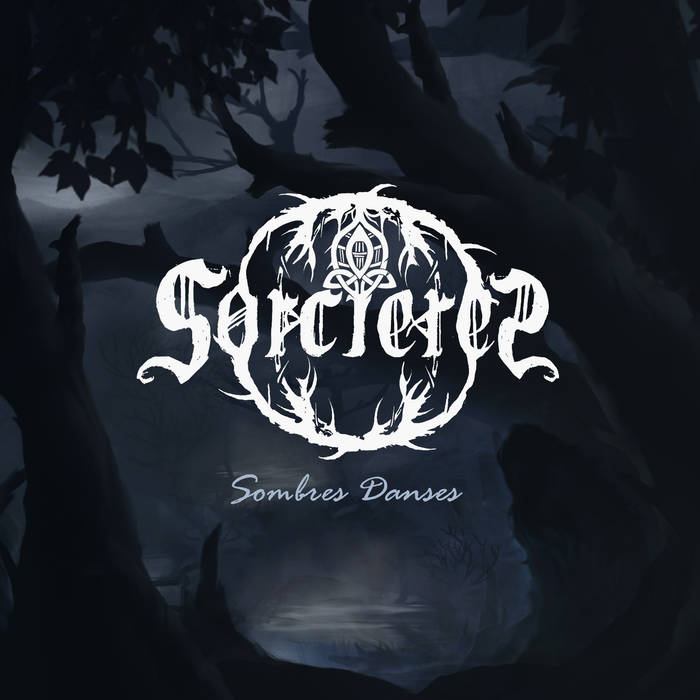 At the end we find ourselves in the presence of a rather original EP, with a particular sound (the production is perfect!) for a band, as I said, which perfectly masters its subject: it's hard to start in a more promising way!
******
Dans la série "je défends les labels underground, et surtout les bons" voici venir le temps des rires et des chants, dans l'Ile aux enfants....oooups je m'égare ! Voici venir Forgotten Wisdom Productions, actifs depuis 1999 et oui, vingt ans les gars ! Bravo et bon anniversaire. Pourfendeurs de la bienséance et défenseurs d'un Metal extrême underground, qu'il soit orienté Black, Thrash ou Death (ou Doom) les fighters de FWP se battent pour la défense de cette scène que nous chérissons mais que, parfois, nous ne défendons pas assez fort : alors il existe un moyen simple et efficace de le faire : oublions les conflits neuneus entre nsbm et antifas et lisons, écoutons, et achetons les prods de FWP !!!! C'est juste en dessous que ça se passe ! / In the topic : "I defend underground labels, and especially the good ones" here comes the time for ....ooops I get lost! Here comes Forgotten Wisdom Productions, active since 1999 and yes, twenty years old guys! Congratulations and happy birthday. Critics of propriety and defenders of extreme underground Metal, whether Black, Thrash or Death (or Doom) oriented, FWP fighters fight for the defense of this scene that we cherish but that, sometimes, we do not defend hard enough: so there is a simple and effective way to do it: let's forget the nonsense conflicts between nsbm and antifas and lisons, listen, and buy FWP's prods!!!!! It's right below where it's happening!👇👇👇👇👇👇👇
BLACK METAL LIVE DE FINLANDE
Quand j'ai reçu le CD des finlandais de Funerary Bell, en regardant le visuel du disque, j'ai pensé à ces groupes goth-rock des années 80 comme Christian Death ou Virgin Prunes. Le côté Dark'n'Roll qui se dégage de ce visuel live (devenu rare de nos jours et surtout dans le Black Metal) m'a renvoyé vers ces doux souvenirs.
Je ne suis pas un grand fan des albums live en général, et c'est donc avec circonspection que j'ai posé le cd dans ma platine.
Tout commence par une prière gothique intitulée "Invoker's Psalm/Afterlife On Earth" avec force chœurs religieux, synthés ambient et déclamations de rigueur. Ca sent déjà le grand bouc alors qu'aucune guitare ni aucun blast-beat n'ont été dégainés.
Et puis, au bout d'un peu plus de deux minutes, l'incantation se transforme en morceau Metal du meilleur acabit : loin du goth-rock que j'évoquais tout a l'heure, les finlandais nous déploient un Heavy/Death/Black Metal bien ficelé et imprévisible (comme toujours avec les groupes finlandais). Les racines Heavy sont bien là et profondes, frôlant parfois le Thrash, tandis que le chant se balade entre cris d'orfraie Black, growling Death et bien d'autres choses. Seulement voila : cela ne sonne pas comme une "soupe de fêves" car les gars de Funerary Bell connaissent la musique, et savent trousser une chanson !
On pense rapidement à quelques groupes bien théâtraux comme Mortuary Drape, Grand Belial's Key ou Varathron. Ces groupes à l'Adn profondément Heavy Metal, qui ont su accentuer cette base avec des poussées Black et Death bien intenses. D'ailleurs, quand Funerary Bell s'aventure sur le terrain du Metal extrême, c'est pas pour rigoler ! C'est du Old-School bien fiévreux nourri à la sueur rock'n'roll mes amis !
Le Live est parfaitement capturé et le son permet de retrouver tous les instruments mixés a un niveau nickel. Les morceaux défilent comme des balles d'Uzi et l'on se dit "putain, j'aurais bien aimé y être à ce live !". Par moments des relents Punk viennent relancer la machine (pogo à tous les étages) et nous rappeler que c'est à des finlandais que l'on a affaire.
Bref, un live qui déboite, ce qui est suffisamment rare pour être signalé, et un groupe authentique pour qui le mot "metal" a encore un sens... C'est déjà énorme !
When I received the CD of the Finns from Funerary Bell, looking at the visual of the disc, I thought of those 80's goth rock bands like Christian Death or Virgin Prunes. The Dark'n'Roll side of this live visual (now rare nowadays and especially in Black Metal) has sent me back to these sweet memories.
I'm not a big fan of live albums in general, so I put the cd in my turntable with caution.
It all begins with a Gothic prayer entitled "Invoker's Psalm/Afterlife On Earth" with strong religious choirs, ambient synths and rigorous declamations. It already smells like a big goat, but no guitar or blast-beat has been drawn.
And then, after a little over two minutes, the incantation turns into a Metal track of the best kind: far from the goth-rock I mentioned earlier, the Finns deploy a Heavy/Death/Black Metal well tied and unpredictable (as always with Finnish bands). The Heavy roots are well there and deep, sometimes brushing the Thrash, while the song wanders between cries of Black orfraie, growling Death and many other things. Only that's it: it doesn't sound like a "bean soup" because the guys at Funerary Bell know the music, and they know how to make a song!
We quickly think of a few very theatrical groups such as Mortuary Drape, Grand Belial's Key or Varathron. These bands with deep Heavy Metal DNA, who have been able to accentuate this base with very intense Black and Death attacks. By the way, when Funerary Bell ventures into the field of extreme metal, it's not for fun! It's a very feverish Old-School with rock'n' roll sweat, my friends!
The Live is perfectly captured and the sound allows you to find all the instruments mixed at a nickel level. The songs are marching like Uzi's balls and you say to yourself, "Fuck, I wish I could have been there at that live show!". At times, Punk hints come to restart the machine (pogo on all floors) and remind us that it is Finns we are dealing with.
In short, a disorganized live show, which is rare enough to be reported, and an authentic band for which the word "metal" still has a meaning... It's already huge!
Death Metal de la mort
Au moment d'enregistrer cet ultime EP, les provençaux de Affliction Gate savaient déjà qu'ils raccrochaient les gants. Cela donne toujours une saveur particulière à un dernier effort : rien à perdre, donc on donne tout !
Et, en effet, les 4 titres ici réunis brillent de mille feux, déployant un Death Metal putride et old-school, teinté de Heavy et de Thrash Metal, comme il se doit !
On en vient rapidement à regretter que le combo ait décidé de mettre un terme a ses activités tant son Death Metal savait mettre les points sur les i : pas de "brutal mécouilles djent progressif mélodique" ici mais bien du putain de Death qui arrache et qui défonce la face des corniauds qui osent le dévisager.
Bon, après tout, peut être qu'un groupe de Death Metal est encore meilleur une fois mort (oui je sais elle est facile mais il fallait bien que je la fasse au moins une fois !). Au final, un EP chaudement recommandable pour ceux qui seraient passés a côté !
At the time of recording this ultimate EP, the Provençal members of Affliction Gate already knew they were hanging up the gloves. This always gives a particular flavour to a last effort: nothing to lose, so we give it all!
And, indeed, the 4 tracks gathered here shine brightly, deploying a putrid and old-school Death Metal, tinged with Heavy and Thrash Metal, as it should be!
We quickly come to regret that the band decided to put an end to its activities so much his Death Metal knew how to put the points on the i: no "brutal melodic progressive djent mécouilles" here but well of the fucking Death which tears off and smashes the face of the crows who dare to stare at him.
Well, after all, maybe a Death Metal band is even better when it's dead (yes I know it's easy but I had to do it at least once!). In the end, a highly recommendable EP for those who would have missed it!
*******
Épique
! Tel est le mot idéal pour définir Cromlech. Les canadiens, forcément influencés par Candlemass, nous donnent ici à entendre un Heavy/Doom des plus majestueux, avec des morceaux construits sur des enchaînements de riffs tous plus efficaces les uns que les autres. Le chanteur, Kevin Loghnane, dont l'organe évoque un mélange de System of A Down et d'Alan de Primordial, est vraiment charismatique et talentueux. Les guitares font la paire et la section rythmique est implacable.
Il y a aussi du Solstice, du Blind Guardian des débuts, de la NWOBHM dans Cromlech, un cocktail des plus savoureux qui se déguste sans faim.
Laissez vous emporter par la fresque des chevaliers de Toronto, vous ne le regretterez pas !
Epic! This is the ideal word to define Cromlech. The Canadians, necessarily influenced by Candlemass, give us here to hear one of the most majestic Heavy/Doom, with tracks built on a series of riffs, each more effective than the last. The singer, Kevin Loghnane, whose organ evokes a mix of System of A Down and Alan de Primordial, is truly charismatic and talented. The guitars are a pair and the rhythm section is relentless.
There is also Solstice, early Blind Guardian, NWOBHM in Cromlech, a very tasty cocktail that can be enjoyed without hunger.
Let yourself be carried away by the fresco of the Knights of Toronto, you won't regret it!
****
Un grand merci à FORGOTTEN WISDOM PRODUCTIONS pour ce numéro spécial, sans vous rien n'aurait été possible !
Many thanks to FORGOTTEN WISDOM PRODUCTIONS for this special issue, without you nothing would have been possible!