REVIEW - BALANCE OF TERROR - WORLD LABORATORY - 2017 - GHASTLY MUSIC - BRUTAL DEATH METAL/GRINDCORE
A St Omer ça manque pas d'air, et dans le Nord ça bastonne fort ! En effet, nos amis Balance Of Terror viennent bien de cette belle région rebaptisée Hauts de France par des culs serrés en costard mais reste bel et bien le Nord/Pas-De-Calais...En matière de parpaings bien velus dans ta gueule, les nordistes en connaissent un rayon, la preuve avec ce World Laboratory paru en 2017 et qui retentit encore dans toutes les boites crâniennes ! Tudieu !
Quelque part entre Brutal Death, Slam Death et Grindcore bien destroy, ces terroristes sonores nous ont pondu un condensé de violence lourde et véloce, avec force voix de grizzly en rut et de gorets transgéniques, guitares épaisses comme un fog sans fin sur la Tamise, un batteur avec huit bras qui impressionne sévèrement (également boucher chez Sublime Cadaveric Décomposition) et un ensemble qui tour à tour nous étouffe, nous éventre, nous court sur le cadavre ! Sur Bandcamp le groupe (ou le label ?) cite pêle mêle :
"Napalm Death, Rotten Sound, Lock Up, Suffocation, Deeds of Flesh, Cannibal Corpse, Gorguts but also old school death metal legends such as Massacre, Monstrosity, Entombed..." Le décor est posé ! Les rois de l'estouffe chrétien Suffocation, les empereurs dieux du Gore Cannibal Corpse, les aliens du Grind Napalm Death et autres tueurs du Grind/Death qui fait du vilain sont un bon parrainage pour ces analystes de la terreur qui fait vibrer notre pauvre monde en décomposition. Une bande son parfaite pour préparer l'apocalypse en fabriquant ta cabane de survivaliste dans laquelle tu vas stocker les armes et les boites de fayots !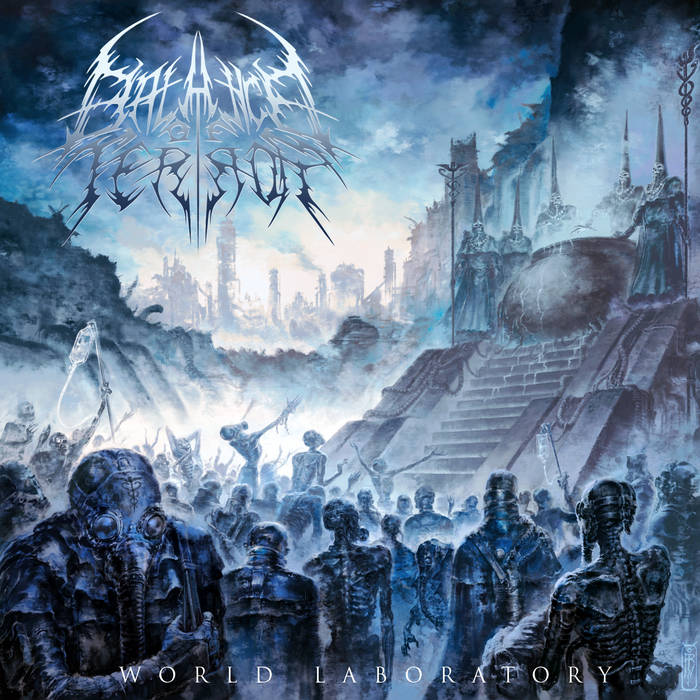 Je l'avoue, je ne connaissais pas ces fins limiers de la défonce de tympans jusqu'à ce qu'ils me contactent, mais je me dis qu'il me manquait une perle essentielle en matière de mix de Slam Death Brutal moderne et de Grind intemporel, car les gars du Nord savent faire la balance (of terror) entre ces différents courants, nous laissant en présence d'un album aux riffs pétrifiants (élément essentiel pour un vieillard comme moi), aux rythmiques variées qui permettent de prendre sa claque à chaque écoute. Car oui c'est bien de prendre sa rouste dont il est question ! C'est simple, quand j'entends Balance Of Terror, je me dis, moi gars du Sud : VIVE LE NORD !!
Si tu aimes la charcute bien faite, les riffeurs insatiables, les morceaux à tiroir mais jamais chiants et te prendre une bonne déflagration qui reste un plaisir au fil des écoutes, c'est simple, Balance Of Terror est fait pour toi !
In St Omer there's plenty of air, and in the North there's a lot of fighters ! Indeed, our friends Balance Of Terror come from this beautiful region renamed Hauts de France by tight asses in suits, but it's still the Nord/Pas-De-Calais... When it comes to cinderblocks with their hair in your mouth, northerners know a lot about them, proof with this World Laboratory published in 2017 and which still resounds in all the skulls! Tudieu!

Somewhere between Brutal Death, Slam Death and well destroyed Grindcore, these sound terrorists have produced a heavy and swift summary of violence, with the voices of rutting grizzly bears and transgenic pigs, guitars as thick as an endless fog on the Thames, a drummer with eight arms that severely impresses (also butchered by Sublime Cadaveric Décomposition) and an ensemble that in turn suffocates us, disembowels us, and runs over our corpses! On Bandcamp the band (or the label?) quotes pell-mell:
"Napalm Death, Rotten Sound, Lock Up, Suffocation, Deeds of Flesh, Cannibal Corpse, Gorguts but also old school death metal legends such as Massacre, Monstrosity, Entombed..." The stage is set! The kings of Christian Suffocation, the god emperors of the Gore Cannibal Corpse, the aliens of the Grind Napalm Death and other killers of the ugly Grind/Death are a good sponsor for these analysts of the terror that shakes our poor decaying world. A perfect soundtrack to prepare the apocalypse by building your survivalist hut in which you will store weapons and boxes of beans!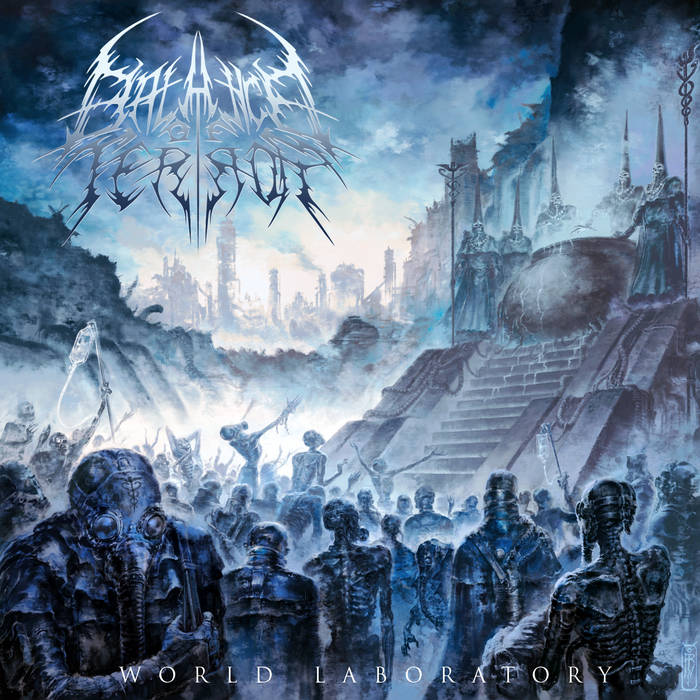 I admit it, I didn't know these fine bloodhounds from the eardrums until they contacted me, but I tell myself that I was missing an essential pearl in terms of mixing modern Brutal Slam Death and timeless Grind, because the guys from the North know how to make the balance (of terror) between these different currents, leaving us in the presence of an album with petrifying riffs (essential element for an old man like me), with varied rhythms that allow us to take his slap with each listening. Because yes, it's good to take your rust out of it! It's simple, when I hear Balance Of Terror, I say to myself, me guy from the South : VIVE LE NORD !

If you like the well done butchery, the insatiable riffs, the songs with drawers but never boring and take you a good explosion which remains a pleasure with each listening, it's simple, Balance Of Terror is made for you !