⛧ L'ACCRO DU SCRIBE ⛥- CHRONIQUE FR/ENG - DECEM MALEFICIUM - LA FIN DE SATAN - BLACK/DOOM METAL - LES ACTEURS DE L'OMBRE PRODUCTIONS
⛧ L'ACCRO DU SCRIBE ⛥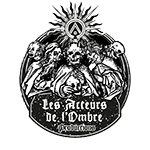 Retour des chiliens de Decem Maleficium avec leur premier album en 20 ans d'existence : La fin de Satan. Ayant mis les petits plats dans les grands, nos collègues d'Amérique du Sud ont réalisé un véritable condensé de Black/Doom de toute beauté !
Plus sérieusement, nous voici en présence d'un album qui frise la perfection : un Black Metal mélodique et intense, inter prêté avec talent par un groupe qui sait mêler noirceur et mélodies (les voix claires sont parfaites, de même que les guitares, parfois orientalisantes et franchement Heavy). Dans la lignée d'un Dimmu Borgir moins ouvertement symphonique mais qui aurait gardé toute sa verve Black Metal, ce La fin de Satan confirme décidément tout le bien que l'on pense des productions des Acteurs de l'Ombre, qui savent s'entourer. L'utilisation judicieuse de claviers et de sons électroniques modernes apporte vraiment une touche d'originalité à ce disque qui passe avec aisance de blast-beats supersoniques à des mid-tempos porteurs de majesté et d'un aspect épique et guerrier absolument saisissant. Mais décidément quelle année 2019 ! Et voila un bien joli cadeau à vous faire avant d'avoir installé le sapin ! De plus le digipack est superbe, avec une pochette dont l'artwork est particulièrement réussi. Une seule chose à faire maintenant : vous écouter l'album grâce au lien youtube que j'ai mis dans cet article et vous vous ruez pour l'acheter chez Les Acteurs de L'ombre, allez hop !
AND NOW...LADIES AND GENTLEMEN...THE ENGLISH VERSION !
The Chileans of Decem Maleficium return with their first album in 20 years of existence: La fin de Satan. Having put the little dishes in the big leagues, our colleagues from South America have made a real condensed version of Black/Doom of all beauty!
Hellshit ! By Jesus Bollocks ! All I needed was this. Everything's getting out of hand. It was better before! So here we are now with a bunch of Chileans who come to tell us right away Satan is dead! So it wasn't enough for you that Nietzsche killed little Jesus? In addition, we had to be leaved by Satan too? No, but what are we gonna do , as shadow creatures, to do now, acquired for the cause of the darkest darkness?
For almost 20 years these dangerous disrupters have been acting from their distant countries to take away our hope.
More seriously, here we are in the presence of an album that borders on perfection: a melodic and intense Black Metal, interspersed with talent by a group that knows how to mix darkness and melodies (the clear voices are perfect, as well as the guitars, sometimes orientalizing and frankly Heavy). In the tradition of a Dimmu Borgir less openly symphonic but who would have kept all his Black Metal verve, this La fin de Satan definitely confirms all the good that we think of the productions of Les Acteurs de L'ombre, who know how to surround themselves. The judicious use of modern keyboards and electronic sounds really brings a touch of originality to this record, which easily passes from supersonic blast-beats to mid-tempos carrying majesty and an epic and warlike aspect that is absolutely striking. But what a year 2019! And here's a nice gift to give you before you install the tree! Moreover the digipack is superb, with a cover whose artwork is particularly successful. Only one thing to do now: listen to the album thanks to the youtube link I put in this article and you rush to buy it from Les Acteurs de L'ombre, go hop!