Eng/Fr Review CATACOMBES Accueille le diable + le démoniaque
Black Metal Mélodique
"Accueille le, Ecoute le, Crains le, Fuis le"
This four track EP was released after the band's first album, so you'll find it strange that I'm chronicling it first, maybe. It doesn't matter. This "one-man band" has more than one particularity: originally from Nantes, Le Démoniaque, the handyman behind Catacombs, has moved to Montreal where he produces his music. A music that can be misleading (like the Devil and the other tricksters) because, if we start at the beginning, the intro of the disc, composed of accordion, could lead us to think that we are dealing with a "rural" Black Metal band a little medieval in the lineage of Peste Noire.Oh no my good lord! Because, if the "franchouillardes" references were a little more present in the album (see below) Catacombes shows here a refinement and a sense of melody that distances it from certain much rougher and harsher groups to which its external attire (including the cover) could have made us think. The Demonik describes here a human devil, far from the crypto-Christian legends of the fallen angel with horns, hooves and forks of rigour. A devil who is none other than one of us, in all our ability to do evil (and we know that it is limitless). Musically, the group grabs us and holds us back with this diabolical, heady sense of melody and with this desire to return as soon as the fourth track ends. A record that skillfully combines beauty and ugliness, for a result that is finally original and perfectly executed (our man knows the music).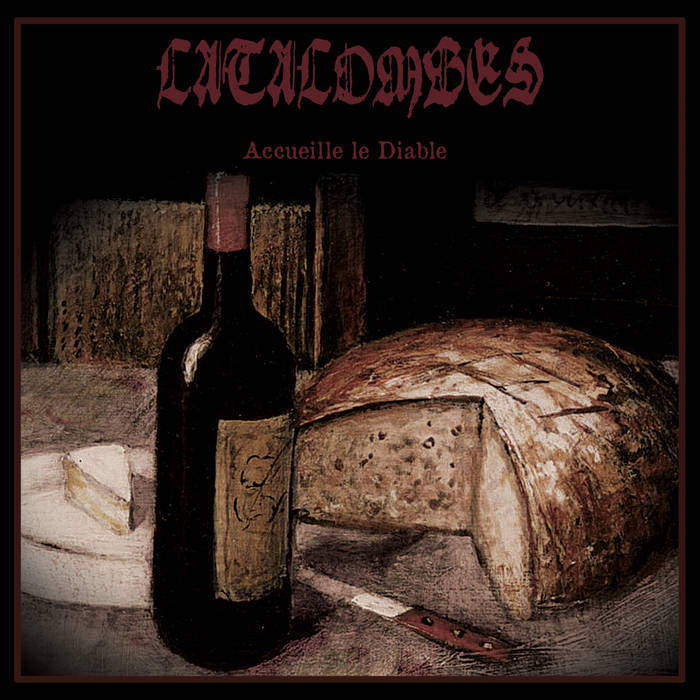 Cet EP de quatre titres est sorti après le premier album du groupe, et vous trouverez donc étrange que je le chronique en premier, peut-être. Peu importe. Ce "one-man band" a plus d'une particularité : originaire de Nantes, le Démoniaque, homme a tout faire derrière Catacombes est allé s'installer à Montréal où il produit sa musique. Une musique qui peut être trompeuse (comme le Diable et les autres tricksters) car, si l'on commence par le commencement, l'intro du disque, composée d'accordéon, pourrait nous laisser penser que l'on a affaire a un groupe de Black Metal "rural" un peu médiéval dans la lignée de Peste Noire. Que Nenni mon bon seigneur ! Car, si les références "franchouillardes" étaient un peu plus présentes dans l'album (voir après) Catacombes fait preuve ici d'un raffinement et d'un sens de la mélodie qui l'éloigne de certains groupes beaucoup plus rugueux et âpres auxquels ses atours extérieurs (y compris la pochette) auraient pu nous faire penser. Le Démoniaque nous décrit ici un diable bien humain, loin des légendes crypto-chrétiennes de l'ange déchu avec cornes, sabots et fourche de rigueur. Un diable qui n'est autre que l'un de nous, dans toute notre capacité à faire le mal (et l'on sait qu'elle est sans limites). Musicalement, le groupe nous accroche et nous retient avec ce sens diabolique de la mélodie, entêtante et avec cette envie d'y retourner dès que la quatrième piste s'achève. Un disque qui mêle habilement beauté et laideur, pour un résultat finalement original et parfaitement exécuté (notre homme connaît la musique).
Black Metal
"Je peux leur faire des choses obscènes
Et je n'aurai mmmh... pas de peine!"
So here is, after the review of the last EP, the first album of Catacombes. More aggressive in his inventions than his successor, he also refers to a more crude language, rooted in a very French slang ("Arsouille Mes ballilles", "Catin Crotin") from the end of the 19th, beginning of the 20th century. Musically, Catacombs remain in a fast and melodic Black Metal, under the influence of the great Nordic and French demons of the 90's, with sometimes a little something more of Pensées Nocturnes (the language, the universe) in less musically experimental. We appreciate here the already spectacular mastery that the Demonicaque had of his music, and the titles follow one another with fluidity and pleasure.
The lyrics are worth reading (they are incomprehensible in the song) because they are full of ideas, funny, Gallic spirit!
We saw that Catacombs later put the hola on this aspect of his universe. A record that is not musically revolutionary and will undoubtedly return quite clear references, but a very well conceived and thought-out album, with an impeccable performance. The next LP should hurt a lot!
Voici donc, après la chronique du dernier EP, le premier album de Catacombes. Plus agressif dans ses inentions que son successeur, il fait également état d'un langage plus cru, ancré dans un argot bien français ("Arsouille Mes couilles", "Catin Crotin") de la fin du 19ème, début du 20ème siècle. Musicalement, Catacombes restent dans un Black Metal véloce et mélodique, sous influence des grands démons nordiques et français des 90's, avec parfois un petit quelque chose de Pensées Nocturnes en plus (le langage, l'univers) en moins expérimental musicalement. On apprécie ici la maîtrise déjà spectaculaire que le Démoniaque avait de sa musique, et les titres s'enchaînent avec fluidité et plaisir.
Les paroles valent le coup d'être lues (elles sont incompréhensibles dans le chant) car elles fourmillent d'idées, de drôlerie, d'esprit gaulois !
On a vu que par la suite Catacombes a mis le hola sur cet aspect de son univers. Un disque qui n'a rien de révolutionnaire musicalement et vous renverra sans doute des références assez claires, mais un album fort bien conçu et pensé, avec une exécution irréprochable. Le prochain LP devrait faire très mal !