FR/ENG BLACK METAL UNDERGROUND REVIEWS : LES CROCS DU SCRIBE N°30 + HORS SERIE SPECIAL THE RITUAL PRODUCTIONS PART II : /UNOLYATH/BLACK SEPTEMBER-RAVENLORD DARKSTORM/THE PARENTS OF OUDE PEKALA/GOLIARD/DARKSTORM/BURIAL MIST
UNHOLYATH - BURIAL MIST - BLACK SEPTEMBER/RAVENLORD DARKSTORM - THE PARENTS OF OUDE PEKALA - GOLIARD - DARKSTORM
+ LES CROCS DU SCRIBE N°30
ARS MORIENDI - WOLOK - GOATMOON - TENEBRAE IN PERPETUUM
***


Quand on oeuvre dans un univers à la fois fragile et fort comme celui de l'underground Metal (fragile par ses structures financières, son "pouvoir" de diffusion, mais fort de par ses convictions et par la qualité de ses productions) et notamment dans un pays comme la France, qui est au Metal ce que le rôti de porc est à Israël au plan culturel, la loyauté et la confiance sont des notions fondamentales. Je n'ai jamais rencontré Jasper Ruijtenbeek dans la "vraie vie", comme beaucoup d'autres personnes avec qui je collabore, passant beaucoup de mon temps hors job alimentaire terré dans mon atelier d'écriture, mais je peux dire que je le considère aujourd'hui comme un ami. Oui, un ami. Une personne sur qui vous pouvez compter, qui n'a qu'une parole, qui soutient aussi votre travail : une personne précieuse et rare. J'ose espérer qu'il en est de même pour Jasper, avec qui je me montrerai toujours loyal et fiable. Jasper, au travers de son label The Ritual Productions, basé aux Pays-Bas, déploie une énergie de passionné pour faire vivre un underground exigeant, sans compromis aucun. C'est le deuxième numéro des Crocs du Scribe que je dédie à The Ritual Productions,

dans le premier vous aviez pu lire l'interview de Jasper (si ce n'est pas le cas, allez la lire)

ainsi que plusieurs chroniques d'artistes qu'il produit et que je défends.
Au programme : Burial Mist et son " mortificated symbols of faith"/les fous furieux de The Parents of Oude Pekala et leur "as Satan spawns from the grave of a thousand infants"/Goliard et leur "iconoclastic hymns"/le split Black September et Ravenlord Darkstorm/"The Black Stone" de Darkstorm/Unholyath et leur "antidogma".
Bref, que du pur et dur, du vrai, du "hors des clous" : de l'underground ! Alors régalez vous mes biquets car, comme toujours, vous trouverez des liens pour écouter ses petites merveilles !
ENGLISH VERSION
When you work in a world that is both fragile and strong like that of underground Metal (fragile by its financial structures, its "power" of diffusion, but strong by its convictions and by the quality of its productions) and especially in a country like France, which is to Metal what the roast pork is to Israel in cultural terms, loyalty and trust are fundamental notions. I have never met Jasper Ruijtenbeek in "real life", like many other people with whom I collaborate, spending a lot of my time away from food work holed up in my writing workshop, but I can say that I consider him today as a friend. Yes, a friend. A person you can count on, who has only one word to say, who also supports your work: a precious and rare person. I hope the same is true for Jasper, with whom I will always be loyal and reliable. Jasper, through its label The Ritual Productions, based in the Netherlands, deploys a passionate energy to bring to life a demanding underground, without any compromise. This is the second issue of Crocs du Scribe that I dedicate to The Ritual Productions, in the first you could read the interview of Jasper (if not, go read it) as well as several reviews of artists that he produces and that I defend.
This is the "second batch" of this series of columns dedicated to The Ritual Productions.
On the program: Burial Mist and his "mortificated symbols of faith"/the madmen of The Parents of Oude Pekala and their "as Satan spawns from the grave of a thousand infants"/Goliard and their "iconoclastic hymns"/the split Black September and Ravenlord Darkstorm/"The Black Stone" of Darkstorm/Unholyath and their "antidogma".
In short, only pure and hard, true, "out of the box": underground! So enjoy my pickets because, as always, you will find links to listen to his little wonders!
LES CROCS DU SCRIBE N°30
Après ce copieux hors-série, vous prendrez bien quelques nouveautés et un classique culte ?
Côté news, vous me direz des nouvelles des dingues géniaux de Molok et du grandiose Ars Moriendi, mais aussi du déstabilisant chef d'oeuvre de Tenebrae In Perpetuum...
Côté "kro kulte" voici le numéro 2 de cette nouvelle rubrique inaugurée la semaine dernière avec Bathory. Cette fois, c'est un classique beaucoup plus souffreteux qui s'offre à vous puisqu'il s'agit du terrible "Death Before Dishonour" de Goatmoon paru en 2004 !
After this copious special edition, you will take some new items and a classic cult?
On the news side, you will tell me about the news of Molok's brilliant madmen and the grandiose Ars Moriendi, but also about the destabilizing masterpiece of Tenebrae In Perpetuum...
On the "kro kulte" side, here is number 2 of this new section inaugurated last week with Bathory. This time, you have a much more painful classic to choose from, since it is the terrible "Death Before Dishonour" by Goatmoon published in 2004!
Ready to ride in the land of darkness and evil? Let's do it! Le Scribe
_________________________________________________________________________
Black Metal
Introduction tout en malaise, façon film d'horreur des 70's/80's...et puis les guitares caractéristiques d'un certain black metal des 90's (Mayhem ?)...les ukrainiens de Unholyath nous gueulent dessus "je veux ta mort !" et on y croit, on mouille le caleçon...Au menu de ce second Lp des gars de Kadiivka un black metal dans la grande tradition, à la fois tyrannique et glacé, bien que le chant dévoile une âme carburant à la haine pure. Les dogmes et religions et Dieu lui-même en prennent ici pour leur grade, tant on sent qu'à l'est on ne fait pas semblant : la passion chevillée au corps, ici la colère n'est pas feinte mais bien profonde. Bonus non négligeable, le groupe sait écrire de vrais titres, qui accrochent bien l'oreille, et ne se contentent pas d'enfiler les morceaux comme d'autres les perles. On pense parfois à des grands anciens comme Mayhem, je l'ai déjà dit, mais aussi Immortal ou Gorgoroth pour cette capacité à nous captiver avec un album qui en est vraiment un, avec cette unité qui devient rare de nos jours.
Un album, donc, qui se savoure au fil des écoutes, qui permettent à chaque fois de découvrir une autre facette de ses possédés qui ont vraiment un problème avec la vierge Marie et le petit Déçu...euh...Jesus.
Beaucoup devraient écouter cette petite perle cousue main de l'underground et en prendre de la graine : c'est du vrai travail artisanal et c'est vraiment très bon !
Introduction all in unease, like a horror film of the 70's/80's... and then the guitars characteristic of a certain black metal of the 90's (Mayhem?)... the Ukrainians of Unholyath yell at us "I want your death!" and we believe in it, we wet our underwear... On the menu of this second Lp of the Kadiivka guys is a black metal in the great tradition, both tyrannical and icy, although the song reveals a fuel soul to pure hatred. Dogmas and religions and God himself take some here for their rank, so much one feels that in the east one does not pretend: the passion pegged to the body, here the anger is not feigned but very deep. Not insignificant bonus, the band knows how to write real titles, which catch the ear well, and do not just put the pieces on like others the pearls. We sometimes think of great elders like Mayhem, as I have already said, but also Immortal or Gorgoroth for this ability to captivate us with an album that is really one, with this unity that is becoming rare nowadays.
An album, therefore, that can be enjoyed as you listen to it, which allows you to discover another side of its possessed people who really have a problem with the Virgin Mary and the little Disappointed...uh...Jesus.
Many should listen to this little pearl handmade by the underground and learn from it: it's real craft work and it's really very good!
Black Metal
C'est Jasper Ruijtenbeek, Monsieur The Ritual Productions qui se cache derrière le nom de groupe Black September pour produire son Black Metal. A ce jour trois démos sont sorties en plus de ce split et l'on aimerait vraiment en entendre plus (NdS : N'est ce pas, Jasper ?)
Mais parlons plutôt de musique ! Pour ce qui est de la partie de Black September, justement, cinq titres nous sont proposés ici, commençant par une intro étonnante au piano pour se poursuivre par un Black Metal Old-School à la production bien raw et aux influences Heavy frappantes à souhait au niveau des guitares (on voit que tu aimes bien les groupes de Heavy polonais, Jasper !) pour parfois s'effacer derrière un son bien plus Black Metal 90's. La voix du sieur est rocailleuse à souhaits, comme tout un couvent de sorciers digérés par une seule gorge ! C'est dur, froid, tyrannique, sans s'embarrasser de fioritures mais tout en restant musical : c'est du putain de Black Metal, pas de la pop, vieux !
Les titres de Black September ont été enregistrés sur la période 2000-2007, ce qui peut expliquer les différences de production. Le troisième titre, "At War", est un pur délice de BM méchant comme le ténia et virulent comme un virus ebola mis en musique ! Jasper nous éclate avec des soli bien Heavy et des riffs qui, s'ils restent agressifs, n'en n'oublient pas la mélodie, jouant ça et là avec des influences Death Metal bien senties. "Cobra" quelle violence ! Je paierai cher pour entendre ce genre de titres sur un long format ! Il y a du Marduk et du Slayer dans ce genre de titres, c'est du Metal et ça fait mal !
"Lord's Beauty" joue davantage avec notre âme et notre cerveau tourmenté en démontrant une folie musicale peu commune. Les cris de Jasper sont mortels ! Pour finir en beauté Jasper nous gratifie d'une reprise de son groupe de Thrash Evol Death avec lequel il jouait sur Perpignan au début des 90's !
Passons maintenant à la partie "Ravenlord Darkstorm" du cd. Les connaisseurs auront reconnu rapidos Lord Darkstorm (de Darkstorm et Molde ), que le scribe apprécie tant ! Ravenlord Darkstorm n'est qu'une variante de Darkstorm sur une période ou le Lord devait vouloir modifier le patronyme de sa monture.
Au menu, ce Black Metal païen et épique que l'on apprécie tant chez Darkstorm, à la fois inspiré du grand Bathory mais aussi capable de belles sorties de routes assez inclassables, à l'instar du psychédélique "Tribute to Bathory" ici présent. Franchement, Darkstorm est pour moi un des plus dignes successeurs de l'oeuvre de Quorthon, peut-être même LE plus digne ! Lord Darkstorm nous dévoile ici, comme sur plusieurs albums de Darkstorm, un son unique, peu enclin aux modes, avec ce chant clair complètement dingue sur des guitares "papier de verre". Ce type a le don de faire sonner sa musique comme aucune autre. Si les morceaux présents sont pour beaucoup issus de démos, ils seront ensuite enregistrés de façon professionnelle par Darkstorm. Une oeuvre a vous procurer d'urgence !
It is Jasper Ruijtenbeek, Mr. The Ritual Productions, who hides behind the band name Black September to produce his Black Metal. To date three demos have been released in addition to this split and we would really like to hear more.
But let's talk about music! As for the Black September part, five tracks are proposed here, starting with an amazing intro on the piano and continuing with a Black Metal Old-School with a very raw production and striking Heavy influences on the guitars (we see that you like Polish Heavy bands, Jasper!) and sometimes disappearing behind a much more Black Metal 90's sound. The Sieur's voice is rocky as you wish, like a whole convent of witches digested by a single throat! It's hard, cold, tyrannical, without bothering with frills but still musical: it's fucking Black Metal, not pop, man!
Black September's shares were recorded over the 2000-2007 period, which may explain the differences in production. The third track, "At War", is a pure BM delight as bad as tapeworm and virulent as an ebola virus set to music! Jasper bursts us with Heavy solos and riffs that, if they remain aggressive, don't forget the melody, playing here and there with well felt Death Metal influences. "Cobra" what violence! I'll pay a lot to hear these kinds of songs on a long format! There's Marduk and Slayer in this kind of tracks, it's Metal and it hurts!
"Lord's Beauty" plays more with our soul and tormented brain by demonstrating an unusual musical madness. Jasper's screams are deadly! To finish in beauty Jasper gratifies us with a cover of his Thrash Evol Death band with which he played on Perpignan at the beginning of the 90's!
Let's now move on to the "Ravenlord Darkstorm" part of the cd. The connoisseurs will have recognized Lord Darkstorm (from Darkstorm and Molde), whom the scribe appreciates so much! Ravenlord Darkstorm is only a variant of Darkstorm over a period when the Lord must have wanted to change the surname of his mount.
On the menu, this pagan and epic Black Metal that we appreciate so much in Darkstorm, both inspired by the great Bathory but also capable of beautiful and unclassifiable road trips, like the psychedelic "Tribute to Bathory" here. Frankly, Darkstorm is for me one of the most worthy successors of Quorthon's work, perhaps even THE most worthy! Lord Darkstorm reveals here, as on several Darkstorm albums, a unique sound, not very fashionable, with this clear and completely crazy song on "sandpaper" guitars. This guy has a knack for making his music sound like no other. If the tracks present are mostly from demos, they will then be professionally recorded by Darkstorm. A work to be provided urgently!
***
Heavy/Black Metal épique
Ah la Pologne !

Un si beau pays de Black Metal. Là bas, quand on fout des mandales, c'est pas pour de faux, et pourtant, l'âme slave est aussi poète et mélodique. Digne héritier de Bathory, Lord Darkstorm nous gratifie ici de la version "améliorée" de plusieurs morceaux présents sur le Split avec Black September évoqué ci-dessus.
Darkstorm fait partie de ces groupes méconnus (qui mériteraient d'être bien plus connus d'ailleurs) que l'on prend tant de plaisir à retrouver, car on les sait porteurs d'une authenticité et d'une personnalité particulièrement fortes.
Après une introduction démente faite de cris d'homme et de femmes, de douleur et de mystique délirante ("The War") vient l'éponyme "The Black Stone", Black Metal de la première vague mêlé à des éléments atmosphériques et mélodiques (ces choeurs !) sur un lit bien cradingue ! Si tu aimes ton Black Metal avec des relents Heavy mais fort loin de la folie "production propre" du XXIème siècle, tu es ici le bienvenu !
"The Sun Of Black" enchaîne, sur un riff quasi-rock et un tempo plutôt lent, accueillant des claviers étranges et toujours cette voix arrachée aux ténèbres.
Comme le montre le recto et le verso ci-dessus, le mini-lp "The Black stone" est agrémenté, pour cette version cd de la démo "The Past Forgotten" et de "Night My Queen" qui est tiré d'une répétition du groupe.
Le Heavy/Black de Darkstorm lorgne parfois du côté de Burzum (ces passage lents et atmosphériques, ces cris d'orfraie) pour notre plus grand plaisir.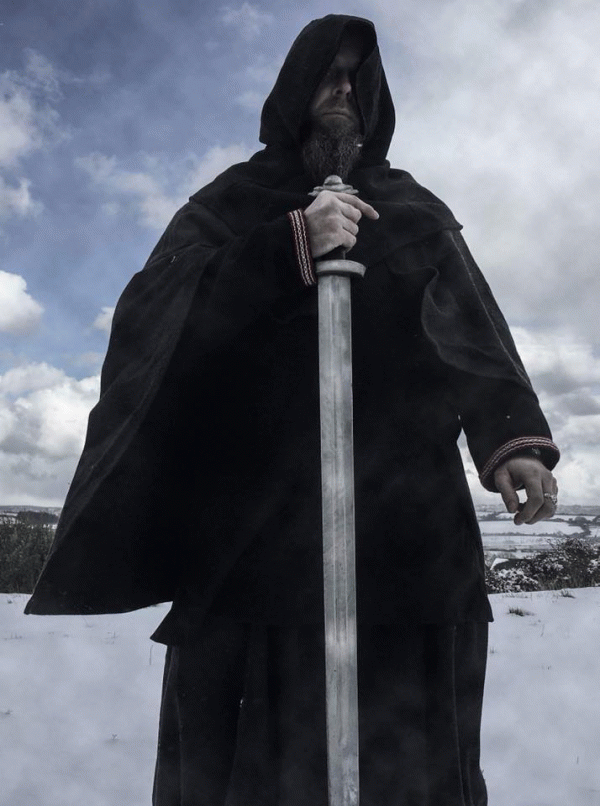 Ah Poland! Such a beautiful Black Metal country. There, when you do mandals, it's not for fakes, and yet, the Slavic soul is also a poet and melodic. A worthy heir to Bathory, Lord Darkstorm gratifies us here with the "improved" version of several songs present on the Split with Black September mentioned above.
Darkstorm is one of those little-known groups (which deserve to be much better known) that we take so much pleasure in meeting again, because we know they carry a particularly strong authenticity and personality.
After a crazy introduction made of cries of men and women, pain and delirious mysticism ("The War") comes the eponymous "The Black Stone", Black Metal from the first wave mixed with atmospheric and melodic elements (these choirs!) on a very dirty bed! If you like your Black Metal with Heavy hints but far from the "clean production" madness of the 21st century, you are welcome here!
"The Sun Of Black" continues, with an almost rock riff and a rather slow tempo, welcoming strange keyboards and always this voice torn from the darkness.
As shown on the front and back above, the mini-lp "The Black stone" is enhanced, for this cd version of the demo "The Past Forgotten" and "Night My Queen" which is based on a rehearsal of the band.
Darkstorm's Heavy/Black sometimes looks at Burzum (those slow and atmospheric passages, those screams of gold) for our greatest pleasure.
<<<<RETROUVEZ ICI MON INTERVIEW AVEC LORD DARKSTORM>>>>>>>>
Bref, si vous ne connaissez pas encore l'oeuvre de Darkstorm, il est temps de réparer ça, procurez vous leurs albums ici : https://www.discogs.com/fr/artist/277190-Darkstorm
***
Psychotic Black Metal
Il existe comme cela, dans les confins du Black Metal underground, de grands malades, fort talentueux au demeurant, qui produisent une oeuvre folle, hors des clous, sans limites et qui, lorsqu'on la découvre, vous saute à la gueule comme une évidence.
Les néerlandais de The Parents Of Oude Pekala font partie de cette catégorie bénie et "perchée" du Black Metal qui a peu de chances de devenir le nouveau Dimmu Borgir (tant mieux). Si vous lisez cette rubrique régulièrement vous aurez sans doute découvert Lanz, groupe encore plus agité du bocal, produit également par The Ritual Productions. Il se trouve que Paranoia, l'homme à tout faire (y compris du disco et du black metal) de Lanz était déjà derrière la folie musicale de The Parents of Oude Pekala, puisqu'en vérité ce projet semble au point mort.
Ainsi se retrouve t'on devant un étrange "concept groupe" basé sur une histoire : la petite ville hollandaise de Oude Pekala serait le théâtre de sacrifices d'enfants au nom de Satan. Bien sûr cela a tout du mythe urbain, mais fait un thème parfait pour un album de Black Metal. Sinon, Paranoia, comme son nom l'indique, est fou : baptisé à l'époque de cet album the blind abyss of uncreation, il alterne un chant particulièrement pervers et aigu imitant un enfant fou et une voix growlée surjouée.
Tout cela sur un fond musical Raw Black Metal a boite à rythmes bien sale et violent, flirtant ça et là avec le grind. On retrouve déjà sur cet album quelques éléments qui feront le succès du futur Lanz, ainsi ces incursions étranges de basses slappées, même si Lanz va pousser le bouchon beaucoup plus loin. Il y a du Punk chez TPOOP aussi, ces riffs simples et directs. Bref, un album pour les plus allumés d'entre vous, prêts à accueillir la folie et la créativité d'un artiste manifestement sans limites.
There are like that, in the confines of Black Metal underground, some very sick, very talented people, who produce a crazy work, without nails, without limits and who, when we discover it, jump to your face like an evidence.
The Dutch of The Parents Of Oude Pekala are part of this blessed and "perched" category of Black Metal that has little chance of becoming the new Dimmu Borgir (so much the better). If you read this section regularly you will probably have discovered Lanz, an even more agitated group of the jar, also produced by The Ritual Productions. It so happens that Paranoia, Lanz's handyman (including disco and black metal) was already behind the musical madness of The Parents of Oude Pekala, since this project actually seems to be at a standstill.
Thus we find ourselves in front of a strange "concept group" based on a story: the small Dutch town of Oude Pekala would be the scene of child sacrifices in the name of Satan. Of course it looks like an urban myth, but makes it a perfect theme for a Black Metal album. Otherwise, Paranoia, as its name suggests, is crazy: baptized at the time of this album the blind abyss of uncreation, he alternates a particularly perverse and high-pitched song imitating a crazy child with a growled voice overplayed.
All this on a musical background Raw Black Metal has a very dirty and violent drum machine, flirting here and there with the grind. We already find on this album some elements that will make the success of the future Lanz, so these strange incursions of slapped basses, even if Lanz will push the cap much further. There is also some punk at TPOOP, these simple and direct riffs. In short, an album for the most passionate of you, ready to welcome the madness and creativity of an artist who is obviously limitless.
Epic Medieval Glorious Black Metal
Dire que Goliard, groupe de Black Metal colombien, n'a pas la reconnaissance méritée serait un doux euphémisme ! Ces ressortissants de Medellin pratiquent un Black Metal de haute volée, très teinté des grands anciens des années 90, et exécuté par des musiciens particulièrement doués. Développant une atmosphère médiévale (sans instruments folk) et épique, nostalgique, cet album est une petite merveille méconnue qu'il vous faut à tout pris vous procurer pour la mettre dans votre mange-disques !
Avec quelques réminiscences du grand Emperor ou de l'Immortal le plus mélodique, ce black metal racé nous balance ces trémoli de guitares sur fond de blast beats fameux, portés par une voix hurlée et conquérante. On pense parfois à Dissection pour la maîtrise musicale et le côté très mélodique de l'ensemble.
Ces artistes déployant leur Iconoclastic Black Metal sont bel et bien des "goliards" :
HIST. (xive-xves.). Clerc étudiant pauvre, en marge de l'Église, vivant de mendicité ou d'expédients, parfois au service de condisciples riches, écrivant souvent une littérature satirique. Les Goliards (...) représentent par excellence le groupe des dévoyés, des contestataires et sont considérés comme dangereux (J.-L. Goglin, Les Misérables dans l'Occident médiév., Paris, éd. du Seuil, 1976, p. 242).
− Emploi adj. Qui est le fait des goliards. Satire goliarde (Gourmont, Esthét. lang. fr.,1899, p. 219) (source : centre national de ressources textuelles et lexicales : https://www.cnrtl.fr/definition/goliard)
Précipitez vous a la rencontre de ces vagabonds lettrés du Black Metal et procurez vous d'urgence cet album qui pourrait vous "laisser sur le cul" !
To say that Goliard, a Colombian Black Metal band, does not have the recognition he deserves would be a sweet euphemism! These Medellin nationals practice a high-flying Black Metal, very tinged with the great elders of the 90s, and performed by particularly talented musicians. Developing a medieval (without folk instruments) and epic, nostalgic, nostalgic atmosphere, this album is a little-known wonder that you have to get everything you need to put it in your record holder!
With some reminiscences of the great Emperor or the most melodic Immortal, this racy black metal throws us these tremolos of guitars on a background of famous blast beats, carried by a screaming and conquering voice. We sometimes think of Dissection for the musical mastery and the very melodic side of the ensemble.
These artists deploying their Iconoclastic Black Metal are indeed "goliards":
HIST. (xive-xves.). A poor student cleric, on the margins of the Church, living on begging or expediency, sometimes in the service of rich classmates, often writing satirical literature. The Goliards (...) represent par excellence the group of the diverted, the protesters and are considered as dangerous (J.-L. Goglin, Les Misérables dans l'Occident médiév., Paris, éd. du Seuil, 1976, p. 242).
- Adjunct employment. Which is the work of the goliards. Satire goliarde (Gourmont, Esthét. lang. fr.,1899, p. 219) (source: Centre national de ressources textuelles et lexicales : https://www.cnrtl.fr/definition/goliard)
Hurry up and meet these Black Metal literate vagrants and get yourself this album as soon as possible, which could leave you "on your ass"!
***
Black Metal meets Punk'n'Roll
Le one-man band russe Burial Mist sévit depuis 2007 sous la houlette de Coffin Spirit, également bassiste dans Unholyath (voir plus haut). Au programme, un Black Metal assez Rock dans ses structures (des morceaux mid-tempo, avec des riffs assez simples) qui peuvent rappeler certains pontes du Black'n'Roll (comme Satyricon même si la voix n'a rien a voir). Il y a du Punk chez ce russe, voire même de la Oï dans la manière de construire les titres, à la fois basiques et efficaces.
Bref, du Black Metal qui fait taper du pied avec un son bien cradingue comme il se doit, dans une ambiance mortifère, ça vous tente ? moi je vous le conseille en tous cas ! L'ensemble est trés digeste, n'oubliant jamais les mélodies indispensables (ce "Struggle" absolument fascinant, avec ces claviers qui rappellent le piano rock'n'roll des 50's). Qui a dit que Black Metal et R'n'R n'avaient pas de rapport, en tous cas, si vous cherchez le chaînon manquant, c'est par là que ça se passe !
The Russian one-man band Burial Mist has been active since 2007 under the leadership of Coffin Spirit, also bassist in Unholyath (see above). On the program, a Black Metal quite Rock in its structures (mid-tempo tracks, with quite simple riffs) that can remind some of the pundits of Black'n' Roll (like Satyricon even if the voice has nothing to do with it). There is Punk in this Russian, even Oï in the way of building the titles, both basic and effective.
In short, Black Metal that makes you kick with a very dirty sound as it should, in a deadly atmosphere, you want to do it? I advise you anyway! The ensemble is very digestible, never forgetting the essential melodies (this absolutely fascinating "Struggle", with its keyboards reminiscent of the 50's rock'n' roll piano). Who said that Black Metal and R'n'R didn't have a report, in any case, if you're looking for the missing link, that's where it happens!
***
Voila pour ce numéro deux du special THE RITUAL PRODUCTIONS ! Continuez à suivre les reviews de ce label sur le Scribe, mon petit doigt me dit que nous allons les retrouver TRÈS bientôt !
That's it for this issue two of the special THE RITUAL PRODUCTIONS! Keep following the reviews of this label on the Scribe, a little bird tells me that we will find them VERY soon!
En attendant une seule adresse pour se procurer tous les beaux disques dont nous venons de parler / While waiting : only one address to get all the beautiful records we just talked about :
_________________________________________________________________________
LES CROCS DU SCRIBE N°30 : THE REGULAR EDITION !
GOATMOON - DEATH BEFORE DISHONOUR - (WEREWOLF RECORDS 2004)
Voici donc le numéro 2 de cette nouvelle rubrique des "crocs du scribe" : la Kro Kulte, où, chaque semaine, je vais donner mon avis totalement subjectif sur un "classique" de l'extrême. Nous avions commencé la semaine dernière avec Bathory et le succulent "The Return..." et nul doute que vous retrouverez couramment ici des classiques millesimés de ce type. C'est un autre type de classique que j'ai choisi pour ce n°2 avec les très controversés et sulfureux Goatmoon.
Ce one-man band finlandais mené par Blackgoat Gravedesecretor a commencé ses activités en 2002 dans la région d'Helsinki. Après plusieurs démos qui vont asseoir sa réputation, Goatmoon va sortir ce premier album "Death Before Dishonour" en 2004. Et le moins que l'on puisse dire, c'est que, même s'il peut sembler relativement "récent", cet album est bel et bien devenu un classique du Black Metal radical.
La grande force de Goatmoon, que l'on retrouve déjà sur cet album, est de produire un Black Metal infréquentable, franchement "raw" (ce son métallique) et noir comme l'ébène mais toujours accessible. Le gars a un sens musical évident : ce qui n'est pas le cas de tout le monde.
De fait, son aura a, depuis la sortie de cet album, largement dépassé le cadre restreint du cercle NSBM ou Black Radical. Aujourd'hui Goatmoon, pour ses albums comme pour sa réputation de très bon groupe de scène, touche un public Black Metal au sens large, la qualité finit toujours par payer.
Goatmoon dégage une haine qui n'a rien de feint, et les morceaux de cet album, trés punk par moments, sont autant de coups de poing à la figure.
Par la suite, le groupe produira des albums toujours de qualité mais en variant davantage la musique : ce qui fait que ce premier reste unique et qu'il est, selon moi, un chef d'oeuvre, c'est sa pureté radicale, son côté droit au but qui n'empêche nullement la mélodie, scandinave en diable. A l'instar du premier Burzum, il s'agit d'un diamant brut d'un loup solitaire, extrême parmi les extrêmes, sans toutefois tomber dans le piège de tellement se focaliser sur son message qu'il en oublierait la musique : comme notre Peste Noire nationale, on sait que pour Goatmoon la musique est chose sacrée. Pour nous aussi. Ça tombe bien. Goatmoon c'est un hiver mis en musique, une balade la nuit dans les forêts glacées scandinaves chaussé de rangers de rigueur. C'est la froideur du Black Metal, cumulée à la haine, l'agression pure, avec la subtilité musicale comme garde fou. Quelques titres sont franchement telluriques ("blackgoatworship") et saturés à mort, rendant l'ensemble particulièrement violent, mais, dès ce premier album, le finlandais savait jouer avec nos nerfs et nous balancer aussi bien les glaviots les plus vicieux que les mélodies les plus ensorceleuses. Un classique, of course.
So here is number 2 of this new section of the "scribe's fangs": the Kro Kulte, where, every week, I will give my totally subjective opinion on a "classic" of the extreme. We started last week with Bathory and the succulent "The Return..." and there is no doubt that you will find some of these classic vintage classics here. It's another type of classic I chose for this n°2 with the very controversial and sulphurous Goatmoon.
This Finnish one-man band led by Blackgoat Gravedesecretor started its activities in 2002 in the Helsinki region. After several demos that will establish his reputation, Goatmoon will release this first album "Death Before Dishonour" in 2004. And the least we can say is that, even if it may seem relatively "recent", this album has indeed become a classic of radical Black Metal.
The great strength of Goatmoon, which is already present on this album, is to produce an infrequent Black Metal, frankly "raw" (this metallic sound) and black like ebony but always accessible. The guy has an obvious musical sense: which is not the case for everyone.
In fact, since the release of this album, his aura has greatly exceeded the limited scope of the NSBM or Black Radical circle. Today Goatmoon, for its albums as well as for its reputation as a very good live band, reaches a Black Metal audience in the broadest sense, quality always pays off.
Goatmoon emanates a hatred that is not feigned, and the tracks on this album, very punk at times, are punches to the face.
Later on, the band will produce albums that are always of high quality but with a greater variety of music: what makes this first one unique and what makes it, in my opinion, a masterpiece is its radical purity, its straight to the point side that does not prevent the melody, Scandinavian in any way. Like the first Burzum, it is a rough diamond of a lone wolf, extreme among extremes, without falling into the trap of focusing so much on its message that it would forget the music: like our National Black Death, we know that for Goatmoon music is sacred. For us too. That's a good thing. Goatmoon is a winter set to music, a night stroll in the icy Scandinavian forests wearing strict rangers. It is the coldness of Black Metal, combined with hatred, pure aggression, with musical subtlety as a guard. Some tracks are frankly telluric ("blackgoatworship") and saturated to death, making the whole thing particularly violent, but, from this first album, the Finnish knew how to play with our nerves and throw us both the most vicious glaviots and the most spell-binding melodies. A classic, of course !
Atmospheric Medieval Avant-Garde Black Metal
Dans ce numéro 30 la sélection de groupes (hasard ou non ?) fait franchement dans l'expérimental et l'avant-gardiste. Et si on voyait ça autrement ? SI on se disait que depuis TOUJOURS le Black Metal a vocation a ne pas "s'autoreproduire" et que les (bons) groupes ne cherchent pas à copier ce que fait le voisin, mais bien à exprimer leur vision, leur spiritualité, la musique sombre qui les habite ?
Vu sous cet angle, ce 4ème album des Clermontois de Ars Moriendi a toutes les qualités requises : distillant un Black Metal franchement original, de ceux pour qui les références ne sautent pas aux oreilles, le groupe réussit tout de même un véritable petit exploit : sonner avant-gardiste en s'ancrant dans le passé ! Pleinement placé dans un décorum médiéval, le Dark Metal du groupe (dixit leur bandcamp) ne se prive de rien : mélodies ravageuses, accélérations brutales façon coup de bêlier, claviers atmosphériques soignés, morceaux à tiroirs progressifs et profondément narratifs. Bref, de quoi sustenter l'appétit musical de tout métalleux aimant les chansons fleuves, les sagas.
L'expérience paie, et les bientôt 20 ans au compteur du groupe s'entendent sans difficultés : les guitares heavy (avec duels épiques de soli inclus), les changements de tempo, la variété des voix, tout est d'une grande richesse sans jamais tomber dans le piège du disparate. Et lorsque l'on sait que tout cela est l'oeuvre d'une seule âme ! (le sieur Arsonist) On en tombe des nues. Tu aimes le Black Metal et le Metal tout court ? Le moyen-âge ? les aventures ? la bonne musique ? FONCE !
In this issue 30 the selection of groups (random or not?) is frankly experimental and avant-garde. What if we see it differently? What if we said to ourselves that since ALWAYS Black Metal is not meant to "self-produce" and that (good) bands don't try to copy what their neighbour does, but rather to express their vision, their spirituality, the dark music that inhabits them?
Seen from this angle, this 4th album of Ars Moriendi's Les Clermontois has all the required qualities: distilling a frankly original Black Metal, of those for whom references do not jump to their ears, the band still manages a real little feat: sounding avant-garde by anchoring itself in the past! Fully placed in a medieval decorum, the band's Dark Metal (dixit their bandcamp) does not deprive itself of anything: devastating melodies, sudden accelerations like a ram, neat atmospheric keyboards, progressive and deeply narrative pieces with drawers. In short, enough to satisfy the musical appetite of any metalhead who loves narrative progressive tracks and sagas.
Experience pays off, and the group's nearly 20 years of experience get along without difficulty: heavy guitars (with epic solo duels included), tempo changes, variety of voices, everything is of great richness without ever falling into the trap of the disparate. And when you know that all this is the work of one soul! (Mr. Arsonist) It's a great experience. Do you like Black Metal and Metal at all? The Middle Ages ? Adventures ? Good music? GO !
Experimental Black Metal
Il y a les bons groupes, il y a les mauvais, il y a de très bons groupes, ou même excellents, il y a des génies. Il y a des groupes qui assurent dans un genre déjà balisé, et puis il y a les groupes comme Wolok.
Ces ressortissants du grand-est français, sans doute influencés par l'industrie sidérurgique de leur région, produise un étrange animal. Oh bien sûr, dès le premier morceau de ce 3ème album du groupe ("Stolid") on reconnait bien des éléments Black Metal : le chant bien sûr, et une ambiance noire de suie mais il y a aussi du Post-Punk là dedans : une noirceur qui aurait pu convenir à un certain Ian Curtis ou au Robert Smith de l'époque "Faith". Noir, perturbant, avec des relents industriels : tel est le monde de Wolok, qui, sans lui ressembler ni l'imiter, nous rappelle un autre groupes de BM lorgnant vers ces atmosphères de temps à autres : Blut Aus Nord. L'univers de Wolok est glauque à l'extrême, sombre à en perdre la vie : avec ces lignes de basses en avant très cold-wave. Le groupe ne cherche pas la performance, la vitesse ou la brutalité : les mid-tempo leur conviennent fort bien, et les morceaux longs leur permettent de développer leur propos à l'envie.
L'ambiance psychiatrique qui se dégage de cet album n'est pas conseillée aux âmes sensibles mais pourrait bien attirer quelques fans d'industriel aussi, aussi bien l'industriel de la première heure (Throbbing Gristle ou Einzturtende Neubauten) que le Metal-Indus de Ministry ou Godsend.
Le mot est lâché : Wolok font dans l'experimental, l'avant-garde. Une musique assez difficile d'approche même si, ici, l'heureuse présence de belles mélodies de guitares nous captent dès la première écoute en donnant par moments un côté rock à l'ensemble.
Parfois, nos fous amis se lâchent dans quelque chose de beaucoup plus marécageux et lourd ("Neural Misfire") et évoquent un Doom Apocalyptique ou un Sludge du 23ème siècle. Un album cauchemardesque, mais de ces cauchemars auxquels on a envie de revenir le plus souvent possible, et en espérant qu'ils auront une suite. Une grande oeuvre.
There are good bands, there are bad ones, there are very good bands, or even excellent ones, there are geniuses. There are bands that perform in a genre already marked out, and then there are bands like Wolok.
These nationals from the Far East of France, undoubtedly influenced by the steel industry in their region, produce a strange animal. Oh of course, from the first track of this 3rd album of the band ("Stolid") we recognize many Black Metal elements: the vocals of course, and a black sooty atmosphere but there is also Post-Punk in there: a darkness that could have suited a certain Ian Curtis or Robert Smith of the "Faith" era. Black, disturbing, with industrial hints: this is Wolok's world, which, without resembling him or imitating him, reminds us of another BM group looking at these atmospheres from time to time: Blut Aus Nord. Wolok's universe is extremely gloomy, dark to lose his life: with these bass lines in front very cold-wave. The band doesn't seek performance, speed or brutality: mid-tempo suits them very well, and long songs allow them to develop their subject at will.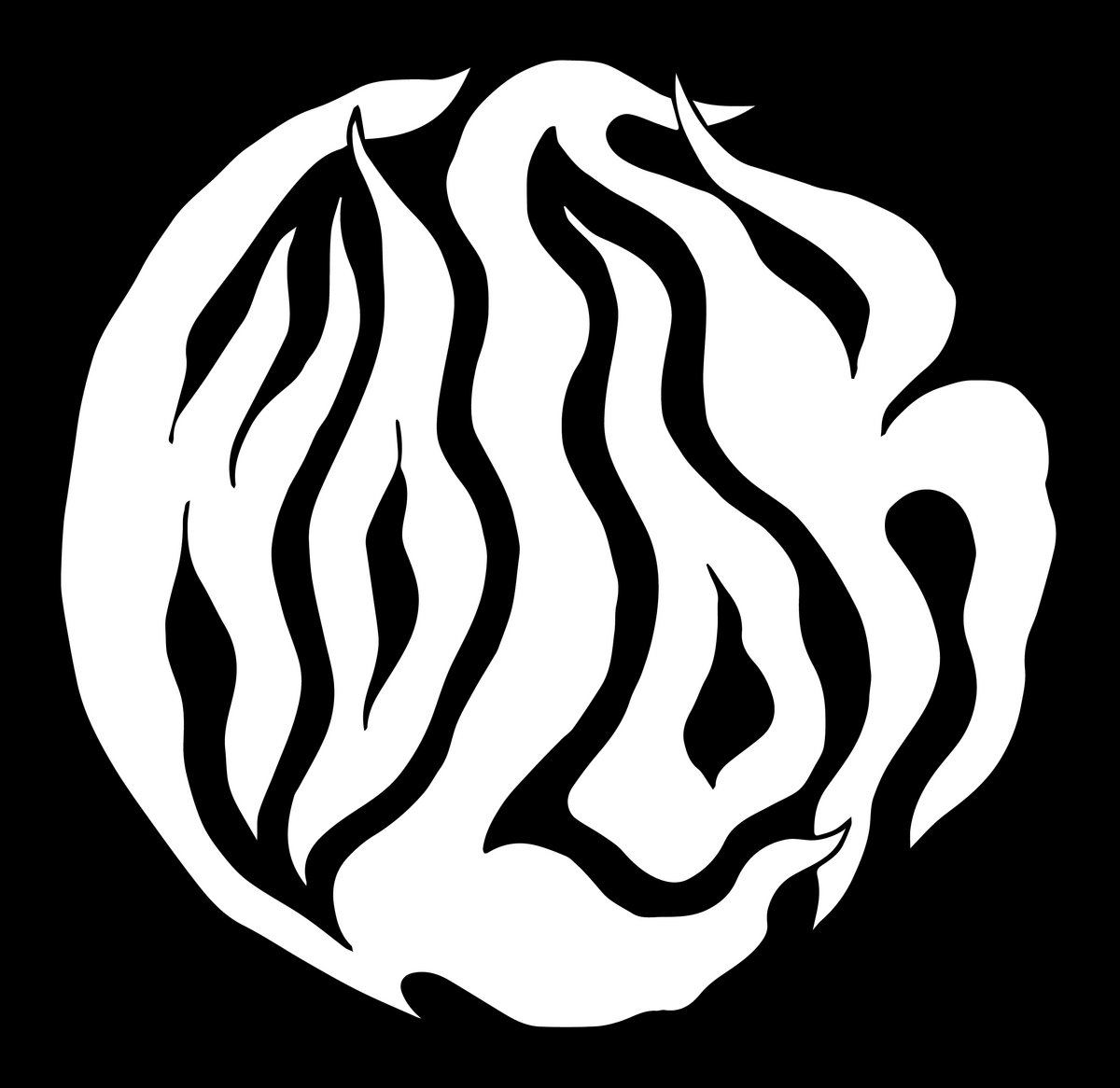 The psychiatric atmosphere that emerges from this album is not recommended for sensitive souls but could well attract some industrial fans as well, both the early industrialist (Throbbing Gristle or Einzturtende Neubauten) and the Metal-Indus from Ministry or Godsend.
The word is out: Wolok do experimental, avant-garde work. A rather difficult music to approach even if, here, the happy presence of beautiful guitar melodies capture us from the first listening by giving at times a rock side to the ensemble.
Sometimes, our crazy friends let loose in something much more swampy and heavy ("Neural Misfire") and evoke an Apocalyptic Doom or a Sludge from the 23rd century. A nightmare album, but one of those nightmares that we want to come back to as often as possible, and in the hope that they will have a sequel. A great work of art.
***
Experimental Tortured Black Metal
Anorexia Obscura, quatrième album du groupe italien Tenebrae In Perpetuum en bientôt vingt ans d'existence, marque un tournant dans la production de ces derniers. Si l'on avait déjà décelé chez eux un goût pour la perversité et le Black Metal malsain, ces éléments sont ici portés à incandescence, avec une volonté expérimentale avérée. Ce disque culotté met en scène le chant psychiatrique d'Atatrus, âme damnée de TIP. Dès la découverte du premier titre "dissonanze mentali" le décor est posé : nous sommes dans un hôpital psychiatrique sans doute situé en enfer, et le mélange sur ce titre d'un Black Metal "classique" avec des claviers electro très modernes et le chant particulièrement torturé et effrayant d'Atatrus font mouche. L'usage de l'italien ajoute un plus à la théâtralité psychotique du groupe (comme sur le titre atmosphérique "Anorexia Osbcura" qui semble nous plonger dans la tête malade du leader). Ce black metal obscur et mystique est réellement envoûtant et la production (claire sans être hollywoodienne non plus) renforce l'atmosphère. Le côté méphitique et satanique du groupe est bien réel, et nous sommes ici en présence de bêtes venues pour l'apocalypse, au service de Lucifer, bien évidemment.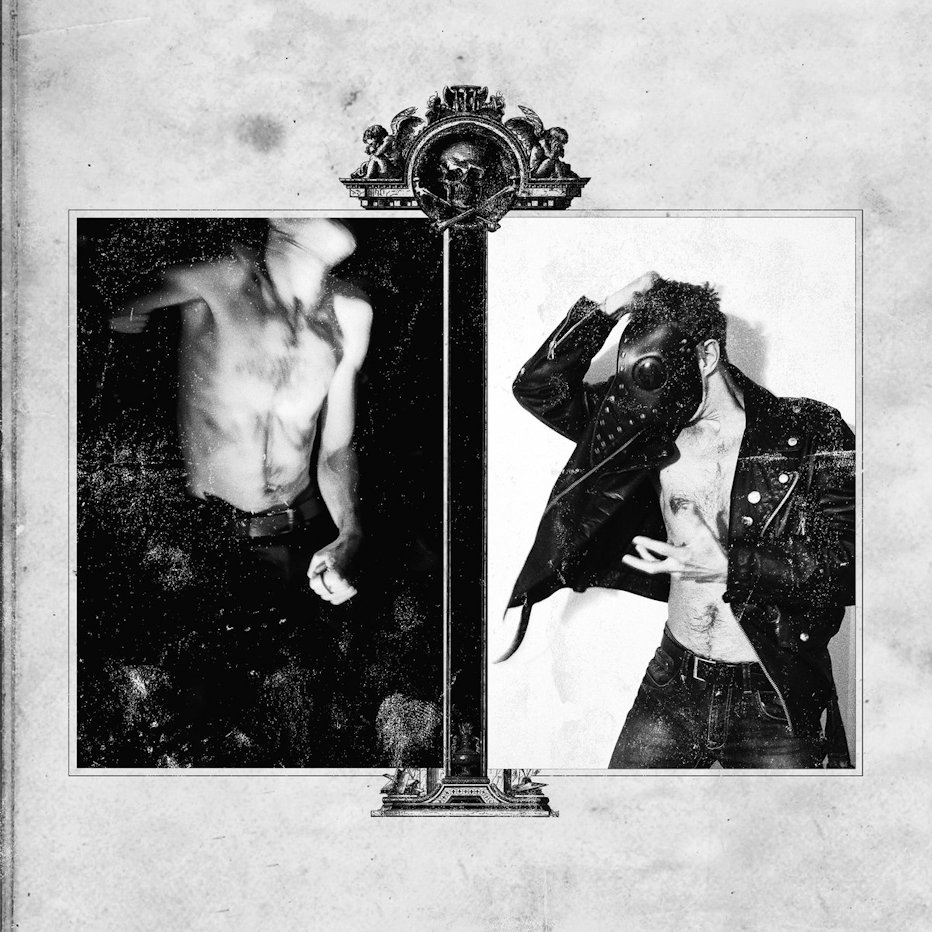 Debemur Morti nous ont, de longue date, habitués à produire de la qualité, mais aussi à choisir des groupes qui sortent du lot, qui savent éviter les influences trop évidentes et les comparaisons éculées.
Un des points importants de cet album est l'utilisation des claviers et de l'électronique, loin des bontempi du BM sympho de supérette, le travail de mappage sonore du groupe portant ici réellement ses fruits.
Pour en savoir plus sur ces italiens fous et talentueux, je vous propose de vous reporter à l'interview toute récente que j'ai faite avec eux :
👇👇👇👇👇👇
☝☝☝☝☝☝☝
Si vous aimez le Black Metal, le vrai, celui qui fait froid dans le dos et met mal à l'aise, mais que vous n'avez rien contre un peu d'aventure musicale vous pouvez vous ruer les yeux fermés et les oreilles ouvertes sur cet album splendide :
Anorexia Obscura, the fourth album of the Italian group Tenebrae In Perpetuum in its nearly twenty-year history, marks a turning point in the production of the latter. If we had already detected in them a taste for perversity and unhealthy Black Metal, these elements are here brought to incandescence, with a proven experimental will. This cheeky album features the psychiatric song of Atatrus, TIP's damned soul. As soon as the first track "dissonanze mentali" was discovered, the scene was set: we were in a psychiatric hospital, probably located in hell, and the mixture of a "classic" Black Metal on this track with very modern electro keyboards and Atatrus' particularly tortured and frightening singing hit the mark. The use of Italian adds a plus to the group's psychotic theatricality (as on the atmospheric title "Anorexia Osbcura" which seems to plunge us into the leader's sick head). This dark and mystical black metal is really captivating and the production (clear without being Hollywood either) reinforces the atmosphere. The mephitic and satanic side of the group is very real, and we are here in the presence of beasts who came for the apocalypse, in the service of Lucifer, of course.
Debemur Morti have long been accustomed to producing quality, but also to choosing groups that stand out from the crowd, that know how to avoid obvious influences and outdated comparisons.
One of the important points of this album is the use of keyboards and electronics, far from the bontempi of the BM sympho de mini-market, the sound mapping work of the band really bearing fruit here.
To learn more about these crazy and talented Italians, I suggest you refer to the most recent interview I did with them:
👇👇👇👇👇👇👇👇
👆👆👆👆👆👆👆👆👆
***
Voila, les crocs du scribe numéro 30 c'est fini ! on se retrouve la semaine prochaine avec un nouveau numéro spécial : cette fois je vous présente les productions du label Maltkross. Au sommaire : du True Black, du Old School, du Punk, de l'indus, bref, de l'underground ! Et puis, comme toujours, des surprises ! Allez, bisous ! Le Scribe/Here we are, the fangs of the scribe number 30 are over! We meet again next week with a new special issue: this time I present you the productions of the Maltkross label. In summary: True Black, Old School, Punk, indus, in short, underground! And then, as always, surprises! Come on, kisses ! The Scribe

Le Site de Maltkross/Maltkross label website : : https://maltkross.wordpress.com