[ENG/FR BLACK METAL REVIEWS] LES CROCS DU SCRIBE N°29 : BATHORY/DEATHSPELL OMEGA/HECATE/LES CHRYSANTHEMES DES ADIEUX/INSANITY CULT/MIDNIGHT ODYSEY/AFRAID OF DESTINY/ERIDANUS VOID
Bienvenue dans ce chapitre 29 des Crocs Du Scribe. En vérité j'ai déjà dépassé les trente chapitres en comptant les hors-séries. Aujourd'hui nous allons encore faire le plein de Black Metal, qu'il s'agisse de nouveautés ou pas. Après tout le temps n'existe pas en ce qui concerne le Black Metal. Vous retrouverez ici ma chronique du dernier Deathspell Omega, mais aussi du moins connu comme Hécate ou Insanity Cult, mais également Hermith et son superbe Dark Ambient/Dungeon Synth noir de suie, le black metal cosmique et spatial d'Eridanus Void et Midnight Odyssey, ou encore le DSBM extrême de Les Chrysanthèmes des Adieux. En bonus, une nouvelle rubrique, la kro culte, qui permettra chaque semaine de faire le point sur un chef d'oeuvre. A tout seigneur tout honneur, je commence avec le plus grand de tous : Bathory !
Le Scribe
Welcome to chapter 29 of the Scribe's Crocs du Scribe (reviews). In truth, I have already gone beyond the thirty chapters by counting the special issues. Today we will still be refuelling with Black Metal, whether it's new or not. After all, there is no such thing as Black Metal. You will find here my chronicle of the last Deathspell Omega, but also at least known as Hecate or Insanity Cult, but also Hermith and its superb Dark Ambient/Dungeon Synth black soot, the cosmic and spatial black metal of Eridanus Void and Midnight Odyssey, or the extreme DSBM of Les Chrysanthèmes des Adieux. As a bonus, a new section, the cult kro, which will allow you to review a masterpiece every week. To all lord and lord and honour, I begin with the greatest of all: Bathory!
The Return....(1985, Black Mark Productions)
Le Style : Ceci est du Black Metal
Éternel...indépassable...pionnier...unique...les adjectifs ne manquent pas lorsqu'il s'agit d'évoquer la légende du Black Metal Bathory : peut-être le groupe de Black Metal le plus important de tous les temps, celui dont on emmènerait l'oeuvre sur une ile déserte...
J'ai choisi The Return... pour inaugurer cette nouvelle rubrique "La Kro Kulte" pour plusieurs raisons. Bien sûr, le premier album éponyme ou le Under The Sign Of The Black Mark auraient tout aussi bien pu faire l'affaire pour la partie Black de sa carrière, tout comme Hammerheart ou Twilight Of The Gods (ou encore Blood, Fire, Death) auraient parfaitement convenu pour illustrer le virage "Viking" de Quorthon.
Alors pourquoi The Return... ? Pour une raison subjective et une autre...qui l'est tout autant !
La première raison tient de la madeleine de Proust. Cet album est le premier album de Black Metal que j'ai acheté de ma vie ! J'avais 14 ans, nous étions en 1986, et je l'ai trouvé perdu dans un bac à disques à Avignon entre deux disques de la NWOBHM (Maiden et Def Leppard je crois). J'ai tout de suite été sidéré, fasciné par cette pochette représentant une lune rousse qui m'a envoûté. Et ce logo gothique, qui m'a renvoyé aux films d'épouvante (Dracula ou Frankenstein) que je regardais au Ciné-Club ou au Cinéma de Minuit à la télé. Il faut réaliser que j'achète cet album (en vinyle) alors que je viens de me mettre au Metal depuis peu. Je connaissais Maiden, Ac/dc ou Trust depuis longtemps, mais j'avais commencé mon dépucelage musical par le Punk (Sex Pistols, Clash, Exploited, GBH) et la cold-wave/punk gothique (The Cure, Joy Division, Sisters Of Mercy, The Mission, Christian Death, Dead Can Dance, Virgin Prunes). Le Metal était pour moi une musique de machos un peu débiles qui se nourrissaient de bière (alors que j'avais de grandes prétentions intellectuelles en lisant les grands auteurs et en écrivant de la poésie façon poète maudit). J'aimais Trust, que j'assimilais au Punk, et Ac/dc qui pour moi ont toujours été un groupe de Rock, comme Motörhead d'ailleurs, que j'appréciais déjà...Et puis le déclic se fait sur "somewhere in time" que mon beau-père hardos avait acheté. Je ne connaissais que les deux premiers Maiden, et j'ai flashé sur celui-là (pour adorer les deux premiers par la suite). Puis ce fut l'heureuse descente aux enfers de l'ado métalleux acneïque des années 80 : Metallica, Megadeth, Anthrax, Slayer (qui m'ont traumatisé a la sortie de "Reign in Blood") puis S.O.D, Celtic Frost, Venom (on se rapproche). Mes potes thrashers détestaient Venom et le Frost qu'ils assimilaient à du bruit...du coup je vous dis pas la tête qu'ils ont fait quand je leur ai fait écouter Bathory !
Je me souviens encore parfaitement de la première fois que je pose ce vinyle sur ma platine à deux sous : l'intro lugubre et ces hurlements de douleur ("Revelation Of Doom") qui me fait penser à celle de Celtic Frost sur Morbid Tales. Puis vient "Total Destruction" : la claque ! Je n'ai jamais entendu un truc aussi méchant et haineux, même si Slayer sont beaucoup plus rapides et violents. Ça me rappelle aussi des trucs extrêmes des Virgin Prunes (l'album A New Form Of Beauty et surtout le titre démoniaque "7 Bastards Suck" qui m'a provoqué des nuits blanches !). Le mot Black Metal n'existe pas dans mon vocabulaire : je connais le Thrash, le Speed, le Punk Hardcore (pas encore le Grindcore que je vais découvrir en 88) mais je me dis que je suis en train d'entendre un truc nouveau : j'adorais déjà le Frost et Venom pour le côté satanique mais là...Quorthon pousse le bouchon beaucoup plus loin...Tout cet album est une ode immonde au grand bouc ! "Born For Burning" déboule : effrayant et excitant à la fois ! Ce chant monstrueux, digne d'une sorcière surnaturelle ou d'un démon échappé des enfers : même Tom Warrior, Cronos ou Tom Araya ont l'air gentils à côté..."The Wind Of Mayhem", "Sadist (Tormentor)", "The Return of Darkness And Evil"...je suis aussi séduit par le côté Punk Hardcore de la musique (même si le batteur ne tient pas le rythme).
Cet album ne va plus quitter ma platine jusqu'à ce qu'il soit rayé, usé jusqu'à la corde...Je découvrirais Under The Sign... en 87 et je l'adorerais aussi...Bathory va alors devenir pour moi le plus grand groupe de Metal du monde, tout simplement. Le plus grand groupe du monde même, malgré mon amour des Beatles, Queen, ou Pink Floyd. Bathory a changé ma vie à tout jamais et seul Burzum me frappera (presque) aussi fort par la suite. Mayhem et Darkthrone ne seront pas loin MAIS il n'y a eu et il n'y aura qu'un seul Bathory. Ce choc initial ne se produira malheureusement plus jamais...avec l'âge adulte l'innocence s'en va, et c'en est fini de cet émerveillement qui appartient encore un peu à l'enfance...
Style: This is Black Metal
Eternal...unbeatable...pioneer...unique...there is no shortage of adjectives when it comes to evoking the legend of Black Metal Bathory: perhaps the most important Black Metal band of all time, the one whose works we would take to a deserted island...
I chose The Return... to inaugurate this new section "La Kro Kulte" for several reasons. Of course, the eponymous debut album or Under The Sign Of The Black Mark could have done just as well for the Black part of his career, just as Hammerheart or Twilight Of The Gods (or Blood, Fire, Death) would have been perfect to illustrate Quorthon's "Viking" turn.
So why The Return.... ? For one subjective reason and another... which is just as much so!
The first reason is Proust's Madeleine. This album is the first Black Metal album I ever bought in my life! I was 14 years old, it was 1986, and I found it lost in a disc tray in Avignon between two NWOBHM records (Maiden and Def Leppard I think). I was immediately amazed, fascinated by this cover representing a red moon that bewitched me. And this gothic logo, which reminded me of the horror movies (Dracula or Frankenstein) I watched at the Ciné-Club or the Cinéma de Minuit on TV. You have to realize that I'm buying this album (on vinyl) when I've only recently started working in Metal. I had known Maiden, Ac/dc or Trust for a long time, but I had started my musical debut with Punk (Sex Pistols, Clash, Exploited, GBH) and Gothic cold-wave/punk (The Cure, Joy Division, Sisters Of Mercy, The Mission, Christian Death, Dead Can Dance, Virgin Plunes). Metal was for me a music of machos who were a bit stupid and fed on beer (whereas I had great intellectual pretensions by reading the great authors and writing poetry in the manner of a cursed poet). I liked Trust, which I assimilated to Punk, and Ac/dc which for me have always been a Rock band, like Motörhead, which I already appreciated... And then the click is on "somewhere in time" that my hardos stepfather had bought. I only knew the first two Maiden, and I flashed on this one (to love the first two afterwards). Then it was the happy descent into hell of the acneic teenage metalhead of the 80s: Metallica, Megadeth, Anthrax, Slayer (who traumatized me at the release of "Reign in Blood") then S.O.D, Celtic Frost, Venom (we get closer). My thrasher buddies hated Venom and the Frost which they likened to noise... so I'm not telling you the look on their faces when I played Bathory to them!
I still remember perfectly the first time I put this vinyl on my two-cent turntable: the gloomy intro and the screams of pain ("Revelation Of Doom") that remind me of Celtic Frost's on Morbid Tales. Then comes "Total Destruction": the slap! I've never heard anything so mean and hateful, even though Slayer are much faster and more violent. It also reminds me of the extreme stuff of Virgin Plums (the album A New Form Of Beauty and especially the demonic title "7 Bastards Suck" which caused me to sleepless nights!). The word Black Metal doesn't exist in my vocabulary: I know Thrash, Speed, Punk Hardcore (not yet the Grindcore that I will discover in 88) but I tell myself that I'm hearing something new: I already loved Frost and Venom for the satanic side but here... Quorthon pushes the envelope much further... All this album is a filthy ode to the big goat! "Born For Burning" is coming out: scary and exciting at the same time! This monstrous song, worthy of a supernatural witch or a demon escaped from the underworld: even Tom Warrior, Cronos or Tom Araya seem nice next door... "The Wind Of Mayhem", "Sadist (Tormentor)", "The Return of Darkness And Evil"... I am also seduced by the Punk Hardcore side of the music (even if the drummer doesn't keep up the beat).
This album won't leave my turntable until it's scratched, worn to the core... I'd discover Under The SIgn... in 87 and I'd love it too... Bathory will then become for me the greatest Metal band in the world, quite simply. The biggest band in the world itself, despite my love of the Beatles, Queen, or Pink Floyd. Bathory changed my life forever and only Burzum would hit me (almost) as hard afterwards. Mayhem and Darkthrone will not be far away BUT there has been and there will be only one Bathory. Unfortunately, this initial shock will never happen again....with adulthood innocence goes away, and it is over with this wonder that still belongs a little to childhood...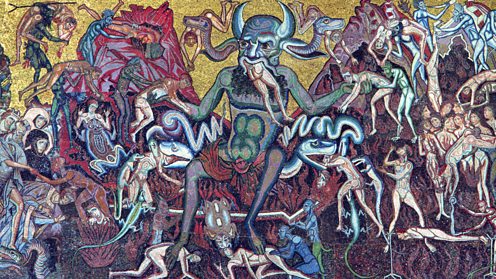 ***
Le Style : Cosmic/Space Black Metal
Dans les profondeurs infinies de l'univers, rien de bon ne vous attend. Entre les trous noirs supermassifs, les étoiles explosant et toutes sortes de dangers inconnus surgissant des ténèbres, vous ne voudrez pas vous aventurer dans ces territoires glacés sans vouloir perdre la vie.
Eridanus Void, groupe venu d'abord d'Italie avant de rejoindre les confins de l'espace, fait partie de cette sous-branche mal connue du Black Metal que l'on peut qualifier de "Cosmic Black Metal" ou "Space Black Metal" : à savoir un BM portant davantage sur des thématiques liées au cosmos et/ou à la SF et qui, musicalement, hybride des parties ambient, synthétiques, parfois quasi-krautrock sur une base BM. Tangerine Dream qui fait des bébés avec Darkthrone ? Oui, on n'est pas loin. Le genre a été initié par l'entité suisse Darkspace, qui, avec trois albums intitulés I, II et III, a créé un univers BM basé sur les signaux sonores venus de l'espace. On trouve aussi dans le genre les excellents Midnight Odyssey (dont je parle ici un peu plus loin, bande de veinards !) ou encore Tomhet, Alrakis...
A l'arrivée un Black Metal très atmosphérique qui, dans certains cas, fait passer les nappes de claviers cosmiques devant les guitares...
Eridanus Void appartient bien à cette catégorie...
Egemonia est le premier album des transalpins, et le moins que l'on puisse dire est que le duo nous met tout de suite dans l'ambiance, avec des nappes de synthétiseurs dignes de Jean Michel Jarre, pour nous donner cette sensation de voyage spatial. Au début de l'album on se dit même que l'on va avoir affaire avec une créature pacifique, avant que n'interviennent une voix croassante, un blast beat à train d'enfer et un "mix" de synthés et de guitares étroitement mêlés. Le mélange est saisissant et parfaitement crédible, malgré une production parfois un peu faible (les guitares sont noyées dans le mix et la batterie programmée gagnerait sans doute à être remplacée par un cogneur de fûts) mais l'ensemble donne un Black Metal atmosphérique du meilleur acabit. Le silence de mort vertigineux de l'espace infini nous est alors dévoilé...Vous aimez les voyages dans des horizons sans fin ? Ne pas savoir quelle destination vous allez atteindre à l'issue de votre écoute ? Alors précipitez vous sur Eridanus Void !
In the infinite depths of the universe, nothing good awaits you. Between the supermassive black holes, exploding stars and all kinds of unknown dangers emerging from the darkness, you won't want to venture into these icy territories without losing your life.
Eridanus Void, a group that first came from Italy before reaching the far reaches of space, is part of this little-known sub-sector of Black Metal, which can be described as "Cosmic Black Metal" or "Space Black Metal": a WB that focuses more on themes related to the cosmos and/or SF and which, musically, hybridises the ambient, synthetic and sometimes quasi-krautrock parts on a WB basis. Tangerine Dream who makes babies with Darkthrone? Yes, we're not far away. The genre was initiated by the Swiss entity Darkspace, which, with three albums entitled I, II and III, created a BM universe based on sound signals from space. We also find in the genre the excellent Midnight Odyssey (about which I speak here a little further on, you lucky bastards!) or Tomhet, Alrakis....
At the arrival a very atmospheric Black Metal which, in some cases, makes the layers of cosmic keyboards pass in front of the guitars...
Eridanus Void belongs to this category....
Egemonia is the first album of the transalpine musicians, and the least we can say is that the duo immediately puts us in the mood, with layers of synthesizers worthy of Jean Michel Jarre, to give us this feeling of space travel. At the beginning of the album, we even think that we're going to deal with a peaceful creature, before a croaking voice, a blast beat and a mix of synths and guitars that are closely intertwined. The mix is striking and perfectly credible, despite a sometimes low production (the guitars are drowned in the mix and the programmed drums would probably benefit from being replaced by a drum hitter) but the whole gives an atmospheric Black Metal of the best kind. The dizzying deathly silence of infinite space is then revealed to us...
Do you like travelling in endless horizons? Not knowing what destination you will reach after listening? Then rush to Eridanus Void!
Le Style : Depressive Suicidal Black Metal
Nous restons encore en Italie, si vous le voulez bien ? Plus particulièrement du côté de Trieste ou nait la tristesse (jeu de mot vilain). En tous cas, en ce qui concerne Afraid Of Destiny, ex-One Man Band d'Adimere (ex-Follia Suicida entre autres) devenu groupe au complet cette année, ce n'est plus dans le registre cosmique et planant d'Eridanus Void que nous voyageons, mais bien davantage dans les méandres mélancoliques de l'âme humaine. Depuis 2012 Afraid Of Destiny distille son mal de vivre sur un fond de Black Metal très mélodique, ne boudant pas les mid-tempos ni les solos de guitare Heavy en diable. D'ailleurs, sans doute que les plus sanguinaires et amateurs de boucherie musicale parmi vous n'adhéreront que modérément à ce BM qui parfois se mue en Metal Gothique avec des accents Doom 90's qui n'auraient pas dépareillé chez Anathema ou Paradise Lost. L'Italie et la mélodie c'est une vieille histoire et ce n'est pas Afraid Of Destiny qui va nous faire changer d'avis. Leur venin, bien réel, est donc distillé avec subtilité, charmeur de serpents musical prêt à séduire sa proie pour mieux la saisir au bon moment. Cela peut parfois nous faire penser à certains passages de Shining, sans qu'aucune fois on ne pense à une copie. Un titre comme "Shells" est littéralement envoûtant, et va s'incruster de manière définitive dans votre crâne.
Ce groupe, que je connaissais pas, à conquis mon âme mélomane avec des titres intenses, passionnés, romantiques au sens originel du mot. Les musiciens jouent fort bien, la production est tout à fait adéquate et Afraid Of Destiny méritent de sortir très vite de l'indifférence polie dans laquelle on les cantonne.
On retrouve ici parfaitement représentée toute l'angoisse contemporaine, et ce sentiment profond qui parfois nous lacère : "a quoi bon continuer de vivre ?". La pochette est splendide, le digipack aussi, il n'y a aucune hésitation à avoir, il faut foncer se procurer cette belle galette de mélancolie beaucoup plus dangereuse qu'elle puisse sembler...
Le Style : Ambient Cosmic Black Metal Hollywoodien
Avec le one-man band Australien Midnight Odyssey nous arrivons sur la terre (ou plutôt l'espace) de tous les superlatifs. Un disque monstre, composé de deux cds, huit titres pour deux heures et vingt minutes de musique ! Un Space Opera Black Metal, ni plus ni moins ! Si vous avez déjà été mis en bouche par Eridanus Void, continuez donc votre voyage intergalactique par ici, avec une formation qui est devenue une référence incontournable du "cosmic black metal". Loin du minimalisme façon "S.E.T.I" de Darkspace, la formation de Dis Pater fait davantage dans le maximalisme, avec des titres de plus de vingt minutes, mêlant longues plages ambiantes et synthétiques (dopées par un chant clair des plus réussis) pour, petit à petit, laisser s'installer quelques guitares saturées pour ensuite sonner fort proche d'une bande originale de film de science fiction. L'australien nous fait planer au sens littéral et figuré et nous embarque dans sa folle aventure sans que jamais un seul instant aucune fatigue ni lassitude ne s'installe malgré l'ambition démente du projet. Il ne s'agit pas, je tiens à le préciser, de l'album le plus récent de la formation, puisqu'un album va sortir cette année (sur lequel nous reviendrons une autre fois), première partie d'une oeuvre en cours (Biolume Part I : In tartarean Chains). Alors, évidemment, il n'est pas certain, ami, que, si tu ne jures que par le Raw Black Metal enregistré sur magnétophone à cassettes (ce que je révère également) tu te retrouves dans cette oeuvre "larger than life" dont le Black Metal, bien qu'important, constitue un des éléments, mais pas le seul.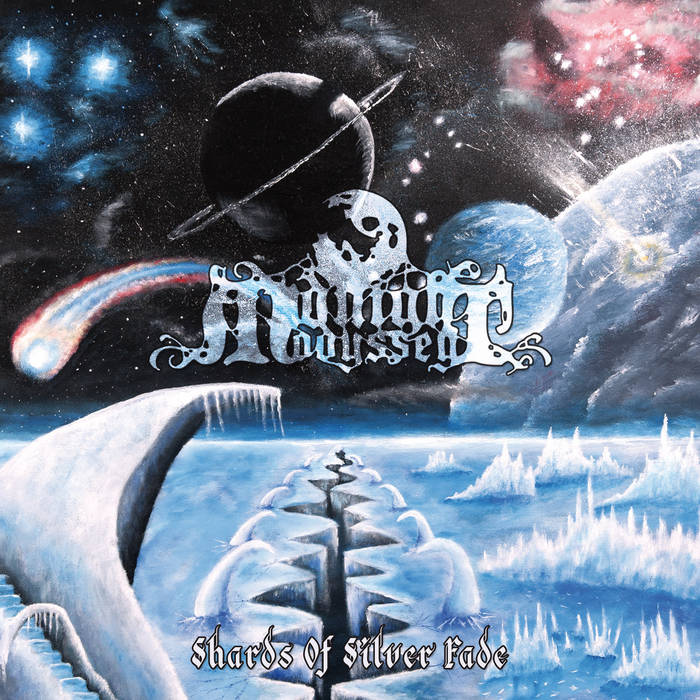 Par contre, si, comme ton brave Scribe, tu aimes les longs voyages dans des Terra Incognita et la musique qui invite à la rêverie (ou au cauchemar), laisse toi tenter par ce monstre de disque, qu'il est un peu compliqué d'engloutir en une seule fois, j'en conviens, mais qui, à chaque écoute, révèle de nouvelles saveurs; produites par l'âme un peu folle de Dis Pater, musicien de talent n'ayant vraisemblablement pas peur de passer un maximum de temps sur la composition et l'enregistrement de sa musique. Une belle porte d'entrée pour le Cosmic BM moderne, territoire passionnant où notre musique préférée va pouvoir trouver de nouveaux gênes, et générer de nouveaux démons venus de quelque supernova ou trou noir supermassif !
With the Australian one-man band Midnight Odyssey we arrive on the earth (or rather space) of all superlatives. A monster album, composed of two CDs, eight tracks for two hours and twenty minutes of music! A Space Opera Black Metal, no more and no less! If you have already been put in your mouth by Eridanus Void, then continue your intergalactic journey here, with a formation that has become an essential reference in the "cosmic black metal". Far from Darkspace's "S.E.T.I." minimalism, the Dis Pater band does more in maximalism, with tracks of more than twenty minutes, mixing long ambient and synthetic tracks (boosted by a very successful clear song) to, little by little, let some saturated guitars settle in and then sound very close to a science fiction movie soundtrack. The Australian makes us soar literally and figuratively and embarks us into his crazy adventure without ever for a single moment any fatigue or weariness settling in despite the insane ambition of the project. This is not, I would like to point out, the band's most recent album, since an album will be released this year (to which we will come back another time), the first part of a work in progress (Biolume Part I: In tartarean Chains). So, obviously, it is not certain, friend, that if you only swear by the Raw Black Metal recorded on cassette tape recorder (which I also revere) you will find yourself in this "larger than life" work of which Black Metal, although important, constitutes one of the elements, but not the only one. On the other hand, if, like your brave Scribe, you like long journeys in Terra Incognita and music that invites you to dream (or to have a nightmare), let yourself be tempted by this record monster, which it is a little complicated to swallow at once, I agree, but which, with each listening, reveals new flavours; produced by the crazy soul of Dis Pater, a talented musician who is probably not afraid to spend as much time as possible composing and recording his music. A beautiful gateway to the modern Cosmic BM, an exciting territory where our favorite music will be able to find new genes, and generate new demons from some supernova or supermassive black hole!
Le Style : Black Metal influenced Dark Ambient/Dungeon Synth
J'ai déjà dit tout le bien que je pensais de l'album précédent d'Hermith, L'autre Monde, dans les Crocs du Scribe N°17, et nous avions eu un échange fort intéressant avec l'auteur de cette sombre musique dans une interview. Ainsi, ce "dernier souffle" vient-il s'inscrire dans les pas de l'album précédent, sans en être la copie, loin de là. Si, déjà, j'évoquais la noirceur que dégageait l'album précédent, j'étais loin de penser que notre ermite des hauts de France allait se surpasser sur ce nouveau méfait. Si vous avez lu l'interview, vous savez à quel point notre ami est un adepte du Black Metal le plus chimiquement pur, et, s'il s'agit ici d'un mélange de Dark Ambient noir charbon et de poussées Dungeon Synth, l'atmosphère est aussi suffocante que pouvait l'être celle d'un Burzum.
Poussant tous les curseurs dans le noir, Hermith nous donne ici un album profondément funèbre, comme une célébration de Thanatos, avec ces nappes puissantes et évocatrices, ces timpani lugubres, ces choeurs venus des tréfonds de la terre, cette voix inhumaine qui, par instants, se fait jour. "Dernier Souffle" le bien nommé ressemble ainsi à la dernière procession d'une humanité au bord de la tombe, et le passeur n'attend plus que les nombreux cadavres pour les accompagner le long du Styx. Hermith s'est surpassé, non seulement en rendant son oeuvre encore plus sombre, mais aussi musicalement, car, comme sur l'album précédent, les mélodies sont envoûtantes. Un album idéal pour accompagner le décès de notre espèce maudite, dans un esprit Black Metal prégnant et rigoureux. Une vrai petite merveille !
Ainsi, lecteur, si tu souhaites te donner le frisson, tout en imprégnant ta fibre mélomane, voyager le long des chemins où rôde la mort, suis cette sombre prière adressée à quelque dieu des temps anciens pour rejoindre l'âme de nos ancêtres. Hermith est une porte ouverte sur notre cher passé, et un accès direct a nos trépassés.
I have already said all the good things I thought about Hermith's previous album, L'autre Monde, in Les Crocs du Scribe N°17, and we had a very interesting exchange with the author of this dark music in an interview. Thus, this "last breath" follows in the footsteps of the previous album, without being a copy, far from it. If, already, I mentioned the darkness that the previous album emanated, I was far from thinking that our hermit from the top of France would surpass himself on this new misdeed. If you've read the interview, you know how our friend is a fan of the most chemically pure Black Metal, and if this is a mixture of Dark Ambient Coal Black and Dungeon Synth thrusts, the atmosphere is as suffocating as a Burzum could be. Pushing all the cursors into the dark, Hermith gives us here a deeply funeral album, like a celebration of Thanatos, with these powerful and evocative layers, these gloomy timpani, these choirs from the depths of the earth, this inhuman voice that, at times, comes to light. "Last Breath", the well named one thus resembles the last procession of a humanity at the edge of the grave, and the ferryman is only waiting for the many corpses to accompany them along the Styx.
Hermith has surpassed herself, not only by making her work even darker, but also musically, because, as on the previous album, the melodies are bewitching. An ideal album to accompany the death of our cursed species, in a strong and rigorous Black Metal spirit. A real little wonder!
So, reader, if you wish to give yourself the thrill, while imbuing your music-loving fibre, to travel along the paths where death prowls, follow this dark prayer addressed to some ancient god to reach the souls of our ancestors. Hermith is an open door to our beloved past, and a direct access to our deceased.
Le Style : Black Metal/Depressive Black Metal
Avec Insanity Cult nous tournons nos regards vers la Grèce, et Athènes en particulier. Pays déchiré par la dictature européenne qui, pour leur bien, a décidé de les faire crever de faim. Sans doute la musique du groupe, emplie d'une tristesse profonde, est-elle le reflet de cette situation : quand un des plus grands peuples de l'occident, le pays fondateur de l'Europe est devenu le bouc émissaire des libéraux siégeant à Bruxelles. Mais trêve de politique : parlons musique. Insanity Cult ne s'inscrit aucunement dans le Black Metal "à la grecque" comme ses compatriotes de Rotting Christ ou Varathron. Ici les influences musicales sont avant-tout nordiques, et norvégiennes en particulier. Le groupe pratique un subtil mélange de Black norvégien façon 90's et d'éléments davantage proches d'un DSBM "classique". Leur musique, riche, n'est pas non plus exempte d'éléments "progressifs" tant leurs morceaux, plutôt longs, sont construits de façon intelligente. Ici nous avons affaire à des musiciens de talent qui n'ont pas peur de travailler sur leur musique. Il faut dire aussi que la production est particulièrement réussie et sert a merveille le propos. Cet album n'est pas une nouveauté, et les grecs ont, depuis, sorti trois autres albums (dont deux splits) qui confirment tout le bien que l'on pense d'eux. Si vous n'êtes pas encore tombés dans leur marmite, laissons vous prendre par ces "jeunes gens" qui ont tout compris au Black Metal : point ici de volonté de reforme ou de modernisation d'un genre qui n'en n'a aucun besoin. Plus convaincante, la musique du groupe est à la fois inscrite dans les pas de ses glorieux prédécesseurs, mais aussi très personnelle : tout ce que l'on peut attendre en somme d'un groupe en construction qui a tout pour devenir grand.
En huit morceaux dont un prologue le tour est joué : Insanity Cult pénétrera votre coeur sombre pour ne plus en ressortir. A découvrir d'urgence si ce n'est déjà fait.
With Insanity Cult we look to Greece, and Athens in particular. A country torn apart by the European dictatorship which, for their own good, decided to starve them to death. No doubt the band's music, filled with deep sadness, reflects this situation: when one of the greatest peoples of the West, Europe's founding country became the scapegoat for the liberals sitting in Brussels. But enough politics: let's talk about music. Insanity Cult is in no way part of "Greek-style" Black Metal like its compatriots from Rotting Christ or Varathron. Here the musical influences are mainly Nordic, and Norwegian in particular. The group practices a subtle blend of 90's Norwegian Black and elements more similar to a "classic" DSBM. Their music, rich, is also not free of "progressive" elements, as their rather long pieces are intelligently constructed. Here we are dealing with talented musicians who are not afraid to work on their music. It must also be said that the production is particularly successful and serves the purpose perfectly. This album is not a new one, and the Greeks have since released three other albums (including two splits) that confirm all the good we think of them. If you haven't fallen into their pot yet, let's let these "young people" who have understood everything about Black Metal take you away: there's no desire to reform or modernize a genre that doesn't need it. More convincing, the band's music is both in the footsteps of its glorious predecessors, but also very personal: everything that can be expected from a band under construction that has everything it takes to become great. In eight pieces, one of which is a prologue, the trick is done: Insanity Cult will penetrate your dark heart and never come out again. To be discovered urgently if it is not already done.
Le Style : DSBM/Blackened Doom/Funeral Black Metal from La Réunion
La Réunion...dans l'imaginaire de votre scribe qui n'y a jamais mis les pieds c'est une île ensoleillée, bordée par une mer limpide (l'océan indien) et du sable blanc. Bref, un petit paradis terrestre. Pourtant, à l'écoute du groupe Les Chrysanthèmes des Adieux, le doute est plus que permis. Loin du cliché de carte postale, c'est ici à un Black Metal des plus dépressifs, rampant, lancinant que nous avons affaire. Ce long double album de onze titres, dont certains avoisinent les vingt minutes, ne va pas vous remonter le moral, loin s'en faut. Ce one-man band porté par Mahr le croquemitaine, nous fait penser, dès le premier titre "Confiteor" (adaptation d'un poème d'Edward Stachura, poète maudit d'origine polonaise né en France et suicidé à 41 ans par pendaison, après avoir survécu à un premier suicide manqué en se jetant sous un train) que nous n'allons pas ici développer une pensée positive qui nous fera aimer la vie et faire confiance en l'espèce humaine. Tout du long, cet opus funèbre, splendide au demeurant,n'est que désespoir, poésie noire et vomissements de bile charbonneuse. Si vous traversez une phase dépressive (en automne c'est courant) je vous déconseille vivement l'écoute de ce bel opus en suicide majeur. N'attendez pas ici d'accélérations irascibles et blastées ou de chant vindicatif pour clamer quelque victoire guerrière : Les Chrysanthèmes des Adieux font dans un Black Metal très porté vers le Doom, voire même le Funeral Doom, avec des tempos des plus lents. Les lignes de guitares, mélodieuses et insidieuses, réveillent la nostalgie et toute la mélancolie de l'âme de ceux qui ont compris que cette vie n'était qu'une funeste suite de désenchantements.
Ce Metal Noir Mélodramatique (dixit son auteur) vous atteindra au plus profond, tout en distillant insidieusement en vous des mélodies faussement enchanteresses qui auront pour effet de vous retenir plus que de raison dans sa toile, telle l'araignée architecte. Vous ne sortirez pas d'ici vivant.
Reunion Island...in the imagination of your scribe who has never set foot there, it is a sunny island, bordered by a clear sea (the Indian Ocean) and white sand. In short, a small earthly paradise. However, when listening to the group Les Chrysanthèmes des Adieux, doubt is more than permissible. Far from the cliché of a postcard, it is here that we are dealing with one of the most depressive, crawling, throbbing Black Metal. This long double album of eleven tracks, some of which are about twenty minutes long, will not cheer you up, far from it. This one-man band, worn by Mahr the Boogeyman, makes us think, from the first title "Confiteor" (adaptation of a poem by Edward Stachura, a cursed poet of Polish origin born in France and hanged at 41 years old, after surviving a first failed suicide by throwing himself under a train) that we will not develop a positive thought here that will make us love life and trust the human species. All along, this funeral opus, splendid by the way, is nothing but despair, black poetry and charcoal bile vomiting. If you are going through a depressive phase (in autumn it is common) I strongly advise against listening to this beautiful opus in major suicide. Don't wait here for irritable and blasé accelerations or vindictive singing to claim some warlike victory: The Chrysanthemums of Farewell do in a Black Metal very close to the Doom, even the Funeral Doom, with the slowest tempos. The melodious and insidious guitar lines awaken the nostalgia and melancholy of the soul of those who have understood that this life was only a fatal result of disenchantment. This Melodramatic Black Metal (according to its author) will reach you in the deepest sense, while insidiously distilling in you falsely enchanting melodies that will have the effect of keeping you more than reason in its web, such as the architect spider. You're not getting out of here alive.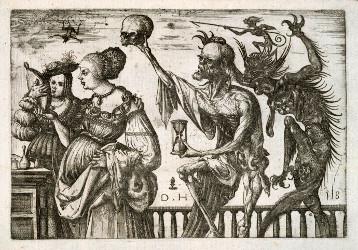 Les tourangeaux d'Hécate sévissent depuis déjà 10 ans. Dix ans et seulement deux albums, dont celui ci, "Chroniques d'un autre temps", premier des deux, sorti en 2013 chez Exu Rei Records. Pratiquant un Black Metal romantique et érudit (les références à Hécate mais aussi Baudelaire et sa charogne, Lautréamont et son Maldoror, l'éneide de Virgile ou la référence au druide Cathbad) qui nous change un peu du groupe lambda, le groupe français nous donne à entendre un Black Metal aux références ancrées dans les années 90, et des influences Heavy Metal dans les riffs, voire même rock dans les structures rythmiques. Comme toujours chez Exu Rei Records, la qualité est au rendez-vous, et le groupe maîtrise bien évidemment son sujet. Réminiscence d'un temps où le Black Metal était bien autre chose qu'un simple style de Metal, et se voulait créé et destiné à une certaine élite (y compris intellectuelle et culturelle) Hécate nous rappelle amèrement à chaque écoute à quel point notre monde sombre dans l'idiocratie chaque jour un peu plus, et que ce phénomène terrifiant paraît hélas irréversible. Nous nous consolerons donc grâce à la qualité de ces groupes qui ne prennent pas l'auditeur pour un simple sac à bière prêt à dégainer des blagues pourries toutes les cinq minutes, mais plutôt pour une âme tourmentée en quête de soi-même et d'absolu. Vous en êtes ?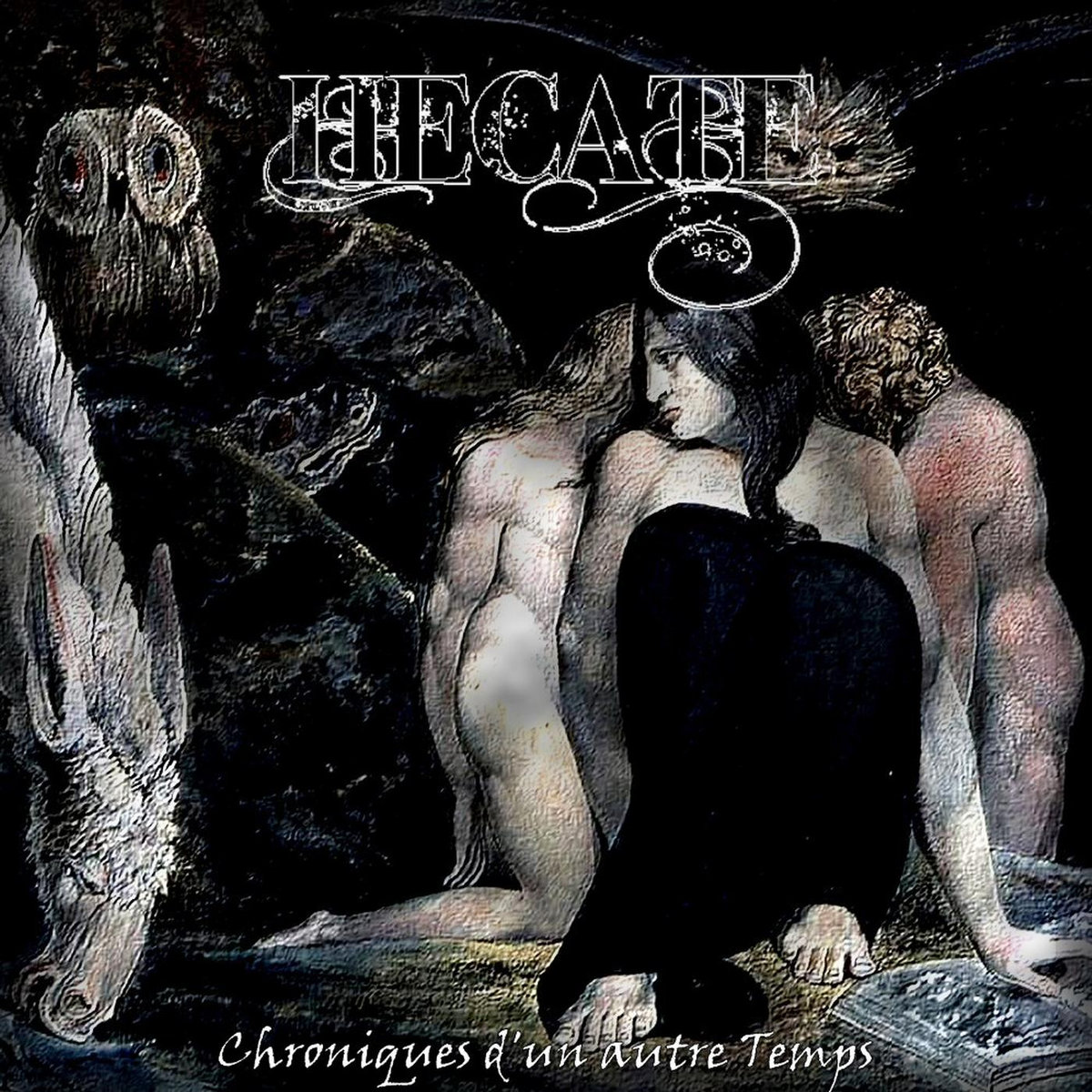 The natives from Tours (France) Hécate have been in operation for 10 years now. Ten years and only two albums, including this one, "Chroniques d'un autre temps", first of the two, released in 2013 by Exu Rei Records. Practicing a romantic and erudite Black Metal (references to Hecate but also Baudelaire and his carrion, Lautréamont and his Maldororor, Virgile's eneide or the reference to the druid Cathbad) which changes us a little bit from the ordinary band, the French band gives us to hear a Black Metal with references anchored in the 90s, and Heavy Metal influences in the riffs, even rock in the rhythm structures. As always at Exu Rei Records, the quality is there, and the band obviously masters its subject. Reminiscence of a time when Black Metal was much more than just a style of Metal, and wanted to be created and destined for a certain elite (including intellectual and cultural) Hecate bitterly reminds us every time we listen to how our world is sinking into idiocracy every day a little more, and that this terrifying phenomenon unfortunately seems irreversible. We will therefore be comforted by the quality of these groups who do not take the listener for a simple beer bag ready to draw rotten jokes every five minutes, but rather for a tormented soul in search of itself and the absolute. Are you in?
Le Style : Black Metal Mental
Depuis 1998 (eh oui déjà vingt ans) l'étrange entité française (Poitiers) Deathspell Omega est devenue bien plus qu'un très bon groupe de Black Metal français. Dotés d'une réputation internationale, ces infâmes artistes surdoués peuvent être perçus comme les grands initiateurs de la "3ème vague du Black Metal" : portée par une complexité musicale et des guitares dissonantes tout en restant tournée vers la férocité d'un Mayhem et évitant ainsi l'écueuil du groupe "moderne" un peu mou du genou, l'attelage mystérieux (dont on ne connait que l'excellent vocaliste, le finlandais Miko Aspa aussi à l'oeuvre dans les féroces Clandestine Blaze) se paie le luxe d'influencer un maximum de groupes au travers la planète (y compris Mayhem lorsqu'ils ont créé "Ordo Ab Chao"). Alors les comparaisons ne peuvent qu'être dithyrambiques. On pense à l'autre géant du Black Metal français d'avant-garde, Blut Aus Nord, qui a certainement influencé Deathspell Omega à leurs débuts (à moins que les deux entités cachées du groupes soient celles de Blut Aus Nord ?) . Bien sûr, je ne vous cacherai pas qu'à titre personnel le style faussement destructuré et très chaotique du groupe me pose parfois problème lorsque je me lance dans l'écoute d'un album, et ce " The Furnaces of Palingenesia" ne changera rien à l'affaire. Très cérébral bien que génial, le travail du groupe me touche moins que celui d'autres, plus spontanés peut être. Cela ne m'empêche pas, évidemment, de reconnaître le génie du groupe, mais je ne pourrai jamais les mettre en haut de ma top-list, tant ils me renvoient parfois à certains artistes Jazz que j'ai du mal à supporter. Et puis, dans l'avant-garde, je suis davantage épris de Solefald. Blut Aus Nord restant pour moi intouchables... Quant à Mayhem...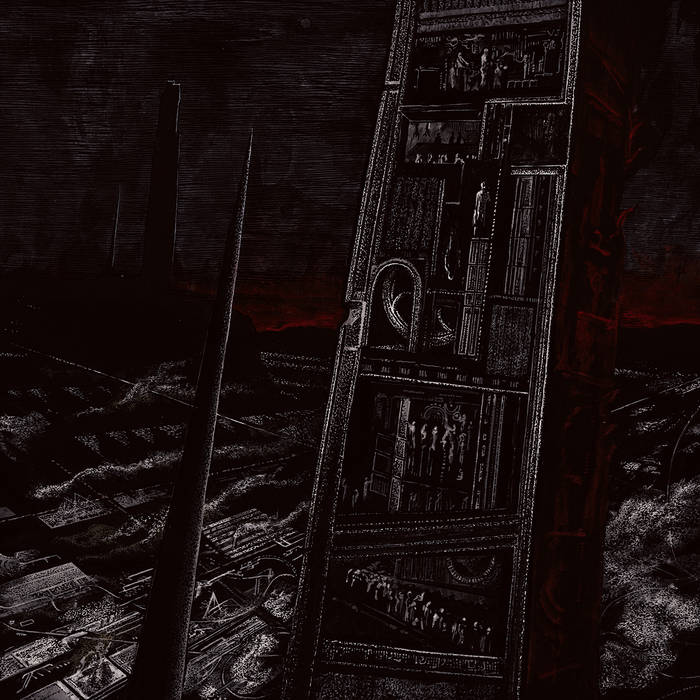 Since 1998 (yes, twenty years already) the strange French entity (Poitiers) Deathspell Omega has become much more than a very good French Black Metal band. Endowed with an international reputation, these infamous gifted artists can be perceived as the great initiators of the "3rd wave of Black Metal": carried by a musical complexity and dissonant guitars while remaining turned towards the ferocity of a Mayhem and thus avoiding the pitfall of the "modern" group a little soft on the knee, the mysterious coupling (of which we only know the excellent vocalist, the Finnish Miko Aspa also at work in the ferocious Clandestine Blaze) has the luxury of influencing a maximum of groups around the planet (including Mayhem when they created "Ordo Ab Chao"). So the comparisons can only be dithyrambic. We think of the other avant-garde French Black Metal giant, Blut Aus Nord, who certainly influenced Deathspell Omega in their early days (unless the two hidden entities of the band are those of Blut Aus Nord?). Of course, I won't hide from you that personally the falsely unstructured and very chaotic style of the band sometimes causes me problems when I start listening to an album, and this "The Furnaces of Palingenesia" won't change anything in the matter. Very cerebral although brilliant, the work of the group touches me less than that of others, more spontaneous perhaps. This doesn't stop me, of course, from recognizing the genius of the band, but I could never put them at the top of my top list, as they sometimes refer me to certain Jazz artists that I have trouble supporting. And then, in the avant-garde, I am more in love with Solefald. Blut Aus Nord remaining untouchable for me...
LA SEMAINE PROCHAINE/NEXT WEEK :
THE RITUAL PRODUCTIONS SPECIAL PART 2 + SPECIAL FANZINES + SPECIAL BOOKS !