REVIEW - SUICIDE CIRCLE - DEMO MMXX - 2020 OSMOSE PRODUCTIONS - TRUE BLACK METAL
Attention esprits fragiles ! Nous rentrons désormais dans une zone de noirceur extrême, dans une abysse d'un Black Metal plus raw qu'un cadavre en décomposition. Cette première démo de ce tout nouveau groupe réserve plus d'une surprise.

A commencer par les membres de ce duo : ni plus ni moins que Meyhnach de Mutiilation au chant et à la basse et Räts de Morguiliath à la guitare ! S'il vous plaît !

Du côté de chez Meyhnach, j'ai fait partie de ceux qui ont beaucoup aimé son album solo, qui n'a pas plu à tout le monde apparemement. J'y peux rien si vous avez de la merde dans les oreilles. Alors on va éviter le jeu des comparaisons entre Suicide Circle et Mutiilation ou même Morguiliath, c'est bien d'une nouvelle entité qu'il s'agit, même si les sonorités des deux groupes se retrouvent ça et là dans ces quatre titres. Le chant de Meyhnach, de plus en plus écoeuré et désabusé, s'inscrit dans la lignée de son album solo, et le mid-tempo choisi par le duo sied parfaitement à l'ambiance cafardeuse de l'ensemble, même si des embardées (comme sur "Prophet Of Doomsday" délicieuse pièce de Black Metal d'obédience 90's) se font jour. Comme sur les derniers Mutiilation (merde j'avais dit pas de comparaisons ! Aaarghh !) le sentiment dominant est bel et bien le désespoir le plus profond, la noirceur ultime. On ressent davantage un climat proche d'un certain DSBM (celui le plus axé dans la tradition BM, comme Bethlehem ou Silencer) que le côté guerrier et épique des sonorités nordiques des années 90. Toutefois, pas de pleureuses ici, on n'est pas dans un de ces foutus groupes emo qui se la jouent BM en chialant leur mère pendant deux heures. Si les titres s'étirent en durée, c'est parce de superbes riffs s'enchevêtrent, pas pour nous assommer façon Derrick après le repas de midi comme trop de ces fameux dépressifs inoffensifs qui pululent un peu trop. Le son est parfait, chargé de ces guitares brumeuses et grésillantes que l'on aime tant, et l'on ne boude pas son plaisir devant la performance de Meyhnach, au chant de moins en moins humain.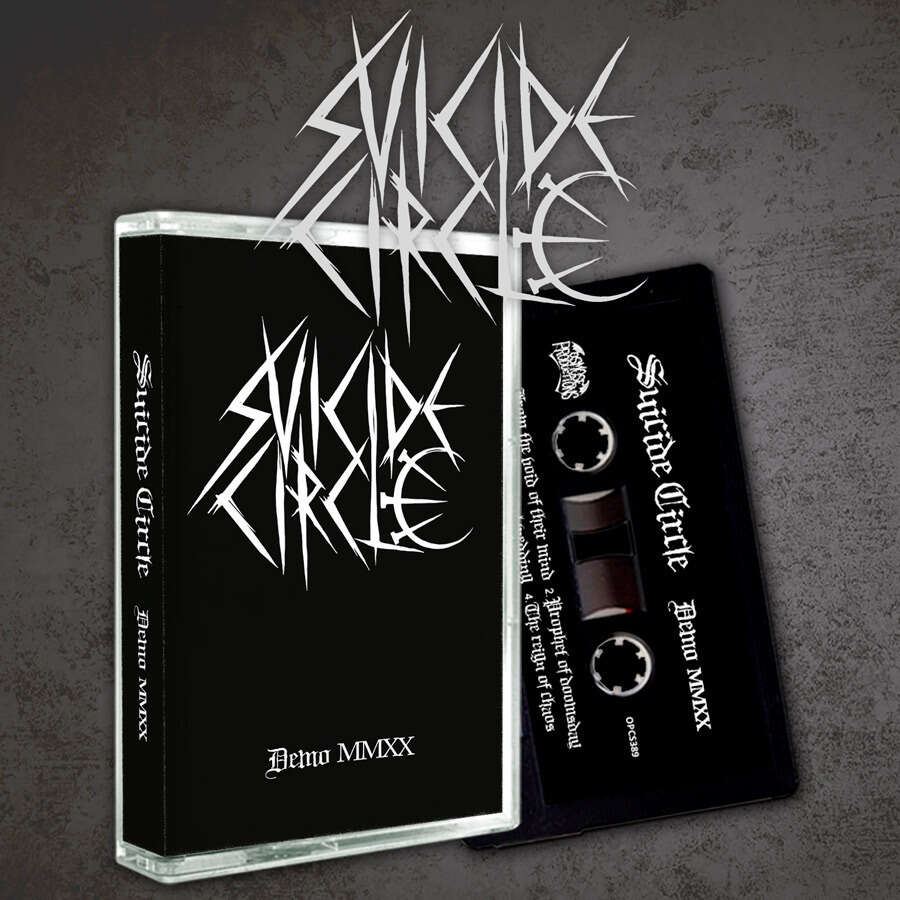 Juste une petite mise en garde : la cassette n'est tirée qu'à 100 exemplaires, et 300 pour le vinyles (pas de cd en vue) et tous sont déjà partis en pré-commande...Il faudra donc croiser les orteils en espérant une réimpression ou une sortie CD !

Pour finir sur la musique : voici une démo qui préfigure d'un album à venir (oui, oui !) qui risque bien de remettre à plat pas mal de choses dans le paysage BM français...Les grands anciens ne sont pas morts, et quand ils reviennent, ça fait mal !
Beware fragile minds! We are now entering a zone of extreme darkness, in an abyss of a Black Metal more raw than a rotting corpse. This first demo of this brand new band has more than one surprise in store for us.
Starting with the members of this duo: no more and no less than Meyhnach from Mutiilation on vocals and bass and Räts from Morguiliath on guitars! Please!
As for Meyhnach, I was one of those who really liked his solo album, which apparently didn't please everyone. I can't help it if you've got shit in your ears. So we're going to avoid making comparisons between Suicide Circle and Mutiilation or even Morguiliath, it's really a new entity, even if the sounds of both bands can be found here and there in these four tracks. Meyhnach's vocal, more and more disgusted and disillusioned, is in line with his solo album, and the mid-tempo chosen by the duo fits perfectly with the cockadoody atmosphere of the whole, even if some swings (like on "Prophet Of Doomsday", a delicious 90's Black Metal piece) are emerging. As on the latest Mutiilation (shit, I said no comparisons! Aaarghh!) the dominant feeling is indeed the deepest despair, the ultimate darkness. One feels more a climate close to a certain DSBM (the one most focused in the BM tradition, like Bethlehem or Silencer) than the warlike and epic side of the Nordic sounds of the 90s. However, no mourners here, we're not in one of those damn emo bands that play BM by crying at their mother for two hours. If the tracks stretch out in length, it's because of the superb riffs, not to knock us out like Derrick after lunch like too many of those famous inoffensive depressives who pulsate a bit too much. The sound is perfect, loaded with those foggy and sizzling guitars that we love so much, and we don't sulk with pleasure in front of Meyhnach's performance, with a less and less human vocal.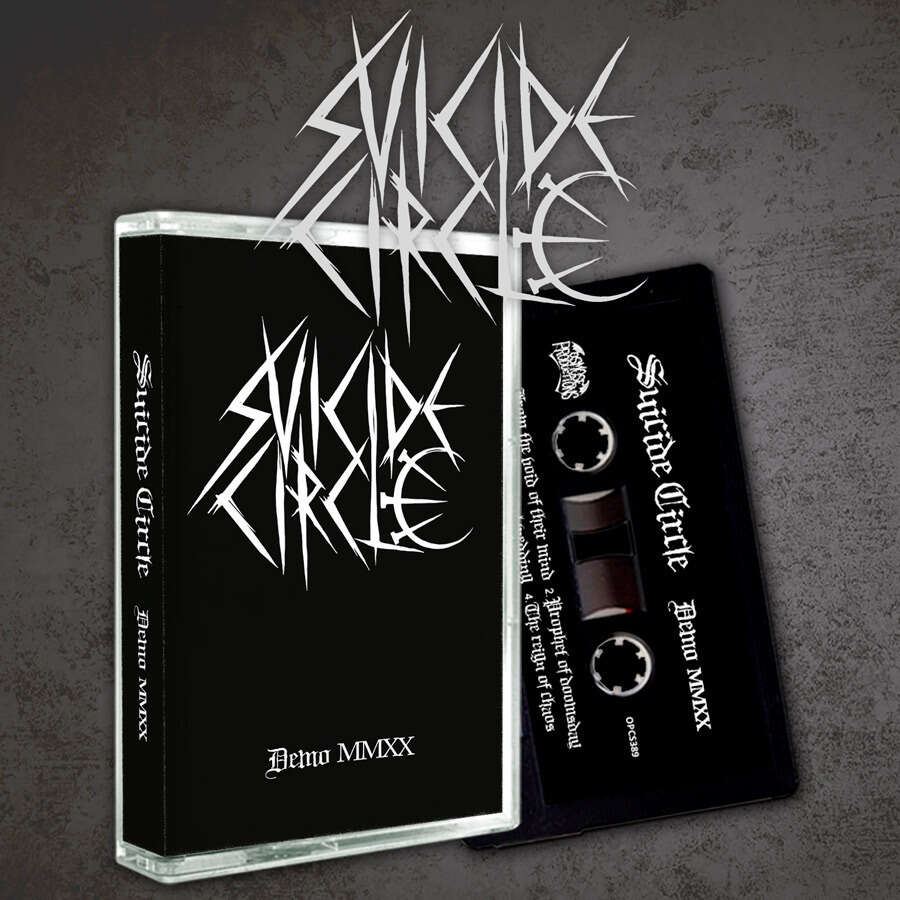 Just a little warning: only 100 copies of the cassette are printed, and 300 for the vinyl (no CD in sight) and all of them have already left in pre-order... So you'll have to cross your toes and hope for a reprint or a CD release!
To finish on the music: here is a demo that prefigures an upcoming album (yes, yes !) that might well bring a lot of things back to the French BM landscape...The great old ones aren't dead, and when they come back, it hurts !