REVIEW - LITANIE - AD ABSOLUTAM ESSENTIAE - 2020 - NON POSSE MORI RECORDS - AMBIENT BLACK METAL
BLACK METAL - DUNGEON SYNTH - DARK FOLK
Cette entité unique en son genre qu'est Litanie m'avait déjà régalé les canaux auditifs avec un album que j'avais pris grand plaisir à chroniquer, In Nomine Humana, Tenebris, enregistré en 2013 et sorti en digipack l'an passé chez Non Posse Mori.
D'ailleurs vous pouvez (re)lire ma chronique dudit album si vous avez besoin d'être convaincus ...
Aujourd'hui c'est autour de cet album, Ad Absolutam Essentiae, enregistré dans quelque monastère dominicain au fin fond de l'Occitanie en 2015 que je m'intéresse. Cet album ne sort qu'aujourd'hui en CD après une première parution digitale l'an passé. Chez Litanie on aime le temps de faire les choses, on s'inscrit dans la longueur. Pas étonnant que nos deux moines, Frater Desolation et Frater Gryp, s'intéressent davantage au moyen-âge qu'à notre époque si peu passionnante.
Il est à noter que l'équipage s'est enrichi d'un nouveau marin, à savoir Frater Treze, qui vient apporter sa science de la batterie et des instruments anciens à l'ensemble. A noter toutefois qu'il n'est présent dans le groupe que depuis 2019 et donc que nous ne l'entendons pas sur cet album, dont les batteries ont été enregistrées par Gryp.
Musicalement la différence est toutefois assez nette avec le précédent opus. Là où celui ci proposait un Black Metal plutôt véloce et gorgé de haine, le petit dernier nous emmène quasiment en terra incognita.
Voici ce que me disait le groupe a propos de cet album déjà enregistré lors de l'interview que je leur avais consacré :
"Cet album paraîtra totalement différent aux auditeurs je pense, aussi bien dans la couleur de l'ambiance qu'il dégage que dans la structure même de l'album. Il l'est en tout cas dans le fait que contrairement au premier album, la batterie est une vraie, enregistrée avec les moyens du bord mais avec toute la hargne que nous imposait Litanie durant cette période. Il est également différent car il ne comporte aucun chant, si ce n'est quelques voix peu orthodoxes et lointaines de F. Désolation durant le rituel musical présent sur le premier morceau "Carnalis Mortis". Et l'album doit comporter presque autant de temps de Black Metal que de Dark Ambient je pense."(Frater Gryp)
Voila qui est fort bien résumé. En effet, ce
Ad Absolutam Essentiae
nous emmène en voyage avant tout atmosphérique, d'une part du fait de la coloration particulière que prend la musique du groupe sans chant ou presque, entre Ambient, Post-Rock médiéval et un Black Metal recentré sur sa part la plus liée aux ambiances. Un voyage qui vous colle aux tripes dès la première écoute (en tout cas ce fut le cas pour moi) et ce monstre musical de toute beauté qu'est "Carnalis Mortis" : un magma musical de quasiment 15 minutes qui oscille entre Black Metal , Doom Metal, aspects quasiment tribaux et une sorte de Post-Rock onirique et entêtant. Un Post-Rock qui prend d'ailleurs toute sa place sur le rêveur "De Profundis Inter Mundi", pas si loin d'une version instrumentale d'Alcest. "Ad Ostium", court instrumental aux voix orthodoxes semble introduire "Esse Infinitum" et son riff d'intro redoutable. Une sorte de Black Metal teinté d'influences de la première vague des 80's et plus agressif que ce que l'album manifestait jusque là (même si la noirceur était déjà largement présente sur "Carnalis Mortis") et qui provoque une intense sensation par ses guitares lourdes, puissantes et se répondant en écho. Un titre redoutable, et quels riffs !!!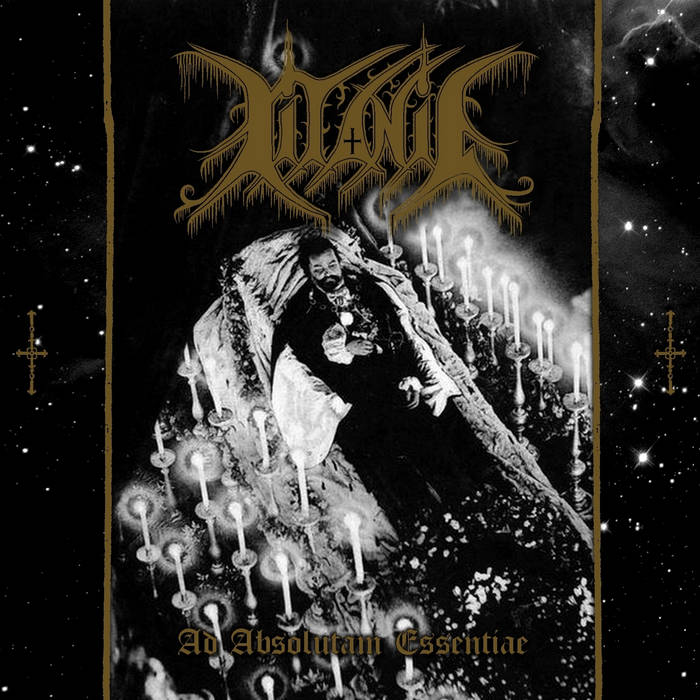 Les riffs du morceau, pardonnez mon obsession, qui se rapprochent parfois du grand Sabbath noir et de groupes de Black/Thrash des 80's tels que Sodom ou Kreator, et, bien sûr, Bathory.
"Praeter Tempus" arrive alors et son atmosphère méphitique, avec cette intro proche d'une forme de "Noise/Industriel", ses samples déformés et ce son mystérieux qui vient vous saisir. Un Dark Ambient sublime qui dégénère en une messe noire effrayante avec quelques voix rituelles, des sonorités inversées, et une bonne ambiance bien flippante qui n'est pas sans rappeler les récents travaux de Sektarism.
Enfin, "Lacrimas Serpent" et son piano très pur, qui ressemble à une délivrance de l'enfer dans lequel le groupe nous avait enfermés. Deux minutes cinquante de pure beauté, sans artifices.
Un album d'une grande originalité, voire même unique en son genre, qui marie à merveille Ambient, accents Folk et une base Black Metal tout en s'ouvrant toutes les portes musicales possibles. Une vraie merveille !
This unique entity that is Litanie had already regaled my ear canals with an album that I took great pleasure in reviewing, In Nomine Humana, Tenebris, recorded in 2013 and released in digipack last year on Non Posse Mori.
By the way, you can (re)read my review of this album if you need to be convinced ...
Today I'm interested in this album, Ad Absolutam Essentiae, recorded in some Dominican monastery in the depths of Occitania in 2015. This album is only now being released on CD after a first digital release last year. At Litanie, we like to take our time, we like to take things slow. No wonder our two monks, Frater Desolation and Frater Gryp, are more interested in the Middle Ages than in our less exciting times.
It should be noted that the crew has been enriched by a new sailor, namely Frater Treze, who brings his science of drums and ancient instruments to the ensemble. However, it should be noted that he has only been with the band since 2019 and therefore we don't hear him on this album, whose drums were recorded by Gryp.
Musically, the difference is however quite clear with the previous opus. Where this one proposed a rather fast and hateful Black Metal, the latest one takes us almost to terra incognita.
Here's what the band told me about this album already recorded during the interview I gave them:
"This album will seem totally different to the listeners I think, both in the colour of the atmosphere it exudes and in the structure of the album itself. It is, in any case, in the fact that unlike the first album, the drums are real, recorded with the means at hand but with all the aggression that Litanie imposed on us during that period. It is also different because it doesn't include any vocals, except for some unorthodox and distant voices of F. Désolation during the musical ritual present on the first track "Carnalis Mortis". And the album must have almost as much Black Metal time as Dark Ambient time I think"(Frater Gryp)
That sums it up very well. Indeed, this Ad Absolutam Essentiae takes us on a journey that is above all atmospheric, on the one hand because of the particular colouring that the band's music takes without vocals or almost, between Ambient, Medieval Post-Rock and a Black Metal refocused on its part most linked to ambiences. A journey that sticks to your gut from the first listening (at least it was the case for me) and this beautiful musical monster that is "Carnalis Mortis": a musical magma of almost 15 minutes that oscillates between Black Metal, Doom Metal, almost tribal aspects and a kind of dreamlike and heady Post-Rock. A Post-Rock that takes its place on the dreamy "De Profundis Inter Mundi", not so far from an instrumental version of Alcest, "Ad Ostium", a short instrumental with orthodox voices seems to introduce "Esse Infinitum" and its fearsome intro riff. A kind of Black Metal tinged with influences of the first wave of the 80's and more aggressive than what the album showed until then (even if darkness was already largely present on "Carnalis Mortis") and which provokes an intense sensation with its heavy, powerful and echoing guitars. A fearsome track, and what riffs !!!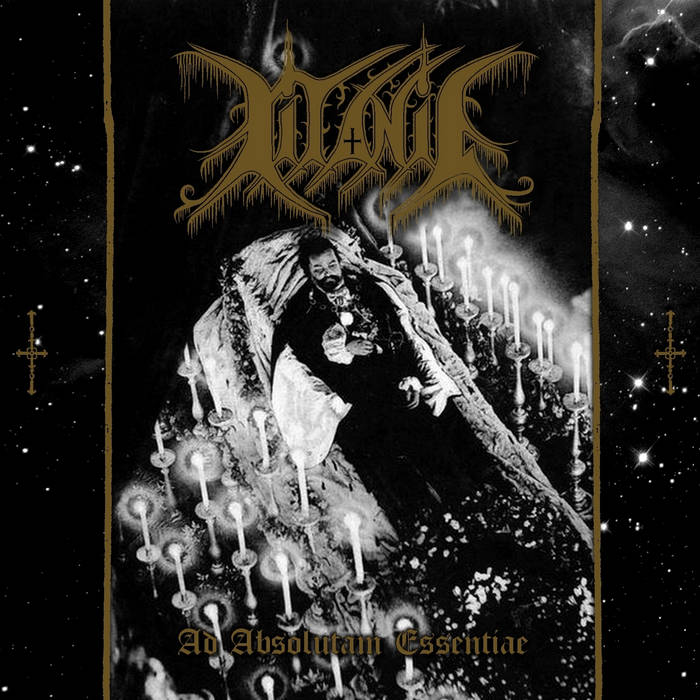 The riffs of the track, forgive my obsession, which are sometimes close to the great Black Sabbath and Black/Thrash bands of the 80's such as Sodom or Kreator, and, of course, Bathory.
"Praeter Tempus" comes then and its mephitic atmosphere, with this intro close to a kind of "Noise/Industrial", its distorted samples and this mysterious sound that comes to seize you. A sublime Dark Ambient that degenerates into a frightening black mass with some ritual voices, inverted sounds and a good scary atmosphere that reminds us of the recent works of Sektarism.
Finally, "Lacrimas Serpent" and its very pure piano, which sounds like a deliverance from the hell the band had locked us in. Two minutes and fifty minutes of pure beauty, without artifice.
An album of great originality, even unique in its kind, which marvellously combines Ambient, Folk accents and a Black Metal base while opening all the possible musical doors. A real marvel!