INTERVIEW AVEC MITHRIDATIC - FR/ENG : Metal de la Mort, Arts Noirs et Tétanos Mystique !
Quelle gifle que ce nouvel album du combo Mithridatic, Tetanos Mystique (quel titre !). Une déflagration de Black/Death Metal mystique et brutal biberonné à coups de Morbid Angel, Malevolent Creation et Mayhem. Une véritable tuerie qui tient la dragée haute aux productions internationales façon Behemoth ou Ultimas. Ils ont eu la gentillesse de répondre au Scribe...
Bonjour Messieurs, merci de répondre a mes questions ! Pourriez vous nous raconter la genèse de Mithridatic ?
Rom :
Salut à toi !
Mithridatic a été créé en 2007 dans la belle ville de Saint-Étienne avec la volonté de fabriquer la musique la plus sombre et extrême possible . Nous sommes tous des fans de Dissection , Mayhem , Morbid angel , nous avons donc clairement pris une direction death-black rapide et oldschool , sans compromis , ni aucune forme d'édulcoration .
Une musique brute et sans fioritures , à notre image et celle de notre ville …
Vous mêlez habilement Black et Death Metal, comment vous y prenez vous pour composer ? Quels sont les groupes qui vous le plus influencé ?
Rom :
Merci ! Oui alors le processus se fait en plusieurs étapes , Seul chez moi ,je commence par composer les riffs de guitare et les structures grossièrement.
Ensuite j 'envoi tout ça à Kevin qui va composer ses parties batteries et me faire les premiers retours de modifications si nécessaire.
Ensuite en répet les autres viennent composer leurs parties à leur rythme jusqu 'à ce que tout le monde soit satisfait par le morceaux.
Il arrive souvent que de supers idées naissent par hasard en répet . Notamment la fin de « The dead mountain of life » lorsque le dernier riff reviens après le silence ! Ce n 'était pas prévu mais c 'est un de mes passage préféré de l'album !
Votre batteur, Kevin, est reconnu comme un surdoué et comme étant probablement le batteur le plus rapide qui soit. Qu'est ce que ça fait de travailler avec une telle gâchette ?
Rom : Alors travailler avec Kevin est très stimulant sur bien des aspects. Premièrement nous sommes en crédits illimités en terme de vitesse et de technique (rire) ! Ce qui tombe bien puisque je suis grand fan d'ultra vitesse.
Sur scène il est impeccable , nous avons une totale confiance dans son jeu , il ne plante jamais un morceaux ! C'est une énorme sécurité.
Enfin c 'est clairement un leader , quelqu'un qui va porter ses projets le plus loin possible . Nous ne pouvons que nous réjouir de l'avoir avec nous et en plus il cuisine de très bons burgers (rire)
Guitou, tu es un passionné de bouquins, peux tu nous parler des auteurs qui comptent pour toi ?
Guitou : Alors c'est peut-être l'image que pas mal de gens ont de moi, mais je ne suis pas un lecteur régulier, j'ai quelques auteurs fétiche et je mijote souvent dans les mêmes bouquins, Antonin Artaud, Louis-Ferdinand Céline, Charles Bukowski c'est le genre d'auteurs dont tu peux réfléchir toute une vie sur une phrase, c'est pourquoi ils reviennent souvent dans MITHRIDATIC ; j'ai découvert Roger Gilbert-Lecomte je me suis penché sur sa biographie, ses correspondances (comme je le fais souvent quand je m'intéresse à un écrivain), j'ai été saisi par sa poésie et par le sort de la personne.
Quant à Michel Bernanos et « la montagne morte de la vie », j'ai été très marqué par cet ouvrage, ils m'ont été très utiles pour décrire des endroits, des mondes étranges, aux cosmos hostiles…
Pouvez vous nous parler de ce "tétanos mystique" qui donne son titre au nouvel album ?
Guitou : j'aimerais bien te parler du contenu de ce bouquin mais il est très difficile d'accès et par conséquent je n'ai utilisé que le titre… Il faut reconnaître que j'ai été très impressionné par le fait que Roger-Gilbert Lecomte ait écrit « le Tétanos Mystique » à 16ans et qu'il soit mort d'une crise de cette même maladie 20 ans plus tard… une sorte de prophète qui joue avec des aiguilles rouillées…ahahah…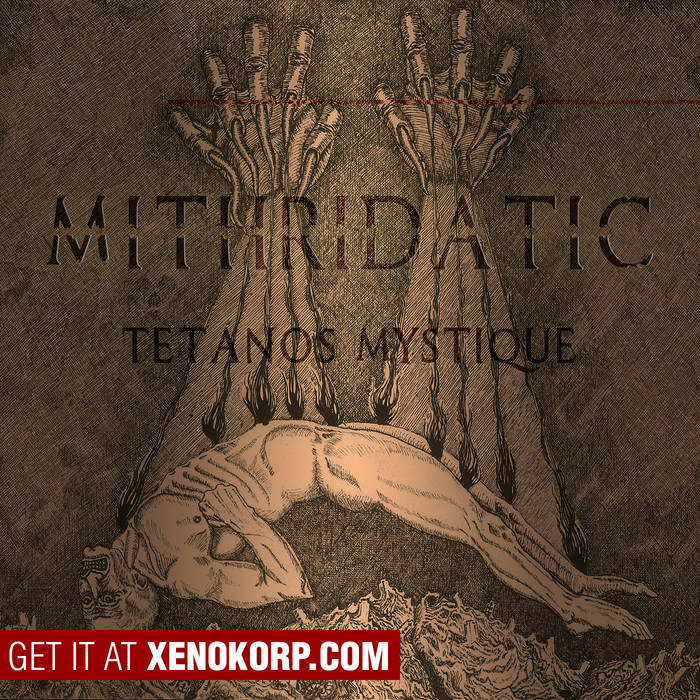 La scène française en matière de Black et de Death se porte très bien, ne trouvez vous pas ?
Rom :
Oui il est certain que la scène black-death française comporte de nombreuses pépites. Nous avons toujours plaisir à découvrir des groupes lors de concerts. Notamment : Ad-Patres , Iron flesh , Hysteria ,Burn your Karma , warfuck , Maieutiste ,Sublime Cadaveric decomposition , Benighted …. Etc la liste est longue ! Et puis le retour des patrons d'Arkhon infaustus !

Si je vous dis que votre nouvel album me fait penser a un mix du meilleur de Morbid Angel et Mayhem, ça vous convient ?
Rom :
Oui dans l 'absolu ça me convient car ce sont deux grandes influences pour nous .
J 'espère quand même que tu as aussi pu voir en nous une musique plus personnelle , nous avons essayé d'enregistrer un album varié avec un maximum d'atmosphères !
Vos 20 albums préférés de tous les temps ?
Rom :


Pantera : Vulgar display of power , reinventing the steel .
Eyehategod : take as needed for pain.
Dissection : The somberlain , Storm of the Light's bane
Morbid angel : Domination , Gateway to annihilation
Mayhem : wolf lair abyss , De mysteriis dom sathanas , ordo ad chaos
Arkhon infaustus : Hell injection
Slayer : raining blood , Divine intervention
Dead congregation : Graves of the archangels , Promulgation of the fall
Cannibal corpse : Bloodthirst
Deicide : Serpent of the light
Death : Sound of perseverance , Symbolic
Silencer : Death pierce me
Marduk : Nightwing






Que du nouveau quoi….(rires) Non sérieusement je pense que les groupes et albums que tu découvres gamin te marquent pour la vie… Rien ne peux les détrôner .


Si Mithridatic était une citation ?


Guitou : « remettez-nous ça ! » ça marche même pour notre épitaphe…


Au fait, ça veut dire quoi Mithridatic ?




Guitou : Mithridate le Grand était un roi qui a immunisé son corps contre les empoisonnements (fréquents à l'époque), par la prise quotidienne et graduelle de plusieurs poisons… Nous utilisons MITHRIDATIC comme outil, une intoxication et une lutte perpétuelle pour faire face et achever ce monde empoisonné ; un outil pour s'accomplir, et ce jusqu'au bout.



Espace libre : ajoutez ce que vous voulez !


Rom :
Merci pour l'intérêt que tu portes à notre musique , nous serons en concert début novembre au Hell'oween fest de Saintes , puis en tournée du 17 au 21 décembre. Nous passerons par Paris , Lille , Lyon , Fontaine-l'évêque en Belgique et Geleen aux pays bas.


MERCI !
-------------------------------------------------------------------------------------------
THE ENGLISH VERSION
What a slap in the face that this new album by the Mithridatic combo, Tetanos Mystique (what a title!). A mystical and brutal Black/Death Metal explosion bottle-fed with Morbid Angel, Malevolent Creation and Mayhem. A real slaughter that can be compared to international productions like Behemoth or Ultimas. They were kind enough to answer the Scribe....
Hello gentlemen, thank you for answering my questions! Could you tell us about the genesis of Mithridatic?
Mithridatic was created in 2007 in the beautiful city of Saint-Étienne with the desire to make the darkest and most extreme music possible. We are all fans of Dissection, Mayhem, Morbid angel, so we have clearly taken a fast death-black and oldschool direction, without compromise, nor any form of sweetening.
A raw and unadorned music, in our image and that of our city...
You skillfully mix Black and Death Metal, how do you compose? Which groups influence you the most?
Thank you! Thank you! Yes then the process is done in several steps, Alone at home, I start by composing guitar riffs and structures roughly.
Then I send all this to Kevin who will compose his drum parts and make me the first feedback of modifications if necessary.
Then the others come to compose their parts at their own pace until everyone is satisfied with the piece.
It often happens that great ideas are born by chance in rehearsal. Especially the end of "The dead mountain of life" when the last riff comes back after the silence! It wasn't planned but it's one of my favorite parts of the album!
Your drummer, Kevin, is known as a gifted drummer and probably the fastest drummer there is. How does it feel to work with such a trigger?
Rom: So working with Kevin is very challenging in many ways. First of all we are in unlimited credits in terms of speed and technique (laughs)! Which is good since I'm a big fan of ultra speed.
On stage he is impeccable, we have total confidence in his playing, he never plants a piece! It's a huge security.
Finally, he is clearly a leader, someone who will take his projects as far as possible. We can only rejoice to have him with us and he also cooks very good burgers (laughs)
Guitou, you are a book lover, can you tell us about the authors who matter to you?
Guitou : So maybe that's the image that a lot of people have of me, but I'm not a regular reader, I have a few favorite authors and I often simmer in the same books, Antonin Artaud, Louis-Ferdinand Céline, Charles Bukowski it's the kind of authors you can think about a sentence for a lifetime, that's why they often come back in MITHRIDATIC ; I discovered Roger Gilbert-Lecomte, I looked at his biography, his correspondence (as I often do when I am interested in a writer), I was struck by his poetry and by the person's fate.
As for Michel Bernanos and "the dead mountain of life", I was very impressed by this book, they were very useful to me to describe places, strange worlds, hostile cosmos...
Can you tell us about this "mystical tetanus" that gives its title to the new album?
Guitou: I would like to talk to you about the content of this book but it is very difficult to access and therefore I only used the title... I must admit that I was very impressed by the fact that Roger-Gilbert Lecomte wrote "Le Tétanos Mystique" at 16 years old and that he died of a crisis of this same disease 20 years later... a kind of prophet who plays with rusty needles... ahahah...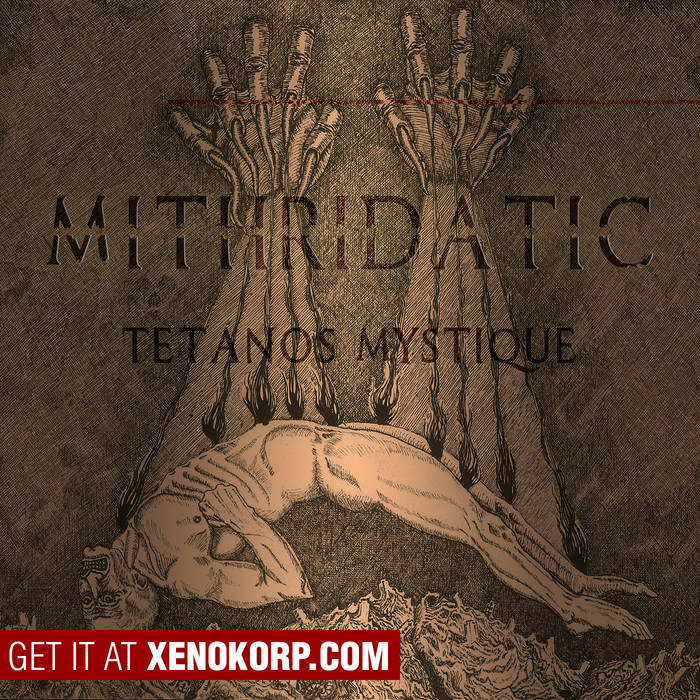 The French Black and Death scene is doing very well, don't you think ?
Yes, it is certain that the French black-death scene has many nuggets. We always enjoy discovering bands during concerts. In particular: Ad-Patres, Iron flesh, Hysteria ,Burn your Karma, warfuck, Maieutiste ,Sublime Cadaveric decomposition, Benighted ..... And so the list is long! And then the return of Arkhon's unfaithful bosses!
If I tell you that your new album reminds me of a mix of the best of Morbid Angel and Mayhem, is that okay with you?
Yes in the absolute it suits me because they are two great influences for us.
I hope you could also see in us a more personal music, we tried to record a varied album with a maximum of atmospheres!
Your 20 favorite albums of all time?
Pantera: Vulgar display of power, reinventing the steel .
Eyehategod: take as needed for pain.
Dissection: The somberlain, Storm of the Light's bane
Morbid angel: Domination, Gateway to annihilation
Mayhem: wolf lair abyss, De mysteriis dom sathanas, ordo ad chaos
Arkhon infaustus: Hell injection
Slayer: reign in blood, Divine intervention
Dead congregation: Graves of the archangels, Promulgation of the fall
Cannibal corpse: Bloodthirst
Deicide: Serpent of the light
Death: Sound of perseverance, Symbolic
Silencer : Death pierce me
Only new what... (laughs) No seriously I think that the bands and albums you discover as a kid make a lasting impression on you... Nothing can dethrone them.
What if Mithridatic was a citation?
Guitou: "Give us that again! "it even works for our epitaph...
By the way, what does Mithridatic mean?
Guitou: Mithridate the Great was a king who immunized his body against poisonings (frequent at the time), by taking several poisons daily and gradually... We use MITHRIDATIC as a tool, intoxication and a perpetual struggle to face and finish this poisoned world; a tool to accomplish itself, and this until the end.
Free space: add what you want!
Thank you for your interest in our music, we will be in concert at the beginning of November at the Hell'oween fest in Saintes, then on tour from 17 to 21 December. We will pass through Paris, Lille, Lyon, Fontaine-l'évêque in Belgium and Geleen in the Netherlands.