Bovary Sur ce Mur Trop Souillé Review Fr/Eng (Depressive Black Metal)
Bovary Metal
Voila ce que j'appelle une évolution ! Si j'avais déjà particulièrement apprécié la démo de ce groupe à 80 % féminin (CHRONIQUE DE LA DEMO) venu de notre belle France, avec leur DSBM racé et original, je ne m'attendais pas forcément à un album qui repousserait si loin les limites des genres (musicaux s'entend). Ici, nous sommes en Terra Incognita musicale, et c'est absolument jouissif ! Si un morceau de temps à autre peut rappeler le Black dépressif abattu de la démo ("Nous Sommes...") nous trouvons ici un groupe nouveau dans ses intentions : car Bovary dépassent le cadre du DSBM, du Black Metal et même du Metal dans leurs créations nouvelles : ainsi d'un "irrécupérable" à l'ossature franchement Rock, de la ballade vénéneuse "Arsenic" qui nous dévoile un chant d'Ondine (à moins que ce ne soit Petri ?) d'une grand pureté, qui rappellera aux vieux de la vieille comme moi des chanteuses folk françaises comme Catherine Ribeiro ou la reine du psychédélisme californien Grace Slick du Jefferson Airplane, un son étonnant qui vient se heurter au Black Metal dépressif du groupe !
Now that's what I call an evolution! If I had already particularly appreciated the demo of this 80% female band (REVIEW HERE) from our beautiful France, with their racy and original DSBM, I didn't necessarily expect an album that would push the boundaries of genres so far (musical can be heard). Here we are in Terra Incognita musical, and it is absolutely enjoyable! If a piece from time to time can remind us of the depressive Black shot down from the demo ("We Are...") we find here a new band in its intentions: because Bovary go beyond the framework of DSBM, Black Metal and even Metal in their new creations: thus from an "irretrievable" to a frankly Rock skeleton, from the venomous ballad "Arsenic" which reveals us an Ondine song (unless it is Petri?) of great purity, which will remind the old ones of French folk singers like Catherine Ribeiro or the queen of Californian psychedelism Grace Slick of Jefferson Airplane, an amazing sound that comes up against the depressive Black Metal of the band!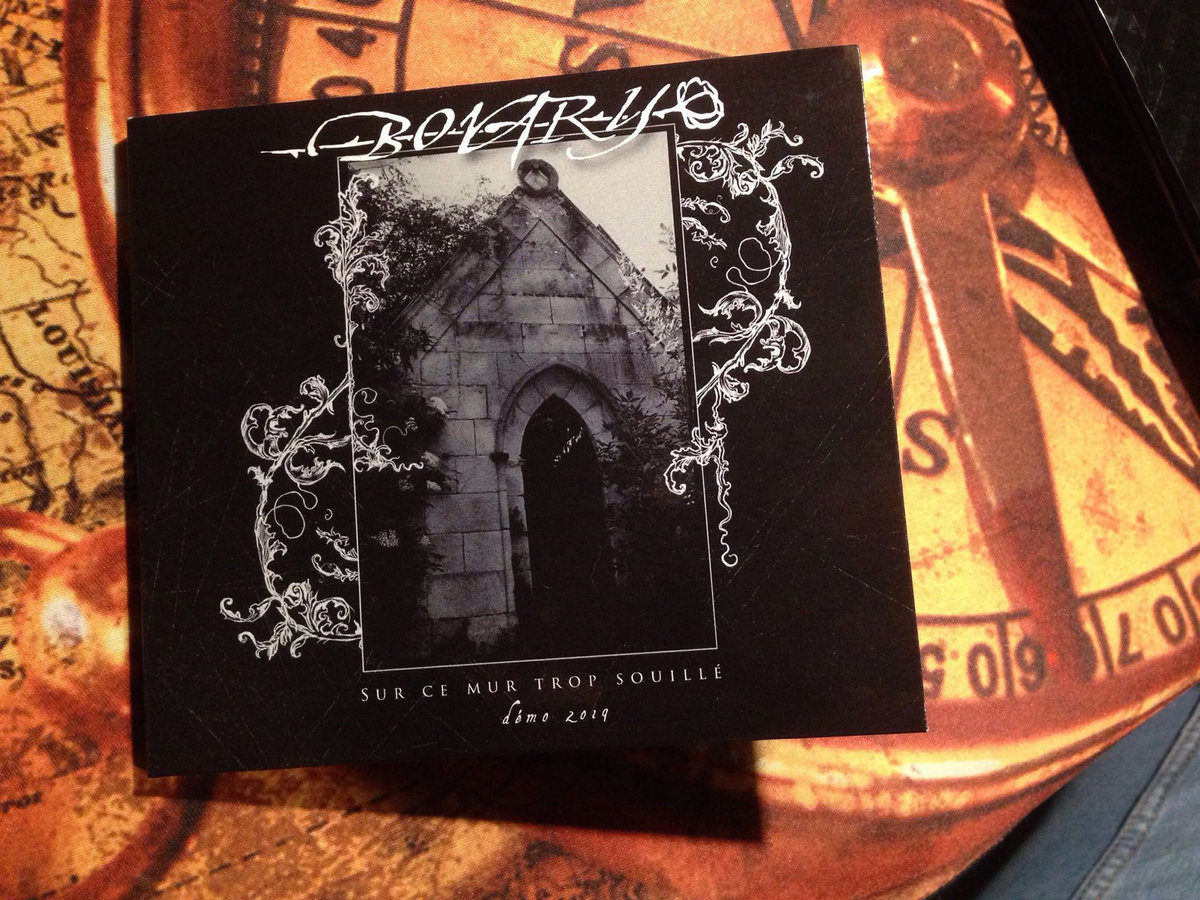 Ainsi un groupe nous est né, qui, sur ce premier opus plus que convaincant, nous dévoile un son fortement ancré dans la chanson française, le rock, tout autant que dans le DSBM, l'aventure est vraiment à vivre, dans la mesure où les textes sont également très beaux. Vivement conseillé à celles et ceux qui croient que l'innovation n'est plus de la partie en matière de Black Metal, et que tout à été fait ! Bovary arrive, s'impose et pourrait bien continuer à surprendre !
Thus a band was born to us, which, on this first opus more than convincing, reveals a sound strongly anchored in French song, rock, as much as in DSBM, the adventure is really to live, insofar as the texts are also very beautiful. Strongly recommended to those who believe that innovation is no longer part of the Black Metal game, and that everything has been done! Bovary arrives, imposes himself and could well continue to surprise!