REVIEW - FR/ENG - NORD - THE ONLY WAY TO REACH THE SURFACE - 2019 - KLONOSPHER/SEASON OF MIST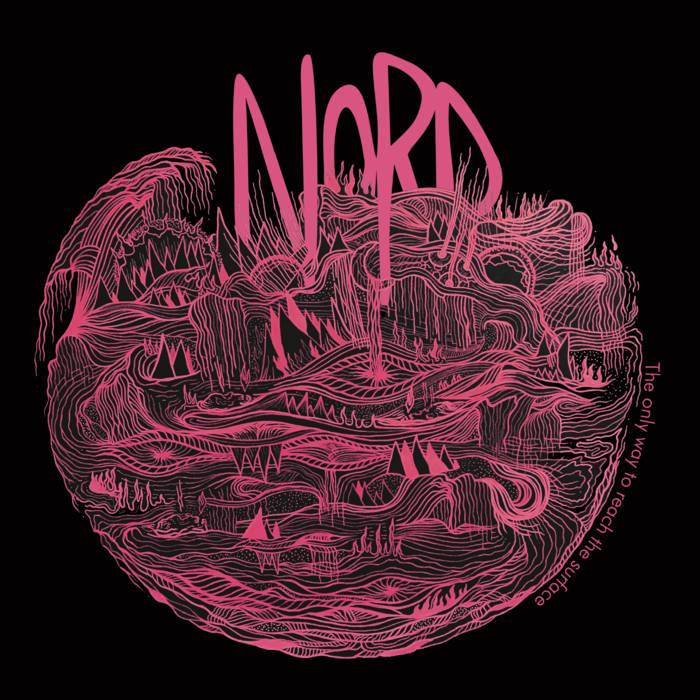 Voici un disque qui se découvre comme une invitation au voyage...D'abord un voyage musical d'une richesse inouïe, puisque les parisiens de Nord, avec ce "The Only Way To Reach The Surface" nous convient à parcourir les genres, depuis le Post-Rock/Alternatif et Progressif qui structure la musique du groupe, jusqu'à ces envolées Djent et Metal qui viennent percuter l'auditeur entre deux salves plus mélodiques.
Ensuite un voyage entre lumières et ténèbres, puisque ce "seul chemin pour rejoindre la surface" est bien sûr parsemé d'embûches, tout comme l'est la vraie vie. Ainsi, comme Nord le dit sur son Bandcamp, l'amour, la frustration, le travail et la mort s'invitent ils à la fête avant que d'imaginer la possibilité d'une lumière finale. Une lumière finale, de celles qui vous transportent dans un monde meilleur, une lumière brillante et pure. Celle au bout du tunnel ?
A considérer que la vie est bien une forme de tunnel, avec ses "cédez le passage", ses "stops", ses "accidents" et ses "virages" nombreux et souvent sinueux.
Oui la vie est difficile, et le chemin est long avant d'espérer voir la lumière.
Mais le chemin en vaut la peine.
Ici la musique du groupe convoque aussi bien les spectres bienveillants de Deftones (le chant par moments) que The Mars Volta (des structures complexes a un certain psychédélisme pop) mais on pense aussi à des grands fracassés comme The Dillinger Escape Plan ou Meshuggah (les cassures rythmiques, le côté "Metal concassé") ou encore Yes pour la partie la plus progressive de leur Rock ou Tesseract et consorts pour l'aspect Djent de leur Metal Progressif.
Au final, Nord est-il un groupe de Rock, un groupe de Metal ? Peu importe. Nord est un groupe de musique, qui propose ici un rêve éveillé de toute beauté qui nous trimbale bien loin des tracasseries du quotidien, et dieu sait si elles sont nombreuses.
Avec "The Only Way To Reach The Surface" redécouvrez le pouvoir de la musique : évadez-vous de votre prison confinée en prenant le chemin de l'imaginaire, cette musique narrative vous y aidera sans conteste. Nord remboursé par la sécurité sociale ? Et pourquoi pas ?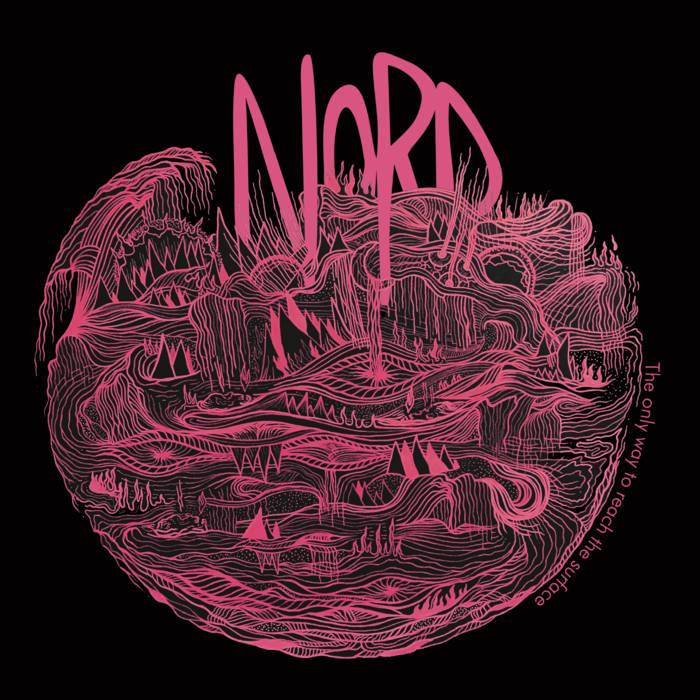 Here's a record that is discovered as an invitation to travel... First of all, a musical journey of an incredible richness, since the Parisians from Nord, with this "The Only Way To Reach The Surface" invites us to go through the genres, from the Post-Rock/Alternative and Progressive which structures the band's music, to these Djent and Metal flights of fancy which come to strike the listener between two more melodic bursts.
Then a journey between light and darkness, since this "only way to reach the surface" is of course strewn with pitfalls, just like real life is. So, as Nord says on his Bandcamp, love, frustration, work and death invite themselves to the party before imagining the possibility of a final light. A final light, one that transports you to a better world, a bright and pure light. The one at the end of the tunnel?
To consider that life is indeed a kind of tunnel, with its "yielding the way", its "stops", its "accidents" and its numerous and often winding "bends".
Yes, life is difficult, and the road is long before hoping to see the light.
But the road is worth it.
Here, the band's music summons up the benevolent spectres of Deftones (the vocals at times) as well as The Mars Volta (complex structures with a certain pop psychedelism) but we also think of great shattered ones like The Dillinger Escape Plan or Meshuggah (the rhythmic breaks, the "crushed metal" side) or Yes for the most progressive part of their Rock or Tesseract and consorts for the Djent aspect of their Progressive Metal.
In the end, is Nord a Rock band, a Metal band? It doesn't matter. Nord is a music band, which proposes here a beautiful waking dream that takes us far away from the daily hassles, and God knows if they are numerous.
With "The Only Way To Reach The Surface" rediscover the power of music: escape from your confined prison by taking the path of the imagination, this narrative music will undoubtedly help you. Nord reimbursed by health care ? And why not?