LA MÈRE DE TOUTES LES PESTES ! INTERVIEW AVEC MERCYLESS - MAX OTERO -FR/ENG
DEATH METAL FOR PASSION NOT FOR FASHION
Si Nostradamus avait vécu au vingtième et au vingt et unième siècles, il aurait probablement monté un groupe de Metal (ce n'est pas Rob Halford qui me contredira !). Mercyless, perle de nôtre scène extrême depuis plus de trente ans a eu une espèce de prescience en baptisant son nouvel album, a sortir en Juillet (normalement) "The Mother Of All Plagues" (la mère de toutes les pestes). A ceux qui y verraient un quelconque opportunisme lié au corona, sachez simplement que l'album a été écrit, enregistré, produit, bouclé en 2018 ! Ensuite, il faut savoir que j'ai envoyé mes questions au groupe avant la pandémie de Coronavirus et que Max m'a répondu au début de celle ci ! Ceci explique la bizarrerie de certains échanges...Eh oui, nous allons donc voir avec l'excellent Max Otero non seulement comment leur est venue cette idée, à quoi va ressembler l'album, mais on va aussi en profiter pour passer en revue la belle et riche carrière de Mercyless !
"J
e rappelle à tout le monde que l'on à écrit et enregistré cet album entre juin et septembre 2018 avec une pochette réalisée en Avril 2018 !" (Max Otero)
Entretien avec Max Otero, en plein cœur de la mère de toutes les pestes...
Salut Max ! Bienvenue chez le Scribe ! Première question : cela fait maintenant 33 ans que Mercyless existe ! L'âge du christ ! Ça fait quel effet ?
Hello ! merci à toi ! ben disons que le temps passe et toujours fier d'être là ….quand à l'age du Christ ….hum? Il y a une Mission Évangélique de Mulhouse que tu a du en entendre parler …demande leur ! Jesus Saves ! hein !
Vous sortez cette année "The Mother Of All Plagues" un nouvel album fort attendu, chez Xenokorp. Peux tu nous donner quelques infos sur l'album ?
Il devrait sortir le 7 juillet (normalement car en ces temps troubles ,rien n'est certain!) (Note Du Scribe : l'album sortira en Août, voir le flyer ci-dessous) pour résumer le truc, 8 morceaux, 34 minutes, et une version collector avec des reprises old school qui nous sont chères ! c'est album est un condensé de colère ….mais se sera à toi d'en juger.
Je n'ai pas encore pu écouter l'album, mais doit on s'attendre à une continuité par rapport a "Pathetic Divinity" ou y'a t'il des surprises ? Si oui lesquelles ?
Chaque album est une remise en question avec plein de petites choses qui marquerons une différence évidente, la production est différente, plus directe, plus brute avec une vision du son qui nous est propre ! Sinon pour essayer de résumer …je pense que c'est l'album le plus noir que nous avons jamais écrit avec une dose de haine très représentative de l'époque que nous vivons ! des surprises ? …cet album à été enregistré entre juin et Septembre 2018 ainsi que la pochette …tu comprendra pourquoi je te dis ça quand tu l'aura en main.
Je vous ai vus en concert à Avignon l'an passé et j'ai été sidéré par l'énergie que vous dégagez, vous enterrez les groupes de "djeunes" (lol). Comment vous faites, vous carburez a quoi ?
Ah Ah ! merci …la passion ! "Death metal for passion not for fashion" tant que l'on aura cette volonté de prendre plaisir à faire cette musique en se donnera à fond et on continuera ! ….sinon bien évidement on carbure à 1/3 de Rhum Brun ,1/3 de Coca et du citron !
Mercyless a toujours su garder des racines Thrash dans son Death. Peux tu nous parler de ta relation au Thrash Metal ?
J'ai commencé avec ce style dans les années 80s, donc forcément il y a toujours une petite influence de groupes comme Slayer (early!), Dark Angel, Kreator (early!), Destruction etc. Et ensuite Venom, Hellhammer, Infernal Majesty, dans nos compos. Sinon pour moi le Death est une évolution du thrash avec un son et une interprétation plus sombres.
Récemment y'a t'il des trucs qui t'ont fait "tripper" en matière de Metal ou écoutes tu autre chose ?
Je vais être honnête avec toi. Pas grand chose et je trouve même que l'on régresse beaucoup . Le metal en général m'emmerde, on est dans un monde infantilisé, avec le retour des vieux clichés, redondant, sans âme et souvent on voit des groupes qui flirtent avec la pop sans que cela pose problême etc…drôle d'époque …perso j'écoute beaucoup de vieux trucs thrash, Death toujours et encore ce qui me rassure ! Mais je dois avouer qu'il y a encore de temps en temps des groupes qui me redonnent espoir et surtout en France. Regarde Ritualization, Necrowretch, Fall of seraphs, Towering, Skelethal etc ! on a une belle scène hein !
Que penses tu des évolutions récentes du Death, avec beaucoup de groupes techniques et avec une production un peu "hollywoodienne" ?
J'avoue que je m'y perds un peu, mais bon il faut de tout pour faire un monde n'est ce pas !...bien évidement je respecte mais c'est vraiment pas ma came , les groupes techniques qui me donne l'impression de faire des masterclasses sur scène avec le chanteur qui beugle sur tout les passages de peur de pas exister dans les compos et avec ces productions hyper vitaminées, compressées au maximum. Ça donne un coté très "plastique" et très commun car on entend souvent la même base de production ! Mais bon je vais pas faire mon vieux croulant réfractaire à tout ce qui existe car j'estime que la musique doit évoluer alors oui laissons leur chance à ces styles bien évidement !
C'est qui ou quoi la mère de toutes les pestes ?
Hum …..regarde la période que l'on vit et tu comprendra …..je rappelle à tout le monde que l'on à écrit et enregistré cet album entre juin et septembre 2018 avec une pochette réalisée en Avril 2018 ! je précise cela car je sais que l'on va nous tomber dessus pour un coté opportuniste qui n'en est pas un concernant le titre et des morceaux de l'album ! j'avais cette idée de corrélation entre la pandémie de peste de 1354 et le poids de la religion, depuis plusieurs années….la suite ben voilà ….
"Unholy Black Splendor" avait scotché tout le monde. C'était votre grand retour, et vous avez sidéré les fans en gardant votre touche old school mais avec un album qui sonne puissant et actuel. Comment dosez vous les choses entre les compos et la production ?
Merci, c'est juste que l'on a repris les choses là ou les avaient laissées en 1994 … On est revenus avec des idées très précises du son et des compos, on voulait montrer au public que l'on avait encore des choses à dire et bien évidement avec notre conception de la musique qui se veut résolument Old school !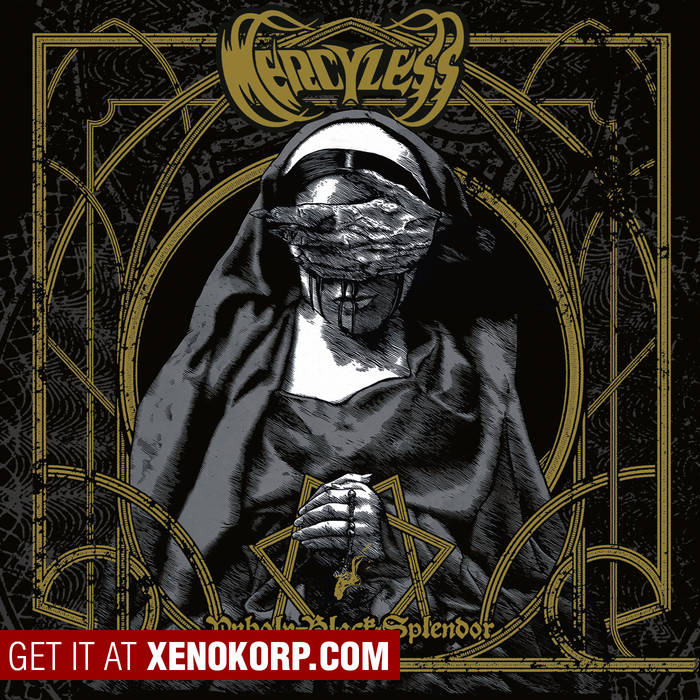 Vous avez commencé en 1987, deux ans après Loudblast seulement, et plus en moins en même temps qu'Agressor. Souvenirs souvenirs ! On vient de ressortir leur "split" album "licensed to thrash" récemment. Quels souvenirs as tu de cette époque ?
Arghh ! les débuts de la scène death/thrash étaient magnifiques, on avait tout à faire et à prouver, tous les groupes on dû batailler ferme pour en arriver où ils sont aujourd'hui. J'en garde des souvenirs nostalgiques de festivals épiques, de rencontres, de découvertes, les démos, les fanzines, les studios, le tape trading, le partage avec le public ….c'est loin mais quelle belle époque !!!
Tu es toujours en contact avec les mecs de ces groupes ? D'autres ?
Yes avec les anciens de Loudblast, Agressor, No Return, Catacomb, Misanthrope etc….tu vois de qui je veux parler et encore plein d'acteurs de cette époque que je revois régulièrement lors de fests ou concerts ! c'est toujours un plaisir !
Depuis quelques années le death metal "à l'ancienne" a le vent en poupe. A quoi attribues tu cela ?
Le besoin de revenir à des choses essentielles je pense, le son, les riffs, la voix typique …il y a un coté très primaire qui plait beaucoup et qui fonctionne bien sur scène !
Le jeune Max Otero, il écoutait quoi dans sa piaule en 85-87 ?
Ahhh! Après un intérêt pour la scène punk et gothique de cette époque (Exploited, Discharge, G.B.H, Broken bones, The Sisters of mercy, The Mission, All About Eve, Red Lorry …etc) sont arrivés les débuts de Metallica, Slayer, Venom, Possessed, Morbid Angel….etc plein de belles choses qui ont construit mon éducation musicale et ce que je suis aujourd'hui !
Si tu n'avais pas été musicien, tu aurais rêvé de faire quoi ? Et tu fais quoi comme job alimentaire (si tu en as un) ?
Oh question difficile…du sport peut être, du football…J'en sais trop rien ….Sinon je conduis des grues !
Encore un mot sur le futur album, que je suis frustré de ne pas connaitre. J'ai vu qu'il allait sortir avec un cd bonus de reprises. Tu peux nous en dire un mot ? Pourquoi avoir choisi ces titres en particulier ?
Je comprends ta frustration ….ah!ah!…Pour les reprises on voulait rendre hommage à notre façon a des groupes qui ont comptés pour nous et qui compte nt encore ,alors on s'est fait plaisir ! On à pris des titres qui correspondent à nos influences .Tu verras tu ne sera pas déçu !
Tes albums préférés de tous les temps ?
Pestilence –Consuming impulses
Hellhammer-Apocalyptic raids….et bien d'autres
Si tu avais un rêve que tu voudrais réaliser en 2020 ?
Vu la période …que l'on s'en sorte tous le mieux possible…..ensuite on verra bien !
Donne nous le mot de la fin...attention...c'est a toi :
Merci beaucoup pour ton intérêt et ton soutient et long vie à ton zine !! Merci à ceux qui continuent à soutenir cette scène en ces temps très compliqués on vous souhaite le meilleur à vous et vos familles ! Sinon pour les autres…. Opportunistes, politiques, religieux de tous bords, élus, donneurs de leçons, hypocrites en tous genres …N'oubliez pas " c'est à la fin du bal que l'on paye l'orchestre " Stay strong ,stay safe ,stay evil !
Merci Max !
PS : Pour découvrir le premier extrait de "The Mother Of All Plagues", allez télecharger GRATUITEMENT le nouveau sampler de Xenokorp, vous y découvrirez "Banished From Heaven" et putain ça promet !
TÉLÉCHARGE LE SAMPLER ICI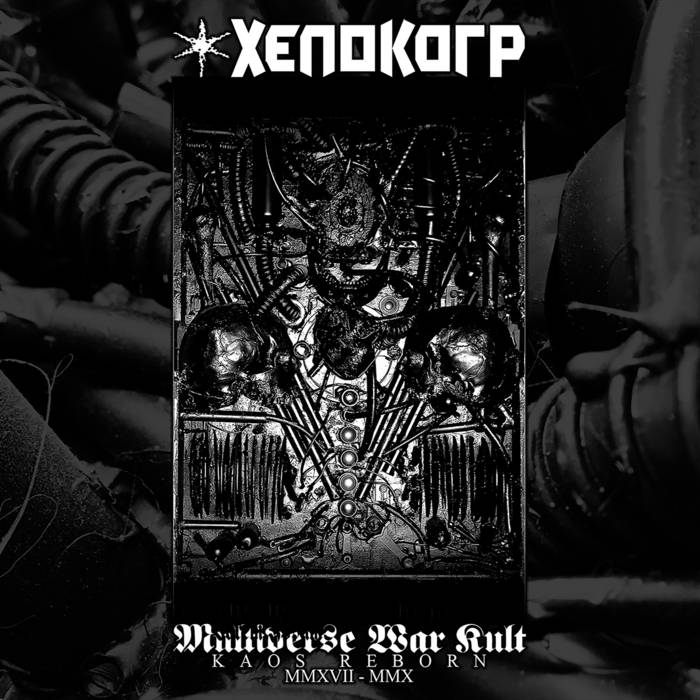 DEATH METAL FOR PASSION NOT FOR FASHION
If Nostradamus had lived in the twentieth and twenty-first centuries, he probably would have started a Metal band (it's not Rob Halford who will contradict me!). Mercyless, the pearl of our extreme scene for more than thirty years has had a kind of prescience in naming his new album, to be released in July (normally) "The Mother Of All Plagues". To those who would see any opportunism linked to the corona, just know that the album was written, recorded, produced, completed in 2018! Then, you should know that I sent my questions to the band before the Coronavirus pandemic and that Max answered me at the beginning of it! This explains the weirdness of some exchanges... Yes, we're going to see with the excellent Max Otero not only how this idea came to them, what the album will look like, but we're also going to take advantage of it to review the beautiful and rich career of Mercyless!
"I would like to remind everyone that we wrote and recorded this album between June and September 2018 with a cover made in April 2018!" (Max Otero)
Hi, Max! Welcome to the Scribe! First question: Mercyless has been around for 33 years now! The age of Christ! How does it feel?
Hello ! Thank you ! Well let's say that time goes by and always proud to be here ...when at the age of Christ ...hum? There's an Evangelical Mission in Mulhouse that you must have heard about ...ask them ! Jesus Saves !
You will release this year "The Mother Of All Plagues", a new album that is eagerly awaited by Xenokorp. Can you give us some information about the album ?
It should be released on July 7th (normally because in these troubled times, nothing is certain!), to summarize the thing, 8 tracks, 34 minutes, and a collector's version with old school covers which are dear to us!
I haven't been able to listen to the album yet, but should we expect a continuity with "Pathetic Divinity" or are there some surprises ? If yes, which ones ?
Each album is a questioning with a lot of little things that will mark an obvious difference, the production is different, more direct, more raw with a vision of the sound that is ours ! If not to try to summarize ...I think it's the blackest album we've ever written with a dose of hatred very representative of the time we live in ! Any surprises ? ...this album was recorded between June and September 2018 and the cover ...you'll understand why I say that when you'll have it in your hand.
I saw you live in Avignon last year and I was amazed by the energy you give off, you bury the "djeunes" (lol) bands. How do you do it, what do you drink to?
Ah ! Ah ! Thank you ....passion ! "Death metal for passion not for fashion" as long as we have this will to take pleasure in making this music by giving it our all and we'll go on ! .....otherwise of course we use 1/3 of Brown Rum, 1/3 of Coke and lemon !
Mercyless always knew how to keep Thrash roots in his Death. Can you tell us about your relationship with Thrash Metal ?
I started with this style in the 80s, so there is always a small influence of bands like Slayer (early!), Dark Angel, Kreator (early!), Destruction etc...and then Venom, Hellhammer, Infernal Majesty, in our compositions. Otherwise for me Death is an evolution of thrash with a darker sound and interpretation.
Recently, are there some things that made you tripping in Metal or do you listen to something else ?
I'll be honest with you ...not much and I even think that we regress a lot. Metal in general pisses me off, we're in an infantilized world, with the return of old clichés, redundant without soul and often we see bands flirting with pop music without any problems etc...funny times ...personally I listen to a lot of old thrash stuff, Death always and again which reassures me ! but I must admit that there are still from time to time bands that give me hope and especially in France look at Ritualization, Necrowretch, Fall of seraphs, Towering Skelethal ...etc ! we have a nice scene !
What do you think about the recent evolutions of Death, with a lot of technical bands and with a "Hollywood" production ?
I confess that I'm a bit lost in it, but it takes everything to make a world, isn't it !...of course I respect but it's really not my thing, the technical bands that give me the impression to do master classes on stage with the singer who bellows on all the passages for fear of not existing in the compositions and with these hyper vitaminized productions, compressed to the maximum. It gives a very "plastic" and very common sound because we often hear the same basis of production! but hey I'm not going to make my old crumbling refractory to everything that exists because I believe that music must evolve so yes, let's give these styles a chance of course!
Who or what is the mother of all plagues?
Hum ......look at the period we are living through and you will understand ......I remind everyone that we wrote and recorded this album between June and September 2018 with a cover made in April 2018 ! I specify this because I know that we will be attacked for an opportunistic side which is not one concerning the title and tracks of the album! I had this idea of correlation between the plague pandemic of 1354 and the weight of religion, for several years...here it is !
"Unholy Black Splendor" had surprised everyone . It was your big comeback, and you amazed the fans by keeping your old school touch but with an album that sounds powerful and current. How do you balance things between the compositions and the production?
Thank you, it's just that we took things back to where we left them in 1994 ...we came back with very precise ideas of sound and compositions, we wanted to show the public that we still had things to say and of course with our conception of music which is resolutely Old school !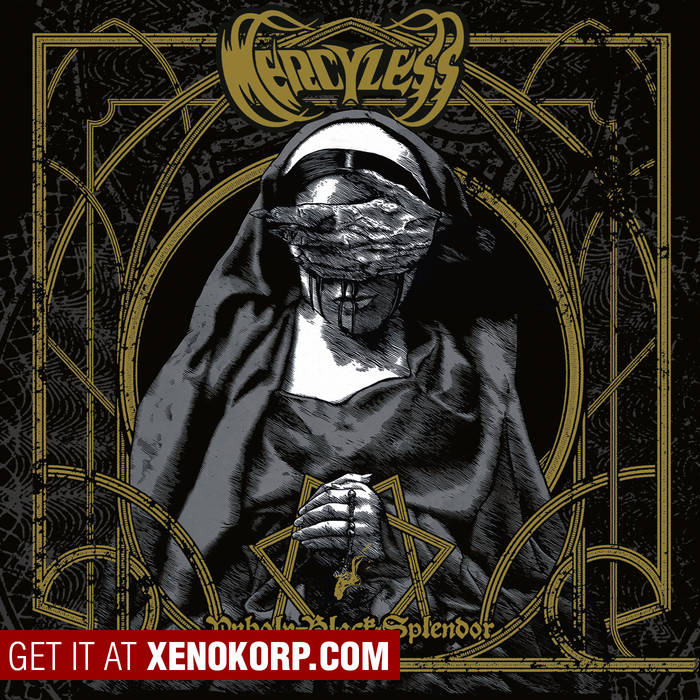 You started in 87, only two years after Loudblast, and more and more at the same time as Agressor. Memories ! We've just released their "split" album "licensed to thrash" recently. What memories do you have from this time ?
Arghh ! The beginning of the death/thrash scene was wonderful, we had everything to do and prove, all the bands had to fight hard to get to where they are today. I keep nostalgic memories of epic festivals, meetings, discoveries, demos, fanzines, studios, tape trading, sharing with the public ....it's far away but what a great time !!!
Are you still in contact with the guys of these bands ? Others ?
Yes with the former members of Loudblast, Agressor, No return, Catacomb, Misanthrope etc....you know who I mean and a lot of actors from this time that I see regularly at parties or concerts ! it's always a pleasure !
For a few years now "old fashioned" death metal has been on the rise. To what do you attribute this ?
The need to go back to the essential things I think, the sound, the riffs, the typical voice...there is a very primary side that I like a lot and that works well on stage !
The young Max Otero, what was he listening to in his room in 85-87 ?
Ahhh! ...after an interest for the punk and gothic scene of that time (Exploited, Discharge,G.B.H,Broken bones,The Sisters of mercy, The Mission, All About Eve, Red Lorry ...etc) came the beginnings of Metallica,Slayer,Venom, Possessed,Morbid Angel...etc full of beautiful things that built my musical education and what I am today !
If you hadn't been a musician, what would you have dreamed of doing? And what do you do as a food job (if you have one)?
Oh hard question...sports maybe, football ...I don't know ...otherwise I drive cranes !
One more word about the future album, which I'm frustrated not to know. I saw that it was going to come out with a bonus cover CD. Can you tell us a word about it? Why did you choose these tracks in particular?
I understand your frustration ...ah!ah!ah...for the covers we wanted to pay homage in our own way to bands that mattered to us and that still matter, so we did it with pleasure ! we took songs that correspond to our influences ...you'll see you won't be disappointed !
Your favourite albums of all time ?
Pestilence -Consuming impulses
Hellhammer-Apocalyptic raids...and many more...
If you had a dream that you wanted to realize in 2020 ?
Considering the period ...let's all get by as best we can .... then we'll see!
Give us the final word....watch out...it's yours:
Thank you very much for your interest and your support and long life to your zine !! thank you to those who continue to support this scene in these very complicated times we wish you and your families the best ! ...if not for the others.... Opportunists, political, religious of all sides, elected officials, lecturers, hypocrites of all kinds ...;don't forget " it's at the end of the ball that we pay the orchestra " Stay strong, stay safe, stay evil !
Thank you Max !
PS: To discover the first extract of "The Mother Of All Plagues", go and download the new Xenokorp sampler for FREE, you'll discover "Banished From Heaven" and it's fucking promising!
YOU CAN DOWNLOAD IT HERE FOR FREE :