MAXIME TACCARDI - Entretien avec un artiste - Peinture, Sang, Black Metal
Interview avec Maxime Taccardi (Griiim, KFR, Art)
"Quand on lutte contre des monstres, il faut prendre garde de ne pas devenir monstre soi-même. Si tu regardes longtemps dans l'abîme, l'abîme regarde aussi en toi."
Friedrich Wilhelm Nietzsche
Maxime Taccardi fait partie de ces "poly-artistes" rares qui donnent le tournis tant ils sont capables de créer un art d'une grande intensité dans des disciplines différentes. Connu pour ses tableaux (notamment ceux composés de son propre sang) de figures célèbres du Black Metal ou d''autres représentations tournant autour de cet univers, il l'est aussi pour son projet KFR, source d'un Black Metal uniformément noir et glauque, et plus récemment avec la publication de l'album "Pope Art" de Griiim, assemblage fascinant de Black Metal, Industriel, Trip Hop, Trap, Goth et autres folies (5ème du Top 2019 du Scribe du Rock ! (
https://bit.ly/3cW4GBS). Alors que l'artiste prépare la parution d'un livre retraçant son oeuvre visuelle et qu'il travaille en parallèle a de nouveaux projets musicaux, il m'a semblé indispensable d'avoir avec lui cet entretien où nous échangeons sur l'art, pop ou pas, le sang...et la musique ! Bonne Lecture !
Bonjour Maxime, et d'abord mille mercis d'avoir accepté de répondre aux questions du Scribe !
Nous allons commencer par parler de ton dernier projet en date Griiim, dont l'album "Pope Art" viens de sortir. Peux tu nous raconter un peu la genèse de ce projet et de cet album ?
Tour d'abord, merci à toi pour cette interview et le soutien que tu portes à mes projets. Griiim est né au départ comme une sorte de projet expérimental avec des influences indus et notamment Chu Ishikawa dont je vénère tout particulièrement les bandes originales qu'il a composées pour Shinya Tsukamoto (Tetsuo, Tokyo Fist, Bullet Ballet etc).
À la base j'ai sorti la démo/album Death March avec K.F.R qui est un disque complètement différent des autres K.F.R, l'album était composé de titres mélangeant indus, noise, Black Metal et dark Ambient. Suite à cela, j'ai voulu continuer dans cette voie sous un autre nom : Griiim. La première demo de Griiim s'intitule Joyfül Noïse et était encore très marquée par la noise et l'ambiant. Pour Pope Art, j'ai voulu une approche plus metal en incorporant des éléments hip hop plus présents qu'auparavant. Le disque est également beaucoup plus sombre qu'avant. Je suis très fan de la scène hip hop de Memphis des années 90 avec des prods comme Blackout, Playa Posse, Lil Terror etc, il s'agissait d'une sorte d'horror rap agressif avec des instrus très sombres. La base rythmique de Pope Art est donc très marquée hip hop, à cela, j'ai ajouté des riffs torturés et très saturés. C'est une sorte de témoignage du bitume des grandes villes dénuées de tout strass et paillettes. Griiim est sombre comme la réalité de la vie, je n'y insuffle qu'un dégoût et une vérité qui dérange.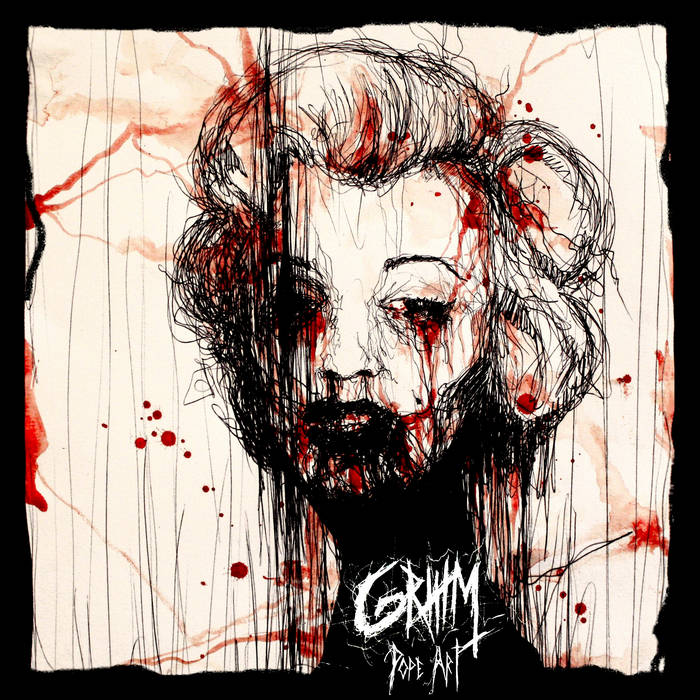 On te connait depuis longtemps pour ton travail graphique, notamment ces pochettes peintes avec ton propre sang. L'artwork de "pope art" ne fait pas exception avec cette Marilyn sanglante. Quel est le symbole, en lien avec le titre : le cercueil du Pop Art ?
Il s'agit d'un jeu de mot avec Pop Art, dont l'oeuvre de Warhol est la plus emblématique. "Pope" (pape) fait référence à une sorte de nouvel ordre de la décadence, Marilyn, symbole du glamour est ici érigée en symbole de la mort et de la beauté éphémère. J'ai intitulé la peinture "Everything Dies" pour signifier que rien ne survit, ni la beauté, ni la richesse, tout se termine dans la pourriture et l'oubli... J'ai d'ailleurs continué cette série avec des portraits de JFK, Michael Jackson et Trump.
Tu avais sorti un premier album de Griiim en 2016, intitulé "Joyful Noise" avec déjà ce mélange avant-gardiste de Black Metal, Darkwave, Industriel, Hip Hop... Qu'est ce qui t'a poussé vers ce mélange là ?
Il s'agissait d'une démo de la longueur d'un album, c'était encore à l'état larvaire, forcément moins abouti que Pope Art et aussi très différente. Cette démo est très expérimentale, je ne me soumets à aucune limite créatrice et retranscrit ce que j'ai envie d'écouter et surtout ce que je veux retranscrire du monde, tout comme dans mes peintures. La rythmique est importante dans Griiim, elle constitue le ciment du projet car c'est ce qui est amené en premier.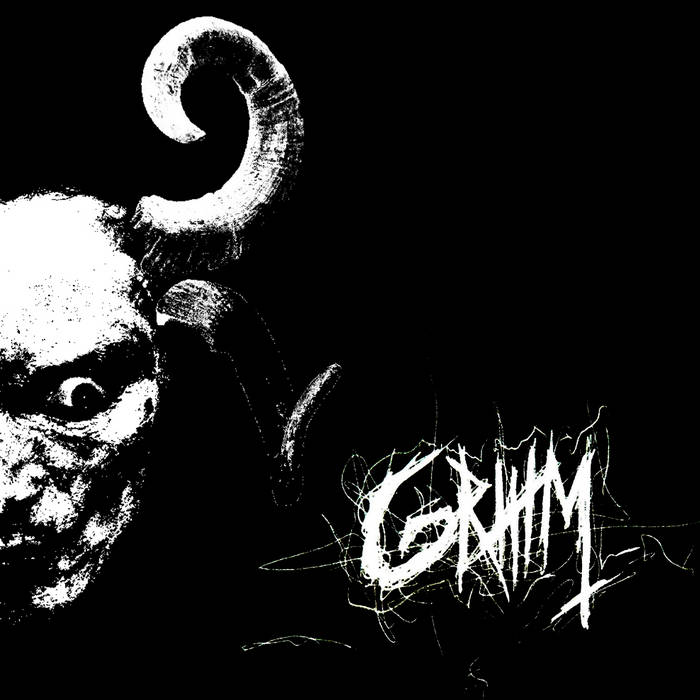 Qu'est ce qui diffère le plus entre les deux albums pour toi ?
Pope Art est bien plus metal, les influences black sont beaucoup plus présentes, je dirais également qu'il est plus à même de retranscrire la société dans laquelle nous évoluons. Je pense qu'il s'agit d'un de mes albums les plus sombres et nauséeux, rien n'y est certain, téléphoné, il s'agit d'un disque rampant à des lieues d'une démarche commerciale.
Avec KFR, ton projet de Black Metal/Darkwave/Dark Ambient, tu as sorti déjà pas mal d'albums et d'EPs (et quelques splits). Peux tu nous parler du dernier EP, "The Pink Devil" que tu as sorti en septembre de cette année ?
Ta collaboration avec Déhà aussi, quelques mots ?
Cet Ep est contitué de titres que j'avais enregistrés à l'époque de Ad Manifestationem Diaboli auxquels j'ai ajouté les vocaux et la batterie plus tard. La pochette est aux antipodes du black avec une version dark de Majin Buu de Dragon Ball Z, The Pink Devil est un titre qui lui est dédié. Je trouvais intéressant de regouper deux univers à priori contradictoires. Déhà est un ami de longue date, j'ai réalisé pas mal de pochettes pour ses différents projets et il était également à la batterie au début de K.F.R.
Les autres projets dans lesquels tu es impliqué comprennent Bubonic Christians, De Vermiis Mysteriis, Djinn ou Saturnian Tempel. Où en sont ces autres groupes/projets ?
Saturnian Tempel est un projet dans lequel je traite de ce qui est lié au cosmos, j'ai d'ailleurs utilisés des sons retranscrits de l'activité des planètes dans plusieurs titres. Ça a été un projet solo jusqu'à présent mais Déhà m'a rejoint pour le nouvel Opus qui sortira courant 2020. Le nouvel album s'intitule KRONOS, voici la pochette :
Et voici quelques titres :
De Vermiis n'a sorti qu'un album pour le moment en 2016 chez Dark Adversary, le label D'Azgorh de Drowning the Light qui avait également sorti le premier K.F.R "ANTI". Nous somme deux également dans ce projet et une suite est prévue mais pas dans l'immédiat. Djinn a été un projet assez court avec mon pote OLD de Drohtnung, Woods of Desolation etc, il est venu chez moi pendant une semaine et nous en avons profiter pour enregistrer un disque ensemble. Certaines parties ont d'ailleurs été enregistrées dans les catacombes de Paris. Pour Bubonic, je ne suis que chanteur de session. J'ai également Lamentum qui est un projet auquel je tiens, un mélange de Dungeon Synth (terme quelque peu galvaudé selon moi) et de dark ambient, voici quelques extraits :


Parlons de ton art graphique : quand as-tu commencé à peindre ? As tu une formation académique ? Comment t'es venue cette idée de peindre avec ton sang ?
J'ai fait un master en art et sociologie de la cuture à Metz ce qui m'a permis d'expérimenter pas mal dans différents domaines, aussi bien le graphisme que la photographie ou la vidéo.
Peindre avec mon sang a été une approche naturelle pour moi, je signais déjà mes œuvres avec mon sang il y a 20 ans, de plus cette citation de Picasso dans laquelle il disait que même si enfermé et privé de peinture, il utiliserait ses doigts et salive pour peindre. Quoi de mieux que d'aller jusqu'au sang? C'est pour moi un manifeste, une manière de faire valoir mon opinion et statut en tant qu'artiste. Cette idée de ne faire qu'un avec l'oeuvre, d'y être attaché en dépit de tout. Le sang est un symbole fort, il représente la vie mais aussi la mort une fois répandu sur le sol. Mettre l'art à feu et à sang en somme.
Quelle place occupent l'art et la musique respectivement dans ta vie ?
Je suis constamment en processus créatif, je prends des notes, y pense constamment et surtout me laisse envahir par mes pulsions qui surgissent à n'importe quel moment. Je laisse mon corps agir en tant que vecteur de ces pulsions créatrices.
Te considères tu plus comme un peintre ou un musicien ?
L'art est pour moi le Gesamktkunstwerk, un art total, par conséquent, tous les mediums sont valables, le fait de tout utiliser, de tout faire est partie intégrante de cette démarche, il s'agit d'un tout dans lequel chaque élément est indissociable. Tout cela ne fait donc qu'un avec moi même et ma vision.
Q10 : Revenons un peu à "pope art" : le dvd que tu as inclus dans la version digipack du cd reprend tous les morceaux en version vidéo. Les vidéos rappelent quelque peu ton travail graphique et en même temps collent bien avec le côté dérangeant et malsain de Griiim. Comment as tu travaillé sur ce film ?
J'aime beaucoup faire de la vidéo, j'ai réalisé plusieurs courts métrages à la fac et également enseigné l'art du montage. Je filme dès que je peux ou que je constate quelque chose d'intéressant, la majorité des clips dans le black metal sont, avouons le, complètement ridicules, c'en est parfois affligeant et je ne comprends pas pourquoi des labels investissent de l'argent dans des videos aussi minables. Pour ma part, évidemment il n'y a pas de budget mais je m'efforce de rendre compte d'une certaine unité plastique et sémantique cohérente. Même sans aucun moyens, il est possible de faire des choses intéressantes visuellement. Voici quelques uns de mes clips :
En parlant de dérangeant et malsain, est-ce quelque chose que tu
recherches dans ton art et ta musique ou est-ce, presque, malgré toi ?


Je suis profondément attiré par ça et j'ai commencé à faire de la musique car je trouvais que finalement peu de projets allaient au bout de cette recherche. Il s'agit d'une véritable immersion dans laquelle je fais abstraction de tout élément que je ne juge pas être apte à retranscrire cette idéé (c'est surtout le cas pour K.F.R, Griiim et Nekröse). Lamentum possède beaucoup de mélodies au piano par exemple, cela reste un projet sombre mais par moments, certaines parties plus accessibles font leur apparition.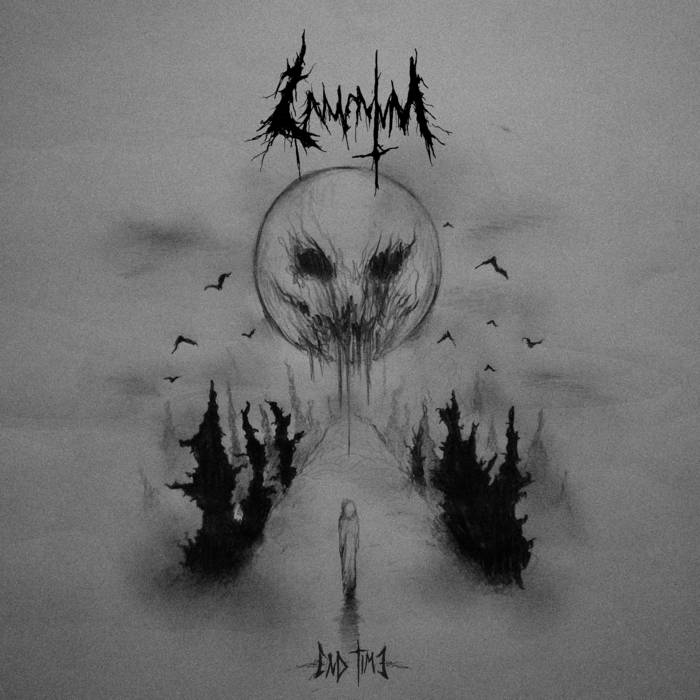 Tu sembles aimer beaucoup de genres musicaux, peux tu nous en parler un peu ?


Disons que tout est valable, rien ne sert de se cantonner uniquement à un genre musical, la richesse vient également d'autres contrées sonores. On ne peut créer sans s'inspirer, que ce soit par la nature, le monde, la société ou bien les différents courants musicaux. La première claque musicale de mon enfance fut la découverte de la scène krautrock d'Allemagne des années 70 avec notamment Klaus Schulze et Conrad Schnitzler. Voilà le vrai point de départ de mon parcours musical, les bandes originales de films ont également beaucoup d'importance.
Klaus Schulze, Mirage
En matière de peinture et d'art qui sont les artistes que tu admires ?


Goya, le premier peintre que j'ai découvert étant enfant, quand j'ai vu son Saturne et ses peintures noires pour la première fois, j'ai su que je serais un artiste. Autrement l'art en général me touche bc mais j'aime aussi William Blake, Schiele, Klimt, Bosch, Le Caravage, Gustave Doré etc...
Le Sabbat des Sorcières, de Francisco GOYA
Tes 20 albums préférés de tous les temps ?


Il y en a beaucoup c'est vrai, en voici une sélection (21 car 20 je ne peux pas):
-Sepultura "Morbid Visions"
-Klaus Schulze "Irrlicht"
-Conrad Schnitzler "Convex"
-Blut Aus Nord "The mystical beast of rebellion"
-Mütiilation "Remains of a ruined dead cursed soul"
-Elliot Goldenthal "Pet Sematary"
-Mayhem "Live in Leipzig"
-Necrophagia "Ready for death"
-Beherit "Messe des morts"
-Emperor "In the nightside Eclipse"
-Ivor Slaney "Terror original soundtrack"
-DTL "Of celtic blood and satanic pride"
-Darkthrone "Panzerfaust"
-Leviathan "Tentacles of Whorror"
-Bathory "Blood Fire Death"
Ajoutes ce que tu souhaites, même du sang !


Merci pour le soutien et cette interview.
Si tu étais une citation, un proverbe ?


"Quand on lutte contre des monstres, il faut prendre garde de ne pas devenir monstre soi-même. Si tu regardes longtemps dans l'abîme, l'abîme regarde aussi en toi."
Friedrich Wilhelm Nietzsche
Interview with Maxime Taccardi (Griiim, KFR, Art)
"When fighting monsters, you have to be careful not to become a monster yourself. If you look into the abyss for a long time, the abyss also looks into you."
Friedrich Wilhelm Nietzsche
Maxime Taccardi is one of those rare "poly-artists" who are so capable of creating an art of great intensity in different disciplines that they make you dizzy. Known for his paintings (especially those composed of his own blood) of famous Black Metal figures or other representations revolving around this universe, he is also known for his KFR project, source of a uniformly black and gloomy Black Metal, and more recently with the publication of Griiim's album "Pope Art", a fascinating assemblage of Black Metal, Industrial, Trip Hop, Trap, Goth and other madnesses (5th in the Rock Scribe's Top 2019! (https://bit.ly/3cW4GBS). While the artist is preparing the publication of a book retracing his visual work and working in parallel on new musical projects, it seemed essential to me to have this interview with him where we exchange on art, pop or not, blood...and music! Happy reading!
Hello Maxime, and first of all a thousand thanks for agreeing to answer the Scribe's questions!
We're going to start by talking about your latest project Griiim, whose album "Pope Art" has just been released. Can you tell us a little bit about the genesis of this project and this album ?
First of all, thank you for this interview and the support you give to my projects. Griiim was initially born as a kind of experimental project with industrial influences and in particular Chu Ishikawa whose soundtracks I particularly revere, he composed for Shinya Tsukamoto (Tetsuo, Tokyo Fist, Bullet Ballet etc).
Basically I released the demo/album Death March with K.F.R which is a completely different record from the other K.F.R, the album was composed of tracks mixing indus, noise, Black Metal and dark Ambient. After that, I wanted to continue in this voice under another name: Griiim. Griiim's first demo is called Joyfül Noïse and was still very marked by noise and ambient. For Pope Art, I wanted a more metal approach by incorporating hip hop elements more present than before. The record is also much darker than before. I'm a big fan of the Memphis hip hop scene of the 90's with prods like Blackout, Playa Posse, Lil Terror etc, it was a kind of aggressive horror rap with very dark instruments. The rhythmic base of Pope Art is therefore very hip hop, to that I added tortured and very saturated riffs. It's a kind of testimony of the asphalt of big cities devoid of any rhinestones and glitter. Griiim is as dark as the reality of life, I only breathe in disgust and an inconvenient truth.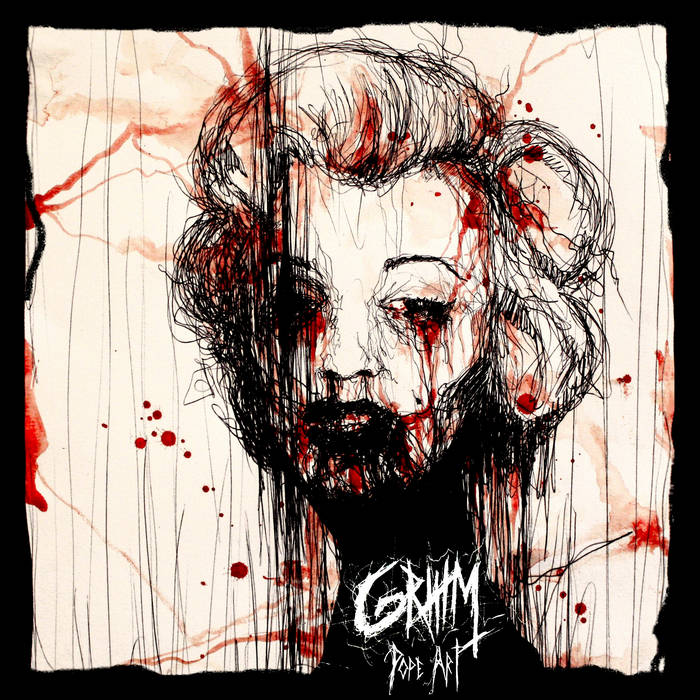 You've been known for a long time for your graphic work, especially those covers painted with your own blood. The artwork of "pope art" is no exception with this bloody Marilyn. What is the symbol, related to the title: Pop Art's coffin?
It's a play on words with Pop Art, of which Warhol's work is the most emblematic. "Pope" (pope) refers to a kind of new order of decadence, Marilyn, symbol of glamour is here erected as a symbol of death and ephemeral beauty. I entitled the painting "Everything Dies" to mean that nothing survives, neither beauty nor wealth, everything ends in decay and oblivion . I continued this series with portraits of JFK, Michael Jackson and Trump.
You had released a first Griiim album in 2016, entitled "Joyful Noise" with already this avant-garde mix of Black Metal, Darkwave, Industrial, Hip Hop... What pushed you towards this mix?
It was a demo the length of an album, it was still in a larval state, necessarily less accomplished than Pope Art and also very different. This demo is very experimental, I don't submit myself to any creative limits and I transcribe what I want to listen to and above all what I want to transcribe from the world, just like in my paintings. Rhythmics is important in Griiim, it is the cement of the project because it is what is brought first.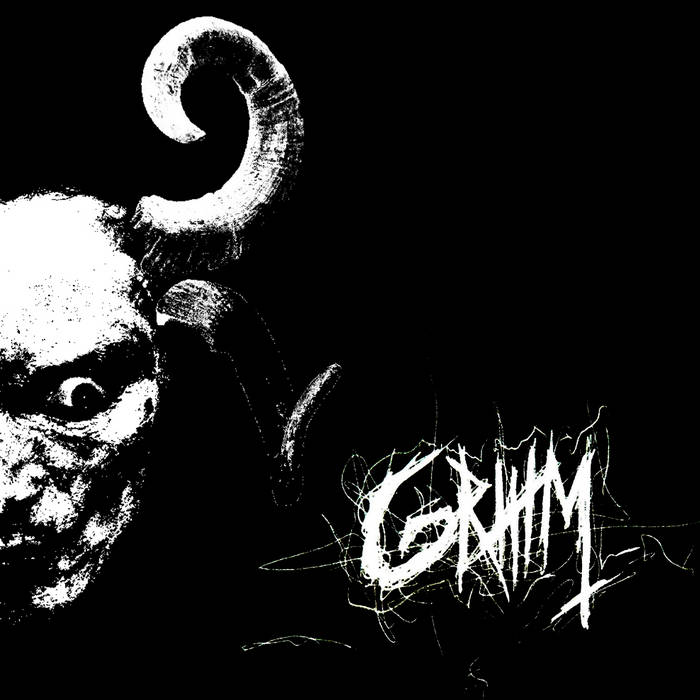 What is the most different between the two albums for you?
Pope Art is much more metal, the black influences are much more present, I would also say that it is more able to transcribe the society in which we live. I think it's one of my darkest and most nauseous albums, nothing is certain, it's a crawling record far from a commercial approach.
With KFR, your Black Metal/Darkwave/Dark Ambient project, you've already released quite a few albums and EPs (and a few splits). Can you tell us about the last EP, "The Pink Devil" that you released in September this year?
Your collaboration with Déhà too, a few words?
This Ep is made up of tracks I recorded at the time of Ad Manifestationem Diaboli to which I added vocals and drums later. The cover is at the antipodes of black with a dark version of Majin Buu from Dragon Ball Z, The Pink Devil is a track dedicated to him. I thought it was interesting to put together two worlds that are contradictory. Déhà is an old friend of mine, I made a lot of covers for his different projects and he was also on drums when K.F.R. started.
Other projects you are involved in include Bubonic Christians, De Vermiis Mysteriis, Djinn or Saturnian Tempel. What is the status of these other groups/projects?
Saturnian Tempel is a project in which I deal with the cosmos, and I have used sounds from the activity of the planets in several titles. It has been a solo project so far but Déhà has joined me for the new Opus that will be released in 2020. The new album is called KRONOS, here is the cover:
And here are some tracks:
De Vermiis has only released one album so far in 2016 on Dark Adversary, the D'Azgorh label of Drowning the Light who also released the first K.F.R "ANTI". There are two of us also in this project and a sequel is planned but not in the immediate future. Djinn was a short project with my buddy OLD from Drohtnung, Woods of Desolation etc, he came to my house for a week and we recorded a record together. Some parts were recorded in the catacombs of Paris. For Bubonic, I'm just a session singer. I also have Lamentum, which is a project I'm very keen on, a mix of Dungeon Synth (a term I think is a bit overused) and dark ambient, here are some excerpts:
Let's talk about your graphic art: when did you start painting? Do you have an academic background? How did you get the idea to paint with your blood?
I did a master's degree in art and sociology of cuture in Metz which allowed me to experiment a lot in different fields, from graphic design to photography and video.
Painting with my blood has been a natural approach for me, I already signed my works with my blood 20 years ago, moreover this quotation of Picasso in which he said that even if locked up and deprived of painting, he would use his fingers and saliva to paint. What could be better than going to the blood? For me, it is a manifesto, a way of asserting my opinion and status as an artist. This idea of being one with the work, of being attached to it in spite of everything. Blood is a strong symbol, it represents life but also death once it is spilled on the ground. Putting art to fire and blood, in short.
What place do art and music respectively occupy in your life?
I am constantly in a creative process, I take notes, think about it constantly and above all let myself be invaded by my impulses that come up at any moment. I let my body act as a vector of these creative impulses.
Do you consider yourself more like a painter or a musician?
Art is for me the Gesamktkunstwerk, a total art, therefore all mediums are valid, the fact of using everything, of doing everything is an integral part of this process, it is a whole in which each element is inseparable. So it is all one with myself and my vision.
Let's come back to "pope art": the dvd you included in the digipack version of the cd includes all the tracks in video version. The videos remind a little bit of your graphic work and at the same time fit well with Griiim's disturbing and unhealthy side. How did you work on this film?
I like making video very much, I made several short films in college and I also taught editing skills. I film as soon as I can or see something interesting, most black metal clips are, let's face it, completely ridiculous, it's sometimes distressing and I don't understand why labels invest money in such lousy videos. For my part, obviously there is no budget but I try to reflect a certain plastic and semantic coherent unity. Even without any means, it's possible to do visually interesting things. Here are some of my clips:
Speaking of disturbing and unhealthy, is this something that you
research in your art and music or is it, almost, in spite of yourself?
I'm deeply attracted by this and I started making music because I found that in the end few projects were going to be able to complete this research. It's a real immersion in which I disregard any element that I don't think I'm capable of transcribing this ideal (it's especially the case for K.F.R, Griiim and Nekröse). Lamentum has a lot of piano melodies for example, it remains a dark project but at times, some more accessible parts appear.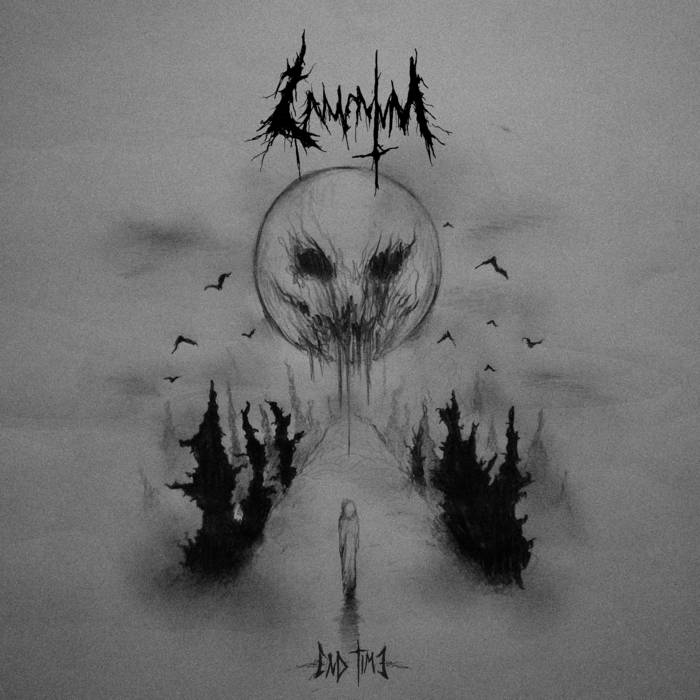 You seem to like a lot of musical genres, can you tell us a little bit about them ?
Let's say that everything is valid, there's no point in restricting oneself only to one musical genre, the richness also comes from other soundscapes. You can't create without being inspired by nature, the world, society or the different musical currents. The first musical slap in my childhood was the discovery of the German krautrock scene in the 70s with Klaus Schulze and Conrad Schnitzler. This is the real starting point of my musical journey, film soundtracks are also very important.
When it comes to painting and art, who are the artists you admire?
Goya, the first painter I discovered as a child, when I saw his Saturn and his black paintings for the first time, I knew I would be an artist. Otherwise art in general touches me but I also like William Blake, Schiele, Klimt, Bosch, Caravaggio, Gustave Doré, etc....
Le Sabbat des Sorcières, de Francisco GOYA
Your 20 favorite albums of all time ?
There are a lot of them it's true, here is a selection (21 because 20 I can't):
-Sepultura "Morbid Visions"
-Klaus Schulze "Irrlicht"
-Conrad Schnitzler "Convex"
-Blut Aus Nord "The mystical beast of rebellion"
-Mütiilation "Remains of a ruined dead cursed soul"
-Elliot Goldenthal "Pet Sematary"
-Mayhem "Live in Leipzig"
-Necrophagia "Ready for death"
-Beherit "Mass of the Dead"
-Emperor "In the nightside Eclipse"
-Ivor Slaney "Terror original soundtrack"
-DTL "Of celtic blood and satanic pride"
-Darkthrone "Panzerfaust"
-Leviathan "Tentacles of Whorror"
-Bathory "Blood Fire Death"
Add whatever you wish, even blood!
Thanks for the support and this interview.
If you were a quote, a proverb?
"When fighting monsters, you have to be careful not to become a monster yourself. If you look into the abyss for a long time, the abyss also looks into you."
Friedrich Wilhelm Nietzsche