FR/ENGLISH - Black Metal et Dark Ambient : Entretien avec MALFETE
Entretien avec Attila, homme à tout faire chez Malfete
Malfete fait partie de ces entités Dark Ambient/Dungeon Synth bien noires que l'on relie immédiatement au Black Metal. Et pour cause, Attila, qui gouverne le projet, est un fan inconditionnel de Metal Noir, Old School en priorité. Entretien avec ce dernier où l'on cause de Malfete, de Black Metal, des origines du Dungeon Synth et de plein d'autres choses encore ! Merci à Feu Follet Productions pour cette belle découverte ! Le Scribe
Bonjour Attila, peux tu nous présenter Malfete ?
Bonjour à toi Pierre, et encore merci pour l'intérêt que tu portes à mon projet ! Alors je me présente, Attila je suis l'unique membre du projet Malfete. Un projet dark ambient et dungeon synth que je compte très bientôt orienter vers le black metal. Malfete en soit est un personnage que j'ai inventé, une sorte d'alter ego vampirique, un vampire qui repense à avec mélancolie à une autre époque, à son passé un peu plus glorieux et qui erre tantot dans le Père-Lachaise, tantôt dans les rues du Paris du 21ème siècle où il ne se sent plus à sa place.
"The Old Ghost Tower" est ton premier album. Et c'est une réussite ! Ton Dark Ambient/Dungeon Synth est bien sombre. Peux tu nous parler de tes inspirations, influences, et de la réalisation de ce premier album ?
Mes inspirations pour cet EP sont assez multiples, il y as un peu d'Isengard, un peu de Wongraven et beaucoup de Burzum et de Bathory. Le premier morceau, l'intro par ailleurs, as été composé alors que j'écouter le premier album de Bathory et son intro "Storm of Damnation" mais au lieu d'utiliser des sons de cloches dans une tempête j'ai "respecté" ma pochette et modifié des cris de
fantômes
et autres spectres pour faire une intro très sinistre et
oppressante
pour poser le décor de l'album.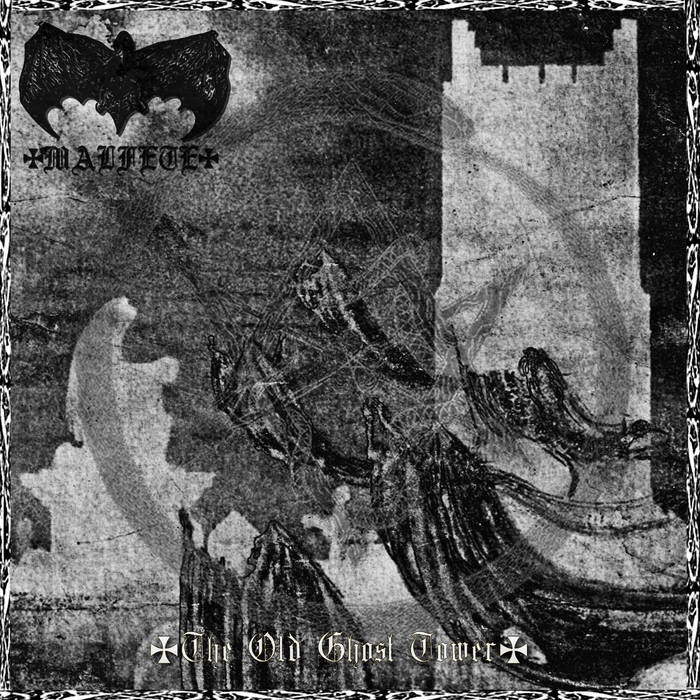 Comment es-tu rentré en contact avec Feu Follet Productions qui ont sorti ton album ?
Alors je ne suis plus très sur, car j'ai facilement la mémoire qui peux flancher ces temps-ci. Mais il me semble que c'est mon ami, mon frère d'arme de La Horde Noire, SHELOB, qui m'avais parlé de lui et je lui ai donc envoyer un message pour discuter avec lui d'un split secret qu'on préparait et au final je lui ai parlé de Malfete et je lui ai fait écouter un morceau. Ca lui as plu et il était vite emballé de me produire l'EP. Depuis je suis fier d'avoir sorti mon tout premier CD chez lui et j'ai hâte d'avoir d'autres créations à lui proposer.
Je te sais fan de Black Metal, notamment de Bathory (mes idoles a moi aussi !) Comment situes tu Malfete et le DS en général par rapport au BM ?
Pour moi le DS (mais je préfère parler de dark ambient) as toujours été lié au BM. L'un des pionniers du genre, de la seconde vague, Burzum et encore la liste est longue Fenriz, Mortiis, Satyr de Wongraven et je suis sûr que si Quorthon n'avait pas quitté ce monde, Bathory aurais pris le même chemin, à en croire les nombreuses parties au synthé dans Nordland I & II. Du coup je situe le DS comme un sous-genre direct au black metal, j'aime le qualifier en faite de "Black Metal au Synthé".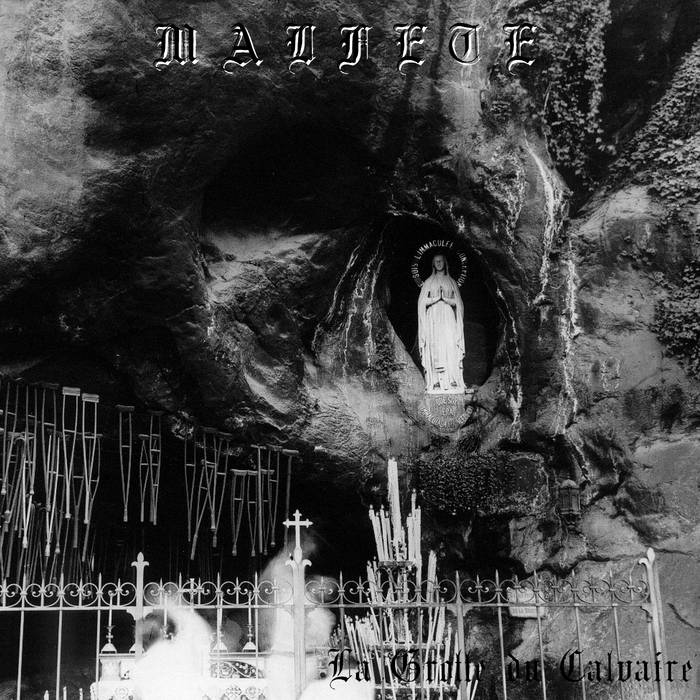 Quel regard portes tu sur la scène française actuelle (en DS comme en BM) ?
Je ne sais pas si tu as lue mon itw d'Arsule récemment mais j'apprécie beaucoup ce qu'elle fait, tout comme Hermith ! Qu'en dis tu ?
J'ai beaucoup aimé ce que fait Arsule mais je n'ai pas encore le temps d'écouter ce qu'elle as sorti ces derniers temps, j'ai souvent
réécouté
"Fumeterre". Quant à Hermith je n'ai pas encore écouté mais je compte bien m'y mettre. Pour ce qui est de la scène française, j'avoue ne pas trop la suivre hormis pour le black metal, mais en DS à pars La Dame de Mordomoire et mes camarades ElixiR et Shelob, je ne suis pas très au fait des dernières sortie DS Française et je trouve
cela
bien dommage, il devrait y avoir une énorme "French Wave" dans ce genre... J'espère qu'elle déferlera en 2020... En Dungeon Synth j'écoute beaucoup Fief, Mirkwood, Mortiss et les albums de Burzum axer dark ambient. J'écoute également Windtower, Old Tower, Old Sorcery et Vindkaldr ainsi que mon dernier coup de coeur de 2019, Utred.
Dans quels genres musicaux t'es tu formé l'oreille ?


Alors là c'est un sujet vaste je me suis formé à la composition et la production sur FL Studio pendant une période electro, via la house music, la techno hardcore, la psytrance etc avant de revenir dans un univers bien plus sombre. Pour ce qui est du reste et ce qui influence Malfete du coup essentiellement le black metal norvégien et la première vague.
Que peut on souhaiter a Malfete pour cette année 2020 ?
Eh bien je serais modeste je dirais, je souhaite élargir mes contacts dans le mouvement que ce soit le Black métal français où le dark ambient, sortir une démo de qualité avant de me pencher sur mon premier gros album...La suite on verra bien.
Penses tu que l'aspect médiéval dans le Dungeon Synth vient d'un "désamour" de notre époque contemporaine ?
Complètement, moi le premier d'ailleurs ! Je suis né et j'ai grandit dans une cité HLM dans la banlieu parisienne et j'y suis toujours, depuis toujours je me suis sentie bien plus proche et plus "en paix" dans la campagne où dans les recoins bordés de paysages et de ruines et de villes avec encore les traces de leurs périodes médiévales, comme la Dordogne, l'Alsace, la Lorraine où même dans les recoins de l'Ile-de-France, Pierrefonds où Provins. D'ailleurs au cours de ces 10 dernières année les seules moments de paix que j'ai connue c'est quand j'étais dans ces coins là, une maison isolée au fond de la Dordogne, la grande forêt de Fontainebleau où les ruines de Provins et autres et à visité les églises de l'Aquitaine. Ce n'est pas dur d'éprouver un désamour voir un profond dégout de notre époque aux vues de ce qu'on fait à notre planète, aux actualités et à tous le reste. Et j'en suis le premier à le dire. Et comme un certains rat des champs, moi aussi je songe m'éxilé un jour dans la France profonde pour ne plus en sortir. Et j'ai déjà choisie ma terre d'exil par ailleurs.
As-tu déjà de nouveaux projets (ou peut être est-ce un peu tôt ?)
Non, hormis ce que j'avais déjà annoncé sur ma page facebook, la démo pour Malfete que je prépare et ensuite le travail sur mon premier album (Full Lengh) mais je préfère ne pas trop en dire pour l'instant.
En Dungeon Synth j'écoute beaucoup Fief, Mirkwood, Mortiss et les albums de Burzum axer dark ambient. J'écoute également Windtower, Old Tower, Old Sorcery et Vindkaldr ainsi que mon dernier coup de coeur de 2019, Utred.
Et pour ce qui est du black metal, hormis mes classiques que j'écoute tous les jours (Bathory, Burzum, Darkthrone et Mayhem entre autres) je prend plaisir à découvrir la très éfficace scène de Métal Noire Québécois incluant bien sur Forteresse, Monarque, Chasse-Galerie, Csejthe, Brume d'Automne etc.
Pour finir j'ajouterai que cet année 2019 avait été très difficile pour moi au début, sur le plan personnelle. Mais ce fut aussi une année remplie de rencontre et de voyage où j'ai découvert énormément d'endroits magnifique à travers nostre royaume de France comme j'aime le dire et ça m'a permit de bien garder la tête hors de l'eau. J'ai fais l'agréable rencontre de Lunebarde de ElixiR et de Nazgul Gorrduk aka Shelob avec qui je représente La Horde Noire, j'ai découvert plus que des collaborateurs musiciens, des amis, des camarades, je dirais même des frères d'armes ! Et ont comptent bien vous étonnez avec nos futures créations. Aussi ça été une année d'accomplissement, j'avais fondé Malfete en 2016 et je n'avais jamais réussi à créer quoique ce soit avant 2018 et 2019 je sortais mon premier CD grâce à Feu Follet qui n'a pas hésité une seconde à m'apporter son soutien et sa confiance et à me produire ! Et enfin je tenais aussi à te remercier Pierre pour m'avoir offert une sacrée visibilité grâce à ton webzine "Le Scribe du Rock" dont l'article que tu avais fait sur mon EP "The Old Ghost Tower" et le fait qu'il était classé 35ème dans ton TOP 50 2019 fut pour moi un honneur et une fierté !
Et bien sur je remercie encore une fois Quorthon de Bathory à qui j'avais dédier l'EP sans qui, je ne serais pas là aujourd'hui tout simplement !
Encore merci à toi Le Scribe !
Malfete is one of those very black Dark Ambient/Dungeon Synth entities that are immediately linked to Black Metal. And for good reason, Attila, who governs the project, is an unconditional fan of Black Metal, Old School in priority. Interview with him where we talk about Malfete, Black Metal, the origins of Dungeon Synth and many other things! Thanks to Feu Follet Productions for this great discovery! Le Scribe
Hello Attila, can you introduce us to Malfete?
Hello to you Pierre, and thank you again for your interest in my project ! So let me introduce myself, Attila, I am the only member of the Malfete project. A dark ambient and dungeon synth project that I plan to turn towards black metal very soon. Malfete himself is a character that I invented, a kind of vampiric alter ego, a vampire who thinks back with melancholy to another time, to his more glorious past and who wanders so much in the Père-Lachaise, sometimes in the streets of Paris in the 21st century where he doesn't feel at his place anymore.
"The Old Ghost Tower" is your first album. And it's a success! Your Dark Ambient/Dungeon Synth is very dark. Can you tell us about your inspirations, influences, and the making of this first album ?
My inspirations for this EP are quite multiple, there is a bit of Isengard, a bit of Wongraven and a lot of Burzum and Bathory. The first track, the intro by the way, was composed while I was listening to Bathory's first album and its intro "Storm of Damnation" but instead of using bells in a storm I "respected" my cover and modified ghost screams and other ghosts to make a very sinister and oppressive intro to set the scene for the album.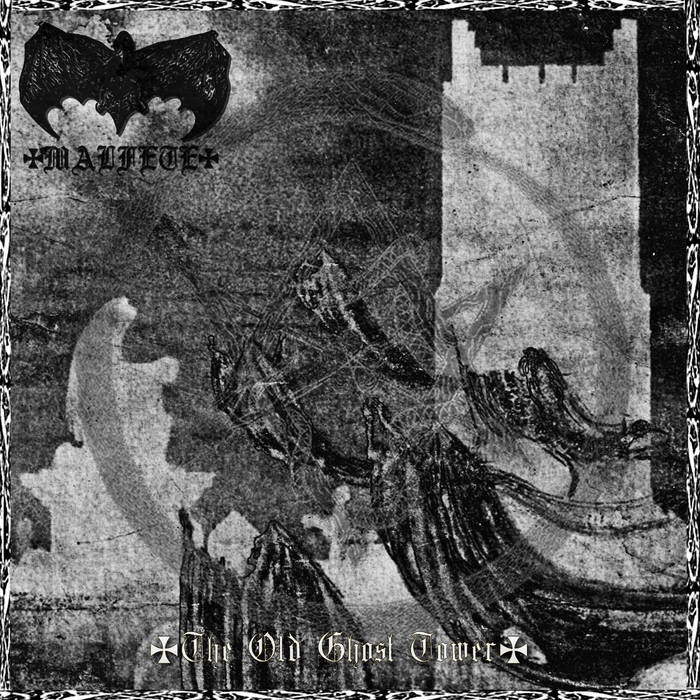 How did you get in touch with Feu Follet Productions who released your album ?
So I'm not really sure anymore, because my memory can easily fail these days. But it seems to me that it was my friend, my brother in arms from La Horde Noire, SHELOB, who told me about him, so I sent him a message to discuss with him about a secret split we were preparing and in the end I told him about Malfete and I played him a track. He liked it and he was very excited to produce the EP for me. Since then I'm proud to have released my very first CD at his place and I can't wait to have more creations to offer him.
I know you're a fan of Black Metal, especially Bathory (my idols too!) How do you situate Malfete and the DS in general in relation to the BM?
For me the DS (but I prefer to talk about dark ambient) has always been linked to the BM. One of the pioneers of the genre, of the second wave, Burzum and the list goes on Fenriz, Mortiis, Satyr de Wongraven and I'm sure that if Quorthon hadn't left this world, Bathory would have gone the same way, according to the many synth parts in Nordland I & II. So I situate the DS as a direct sub-genre to black metal, I like to call it in fact "Black Metal in Synthesis".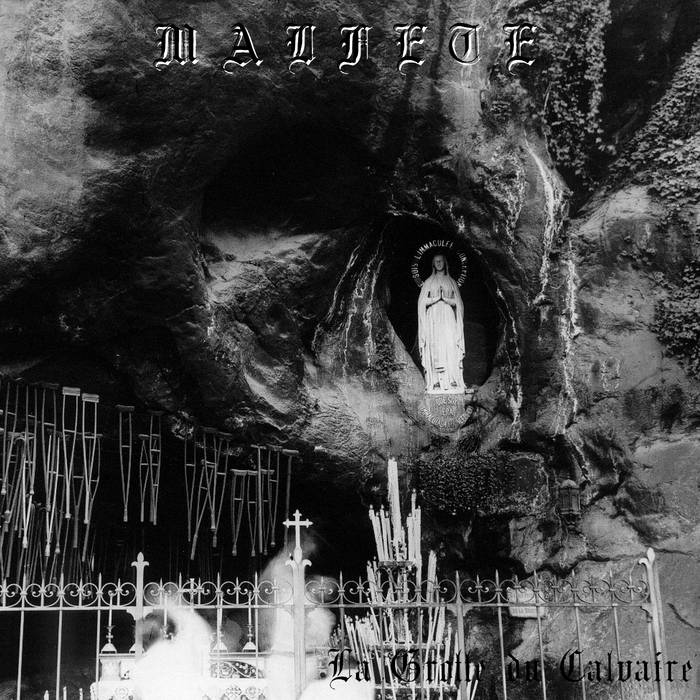 How do you see the current French scene (in DS and BM) ?
I don't know if you've read my Arsule itw recently but I really appreciate what it does, as does Hermith! What do you think about it ?
I really liked what Arsule does but I don't have time to listen to what she released recently, I often listen to "Fumeterre" several times, while in Hermith I haven't listened to it yet but I intend to start listening to it. As far as the French scene is concerned, I admit I don't follow it too much except for black metal, but in DS, apart from La Dame de Mordomoire and my friends ElixiR and Shelob, I'm not very aware of the latest French DS releases and I think it's a shame, there should be a huge "French Wave" in this genre... I hope it will happen in 2020... In Dungeon Synth I listen a lot to Fief, Mirkwood, Mortiss and Burzum's albums axer dark ambient. I also listen to Windtower, Old Tower, Old Sorcery and Vindkaldr as well as my last favourite from 2019, Utred.
In which musical genres have you trained your ear?
This is a vast subject, I trained myself in composition and production on FL Studio during an electro period, via house music, hardcore techno, psytrance etc before coming back to a much darker universe. As for the rest, Malfete's influences are mainly Norwegian black metal and the first wave.

What can we wish Malfete for this year 2020 ?
Well I would be modest I would say, I wish to broaden my contacts in the movement whether it's French Black metal or dark ambient, to release a quality demo before looking at my first big album... We'll see what happens next.
Do you think that the medieval aspect in the Dungeon Synth comes from a "de-love" of our contemporary times?
Completely, I'm the first one by the way! I was born and grew up in a housing estate in the Parisian suburbs and I'm still there, I've always felt much closer and more "at peace" in the countryside or in the nooks and crannies lined with landscapes and ruins and towns with still traces of their medieval periods, like the Dordogne, Alsace, Lorraine or even in the nooks and crannies of Ile-de-France, Pierrefonds or Provins. Moreover during the last 10 years the only moments of peace I have known is when I was in those corners, an isolated house at the bottom of the Dordogne, the great forest of Fontainebleau where the ruins of Provins and others and visited the churches of Aquitaine. It's not hard to feel a disenchantment or even a deep disgust with our times in view of what we are doing to our planet, the news and everything else. And I'm the first to say so. And like a certain field rat, I too am thinking of going into exile one day in deepest France and never coming out of it. And I've already chosen my land of exile, by the way.
Do you already have new projects (or maybe it's a bit early?).
No, apart from what I've already announced on my facebook page, the demo for Malfete that I'm preparing and then the work on my first album (Full Lengh) but I'd rather not say too much about it for the moment.
Your current albums ?
In Dungeon Synth I listen a lot to Fief, Mirkwood, Mortiss and Burzum axer dark ambient albums. I also listen to Windtower, Old Tower, Old Sorcery and Vindkaldr as well as my latest favourite from 2019, Utred.
And as for black metal, apart from my classics that I listen to every day (Bathory, Burzum, Darkthrone and Mayhem among others) I enjoy discovering the very efficient Quebec Black Metal scene including of course Forteresse, Monarque, Chasse-Galerie, Csejthe, Brume d'Automne etc..
Add what you want :
To finish, I will add that this year 2019 was very difficult for me at the beginning, on a personal level. But it was also a year full of encounters and travels where I discovered a lot of beautiful places throughout our kingdom of France as I like to say and it allowed me to keep my head above water. I had the pleasant meeting of Lunebarde de ElixiR and Nazgul Gorrduk aka Shelob with whom I represent La Horde Noire, I discovered more than collaborators musicians, friends, comrades, I would even say brothers in arms! And we hope to surprise you with our future creations. Also it was a year of achievement, I had founded Malfete in 2016 and I had never managed to create anything before 2018 and 2019 I released my first CD thanks to Feu Follet who did not hesitate one second to give me his support and confidence and to perform! And finally I also wanted to thank you Pierre for having offered me a great visibility thanks to your webzine "Le Scribe du Rock" whose article you had done on my EP "The Old Ghost Tower" and the fact that it was ranked 35th in your TOP 50 2019 was for me an honor and a pride!
And of course I thank once again Quorthon de Bathory to whom I had dedicated the EP without whom, I simply wouldn't be here today!
Thanks again to you The Scribe!