REVIEW FR/ENG ⛧ L'ACCRO DU SCRIBE ⛥ - THE GREAT OLD ONES - COSMICISM - BLACK METAL - SEASON OF MIST
⛧ L'ACCRO DU SCRIBE ⛥
BLACK METAL LOVECRAFTIEN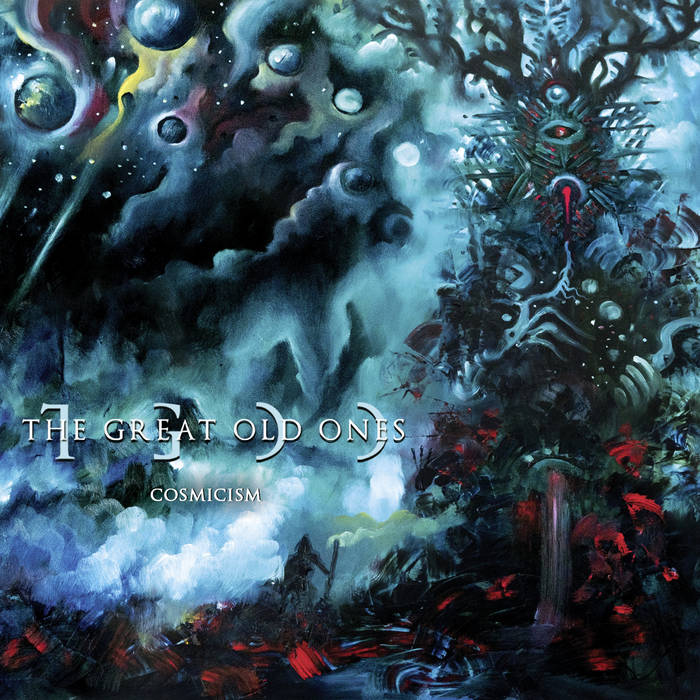 Dix ans de carrière et un quatrième album, "Cosmicism" pour les bordelais de The Great Old Ones. Une maturation constante et évidente et, à l'arrivée, une des bêtes les plus féroces de 2019 !
Prétendre que l'on fusse surpris par la qualité d'un album de The Great Old Ones serait faire preuve soit de surdité soit de méconnaissance profonde de l'oeuvre de ces frenchies. En effet, ces derniers, depuis leurs débuts en 2009, font montre d'une qualité musicale constante, d'un travail colossale et nous livrent des albums, eps et singles d'une beauté confondante. Seulement voila, avec cet album nouveau-né, Cosmicism, nos amis de Bordeaux se sont encore une fois surpassés, et placent la barre très haut. Déjà le son nous frappe, un mix absolument dantesque qui met en valeur des compositions d'une grande puissance atmosphérique et tellurique. On le voit, nos grands anciens sont surtour de grands actuels, car un groupe de cette qualité ne peut pas rester cantonné à l'espace réduit du "Black Metal français" (même si c'est une belle étiquette) et doit absolument percer à l'international (même si les mélomanes des quatre coins de la terre ont du se passer le mot). Derrière la splendide cover de Jeff Grimal se cache un trésor, un voyage sans bagages aux confins d'un cosmos parfois inquiétant, mais dans lequel on est pris d'une soudaine envie de se perdre pour ne jamais revenir, façon "le grand bleu" cosmique. Un Black Metal à la fois très mélodique, puissant, véloce, porté par la voix déchirée de Benjamin Guerry, en grande forme. Les guitares sont à la fois divines et diaboliques, tant la beauté domine ici. Les passages "doom" des morceaux ("A thousand Young") sont l'occasion de méditer sur notre pauvre condition d'animaux convaincus de dominer le ciel et la terre, et ramenés à leur réalité triviale. Ce disque, à chaque écoute, devient un peu plus addictif, tant il fourmille de détails que l'on découvre au fur et à mesure, un choeur masculin façon monastère orthodoxe par ici, des phrasés de guitares façon Cold Wave par là, on n'en finit pas d'être ébloui. Une fois que l'on a compris que ce collectif était sur la voie de Nyarlathotep, on s'ésbaudit littéralement devant les duels de guitares heavy d'Aurélien et Alexandre. Lorsque l'album se termine on entend la musique des sphères continuer dans notre tête. C'est comme avec Mozart (le silence après Mozart c'est toujours du Mozart). Incontestablement un des meilleurs albums de Metal d'une année plutôt riche, et l'on se demande, hébété, jusqu'où vont-ils aller ?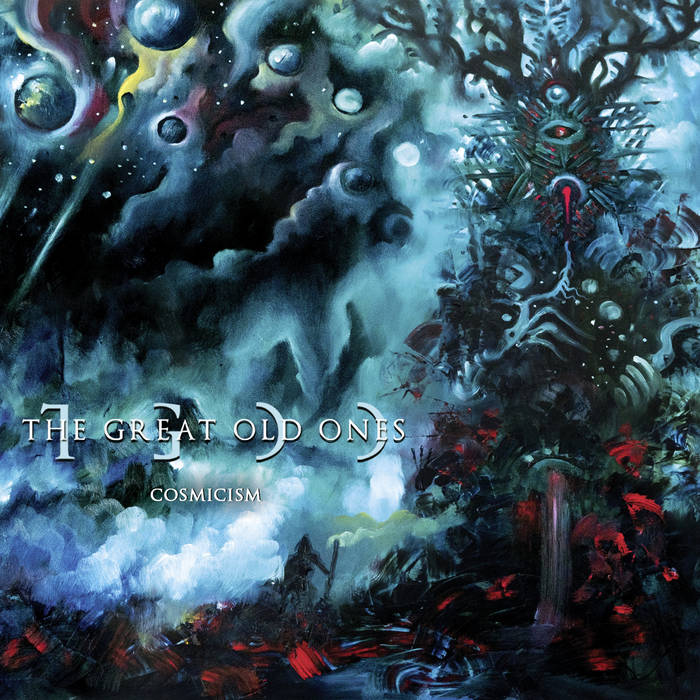 THE ENGLISH VERSION
Ten years of career and a fourth album, "Cosmicism" for the Bordeaux-based band The Great Old Ones. A constant and obvious maturation and, on arrival, one of the most ferocious animals of 2019!
To claim that we were surprised by the quality of a Great Old Ones album would be to show either deafness or a profound ignorance of the work of these Frenchies. Indeed, since their debut in 2009, the latter have shown a constant musical quality, a colossal work and deliver albums, eps and singles of astonishing beauty. But now, with this newborn album, Cosmicism, our friends from Bordeaux have once again surpassed themselves, and set the bar very high. Already the sound strikes us, an absolutely Dantean mix that highlights compositions of great atmospheric and telluric power. As we can see, our great elders are above all great contemporaries, because a band of this quality cannot remain confined to the reduced space of "French Black Metal" (even if it is a beautiful label) and must absolutely break through internationally (even if music lovers from all over the world have had to spread the word). Behind Jeff Grimal's splendid cover hides a treasure, a journey without luggage to the borders of a sometimes disturbing cosmos, but in which one is suddenly caught up in a desire to get lost and never return, like the cosmic "big blue". A Black Metal that is at the same time very melodic, powerful, fast, carried by the torn voice of Benjamin Guerry, in great shape. The guitars are both divine and diabolical, as beauty dominates here. The "doom" passages of the songs ("A thousand Young") are an opportunity to meditate on our poor condition as animals convinced of dominating heaven and earth, and brought back to their trivial reality. This record, with each listening, becomes a little more addictive, so much it teems with details that we discover gradually, a male choir like an Orthodox monastery here, guitar phrases like Cold Wave there, we are not done being dazzled. Once we understood that this collective was on the road to Nyarlathotep, we literally swore in front of the heavy guitar duels of Aurélien and Alexandre. When the album ends we hear the music of the spheres continue in our heads. It's like with Mozart (silence after Mozart is always Mozart). Undoubtedly one of the best Metal albums of a rather rich year, and one wonders, dazed, how far will they go?