FRANÇAIS/ENGLISH BLACK METAL INTERVIEW : Voyage dans l'âme du Black Metal : Interview avec Kaldt Helvete
Kaldt Helvete est un des plus beaux hommages que l'on puisse rendre à la scène Black Metal des années 90, tout en étant aussi un groupe à forte identité, ce qui n'est pas rien. A la fois porteurs de la flamme d'Emperor, Burzum, Mutiilation, les débuts de Behemoth ou Immortal et détenteurs d'une âme dédiée aux arts noirs le groupe nous livre ici quelques secrets. Merci à Midgard et Aldric pour cet entretien passionnant et honnête...
Bonjour Aldric, Bonjour Midgard ! Un grand merci de bien vouloir répondre à mes modestes questions ! Tout d'abord, pouvez-vous nous dire ce qui vous a poussés à la création de Kaldt Helvete en 2013 ?
Midgard
: Aldric et moi-même écoutions du black mais on voulait aussi en jouer. Tout a commencé par des soirées dans les bois, quelques canettes, des feux de camps et puis on a décidé de créer un projet.
Aldric :
Salut, j'étais tellement aspiré par cette énergie noire qu'a un moment je ne pensais plus qu'a ça, mettre mes propres pulsions, mes propres sentiments en musique. Nous voulions apporter notre pierre à l'édifice, sans grandes prétentions, sans vouloir révolutionner la scène qui est déjà infiniment vaste. Kaldt Helvete raconte son propre voyage à travers un black metal très classique proche de ce qui se faisait entre 1993 et 2000. Certains vont dire que ce genre a été vu, vu et revu mil fois et que notre répertoire n'a rien d'innovent. Certes ils ont tout à fait raison là-dessus et de toute façon je n'ai pas l'intention d'innover et de jouer un truc qui vient du futur. Notre musique est faite avec passion et sincérité et pour moi c'est le plus important.

Votre groupe est un hommage au black metal des années 90, quels groupes ont pour vous les plus compté dans cette période ?
Aldric
: Tout à fait et c'est le cas depuis les premières heures du groupes, même si on galère un peu pour se mettre à la hauteur ahaha. Les groupes des années 90 qui m'ont le plus inspiré sont Emperor, Burzum, Darkthrone, Ancient, Behemoth, Dimmu Borgir, Seth, Mutiilation, Immortal, Satyricon. Que du classique et si les albums de ces gens sont devenus des classiques aujourd'hui c'est pour une bonne raison. Ces mecs la étaient habités par quelque chose qui vient d'ailleurs.
Midgard
: Pour ma part les groupes qui m'ont le plus marqué sont Darkthrone, Gorgoroth, Emperor et Burzum.
Après déjà, 3 albums, vous sortez un premier Ep "Le Sombre Règne..." Ce dernier est paru chez "Les Créations Underground". Qu'est ce qui vous à fait passer de l'autoproduction au label et comment avez-vous fait connaissance avec le "boss" Clément ?
Aldric :
Alors depuis le début on s'est toujours débrouillés tout seul, que ce soit pour composer, enregistrer, mixer, produire et faire la promo de nos albums sans l'aide de personne. Ce qui a donné des résultats plus ou moins corrects ou des fois plus ou moins merdiques du fait de notre amateurisme et je m'en rends compte maintenant que j'ai du recul sur nos débuts. Ce parcours est normal et nous continuons à apprendre. Nous voulions sortir cet Ep en autoproduction, je m'étais fixé une date de sortie entre octobre et décembre 2019, mais Midgard m'a dit que Zémus (propriétaire du label) était intéressé par notre EP et qu'il était prêt à l'éditer. (NdS : Aux dernières nouvelles, les créations underground, label de Zémus, n'est plus, hélas)
Midgard :
Clément m'avait contacté sur ma page Only Black Metal (le nom de ma chaine youtube) pour que je mette en ligne son groupe Unseen Abyss. Par la suite il m'a ajouté et envoyé des albums pour que je les chronique. Puis au final, je lui ai demandé s'il serait d'accord pour presser l'Ep de Kaldt Helvete et il a accepté.
Aldric :
Je me suis renseigné sur son label et j'ai vu que le travail était sérieux et que notre Ep profiterait d'une bonne présentation, donc pour moi c'était ok. Nous avons tous fait du bon boulot que ce soit le groupe ou le label et nous sommes contents du résultat. Je pense que ce label à de l'avenir, en tout cas il est bien parti.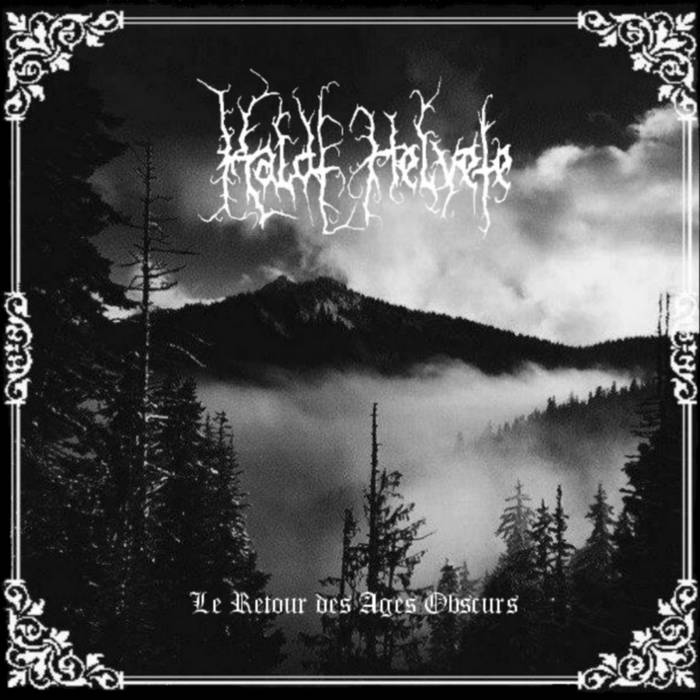 Le passé et son culte sont omniprésents chez vous. Comment vivez-vous avec le présent ? La période que nous vivons n'est elle pas trop oppressante pour des individus attachés à une certaine nostalgie ?
Aldric :
On vit dans une époque de merde ça c'est clair, surtout en France on a l'impression que tout vol en éclat. Le mec un peu lucide pourra se rendre compte du déclin de notre modèle de société. On est dans un pays où c'est à la mode de cracher sur toutes nos valeurs fondamentales, ça fait rebelle de pisser sur notre identité nationale. À côté de ça les gens se goinfrent de Mc do devant de la télé-réalité, putain d'américanisation ! Je pense qu'il y'a de quoi éprouver de la haine et du désespoir devant cela !
Le black metal c'est contre tout ça, contre toute cette merde standardisée qu'on essaye de nous imposer. La pensée unique, tout le monde doit étre identique et se morfondre dans le silence, tu dois te brider pour ne choquer personne car aujourd'hui tout le monde se sent froissé pour un rien. Nous sommes dans une forme de puritanisme de la bien bien-pensance. La musique nous permet de combattre ou bien de nous évader. Quelque part sublimer et imaginer un passé lointain est une manière indirecte de rejeter le présent. Je suis pour le retour à une vie plus simple et plus saine. Éliminer tout ce superflu et retourner à nos valeurs ancestrales. Pour moi c'est autant musicale qu'idéologique.
Midgard :
L'esprit du black metal se perd malheureusement mais certains perpétuent l'esprit du black et en ont cerné l'esprit. Mais une minorité à mon grand dépit.
Si je vous demande ce que vous pensez du Black metal actuel et de dérivés comme le DSBM, le post-black, le blackgaze ?
Midgard :
J'écoute divers sous genres du black, j'aime certains groupes de black dépressif pour les émotions qui s'en dégagent. Par contre le post-black et le blackgaze sont deux genres qui me font horreur.
Aldric :
Trop de groupes plats et inutiles qui ne dégagent rien. En général ça me gave d'essayer de découvrir des groupes récents, J'ai beaucoup de mal avec la scène moderne et pourtant j'y fais encore quelques bonnes découvertes ! Je ne sais pas si vous connaissez le one-man band finlandais "Warmoon lord" ? Il a sorti son premier album en février 2019 "Burning banners of funereal war". Un mélange entre Ancient et Emperor, j'étais tellement connecté avec cet album que je me le suis procuré au plus vite. Il y' a aussi Croc Noir, j'ai beaucoup aimé leur album "Mort" qui a une production old school et une super atmosphère. J'apprécie les derniers Sale Freux, Immortal qui nous fait un retour à leurs meilleures années. En Ukraine il y'a Severoth également. J'ai aussi remarqué que en France nous avons une scène underground intéressante. Après je suis davantage focalisé sur mes propres compos plutôt que sur celles des autres, donc je n'ai pas le temps de tout écouter.
Au sujet du DSBM, j'aime ce sous genre. D'ailleurs mon projet solo pourrait être comparé à du DSBM sur certaines pistes. L'émotion y est forte généralement. Après c'est comme partout il y' a du bon, du très bon et du carrément à chier. J'ai écouté des projets DSBM et parfois je pensais que c'était de la parodie tellement c'était nul. Le post-black je n'en écoute pas et le blackgaze je ne sais même pas ce que c'est ? ? ? De toute manière tout à déjà était fait et usé jusqu'à la corde, la seule chose que tu puisses faire en tant que musicien c'est de reprendre les codes, respecter l'authenticité d'un genre mais de raconter ta propre histoire avec tes propres sentiments et ta propre vision, car ça c'est unique.
Qu'est ce qui nous manque le plus pour retrouver ''l'esprit" des 90's ?
Aldric :
Là je suis seul assis au bord d'un étang forestier, mon cahier et mon crayon à la main en train de répondre à cette interview. Dans quelques heures il fera nuit et une brume légère s'élèvera alors que je contemplerai les étoiles. En face il y' a une colline boisée sur laquelle se dresse une chapelle en bois et en pierres datant des années 1700. Toute l'essence est là ! Et cette atmosphère, cette ambiance à du mal à se ressentir dans la plupart des productions actuelle. Cette aura mystique, cet univers primaire. Je pense que l'esprit des années 90 est toujours la! Il y' a encore certains groupes qui arrivent à retranscrire cet univers, mais la plupart d'entre eux sont noyés dans la masse, la nébuleuse du black metal. Mais bon...ceci n'est que mon avis et nous ne recherchons pas tous la même chose dans la musique. Cette nuit je traverserai la forêt pour rentrer chez moi, j'espère pouvoir entendre quelques chouettes ou hiboux. Ce genre de ballades nocturne c'est mon truc, cet hiver nous avons eu 30 cm de neige, le terrain était propice à l'inspiration.
Pour revenir à ''Le Sombre Règne...'' il dégage une mélancolie puissante et une série d'atmosphères prégnantes. Qu'est ce qui a présidé à cela ? Le voyez-vous différemment de vos précédentes productions ?
Midgard :
Me concernant mon chant s'est bien amélioré et Aldric a fait de superbes compos. Le Retour des Âges Obscurs est aussi un très bon album mais l'Ep est meilleur pour ma part, plus froid, mélancolique true et haineux.
Aldric :
Pour moi Le Sombre Règne... est dans la continuité du précèdent album, les paroles traitent des mêmes sujets, la guerre, la magie noire et la forêt. La guerre contre le monde moderne et le retour à nos racines. Musicalement l'Ep sonne plus dur, les guitares et la batterie sont d'avantage mis en avant, ici on sent les influences des premiers Behemoth et des premiers Immortal . Les claviers sont plus en retrait et le chant plus criard. On voulait un son et une atmosphère plus rude tout en gardant le côté planant. Le Sombre Règne... vient enfoncer le clou que l'album précèdent avait planté. Il suffit de voir la pochette pour comprendre de quoi il s'agit, c'est sombre, froid et primaire.
Le retour du public sur l'Ep ?
Midgard :
Grandiose, l'Ep vient de sortir et se voit presque en rupture de stock.
Aldric :
J'ai eu peu de retours, mais ceux que j'ai eu sont positifs, à l'heure de la publication de cette interview je pense que le stock est épuisé. Malheureusement nous n'avons pu faire que 50 copies et elles sont parties très vite.
De quoi êtes-vous le plus fier en ce qui concerne Kaldt Helvete ?
Aldric :
De ne rien devoir à personne, Kaldt Helvete est le groupe avec lequel j'ai fait mes armes en apprenant tout sur le tas en autodidacte et je continue d'apprendre
Midgard :
Pour ma part cet Ep est notre plus grande réussite, c'est celui que je préfère de notre discographie.
Aldric, tu œuvres également dans Windhelm, j'ai eu la chance de pouvoir t'interviewer pour l'antre des damnés. Midgard, pas de projet parallèle ?
Midgard :
Non pas pour moi, je suis trop occupé avec mes vidéos pour ma chaine Only Black Metal, mes chroniques et surtout le référencement de groupes, d'albums et autres sur un webzine nommé Spirit of Metal sur lequel je passe beaucoup de temps.
Aldric :
C'est toujours une chance de pouvoir paraitre sur un fanzine tel que l'antre des damnés, c'est clair ! Kaldt Helvete a eut aussi sa place en premières pages du numéro 28, c'est Laurent Lignon qui avait réalisé l'interview et je le salut. Je pense que c'est cette parution qui nous a introduit dans le paysage de l'underground français. C'était un bon coup de promo pour notre album "Le Retour des Âges Obscurs". Ce fanzine est tenu par des passionnés et sera toujours une référence, hail Malphas !
Vos 20 albums préférés de tous les temps dans tous les styles ?
A Blaze in the Northern Sky
Anthems to the Welkin at Dusk
Aghast : In Heixerein im Zwielicht der Finsternis
Bloodlord : Serenaden des Walder
Crimson Moon : The Choice of Spirit
Cryfemal : Perpetua Funebre Gloria
Dimmu Borgir : Stormblast
Graveland : In the Glare of Burning Churches
Burzum : Hvis Lyset tar oss
Immortal : Pure Holocaust
Mayhem : De Mysteriis Dom Sathanas
Pensez-vous que le BM a un avenir, et, si oui, comment le voyez-vous ?
Midgard
: Le black à un avenir mais malheureusement de nos jours tout ou presque repose sur les réseaux sociaux et youtube à mon grand dépit.
Aldric :
Tant que les codes fondamentaux seront respectés cette musique continuera d'exister. Bien sur il peut y avoir de l'innovation mais l'essence doit être sauvegardée sinon ce n'est plus du black metal c'est autre chose. Le "vrai" black metal restera toujours le même, sont identité est gravée dans les premiers albums de Mayhem, Darkthrone, Burzum. Tous les groupes actuels ou presque se sont tous inspirés de l'un de ces groupes que ce soit directement ou indirectement.
Prochains projets pour Kaldt Helvete ?
Aldric :
La réédition de l'album "Le Retour des Âges Obscurs" chez Hypogea Invictus, puis l'édition cassette du Ep, d'ailleurs nous cherchons un label pour nous faire une trentaine de copies guère plus, si ça intéresse quelqu'un ne pas hésiter à nous contacter sinon le projet tombera à l'eau malheureusement...
Après il est difficile de se projeter dans un avenir plus lointain...
Ah si ! J'aimerais bien bosser avec un batteur au cas où on déciderait d'enregistrer du neuf, l'idéal serait de passer de 2 à 3 membres et ça apporterait un peu de sang neuf et peu d'être d'autres opportunités au groupe.
L'enfer glacé, votre nom décrit bien votre musique, qui a eut l'idée ?
Midgard :
C'est moi qui ai trouvé le nom du groupe traduit du norvégien et ça a plu à Aldric
Aldric :
"Un enfer froid dans mon cœur, un règne suprême de feu et de glace". La philosophie de Kaldt Helvete est bien résumée dans cette phrase.
Espace vierge, libre, ajoutez ce que vous voulez !
Midgard :
Merci de l'intérêt que tu portes à Kaldt Helvete
Aldric :
Merci au scribe pour l'interview et à ceux qui entretiennent la flamme noire en France, nous avons dédié notre Ep à la scène francophone.
VOUS AIMEZ LE BLACK METAL FRANÇAIS ? EN VOICI DAVANTAGE !
THE ENGLISH VERSION
Kaldt Helvete is one of the most beautiful tributes we can pay to the Black Metal scene of the 90s, while also being a band with a strong identity, which is not nothing. Both bearers of the flame of Emperor, Burzum, Mutiilation, the beginnings of Behemoth or Immortal and holders of a soul dedicated to the black arts, the group reveals some secrets here. Thanks to Midgard and Aldric for this interesting and honest interview....
Hello Aldric, hello Midgard! Thank you very much for answering my modest questions! First of all, can you tell us what led you to the creation of Kaldt Helvete in 2013?
Midgard: Aldric and I were listening to black music but we also wanted to play it. It all started with parties in the woods, a few cans, campfires and then we decided to create a project.
Aldric: Hi, I was so sucked into this dark energy that at one point I was just thinking about that, putting my own impulses, my own feelings into music. We wanted to make our contribution, without any great pretensions, without wanting to revolutionize the scene, which is already infinitely vast. Kaldt Helvete recounts his own journey through a very classic black metal close to what was done between 1993 and 2000. Some will say that this genre has been seen, seen and reviewed a thousand times and that our repertoire is not innovative. Of course they're absolutely right about that and anyway I don't intend to innovate and play something that comes from the future. Our music is made with passion and sincerity and for me it is the most important thing.
Your band is a tribute to the black metal of the 90s, which bands did you consider the most important in this period?
Aldric: Absolutely and this has been the case since the first hours of the group, even if we struggle a little bit to get up to the ahaha level. The groups of the 90s that inspired me the most are Emperor, Burzum, Darkthrone, Ancient, Behemoth, Dimmu Borgir, Seth, Mutiilation, Immortal, Satyricon. Only classical and if these people's albums have become classics today it's for a good reason. These guys were inhabited by something from somewhere else.
Midgard: For my part, the groups that impressed me the most were Darkthrone, Gorgoroth, Emperor and Burzum.
After already, 3 albums, you release a first Ep "Le Sombre Règne..." The latter was published by "Les Créations Underground". What made you move from self-production to the label and how did you get to know the "boss" Clément?
Aldric: So from the beginning we've always managed on our own, whether it's composing, recording, mixing, producing and promoting our albums without anyone's help. This has given more or less correct results or sometimes more or less shitty results because of our amateurism and I realize now that I have some perspective on our beginnings. This journey is normal and we continue to learn. We wanted to release this Ep in self-production, I had set myself a release date between October and December 2019, but Midgard told me that Zémus (owner of the label) was interested in our EP and that he was ready to publish it. (Editor's note: Unfortunately, the underground creations, Zémus' label, is no more)
Midgard : Clément had contacted me on my Only Black Metal page (the name of my youtube channel) so that I could put his band Unseen Abyss online. Then he added me and sent me albums for me to chronicle. Then in the end, I asked him if he would agree to press Kaldt Helvete's Ep and he agreed.
Aldric: I checked his label and saw that the work was serious and that our Ep would benefit from a good presentation, so for me it was okay. We all did a good job whether it was the band or the label and we are happy with the result. I think this label has a future, at least it's off to a good start.
The past and its cult are omnipresent in your music. How do you live with the present? Isn't the period we are living in too oppressive for individuals attached to a certain nostalgia?
Aldric: We live in a shitty time, that's for sure, especially in France we have the impression that everything is shattered. The slightly lucid guy will be able to see the decline of our model of society. We are in a country where it is fashionable to spit on all our fundamental values, it is rebellious to piss on our national identity. Besides that, people are craving McDo in front of reality TV, fucking Americanization! I think there is reason to feel hatred and despair in the face of this!
Black metal is against all this, against all this standardized shit that they're trying to impose on us. The only thought, everyone must be the same and morass in silence, you must restrict yourself so as not to shock anyone because today everyone feels hurt for nothing. We are in a form of puritanism of good thinking. Music allows us to fight or escape. Somewhere sublimating and imagining a distant past is an indirect way of rejecting the present. I am in favour of returning to a simpler and healthier life. Eliminate all this superfluity and return to our ancestral values. For me it's as much musical as it is ideological.
Midgard: The spirit of black metal is unfortunately lost but some perpetuate the spirit of black and have surrounded the spirit. But a minority to my great spite.
If I ask you what you think about current Black metal and derivatives like DSBM, post-black, blackgaze?
Midgard: I listen to various sub genres of black, I like certain depressive black groups for the emotions that come out of them. On the other hand, post-black and blackgaze are two genres that I hate.
Aldric: Too many flat and useless groups that don't produce anything. In general it's enough for me to try to discover recent bands, I have a lot of trouble with the modern scene and yet I still make some good discoveries there! I don't know if you know the Finnish one-man band "Warmoon lord"? He released his first album in February 2019 "Burning banners of funereal war". A mix between Ancient and Emperor, I was so connected with this album that I got it as soon as possible. There is also Croc Noir, I really liked their album "Mort" which has an old school production and a great atmosphere. I appreciate the latest Sale Freux, Immortal who is returning us to their best years. In Ukraine there is also Severoth. I also noticed that in France we have an interesting underground scene. After that I am more focused on my own compositions than on those of others, so I don't have time to listen to everything.
About the DSBM, I like this subtype. Besides, my solo project could be compared to DSBM on some tracks. The emotion is generally strong. Then it's like everywhere else there's good, very good and totally shitty. I listened to DSBM projects and sometimes I thought it was such a travesty that it was so lame. Post-black I don't listen to it and blackgaze I don't even know what it is? ? ? ? In any case, everything has already been done and worn down to the core, the only thing you can do as a musician is to take up the codes, respect the authenticity of a genre but to tell your own story with your own feelings and your own vision, because that is unique.
What do we need most to get back the spirit of the 90s?
Aldric: There I am alone sitting by a forest pond, with my notebook and pencil in my hand, answering this interview. In a few hours it will be dark and a light mist will rise as I contemplate the stars. Opposite there is a wooded hill on which stands a wooden and stone chapel dating from the 1700s. All the gas is there! And this atmosphere, this atmosphere, this atmosphere has difficulty to be felt in most of the current productions. This mystical aura, this primary universe. I think the spirit of the 90s is still there! there are still some bands that manage to transcribe this universe, but most of them are drowned in the mass, the nebula of black metal. But well... this is only my opinion and we are not all looking for the same thing in music. Tonight I will cross the forest to go home, I hope to hear some owls or owls. This kind of night stroll is my thing, this winter we had 30 cm of snow, the terrain was conducive to inspiration.
To return to''Le Sombre Règne'' it exudes a powerful melancholy and a series of striking atmospheres. What presided over this? Do you see it differently from your previous productions?
Midgard: My singing has improved a lot and Aldric has made some great songs. The Retour des Âges Obscurs is also a very good album but the Ep is better for me, colder, more melancholic and true and hateful.
Aldric: For me Le Sombre Règne... is in the continuity of the previous album, the lyrics deal with the same subjects, war, black magic and the forest. The war against the modern world and the return to our roots. Musically the Ep sounds harder, guitars and drums are more prominent, here you can feel the influences of the first Behemoth and the first Immortal. The keyboards are more withdrawn and the vocals more screaming. We wanted a rougher sound and atmosphere while keeping the gliding side. The Dark Kingdom... comes to drive the nail that the previous album had planted. Just look at the cover to understand what it is, it's dark, cold and primary.
The public's return to the Ep?
Midgard: Great, the Ep has just been released and is almost out of stock.
Aldric: I have had little feedback, but the ones I have had are positive, at the time of the publication of this interview I think the stock is exhausted. Unfortunately we were only able to make 50 copies and they left very quickly.
What are you most proud of about Kaldt Helvete?
Aldric: Not to owe anything to anyone, Kaldt Helvete is the group with whom I made my mark by learning everything on the job on my own and I continue to learn
Midgard: For my part, this Ep is our greatest success, it is the one I prefer from our discography.
Aldric, you also work in Windhelm, I had the chance to interview you for "L'Antre des Damnés (fanzine)". Midgard, no parallel project?
Midgard: Not for me, I'm too busy with my videos for my Only Black Metal channel, my reviews and especially the referencing of bands, albums and others on a webzine called Spirit of Metal on which I spend a lot of time.
Aldric: It's always a chance to be able to appear on a fanzine such as the den of the damned, that's for sure! Kaldt Helvete also had his place on the first pages of issue 28, Laurent Lignon had conducted the interview and I greet him. I think it was this publication that introduced us to the French underground landscape. It was a good promotional move for our album "Le Retour des Âges Obscurs". This fanzine is run by enthusiasts and will always be a reference, hail Malphas!
Your 20 favourite albums ever ?
A Blaze in the Northern Sky
Anthems to the Welkin at Dusk
Aghast : In Heixerein im Zwielicht der Finsternis
Bloodlord : Serenaden des Walder
Crimson Moon : The Choice of Spirit
Cryfemal : Perpetua Funebre Gloria
Dimmu Borgir : Stormblast
Graveland : In the Glare of Burning Churches
Burzum : Hvis Lyset tar oss
Immortal : Pure Holocaust
Mayhem : De Mysteriis Dom Sathanas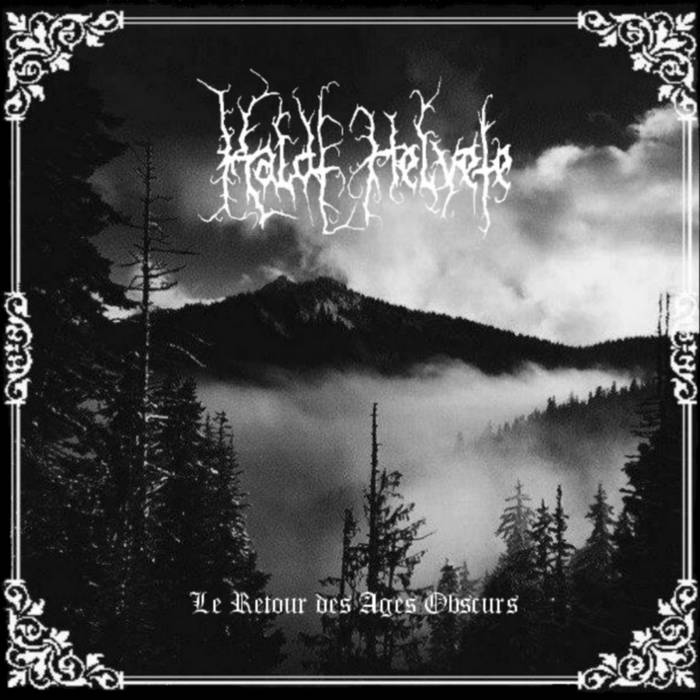 Do you think that BM has a future, and if so, how do you see it?
Midgard: Black Metal has a future but unfortunately nowadays everything or almost everything rests on social networks and youtube to my great dismay.
Aldric: As long as the fundamental codes are respected, this music will continue to exist. Of course there can be innovation but the essence must be preserved otherwise it is no longer black metal it is something else. The "real" black metal will always remain the same, his identity is engraved in the first albums of Mayhem, Darkthrone, Burzum. Almost all current groups have been inspired by one of these groups, either directly or indirectly.
Next projects for Kaldt Helvete?
Aldric: The re-release of the album "Le Retour des Âges Obscurs" by Hypogea Invictus, then the cassette edition of the Ep, moreover we are looking for a label to make us about thirty copies hardly more, if anyone is interested do not hesitate to contact us otherwise the project will unfortunately fall through...
After that it is difficult to project into a more distant future....
Oh, yes, I do! I would like to work with a drummer in case we decide to record something new, the ideal would be to go from 2 to 3 members and it would bring a little new blood and little to be other opportunities for the band.
The icy hell, your name describes your music well, who had the idea?
Midgard: I was the one who found the name of the band translated from Norwegian and Aldric liked it
Aldric: "A cold hell in my heart, a supreme kingdom of fire and ice". Kaldt Helvete's philosophy is well summarized in this sentence.
Blank space, free, add what you want!
Midgard: Thank you for your interest in Kaldt Helvete
Aldric: Thanks to the scribe for the interview and to those who keep the black flame alive in France, we have dedicated our Ep to the French-speaking scene.