REVIEW - FR + ENGLISH - BOISSON DIVINE - LA HALHA - 2019 BRENNUS MUSIC - FOLK METAL GASCON
Boudiou que ces gars sont impressionnants ! Boisson Divine est une bande de joyeux drilles qui conjuguent Folk Gascon (y compris le chant, intérprété dans la langue !) et Power/Heavy Metal. Goûtons donc ce breuvage ensemble pour avoir un avis !
Fondé en 2005, ce groupe venu d'Occitanie nous gratifie ici de son troisième album : La Halha. Et l'on prend un plaisir immédiat et contagieux a ces complaintes de ménestrels du Sud mises en Metal. Et attention les esgourdes car ça joue pas juste un peu ! Les musiciens sont de sacrés ferrailleurs qui manient aussi bien les instruments traditionnels de leur folklore local : la boha (ou cornemuse gasconne), le tambourin à cordes, la flute du coin (flabuta), l'accordéon ou encore la vielle a roue tout ça avec une grande authenticité, et toute cela vient se fondre dans un Heavy Metal en fusion, mélodique et racé, entre Power Metal bien speed et lourderies telles l'enclume. Les petits coquins ont un sens du refrain qui fait mouche et peut en remontrer à nombre de formations de Folk Metal étrangères qui connaissent un succès international. Un succès international ? C'est justement ce que l'on souhaite à Boisson Divine !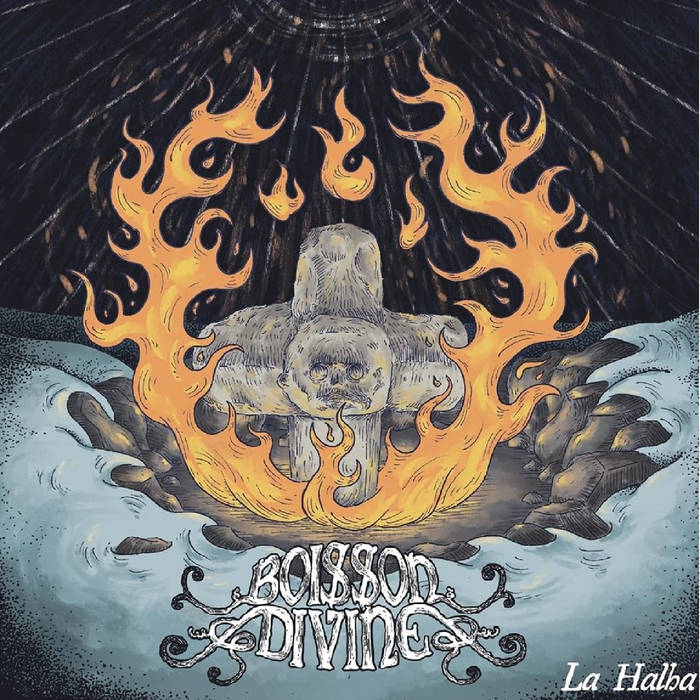 Si tu aimes la conjugaison Folk & Metal il faut te ruer sur cette petite merveille de dix titres tous aussi addictifs les uns que les autres ! C'est simple, depuis que j'ai reçu le cd, il ne décolle plus de ma platine ! Ca chante bien, ça joue bien, ça donne la patate et une folle envie de headbanger et de célébrer un culte gaulois inopinément (comme pour fêter le Dieu solaire de la pochette du skeud !). Le groupe est a des années lumière du Power Metal en carton pâte qui envahit parfois la scène "mainstream" et donne ici des lettres de noblesse a sa musique en rendant le plus bel hommage à sa terre natale.
Un disque a déguster sans fin que ce La Halha, véritable petit joyau de Folk Metal qui ancre bien Boisson Divine dans les grands du genre. Allez, à la vôtre !!
By Jove, these guys are awesome! Boisson Divine is a band of merry drills that combine Folk Gascon (including the vocals, interpreted in the language!) and Power/Heavy Metal. So let's taste this drink together to get an opinion!
Founded in 2005, this band coming from Occitania gratifies us here with their third album: La Halha. And we take an immediate and contagious pleasure in these laments of minstrels from the South put in Metal. And beware of the geeks because it doesn't play just a little bit! The musicians are great scrappers who handle as well the traditional instruments of their local folklore: the boha (or Gascon bagpipes), the string tambourine, the local flute (flabuta), the accordion or the hurdy-gurdy, all of them with great authenticity, and all this melts into a melodic and racy Heavy Metal fusion, between fast Power Metal and heavy things like the anvil. The little rascals have a sense of refrain that hits the bull's eye and can be traced back to many foreign Folk Metal bands that have achieved international success. An international success? That's exactly what we wish for Boisson Divine!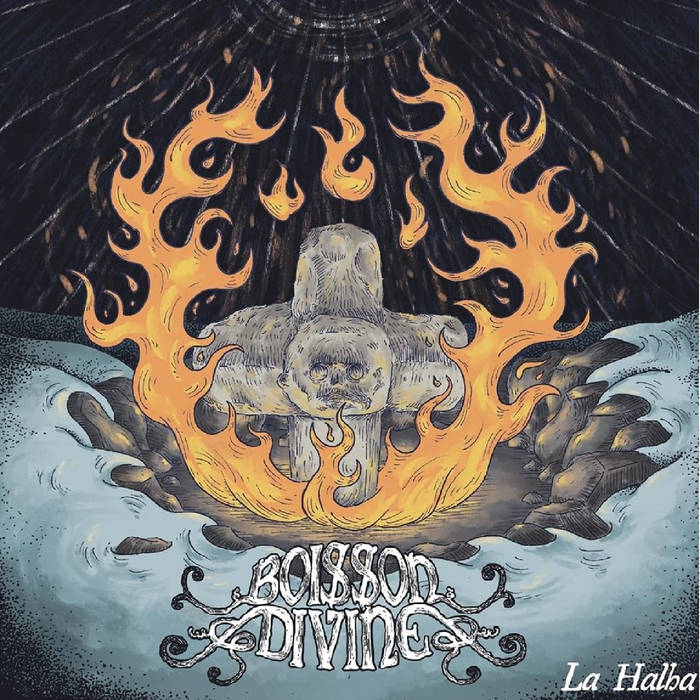 If you like the combination of Folk & Metal, you have to rush on this little marvel of ten tracks all as addictive as each other! It's simple, since I received the cd, it doesn't take off my turntable anymore! It sings well, it plays well, it gives the potato and a crazy desire to headbanger and celebrate a Gallic cult unexpectedly (like celebrating the solar God of the record cover !). The band is light-years away from Power Metal in cardboard pasteboard which sometimes invades the mainstream scene and gives here letters of nobility to its music by paying the most beautiful homage to its native land
.

A record to savour endlessly that this La Halha, real little jewel of Folk Metal that anchors well Boisson Divine in the greats of the genre. Cheers, cheers !
PS : Soon ! The Interview of the band in Le Scribe du Rock !