REVIEW - DISABLED - THE FINAL EXHUMATION - FR + ENGLISH - 2020 XENOKORP - BRUTAL DEATH METAL
Brutal Death Metal
Les copains de Xenokorp n'ont pas leur pareil pour nous sortir des pépites venues des temps anciens, retrouvées par accident au fond d'une cave. C'est le cas ici de Disabled, qui, alors qu'on croyait avoir tout publié de ce groupe bordelais de Death brutal des années 90 : The Final Exhumation, ou le petit miracle qui veut que le grand Chris Moyen, illustrateur de génie et passionné intarissable de Death/Thrash/Black qui tache ait retrouvé dans ses archives une cassette jamais publiée du groupe, enregistrée en 1996 (semble t'il) et depuis longtemps oubliée. Le fruit de cette exhumation est une démo qui tabasse crûment et nous réjouit les esgourdes !
Pour ceux qui ne les connaissaient pas, il faut d'abord savoir que Disabled ne faisaient pas dans la dentelle, mais plutôt dans un Brutal Death Metal à l'américaine qui fait saigner les oreilles. Fans des premiers Cannibal Corpse, de Deicide, de vieux Sinister, cette réedition est pour vous ! Un death qui flirte plus d'une fois avec le gore et tabasse la religion, avec une voix d'outre tombe (putain le mec était à peine majeur ! le mec c'est Stéphane Morillon, que l'on retrouvera quelques années après chez les méchants Voracious Gangrene), des guitares maléfiques qui jouent sur des riffs bien graves et des phrasés aigus entre Slayer et Morbid Angel et une VRAIE batterie sans trigger qui bastonne tout ce qu'elle peut.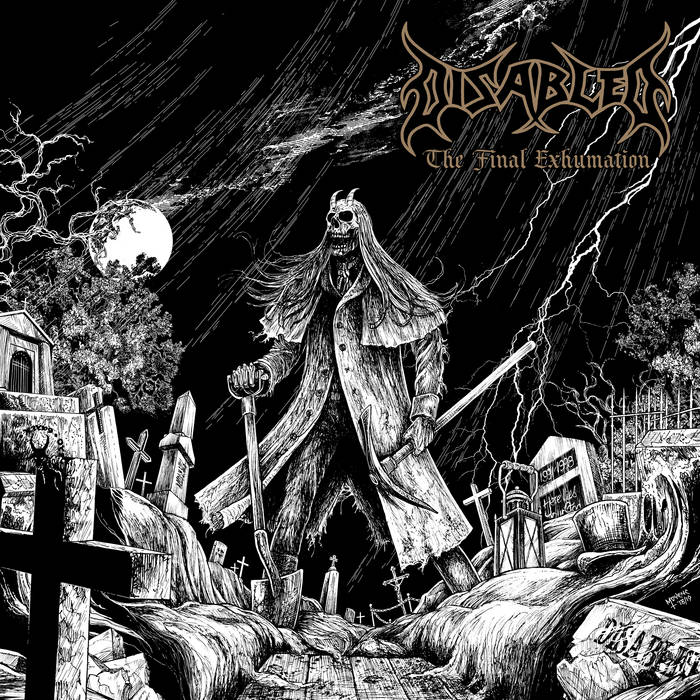 Ajoutons a cela le sublime artwork signé Chris Moyen, of course, aussi bien sur la couve que dans le livret, tout cela dans un digipack d'une beauté sans nom, et vous vous retrouvez en possession (c'est le mot !) d'un objet indispensable à tout amateur de Death Metal pur et dur, sans concessions, extrait d'un temps béni où le Metal Extrême foutait encore les jetons, bien avant que le showbiz n'avale tout ! Tu veux de l'underground ? En voila nom de Dieu !
Un indispensable de cette année, ce Final Exhumation permet de (re) découvrir ce groupe français de Brutal Death qui mérite toute votre considération et de vous jeter sur ce fucking digipack splendide !
Xenokorp's buddies have no equal for getting us out of nuggets from ancient times, found by accident at the bottom of a cellar. It's the case here of Disabled, who, whereas we thought they had published everything about this brutal Death band from Bordeaux in the 90s: The Final Exhumation, or the little miracle that the great Chris Moyen, genius illustrator and inexhaustible Death/Thrash/Black fan, found in his archives a never published tape of the band, recorded in 1996 (it seems) and long forgotten. The fruit of this exhumation is a demo that beats the shit out of the band and makes us happy!
For those who didn't know them, you should first know that Disabled weren't into lace, but rather into an American-style Brutal Death Metal that makes your ears bleed. Fans of early Cannibal Corpse, Deicide, old Sinister, this re-release is for you! A death that flirts more than once with gore and beats religion, with a voice from beyond the grave (fuck, the guy was barely over 18! The guy is Stéphane Morillon, who will be found a few years later in the bad Voracious Gangrene), evil guitars that play on very low riffs and high-pitched phrases between Slayer and Morbid Angel and a REAL drum kit without trigger that beats everything it can.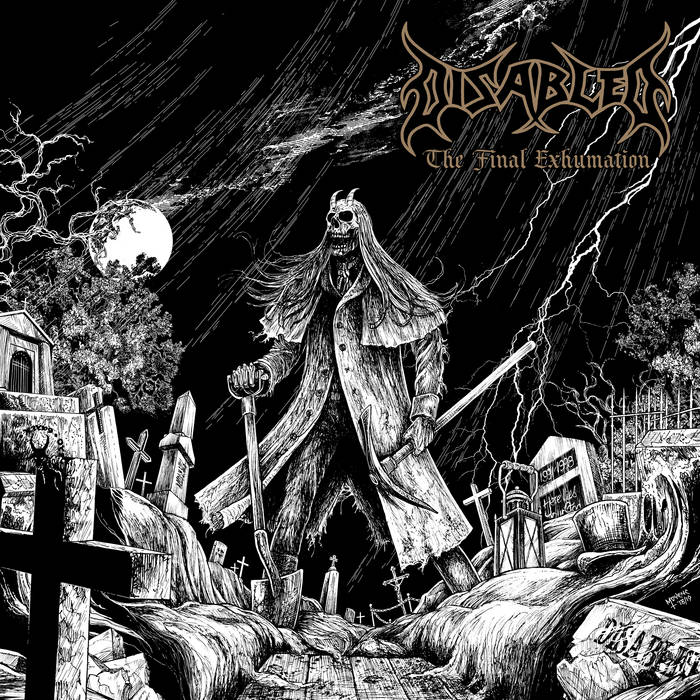 Add to that the sublime artwork by Chris Moyen, of course, both on the incubator and in the booklet, all this in a digipack of nameless beauty, and you find yourself in possession (that's the word!) of an indispensable object for any lover of pure and hard Death Metal, without concessions, extracted from a blessed time when Extreme Metal was still scaring the crap out of it, long before showbiz swallowed it all up! Do you want underground? That's what I'm talking about, for Christ's sake!
A must this year, this Final Exhumation allows you to (re) discover this French Brutal Death band that deserves all your consideration and to throw yourself on this splendid fucking digipack!
BUY THIS ALBUM AT XENOKORP NOW !