Darkness, War and Hate ! - INTERVIEW AVEC ETERNAL MAJESTY - FR + ENGLISH - THE COMEBACK !
Eternal Majesty fait partie de cette génération de groupes de Black Metal français qui ont marqué l'arrivée dans le XXIème siècle. A l'instar de Antaeus ou Temple Of Baal, ils sont venus donner un niveau de violence, de noirceur et de haine au Black Metal qui rendit le genre encore plus dangereux qu'auparavant. Vingt années au service du mal le plus pur, sans le moindre compromis commercial. Voici une interview importante, car, non seulement elle permet de se remémorer les grands faits et gestes du groupe, mais aussi d'apprendre la divine surprise : leur retour !
"J'attends de cette jeunesse la même force, la même fraîcheur (elle en est capable) mais avec les mots et les sons de sa propre époque… Je veux me sentir vieux con en les écoutant…"
Eternal Majesty a existé (existe ?) pendant 20 ans, entre 1995 et 2015. Vous faites donc partie de la première vague des groupes français. Pouvez-vous nous parler de la scène black metal du début des 90s ? Donnez-nous des anecdotes, des histoires méconnues, aidez-nous à retrouver cette ambiance particulière...
En effet, Eternal Majesty existe depuis presque 25 ans maintenant, j'avoue ne pas avoir vu le temps passer. Pour les anecdotes je ne sais pas quoi te dire, on vivait un peu au jour le jour, j'aurais un paquet de trucs à te raconter mais on passerait l'interview à ça… Je peux te raconter notre première rencontre avec les mecs de Merrimack (première formation) aux pieds de Notre-Dame de Paris. On s'est croisés dans le quartier par hasard et à l'époque on n'hésitait pas à se parler. Nous avons fait connaissance, passé une nuit complète au pied de la cathédrale à boire des bières et à refaire (ou à défaire) le monde en écoutant du black metal, nos démos respectives sur un petit poste à cassettes. Quelques jours, après nous étions invités à les voir sur scène au Gibus. Il y avait une croix géante sortie d'un cimetière posée sur scène et des crânes humains sur les amplis… super ambiance [rires] ! Pour la petite histoire, c'est Perversifier (guitariste et seul membre d'origine sur la formation actuelle du groupe) qui nous a présenté MKM, le chanteur d'Antaeus. Avec Eternal, on avait à cette époque notre petit cercle d'amis avec qui nous faisions des soirées concerts dans les vieilles caves voûtées d'une école où vivaient nos deux meilleurs potes. Nous étions souvent bien alcoolisés et ça finissait en séance spiritisme sur fond de Burzum Darkthrone, Emperor... Je peux aussi te parler de notre première expérience studio. On est arrivés comme des punks avec nos grattes, on a tout bouclé en 2 jours (budget extrêmement limité) ; pour te dire, au moment d'enregistrer le petit morceau acoustique en fin de session, c'est là qu'on s'est rendu compte que nous n'étions accordés sous aucun standard connu… nous sommes tous autodidactes dans le groupe et à cette époque nous n'avions que faire des règles, on n'était pas le genre à avoir la panoplie complète du guitariste, pas d'accordeur, limite pas de housse... juste une disto, on accordait nos guitares entre elles comme des manouches et go… l'ingé son n'en croyait pas ses oreilles… mais il a fini par admettre que ça donnait du cachet à l'enregistrement. C'est certainement la clé du mystère de cet album, la raison pour laquelle From war to darkness a cette sonorité si particulière…
Vous n'avez sorti que deux albums en 20 ans (mais quels albums !) Comment expliquez-vous cela ?
Tout simplement par le fait qu' Eternal Majesty a toujours été dans la spontanéité. On joue quand on a envie de jouer. On n'a jamais vraiment réussi à faire des morceaux sous la contrainte. On n'est pas de bons businessmen, c'est un vrai supplice que de chercher un label, de faire de la promo, de vendre des albums… c'est pas du tout notre truc. C'est peut être pour ça qu'on est toujours restés un peu en retrait par rapport à d'autres formations de la même époque.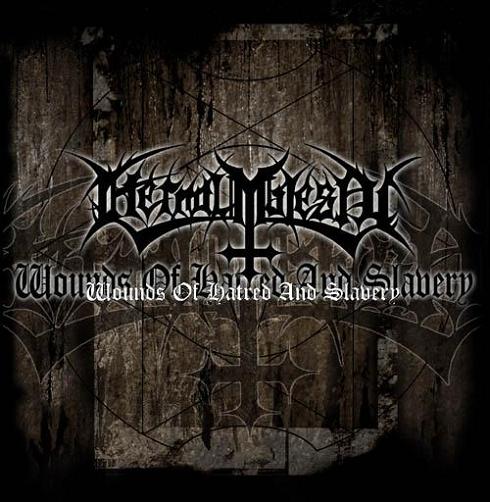 Vous sentiez-vous proches de groupes "constitués" comme les Black Legions ou le Concilium ? Aviez-vous des relations avec les groupes issus de ces « mouvements » ?
Non pas du tout, on n'a jamais eu le sentiment ni l'envie d'appartenir à un groupe ; le black metal pour nous était justement une opportunité de liberté qui abolissait l'effet de masse, de groupe, de clan… Pour nous c'était l'introspection, quelques chose de plus spirituel, personnel. L'antithèse des dogmes et du groupe.
La haine et la noirceur étaient viscérales chez Eternal Majesty, jusque dans les oreilles de l'auditeur. Étiez-vous habités par cette haine ?
Totalement. On était jeunes et complètement habités par cette énergie négative qu'on renvoyait dans notre musique. C'est justement tout l'intérêt de cet état exacerbé que procure la jeunesse, tout est disproportionné et ça nous dépasse. L'immaturité nous poussait à l'extrême et c'est ça qui était bon. Quand je réécoute From war, j'hallucine moi-même par moments sur certaines parties. Avec le recul, j'avoue que c'est un bon poing dans la gueule cet album…
Vous avez réalisé plusieurs splits et j'aimerais qu'on s'y attarde un peu... Parlez-nous du premier, avec Antaeus, une autre légende du BM ! Comment l'aventure a-t-elle débuté ? Quelles étaient vos relations avec eux, sachant que vous avez eu des membres en commun ? C'était un peu le split de la haine crachée au visage des bien-pensants, non ?
MKM est devenu au fils du temps un très bon ami, il a très rapidement cru en nous, nous sommes d'ailleurs la première sortie de son label SPK. Il nous a beaucoup apporté, c'est lui qui nous a sortis de l'ombre. Il était déjà bien implanté dans le milieu grâce à ses nombreux contacts. Eternal est rapidement devenu un groupe respecté dans la scène BM. La suite s'est faite naturellement, il avait besoin d'un bassiste et d'un guitariste pour Antaeus. J'ai accepté et proposé à Thorgon (notre batteur) d'intégrer le groupe à la guitare. De cette union sont nés les albums CYFAW et De principii Evangelikum ainsi que plusieurs autres prods. Le line up était hyper raccord, ca matchait bien, ce fut une expérience particulière de par l'ambiance de ces années là. Je m'aperçois aujourd'hui que c'était hors normes. Pour le split, nous avions des nouvelles compos et MKM nous a proposé justement d'unir nos forces sur cette première tape. Les deux groupes étaient très proches par leur line up ; il était devenu naturel de mutualiser nos compos sur ce type de prods.
Un mot sur Spk Commando ?
Quand je vois l'influence de cette scène aujourd'hui, cet EP a un écho particulier quand je le regarde de plus près. Un bien bel objet.
C'est assez drôle aussi car Thorgon a enregistré les morceaux d'Eternal et d'Antaeus mais a aussi joué live pour Deviant (ainsi que Navint au chant), et fait les premières répétitions au début de Hellmilitia avant la sortie de ce split.
Eternal Majesty représentait, à l'instar d'Antaeus ou de Maleficum Orgia, un concentré de pure violence et de haine musicale. Est-ce cela que votre génération de groupes a laissé ?
Je ne suis certainement pas le mieux placé pour me rendre compte des séquelles qu'a laissé notre génération de groupes, je m'aperçois que beaucoup essayent de reproduire l'ambiance de cette époque… La nouvelle génération a du mal à passer outre les influences du black metal des années 1990... Mais l'idée n'est pas d'endosser un costume et de faire comme nous car ils n'ont pas vécu cette époque. J'attends de cette jeunesse la même force, la même fraîcheur (elle en est capable) mais avec les mots et les sons de sa propre époque… Je veux me sentir vieux con en les écoutant…
Qu'est-ce qui a provoqué le split de 2015 ?
Rien en particulier… il n'y a jamais vraiment eu de split. Nous avons fait un break car nous n'avions plus rien à dire à ce moment-là. Pourquoi faire semblant ? Vendre des disques sans envie et sans âme ?
Peut-on imaginer le groupe revenir un jour ?
Certainement. Nous finissons actuellement l'enregistrement d'un nouvel EP nommé Black Metal Excommunication, titre qui en dit long sur notre statu dans la scene Black Metal actuelle, d'autres suivront ou pas, on verra.
L'envie de faire des morceaux revient, mais à notre échelle, (encore) plus en retrait. On n'a pas changé, on déteste toujours autant la promo et on n'a pas envie de démarcher ou de faire les hommes-sandwichs sur scène. On mettra ça à disposition de qui voudra bien l'écouter. Une version tape sortira certainement chez Mallevs Records. Peut-être même une réédition de nos deux premiers albums en version cassette.
Voilà les projets pour le moment.
Eternal Majesty is part of this generation of French Black Metal bands that marked the arrival of the 21st century. Like Antaeus or Temple Of Baal, they came to give a level of violence, darkness and hatred to Black Metal that made the genre even more dangerous than before. Twenty years at the service of the purest evil, without the slightest commercial compromise. Here is an important interview, because not only does it allow us to remember the great deeds of the band, but also to learn the divine surprise: their return!
"I expect the same strength, the same freshness from this youth (they can do it) but with the words and sounds of their own time... I want to feel like an old fool when I listen to them..."



Eternal Majesty has existed (exists?) for 20 years, between 1995 and 2015. So you're part of the first wave of French bands. Can you tell us about the black metal scene of the early 90s? Give us anecdotes, unknown stories, help us to find this particular atmosphere...
Indeed, Eternal Majesty has been around for almost 25 years now, I must admit I haven't seen the time go by. For anecdotes, I don't know what to tell you, we lived a little bit from day to day, I'd have a lot of things to tell you but we'd spend the interview at that... I can tell you about our first meeting with the guys from Merrimack (first band) at the foot of Notre-Dame de Paris. We ran into each other in the neighbourhood by chance and at the time we didn't hesitate to talk to each other. We got to know each other, spent a whole night at the foot of the cathedral drinking beers and redoing (or undoing) the world by listening to black metal, our respective demos on a small cassette player. A few days later we were invited to see them on stage at the Gibus. There was a giant cross from a cemetery on stage and human skulls on the amps... great atmosphere [laughs] ! For the record, it's Perversifier (guitarist and the only original member of the band's current line-up) who introduced us to MKM, the singer of Antaeus. With Eternal, we had at that time our little circle of friends with whom we did evening concerts in the old vaulted cellars of a school where our two best buddies lived. We often had a lot of alcohol and ended up having a seance against the backdrop of Burzum Dark throne, Emperor? I can also tell you about our first studio experience. We arrived like punks with our scratches, we finished everything in 2 days (extremely limited budget); to tell you the truth, when we recorded the acoustic track at the end of the session, that's when we realized that we were not tuned under any known standard... we're all self-taught in the band and at that time we didn't care about rules, we weren't the kind to have the complete guitarist's panoply, no tuner, limit no cover. ... just a disto, we tuned our guitars together like gypsies and go... the sound engineer couldn't believe his ears... but he finally admitted that it gave the recording a certain cachet. That's certainly the key to the mystery of this album, why From war to darkness has such a special sound...
You've only released two albums in 20 years (but what albums!) How do you explain that?
Simply by the fact that Eternal Majesty has always been spontaneous. We play when we feel like playing. We've never really managed to make songs under duress. We're not good businessmen, it's a real torment to look for a label, to do promotion, to sell albums... it's not our thing at all. Maybe that's why we've always been a bit behind other bands of the same period.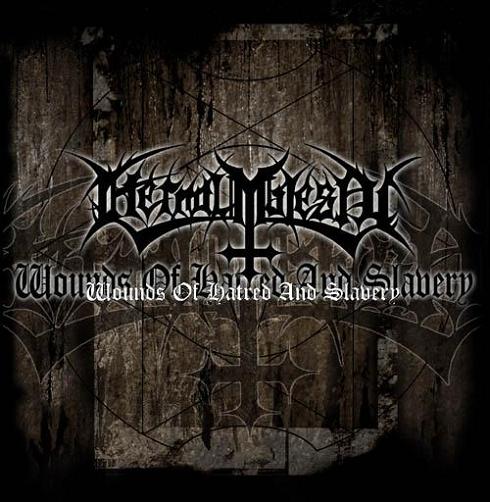 Did you feel close to "established" bands like the Black Legions or the Concilium? Did you have relations with bands from these "movements" ?
No not at all, we never had the feeling or the desire to belong to a band; black metal for us was just an opportunity for freedom that was abolished by mass effect, by band, by clan... For us it was introspection, something more spiritual, personal. The antithesis of dogmas and of the band.
Hatred and darkness were visceral in Eternal Majesty, even in the ears of the listener. Were you inhabited by this hatred?
Totally. We were young and completely inhabited by this negative energy that we reflected in our music. It's precisely the interest of this exacerbated state that youth brings, everything is disproportionate and it's beyond us. Immaturity was pushing us to the extreme and that's what was good about it. When I listen to From war again, I sometimes hallucinate myself on certain parts. Looking back, I have to admit that this album is a good punch in the face...
You've made several splits and I'd like us to take a look at them? Tell us about the first one, with Antaeus, another BM legend! How did the adventure begin? What was your relationship with them, knowing that you had members in common? It was a bit like the split of hatred spit in the face of the self-righteous, wasn't it?
MKM became over time a very good friend, he believed in us very quickly, we are the first release of his label SPK. He brought us a lot, he's the one who brought us out of the shadows. He was already well established in the scene thanks to his many contacts. Eternal quickly became a respected band in the BM scene. The next step came naturally, he needed a bassist and a guitarist for Antaeus. I accepted and proposed to Thorgon (our drummer) to join the band on guitar. From this union were born the albums CYFAW and De principii Evangelikum as well as several other prods. The line up was hyper connected, it matched well, it was a particular experience because of the atmosphere of those years. I realize today that it was out of the ordinary. For the split, we had new compositions and MKM proposed us to join forces on this first tape. The two bands were very close by their line up; it became natural to mutualize our compositions on this type of productions.
A word about Spk Commando ?
When I see the influence of this scene today, this EP has a particular resonance when I look at it more closely. It's a very beautiful object.
It's also quite funny because Thorgon recorded the tracks of Eternal and Antaeus but also played live for Deviant (as well as Navint on vocals), and did the first rehearsals at the beginning of Hellmilitia before the release of this split.
Eternal Majesty represented, like Antaeus or Maleficum Orgia, a concentrate of pure violence and musical hatred. Is this what your generation of bands left behind?
I'm certainly not in the best position to realise the legacy our generation of bands has left, I realise that many are trying to reproduce the atmosphere of that era... The new generation is struggling to get past the black metal influences of the 1990s... But the idea is not to put on a suit and do like us because they didn't live that era. I expect the same strength, the same freshness from this youth (they can do it) but with the words and sounds of their own time... I want to feel like an old fool when I listen to them...
What caused the 2015 split?
Nothing in particular... there never really was a split. We took a break because we had nothing more to say at that time. Why pretend? To sell records without envy and without soul?
Can we imagine the band coming back one day?
Absolutely. We are currently finishing the recording of a new EP called Black Metal Excommunication, a title that says a lot about our status in the current Black Metal scene, others will follow or not, we'll see.
The desire to make songs comes back, but on our scale, (even) more in retreat. We haven't changed, we still hate promotion and we don't feel like canvassing or being sandwich men on stage. We'll make it available to anyone who wants to listen to it. A tape version will certainly be released on Mallevs Records. Maybe even a re-release of our first two albums in cassette version.
These are the projects for the moment.