FR/ENG - Comme une odeur de mort qui rôde : Interview avec Mortis Mutilati - Black Metal
Bonjour Mortis Mutilati ! Pouvez vous nous parler des origines du groupe ?
Salut, j'ai commencé Mortis Mutilati en 2011 sous forme de projet solo. Après avoir enregistré le premier album, nous avons commencé à tourner dans toute la France puis dans l'Europe et au Mexique grâce aux albums suivants. Mortis Mutilati est aujourd'hui un groupe à part entière, avec des membres permanents.
Si je ne dis pas de bêtises vous existez depuis 2011, et vous avez déjà quatre albums à votre actif ? Vous êtes des hyperactifs ?
Je ne pense pas que l'on puisse nous qualifier d'hyperactifs car je m'arrange toujours pour tout composer sur une période d'environ 6 mois pour ne plus avoir à rien faire pendant le cycle de l'album. La composition est un travail long et fastidieux et c'est pour moi la partie la moins "fun" de la vie d'un groupe. Tous nos albums sont composés au moins un an à l'avance. Je suis en "vacances" le reste du temps.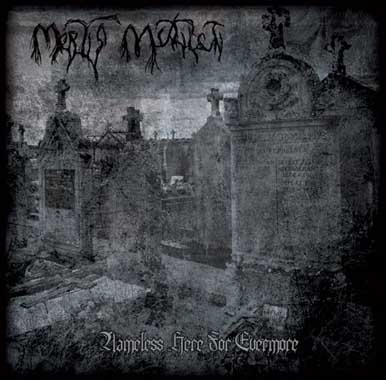 Macabre, tu as un sacré pedigree. Est-ce que tes expériences dans Hats Barn, Neptrecus, The Negation, Griffon ou Moonreich sont réinjectées dans Mortis Mutilati ? T'inspires tu de ces travaux ?
Pas du tout. Déjà, j'étais dans la plupart de ces groupes de façon éphémère ou alors pour dépanner mes amis. Aucun groupe dans lequel j'ai joué n'a eu d'influence sur ma musique, je fais ce dont en quoi je crois et chaque projet doit rester parallèle à mon projet principal.
Votre "funeral black metal" se regarde autant qu'il s'écoute : l'aspect visuel semble important pour vous quand on regarde vos pochettes (splendides) et vos vidéos ? (Le clip de "Invocation à la momie" par exemple). D'où vous vient ce goût de la musique mise en images ?
En effet, l'imagerie fait partie intégrante de notre concept. Elle fait l'identité du groupe et nous aide à renforcer l'image que nous voulons renvoyer de notre musique. Elle nous aide également à rentrer dans nos personnages lorsque nous entrons sur scène.
Je vais paraphraser l'ami Sakrifiss de Thrashocore mais je suis d'accord avec lui pour dire que vous faites du "black metal à émotions" (au moins je cite mes sources !). Votre musique est sensible, dans le sens qu'elle ne joue pas la surenchère glaciaire façon nordique, vous êtes d'accord avec ça ? De plus les voix féminines et les claviers apportent une vraie dramaturgie gothique à l'ensemble : vos influences en matière de musique, littérature, cinéma ?
Je ne sais pas si on peut vraiment parler influences car je compose tout au fur et à mesure des idées. J'essaie évidemment de rester cohérent mais en aucun cas je n'essaie de sonner comme tel ou tel groupe. Je me suis cependant beaucoup inspiré d'Egdar Poe pour notre premier album dont j'ai utilisé les poèmes en guise de paroles sur plusieurs morceaux.
Votre dernier opus en date, sorti l'an passé, se nomme "The Stench of Death" (l'odeur de la mort). C'est un beau condensé de BM atmosphérique et profondément mélancolique, qui nous fait voyager comme dans un rêve étrange...Pouvez vous nous en parler ? Comment l'avez vous conçu ? Quelle thématique vouliez vous explorer ?
Il a été composé un an et demi avant l'enregistrement. C'est le premier album de Mortis Mutilati où d'autres musiciens ont enregistré et ont apporté des arrangements. Nous avons voulu créer un album sur la mort pure et dure. Plus direct par rapport aux albums précédents. La mort est le thème récurrent du groupe et nous voulions pour cet opus la mettre au centre de l'attention.
Par moments j'ai pensé à un groupe que j'affectionne, Elend, sur les passages les plus calmes et chantés par Asphodel. Est ce que la musique néoclassique comme celle d'Elend, Dead Can Dance ou d'autres a pu être pour vous une influence ?
Je ne connais pas Elend et je ne suis pas fan de musique néoclassique mais je sais qu'Asphodel adore Dead Can Dance, ce qui à pu être une influence pour sa part en ce qui concerne sa manière d'interpréter les morceaux, mais pas pour moi en terme de composition.
Quand on écoute "The stench of death" on est frappé par la qualité sonore de la production. Manifestement vous ne cherchez pas à sonner "raw" ? Ceci met en valeur l'aspect mélodique de votre Black Metal. On se dit que vous pourriez avoir de grandes ambitions, est-ce le cas ?
Je pense que la majorité des groupes aiment évoluer, ce qui est notre cas. Je me voyais mal enregistrer des albums au dictaphone toute ma vie. De plus, notre musique est pleine de petites subtilités qu'une prod trop mauvaise ne permettrait pas de déceler. Nous n'avons comme ambition que d'écrire et jouer la musique que nous voulons entendre.
En fait, Macabre, tu es le maitre à bord, et les autres musiciens sont des "guests" non ?
C'était le cas à la création du groupe où j'étais 100% seul avant que je ne décide de commencer à faire des concerts avec des musiciens de session. Les membres ne sont permanents que depuis The Stench Of Death. C'est donc plutôt récent.
Vos 20 albums préférés de tous les temps ?
1.

Def Leppard - High'n'Dry
2.

Def Leppard - Pyromania
3.

Viva - Dealers of the Night
5.

Iron Maiden - Live After Death
6.

Slipknot - Vol.3 Subliminal Verses
7.

Viva - What the Hell is Going On
8.

Mötley Crüe - Shout at the Devil
10.

Marduk - Plague Angel
12.

The Cure - Desintegration
13.

Burzum - Daudi Baldrs
14.

Jamiroquaï - Emergency On Planet Earth
16.

Carpathian Forest - Morbid Fascination Of Death
17.

Def Leppard - Hysteria
18.

GG Allin & The Criminal Quartet - Carnival of Excess
19.

Turbonegro - Sexual Harrassment
20.

Twisted Sisters - Come Out And Play
C'est quoi la suite pour Mortis Mutilati ? Vous travaillez sur un nouvel opus ? A quoi peut on s'attendre ?
Le prochain album est déjà composé et nous sommes en train de le travailler pour aller l'enregistrer au mois de février.
Le mot de la fin vous revient :
Hello Mortis Mutilati! Can you tell us about the origins of the band ?

Hi, I started Mortis Mutilati in 2011 as a solo project. After recording the first album, we started touring all over France and then in Europe and Mexico with the following albums. Mortis Mutilati is now a band in its own right, with permanent members.

If I'm not talking nonsense, you've been around since 2011, and you already have four albums to your credit? Are you hyperactive?

I don't think we can be called hyperactive because I always manage to compose everything over a period of about 6 months so that I don't have to do anything during the album cycle. Composition is a long and tedious work and for me it is the least "fun" part of a band's life. All our albums are composed at least one year in advance. I'm on "vacation" the rest of the time.

Macabre, you have a hell of a pedigree. Are your experiences in Hats Barn, Neptrecus, The Negation, Griffon or Moonreich reinjected into Mortis Mutilati? Are you inspired by these experiences ?

Not at all. Already, I was in most of these groups for a short time or to help out my friends. No band I played in has had any influence on my music, I do what I believe in and each project must remain parallel to my main project.

Your "funeral black metal" is as much about looking at itself as it is about listening: the visual aspect seems important to you when we look at your (splendid) covers and videos? (The clip of "Invocation to the mummy" for example). Where did you get this taste for music in pictures?

Indeed, imaging is an integral part of our concept. It makes the identity of the group and helps us to reinforce the image we want to convey of our music. It also helps us to get into our characters when we enter the stage.

I'm going to paraphrase Thrashocore's friend Sakrifiss but I agree with him that you do "emotional black metal" (at least I quote my sources!). Your music is sensitive, in the sense that it doesn't play the Nordic way of glacial overbidding, do you agree with that? In addition, female voices and keyboards bring a real gothic dramaturgy to the ensemble: your influences in music, literature, cinema?

I don't know if we can really talk about influences because I compose everything as I go along. I obviously try to be consistent, but under no circumstances do I try to sound like this or that group. However, I was very inspired by Egdar Poe for our first album, whose poems I used as lyrics on several songs.

Your latest opus, released last year, is called "The Stench of Death". It is a beautiful, atmospheric and deeply melancholic condensed BM, which makes us travel as if in a strange dream... Can you tell us about it? How did you design it? What theme did you want to explore?

It was composed a year and a half before the recording. This is Mortis Mutilati's first album where other musicians recorded and brought in arrangements. We wanted to create an album about pure and hard death. More direct compared to previous albums. Death is the recurring theme of the group and we wanted to put it at the centre of attention for this opus.

At times I thought of a group I like, Elend, on the quietest passages sung by Asphodel. Could neoclassical music like Elend, Dead Can Dance or others have been an influence for you?

I don't know Elend and I'm not a fan of neoclassical music but I know that Asphodel loves Dead Can Dance, which could have been an influence on his way of performing the songs, but not for me in terms of composition.

When you listen to "The stench of death" you are struck by the sound quality of the production. Obviously you're not looking to sound "raw"? This highlights the melodic aspect of your Black Metal. We think you could have great ambitions, do you?

I think most groups like to evolve, which is our case. I couldn't see myself recording albums on the dictaphone all my life. Moreover, our music is full of small subtleties that a too bad production would not allow to detect. Our only ambition is to write and play the music we want to hear.

Actually, Macabre, you're the master on board, and the other musicians are guests, right?

This was the case at the creation of the band where I was 100% alone before I decided to start performing with session musicians. Members are only permanent since The Stench Of Death. So it's pretty recent.

Your 20 favorite albums of all time?
1. Def Leppard - High'n'Dry

2. Def Leppard - Pyromania

3. Viva - Dealers of the Night

4. Burzum - Filosofem

5. Iron Maiden - Live After Death

6. Slipknot - Vol.3 Subliminal Verses

7. Viva - What the Hell is Going On

8. Mötley Crüe - Shout at the Devil

9. Rammstein - Rammstein

10. Marduk - Plague Angel

11. Nirvana - In Utero

12. The Cure - Desintegration

13. Burzum - Daudi Baldrs

14. Jamiroquaï - Emergency On Planet Earth

15. Accept - Metal Heart

16. Carpathian Forest - Morbid Fascination Of Death

17. Def Leppard - Hysteria

18. GG Allin & The Criminal Quartet - Carnival of Excess

19. Turbonegro - Sexual Harrassment

20. Twisted Sister - Come Out And Play

What's next for Mortis Mutilati? Are you working on a new opus? What can we expect?

The next album is already composed and we are working on it to record it in February.

The last word comes back to you:

Thanks for the interview!

Thank you!