Eng/Fr review Halsfang / Pestiferum Split album / Black Metal
Occitan Black Metal
It's a 100% Occitan game that I invite you here! In the left corner, the very angry Toulouse residents of Halsfang, whose album I reviewed a little earlier (if you don't mind, gentlemen and ladies!) and their competitive Raw/Brutal Black Metal, distinguished and violent, black as a day without bread. In the right corner the Albigensians of Pestiferum, of whom we will also find a chronicle of the album below (there also messires and ladies...) who, they, work in a more melodic Black Metal, even if the dirt is very present there.
Let's stay for a moment on the Pestiferum side of the ring: the mid-tempi are majestic here, offering a breath between two blast-beat deflagrations. Albigensians sing in French on themes such as the Middle Ages or war, which suits them particularly well. More sophisticated in its approach than Balkor's one-man band, which holds the bass here (family history), Pestiferum brings together the best of the 90's Black and a more current version, even if the modern word is absolutely not appropriate here. So, if we can criticize Albi's band, it's perhaps because his Black Metal is a little "wise" at times and lacks a little madness on the tracks of this split. Always well done, pleasant, but sometimes a little too diligent.
On Halsfang's side we find this Black Metal bulldozer both dirty and brutal that I already described in the review album above. Perhaps less Punk and more brutal Black than the album, the tracks here are of an absolute violence, while keeping enough melody to catch the metalhead on a sound walk. A strong production here reinforces the sounds of Balkor's project, dedicated to moaning and smashing the head of the first music lover lost in this hell.
On arrival a very successful split, which combines two different groups, even if some common points (notably Balkor) exist... Strongly recommended!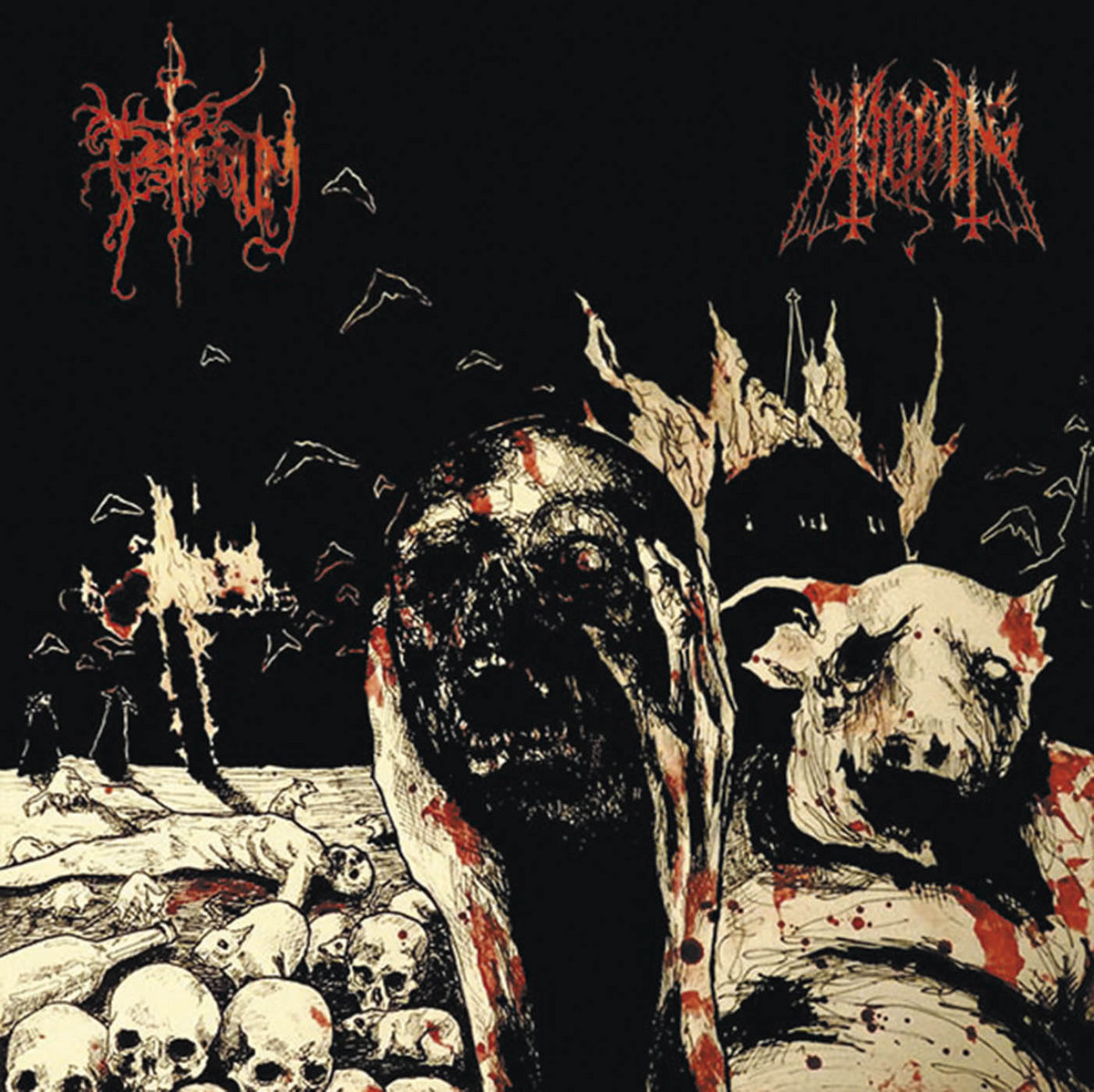 C'est à un match 100 % occitan que je vous convie ici ! Dans le coin gauche, les Toulousains très en colère de Halsfang, dont j'ai chroniqué l'album un peu plus haut (si vous voulez bien vous donner la peine, messires et gentes dames !) et leur Raw/Brutal Black Metal de compétition, racé et violent, noir comme un jour sans pain. Dans le coin droit les albigeois de Pestiferum, dont nous trouverons aussi une chronique d'album ci-dessous (là aussi messires et gentes dames...) qui, eux, oeuvrent dans un Black Metal davantage mélodique, même si la crasse y est bien présente.
Restons un instant du côté Pestiferum du ring : les mid-tempi sont ici majestueux, offrant une respiration entre deux déflagrations de blast-beats. Les albigeois chantent en français sur des thématiques comme le moyen-âge ou la guerre, ce qui leur sied particulièrement bien. Davantage sophistiqué dans son approche que le one-man band de Balkor, qui tient ici la basse (histoire de famille), Pestiferum réunit le meilleur du Black des 90's et d'une version plus actuelle, même si le mot moderne n'est absolument pas approprié ici. Alors, si l'on peut faire une critique au groupe d'Albi, c'est, peut-être, que son Black Metal est un peu "sage" par moments et manque un peu de folie sur les morceaux de ce split. Toujours bien fait, agréable, mais parfois un peu trop appliqué.
Du côté de Halsfang on retrouve ce Black Metal bulldozer à la fois crasseux et brutal que j'ai déjà décrit dans l'album chroniqué ci-dessus. Peut-être moins Punk et plus brutal Black que l'album, les titres ici présents sont d'une violence absolue, tout en gardant suffisamment de mélodie pour accrocher le métalleux en promenade sonore. Une production costaude renforce ici les sonorités du projet de Balkor, voué aux gémonies et à défoncer la tête du premier mélomane perdu dans cet enfer.
A l'arrivée un split fort réussi, qui combine deux groupes différents, même si quelques point communs (notamment Balkor) existent...Vivement conseillé !
HALSFANG
PESTIFERUM