FR/ENG INTERVIEW : Industrial Weird Ambient Experimental Music : ADMIN DADA !
Bonjour à toi et merci de répondre à mes questions... Comme je le prouve une fois de plus, le Scribe ce n'est pas QUE du Metal ! Tu fais de la musique électronique ambient/industrielle depuis combien de temps ?
Salut, et merci pour ton intérêt. Très heureux de répondre à tes questions et d'être présent sur ton site aux côtés de groupes principalement metal mais pas que, un genre que j'écoute en amateur, avec des choses aussi diverses que Neurosis, Portal, Nefilim, Melvins, Killing Joke, etc.
Je fais du son depuis mes 16/17 ans, soit une trentaine d'années maintenant.
Mon premier projet s'appelait De Vermis Mysteriis, en duo avec un pote à la voix.
On n'utilisait pas d'ordinateurs, juste du hardware, un Juno-60, un DX-7, un miniséquenceur QY-10 qu'on passait dans un MS-20, et des pédales d'effets ou des trucs bidouillés en mode DIY.
Parallèlement à ça je faisais un peu de distribution avec un petit mail-order, principalement des cassettes de musique industrielle que j'échangeais avec les groupes, directement du producteur au consommateur.
Je suis passé à l'ordinateur vers la fin des années 90, surtout parce que je n'avais plus de studio où stocker mon matériel et que ça me permettait de continuer à faire de la musique malgré un mode de vie plus nomade. Musicalement, j'étais passé à des sonorités moins industrielles, plus électro ou idm. C'était une période de ma vie assez particulière, j'ai passé quelques années sans logement fixe, j'ai zoné à Dublin puis à Valencia, je suis revenu en France au début des années 2000 et j'ai commencé à travailler comme développeur autodidacte à Paris. La musique était alors passée au second plan.
Vers 2010, les choses s'étant un peu stabilisées pour moi, j'ai repris la production musicale plus sérieusement et ça a été le début de mon projet électro achim.bloch. Mais je n'arrivais pas à me cantonner à un seul genre, je me sentais frustré par les étiquettes et les limitations qu'elles imposent, alors j'ai décidé d'utiliser plusieurs noms, plusieurs projets, qui me servent depuis comme cadre conceptuel large pour réaliser mes morceaux dans un contexte plus cohérent. Il y a donc, désormais, Noronsoff Intestate, pour tout ce qui est électro-industriel, Bruits Galants qui regroupe mes compositions les plus noise et extrêmes, et Admin Dada. Je sors la plupart de ces réalisations en digital, sur mon label bandcamp Hammerstein & Waldteufel. A la rentrée sortira cependant une première release physique, un 45 tours limité à 300 copies de Bruits Galants.
Comment est né ce projet spécifique Admin Dada ?
Je commençais de nouveau à accumuler des morceaux "bizarres", entre industriel, psychédélique et ambient, et ça représentait une part conséquente de ma production. Le son parfois un peu 70's c'était également nouveau pour moi à cette échelle. C'était quelque chose que je voulais continuer à faire, et j'avais besoin d'une identité publique pour pouvoir sortir ces tracks ensemble. Du coup Admin Dada s'est imposé comme une évidence et est devenu une entité musicale à part entière. C'est plus une cohérence sensorielle ou émotionnelle que vraiment stylistique, de manière générale je ne comprends pas grand-chose aux labels, aux styles et aux genres en musique, pour moi deux morceaux vont ensemble ou pas, ils peuvent cohabiter ou non indépendamment de leur structure rythmique ou du type de distorsion ou de voix utilisée dedans.
La référence au dadaïsme n'a pas l'air de n'être qu'un jeu de mot avec un nom de dictateur. Il y a quelque chose de cela dans ta musique, non ?
Complètement. J'aime le côté "j'en ai rien à foutre" du dadaïsme, son aspect iconoclaste et complètement irrespectueux, qu'on peut retrouver dans une certaine frange de la musique actuelle depuis la fin des années 70, avec des groupes comme Nurse With Wound, Costes, Yximalloo ou Incapacitants.
L'art du collage, du cut-up à la Burroughs, la part laissée au hasard et à l'erreur comme éléments créatifs, ça me plait également beaucoup. La volonté humaine du créateur doit cependant rester présente, les trucs purement random c'est généralement assez chiant, mais tout le domaine, toute la zone grise qui s'étend entre le contrôle total et le lâcher-prise total est très riche créativement et émotionnellement parlant. L'esprit doit guider le son plutôt que le contraindre.
J'ai aussi du goût pour le mouvement décadent qui a immédiatement précédé le dadaïsme, des écrivains comme Huysmans ou Jean Lorrain, des peintres comme Odilon Redon, Schiele ou Klimt. L'ironie, l'humour noir et le mythe se mélangent joyeusement, comme une célébration désespérée et distanciée d'une civilisation à son apogée technique mais en bout de course et dans l'impasse au plan moral et philosophique. J'ai parfois cette image un peu rêvée, un dandy désabusé en haut de sa tour d'ivoire, verre de champagne à la main, qui contemple le monde en train de s'autodétruire en mode "Banlieue 13". Ou comme dans les premiers films de zombie de Romero.



Qui sont tes références en matière musicale ?
J'écoute vraiment beaucoup de choses différentes. D'une part j'ai 46 ans, alors j'ai eu le temps dans ma vie de me rendre compte que la bonne musique peut venir de partout, que l'underground n'est pas forcément gage de qualité et qu'il existe de la bonne musique "mainstream". D'autre part j'ai la chance d'être resté curieux et toujours à l'affut de nouveautés, de ne pas être devenu blasé et d'avoir acquis un a priori en général bienveillant quand je découvre quelque chose. Et puis mon goût a évolué, des choses qui me paraissaient extrêmes quand j'étais adolescent, comme le harsh-noise ou le power-electronics, ou dans un autre genre la musique concrète, font désormais partie de mes playlists quotidiennes. J'aime maintenant beaucoup le hip-hop old-school, que je ne pouvais pas supporter avant, les premiers NTM, Public Enemy ou Wu-Tang Clan. Egalement, des chanteuses comme Amy Winehouse ou certains albums de Madonna (notamment les productions de Mirwais, qui est un ancien Taxi-Girl). La pop électronique, comme les Pet Shop Boys ou Bjork. Mais globalement je continue à écouter en majorité de la musique industrielle et expérimentale. Dans ce genre, Coil et Sigillum S ont été et sont toujours des groupes déterminants pour moi. Les deux ont poussé l'expérimentation à ses limites tout en restant profondément musicaux, et j'adore ce grand écart entre le noise et la mélodie, ou au moins l'harmonie. C'est une sorte d'art total, une musique qui te prend complètement et ne peut pas te laisser indifférent, à l'opposé de ce que Brian Eno définissait comme "ambient music" (music that can be "actively listened to with attention or as easily ignored, depending on the choice of the listener") - même si par ailleurs j'aime beaucoup la musique de Eno.
Coil autant que Sigillum S ont parfois développé des morceaux qui sont véritablement psychotropes, qui jouent avec tes perceptions et ton mental. C'est aussi ce que j'essaie de faire à mon niveau avec Admin Dada.
Comment procèdes tu pour travailler tes morceaux ?
Pour le moment je travaille tout ou quasiment tout sur ordinateur dans un DAW (Ableton Live! en ce qui me concerne). Le projet est de me reconstruire bientôt un studio digne de ce nom où je pourrai installer mes bécanes, pédales d'effets et autres, mais pour l'instant je ne sais pas quand cela sera possible. J'espère bientôt, ça me permettrait de pouvoir répéter et envisager de faire du live.
Tu joues a la fois avec des sonorités bruitistes, psychédéliques, mais aussi de très belles mélopées comme sur "Trois morceaux en forme de poire d'angoisse". Comment ces sonorités s'imposent à toi ?
Ça peut prendre des formes très différentes. Des fois je m'installe devant l'ordinateur sans aucune idée préconçue, je combine des sons et des effets un peu au hasard, et très vite une idée, une amorce se dégage. D'autres fois au contraire j'ai un son très précis, ou un enchaînement harmonique particulier en tête, et il faut absolument que je le retrouve, ou au moins que j'en retrouve l'atmosphère, que je m'en rapproche au plus près. Il m'arrive aussi, mais plus rarement, de faire des rêves lucides dans lesquels je compose, du coup je n'ai pas le choix, je me lève en pleine nuit, j'allume la machine et j'écris ce à quoi je pensais. Le résultat est rarement identique à ce que je pouvais imaginer, mais il arrive que ce soit l'esquisse d'un morceau intéressant. Certaines mélodies se créent d'elles-mêmes, des larsens qui se combinent et génèrent des harmonies, que je vais juste rendre plus évidentes en les doublant au synthé, j'utilise aussi des samples extrêmement ralentis puis repitchés, ça peut venir de tout. Une fois que tout est plus ou moins en place, ce qui est assez rapide, je vais par contre passer beaucoup de temps sur des détails, des différences que parfois je suis seul à entendre. Mais ce travail ne doit pas être perceptible, j'aime au final avoir un son qui semble venir de soi, être évident, faussement simple.
Si tu devais décrire Admin Dada a un inconnu ?
"C'est un truc que je fais dans ma cave et que je poste ensuite sur internet."
Tes 20 albums préférés de tous les temps ?
Coil - Transparent
Sigillum S - Heteromorphonicks
Weathermen – The Black Album According To
Front 242 - Geography
Cindytalk – In This World
Residents – Commercial Album
Pink Floyd - Ummagumma
King Crimson – In The Court Of The Crimson King
Virgin Prunes - Heresy
LB – Pop Artificielle
Costes - NTMFN
Dissecting Table – Ultimate Psychological Description II
Whitehouse/Nurse With Wound – The 150 Murderous Passions
Merzbow - Venereology
Albeniz – Iberia
Scraping Foetus Off The Wheel - Nail
Die Form – Die Puppe
Death In June – The World That Summer
Kraftwerk – Die Mensch-Maschine
Lustmord – The Monstrous Soul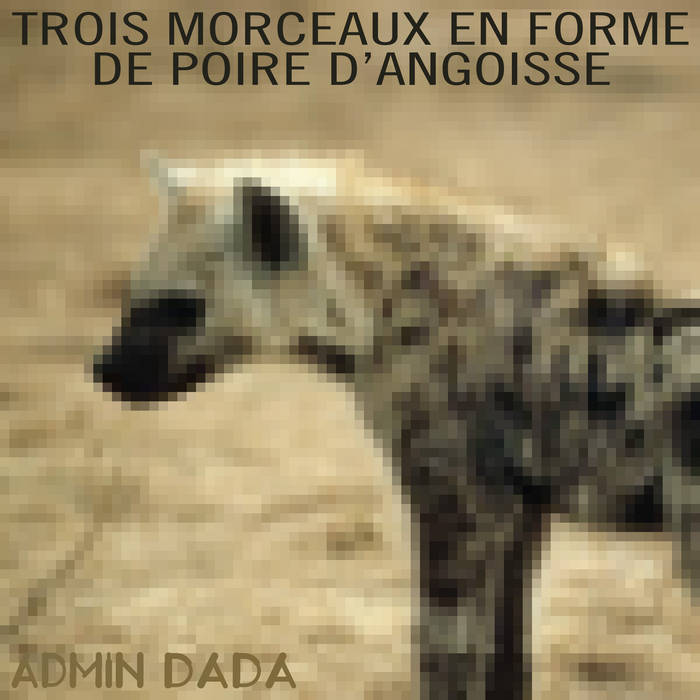 Ta musique diffuse t'elle un message, des idées ?
Avec Admin Dada j'aime jouer avec la polysémie, et laisser l'auditeur créer son propre sens parmi tous ceux possibles. D'où la présence récurrente de jeux de mots dans les titres. Il y a un sens, mais plusieurs significations, parfois contradictoires. L'ambiguïté, la manipulation, l'erreur, le mensonge ou juste la subjectivité des perceptions sont centrales dans ce que je fais. Hormis Noronsoff Intestate dont tous les morceaux sont vocalisés, la grande majorité de ma musique est instrumentale, ce qui me permet de jouer plus finement avec les sensations, sans avoir à les nommer ou les définir. Les titres sont juste des pistes d'interprétations possibles. C'est parfois très cinématique même si le son reste brut, comme du cinéma pour l'oreille, libre à chacun d'imaginer la bribe d'histoire ou la situation qui pourrait aller avec.



Espace libre : ajoutes ce que tu veux :
Encore une fois, merci de ton intérêt pour ce que je fais, c'est important qu'il y ait des gens comme toi pour diffuser la musique underground.
Merci !
THE ENGLISH VERSION
Welcome and thank you for answering my questions.... As I prove it once again, the Scribe is not just Metal! How long have you been making ambient / industrial electronic music?

Hi, and thank you for your interest. Very happy to answer your questions and to be present on your site alongside bands mainly metal but not only, a genre I listen to as an amateur, with things as diverse as Neurosis, Portal, Nefilim, Melvins, Killing Joke, etc..
I've been making sound since I was 16/17, about 30 years old now.
My first project was called De Vermis Mysteriis, in duet with a buddy at the vocals.
We didn't use computers, just hardware, a Juno-60, a DX-7, a QY-10 mini-sequencer that we used rooted in an MS-20, and effects pedals or tweaked stuff in DIY mode.
At the same time I was doing some distribution with a small mail-order, mainly industrial music cassettes that I traded with the bands, directly from the producer to the consumer.
I switched to computers in the late 1990s, mainly because I no longer had a studio to store my equipment and it allowed me to continue making music despite a more nomadic lifestyle. Musically, I had switched to less industrial, more electro or idm sounds. It was a very special time in my life, I spent a few years without a permanent home, I zoned in Dublin and then in Valencia, I came back to France in the early 2000s and I started working as a self-taught developer in Paris. The music had then moved to the background.
Around 2010, things having stabilized a little for me, I started music production more seriously and that was the beginning of my electro project achim.bloch. But I couldn't confine myself to one genre, I felt frustrated by the labels and the limitations they imposed, so I decided to use several monikers, several projects, which have since been used as a broad conceptual framework to create my pieces in a more coherent context. So there is now Noronsoff Intestate, for everything electro-industrial, Bruits Galants, which brings together my noisiest and most extreme compositions, and Admin Dada. I release most of these creations in digital, on my bandcamp label Hammerstein & Waldteufel. However, the first physical release, a 45 rpm limited to 300 copies of Bruits Galants, will be released in September.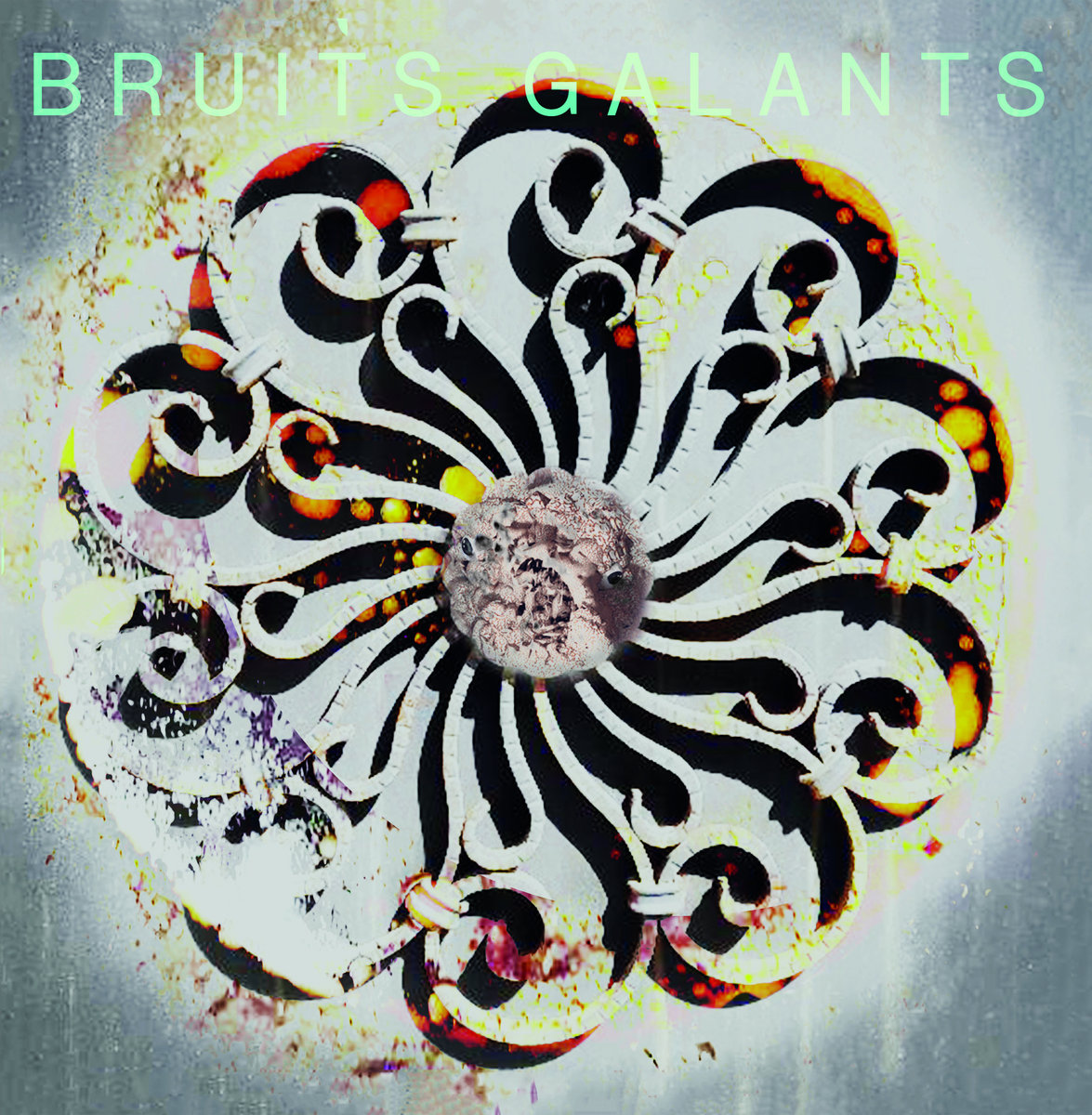 How was this specific Admin Dada project born ?
I was beginning to accumulate "strange" pieces again, between industrial, psychedelic and ambient, and this represented a significant part of my production. The sound sometimes a little bit 70's was also new for me on this scale. It was something I wanted to keep doing, and I needed a public identity to be able to release these tracks together. As a result, Admin Dada has become an obvious choice and a musical entity in its own right. It's more a sensory or emotional coherence than really stylistic, generally speaking I don't understand much about labels, styles and genres in music, for me two pieces fit together or not, they can coexist or not regardless of their rhythmic structure or the type of distortion or voice used in them. The reference to Dadaism does not seem to be just a pun with a dictator's name. There's something about that in your music, isn't there? Completely. I like the "I don't give a shit" side of Dadaism, its iconoclastic and completely disrespectful aspect, which can be found in a certain fringe of contemporary music since the late 70s, with groups like Nurse With Wound, Costes, Yximalloo or Incapacitants. The art of collage, cut-up like Burroughs, the part left to chance and error as creative elements, I also like it a lot. The human will of the creator must however remain present, the purely random stuff is generally quite annoying, but the whole domain, the whole grey area that extends between total control and total release is very rich creatively and emotionally speaking. The mind must guide the sound rather than constrain it. I also have a taste for the decadent movement that immediately preceded Dadaism, writers like Huysmans or Jean Lorrain, painters like Odilon Redon, Schiele or Klimt. Irony, dark humour and myth merge happily, like a desperate and distanced celebration of a civilization at its technical peak but at the end of the day and in moral and philosophical dead end. Sometimes I have this dreamlike image, a disillusioned dandy at the top of his ivory tower, with a glass of champagne in his hand, contemplating the world destroying itself in "Suburb 13" mode. Or as in Romero's first zombie movies.
Who are your references in music ?
I really listen to a lot of different things. On the one hand I'm 46 years old, so I've had time in my life to realize that good music can come from anywhere, that the underground doesn't necessarily guarantee quality and that there is good mainstream music. On the other hand, I am lucky enough to have remained curious and always on the lookout for new things, not to have become jaded and to have acquired a generally benevolent a priori when I discover something. And then my taste evolved, things that seemed extreme to me when I was a teenager, like harsh-noise or power-electronics, or in an another genre concrete music, are now part of my daily playlists. I now really like old-school hip-hop, which I couldn't bear before, the first NTM, Public Enemy or Wu-Tang Clan. Also, singers like Amy Winehouse or some Madonna albums (including Mirwais' productions, which is a former Taxi-Girl). Electronic pop, like the Pet Shop Boys or Bjork. But overall I continue to listen mainly to industrial and experimental music. In this genre, Coil and Sigillum S have been and still are key groups for me. Both pushed the experiment to its limits while remaining deeply musical, and I love the big gap between noise and melody, or at least harmony. It's a kind of total art, a music that takes you completely and can't leave you indifferent, unlike what Brian Eno defined as "ambient music" (music that can be "actively listened to with attention or as easily ignored, depending on the choice of the listener") - even if I also really like Eno's music.
Coil as well as Sigillum S have sometimes developed songs that are truly psychotropic, that play with your perceptions and your mind. That's also what I'm trying to do at my level with Admin Dada.

How do you work on your songs?
For the moment I work all or almost all on a computer in a DAW (Ableton Live! as far as I am concerned). The project is to rebuild me a decent studio soon where I will be able to install my machines, effects pedals and others, but for the moment I don't know when that will be possible. I hope soon, it would allow me to rehearse and consider doing live. You play with noisy, psychedelic sounds, but also very beautiful melodies as on "Trois morceaux en forme de poire d'anguoisse". How do these sounds impose themselves on you?
It can take very different forms. Sometimes I sit in front of the computer without any preconceived ideas, I combine sounds and effects a little randomly, and very quickly an idea, a primer emerges. On the contrary, sometimes I have a very precise sound, or a particular harmonic sequence in mind, and I absolutely have to find it, or at least I must find the atmosphere, and get as close as possible to it. It also happens to me, but more rarely, to have lucid dreams in which I compose, so I have no choice but to get up in the middle of the night, I turn on the machine and I write what I was thinking of. The result is rarely the same as I could have imagined, but sometimes it is a sketch of an interesting piece. Some melodies create themselves, feedback that combines and generates harmonies, which I will just make more obvious by doubling them on the synthesizer, I also use extremely slowed down samples then pitch them up back, it can have any source. Once everything is more or less in place, which is quite fast, I will spend a lot of time on details, differences that sometimes I am alone to hear. But this work must not be perceptible, I ultimately like to have a sound that seems to come from itself, to be obvious, falsely simple.
If you had to describe Admin Dada to a stranger?
"It's something I do in my basement and then post on the Internet."
Your 20 favorite albums of all time ?
Coil - Transparent
Sigillum S - Heteromorphonicks
Weathermen – The Black Album According To
Front 242 - Geography
Cindytalk – In This World
Residents – Commercial Album
Pink Floyd - Ummagumma
King Crimson – In The Court Of The Crimson King
Virgin Prunes - Heresy
LB – Pop Artificielle
Costes - NTMFN
Dissecting Table – Ultimate Psychological Description II
Whitehouse/Nurse With Wound – The 150 Murderous Passions
Merzbow - Venereology
Albeniz – Iberia
Scraping Foetus Off The Wheel - Nail
Die Form – Die Puppe
Death In June – The World That Summer
Kraftwerk – Die Mensch-Maschine
Lustmord – The Monstrous Soul
Does your music convey a message, ideas ?
With Admin Dada I like to play with polysemy, and let the listener create their own meaning among all those possible. Hence the recurrent presence of puns in the titles. There isn't one meaning, but several meanings, sometimes contradictory. Ambiguity, manipulation, error, lies or just subjective perceptions are central to what I do. Apart from Noronsoff Intestate, whose songs are all vocalized, the vast majority of my music is instrumental, which allows me to play more finely with sensations, without having to name or define them. The titles are just possible interpretations. It's sometimes very cinematic even if the sound remains raw, like cinema for the ear, free for everyone to imagine the piece of history or the situation that could go with it.
Free space: add what you want:
Again, thank you for your interest in what I'm doing, it's important that there are people like you to spread underground music.
Thank you! Thank you!