Le mal à l'état brut/the purest evil : Interview avec/with Ende - Black Metal - fr+ english
Ende fait partie de ces rares résistants qui perpétuent l'esprit infâme d'un Black Metal qui s'épuise et se rend de plus en plus accessible pour séduire les masses des infidèles. Heureusement que ces vaillants spadassins continuent de prêcher l'évangile du mal en ces temps de politiquement correct galopant et de puritanisme insupportable ! Le Black Metal n'a pas encore définitivement rendu les armes, à vous de supporter les vrais, comme Ende ! Interview avec un vaisseau de noirceur de la morte France...AMSG
Bonjour Ende ! Soyez les bienvenus dans le scribe du rock !
Vous jouez du Black Metal sous cette appellation depuis 2008 ! Déjà douze ans...quel effet ça fait et quel regard rétrospectif vous portez sur votre parcours ?
I.L : Salut et merci pour tes questions. Je suis fier de ce que nous avons réalisé en restant fidèles aux valeurs et à la philosophie qui anime ENDE depuis le début. Douze années partagées en trois périodes particulières qui ont donné la mouture du groupe comme tu la connais aujourd'hui et qui restera immuable jusqu'à la fin.
Votre Black est particulièrement haineux et glacial à la fois...d'où vous viennent vos inspirations ? Quels groupes vous ont le plus marqué ?
I.L : La retranscription de l'univers qui est imaginé est la source du groupe. Il s'agit d'un macrocosme à part et parcouru pour en puiser ce qui est nécessaire. Il est fantasmé et imaginé, ancien et froid, boueux et lugubre, manipulateur et glacial, un lieu de perdition où réside la peste et la haine, et en son centre domine le personnage de la sorcière. Il faudrait plus que de la musique pour exploiter pleinement les images qui animent ENDE.
Le cinéma muet et son visuel, son atmosphère participent intimement à la conception de ce monde, je pense à Nosferatu et Faust de Murnau ou Häxan de Christensens. Un peu plus récent, Le septième sceau de Bergman. L'histoire et la littérature ne sont pas absents, Les Légions Noires et Bathory non plus. C'est ce mélange qui a donné le terreau dont ENDE est issu.
"Goétie Funeste" votre dernier LP en date est une réussite épique et majestueuse ! Pouvez vous nous parler de sa création ?
I.L : L'album a été composé et enregistré de la même façon que ses prédécesseurs. La seule différence est que le mix et le mastering ont été réalisés par Xort, au Drudenhaus Studio. Ayant depuis eu la possibilité de réinstaller mon matériel, je réaliserai de nouveau les albums à venir dans leurs intégralités.
Votre deuxième album "The Rebirth Of I", a fait l'objet d'une réédition en vinyle. C'est un disque particulièrement ténébreux. Dans quel état d'esprit étiez vous lors de sa création ?
I.L : J'ai beaucoup de considération pour cet album, il est la première pierre de ce qu'ENDE est devenu et restera. C'est un point d'honneur à ce qu'il ait été réédité en vinyle, sachant que les formats CD et cassette sont sold-out au label. Nous espérons ce genre de réédition dans le futur pour les autres releases de ENDE qui ne sont plus disponibles également. Nous avons aussi du matériel en stock avec des inédits et des lives, peut-être que nous verrons pour unifier tout cela un jour.
Votre musique dégage de nombreuses effluves magiques...pratiquez vous un art mystique en particulier ?
I.L : La paresse intellectuelle de notre époque a pris une telle importance dans ce monde que réfléchir et concevoir relève déjà d'un certain mysticisme. Le développement des civilisations modernes a donné un avantage croissant aux forces matérielles sur les forces spirituelles, le monde s'embourbe et l'avenir nous échappe.
Je répondrai simplement qu'il est fondamental d'entretenir les chambres ardentes auxquelles nous avons accès, quelques soient les moyens utilisés.
I, Luciferia, en plus des nombreux groupes cultes auxquels tu as contribué (entre autres Osculum Infame) tu joues dans Reverence...peux tu nous donner des nouvelles de ces derniers ?
I.L : Osculum Infame donne quelques concerts, j'espère qu'un album sortira d'ici peu.
Le nouvel album de Glaciation « Ultime éclat » pour lequel j'ai composé les titres « Le rivage » & « Et puis le soufre » est disponible depuis quelques semaines.
Arkhon Infaustus semble être pas mal sur scène et le dernier mini CD est vraiment bon, c'est une très bonne chose.
Seth a fait dernièrement une série de date pour les 20 ans de « Les blessures de l'âme » et il me semble qu'un nouvel album est composé.
Quant à Reverence, nous avons commencé à enregistrer le nouvel album, les batteries sont faites et le visuel est en cours. Pour le reste, nous attendons que le quotidien reprenne son cours habituel pour pouvoir reprendre là où nous nous sommes arrêtés.
Vous avez sorti trois splits...un avec Gotholocaust, l'autre avec Sacrenoir et le tout premier avec Sorcier des Glaces. Pouvez-vous nous dire ce que vous pensez de ces groupes, et comment se sont réalisés ces deux splits ?
I.L : Lors de l'enregistrement de « The rebirth of I », nous avons enregistré quatre autres titres, dont une cover de Bathory, ce sont ces titres qui ont servi au split avec SDG. Monarque a écrit le texte du titre éponyme « Le puits des morts », pour lequel nous nous sommes partagés le chant avec bien évidemment Sebastien, de SDG.
L'année qui suivit cette sortie, Monarque est venu jouer en France, nous les avons accompagnés sur plusieurs dates en France et en Allemagne, notamment. Nous nous connaissions donc déjà et nous nous apprécions, alors quand il a fondé Sacrenoir, il nous a proposé de partager le split. Il s'agit de la production qui annonçait officiellement la naissance de son nouveau projet. Finalement, le cours des choses fait que nous avons tissé un lien particulier avec la scène québécoise.
Un de nos anciens guitaristes live officie dans Gotholocaust, ce qui a permis, entre autre, de partager la scène ensemble à plusieurs reprises et ce, sur plusieurs années. Nous avons eu l'idée commune de partager un split ensemble à un moment, c'était en soit logique.
Au sujet des titres utilisés pour ces 2 EPs, nous avions à l'origine l'idée de sortir un mini CD de quatre titres. Après l'enregistrement de « Goétie Funeste », nous les avons enregistrés à leur tour, puis les projets de ces EPs sont apparus. Nous sommes revenu sur l'idée du mini CD et avons décidé d'utiliser ces titres pour les faces ENDE, d'où leur logique au niveau des titres : Liber Damnatus –Psalm I & II.
Au final, de ces quatre titres, il nous en reste deux, j'espère que nous pourrons les voir sortir un jour prochain.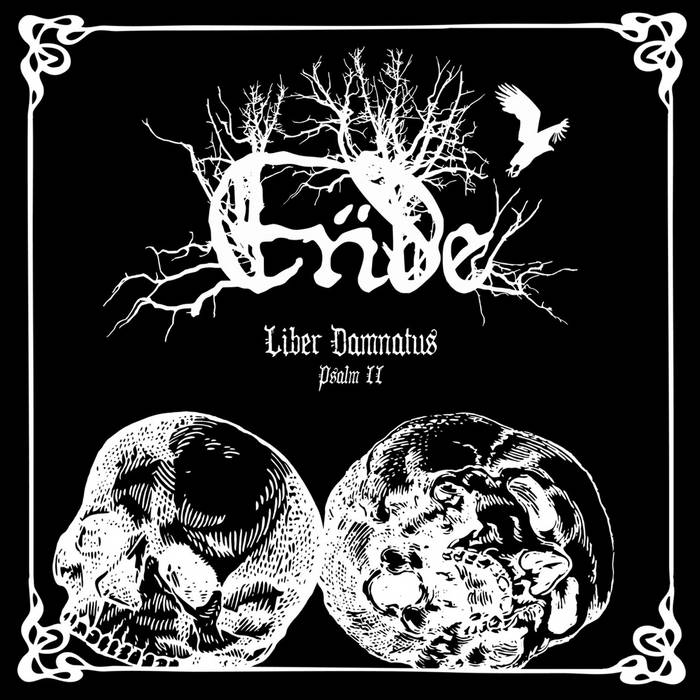 On vous compare a des groupes cultes old school comme Nehemah, Osculum Infame ou Vlad Tepes...Ca vous convient ?
I.L : Comparer un groupe à un autre est subjectif, je ne trouve cela justifié qu'à de rares occasions, sauf peut-être pour les ersatz.
Osculum Infame parce que j'y ai officié, Vlad Tepes, parce que Wlad a participé à ENDE à deux reprises et qu'il est un proche du groupe. Pour Nehëmah, j'imagine parce que nous avons un corbeau dans le logo. Et pour faire une synthèse des trois, peut-être pour l'esprit 90'. Si cela nous convient ? Je crois que cela n'a surtout pas une grande importance.
Comment vivez vous la période de confinement actuelle ?
I.L : A ce stade, cela ne bouleverse pas particulièrement mon quotidien. Les changements notoires seront, j'imagine, l'après confinement. L'Etat semble profiter de la situation pour instaurer de nouvelles normes sociales, de suivis etc. Qu'ils soient bons ou pas, les plus grands changements et les plus grandes avancées ont toujours étés faites en période de guerre ou de crise, nous avons la nôtre.
Si Ende était un proverbe, une citation ?
I.L : Il serait la devise qui est présente dans chacun de nos albums : Et que le feu ruine ce monde.
Quelle est votre vision du Black Metal en 2020 ?
I.L : Tout y est désacralisé, démystifié, humanisé, triggé, léché, terre-à-terre, calculé, recalé, factice… Il n'y a rien de dangereux, l'antithèse de ce que représente le Black Metal. Le terme en lui-même est galvaudé et finalement, peu de groupes en jouent véritablement. Il y a cependant des moutons noirs ici et là qui recrachent des démos ou des albums qui ont conservé ce lien direct avec cet égrégore qu'est le Black Metal, quelque chose qui s'élève au-delà des personnes.
La vérité est que le Mal n'a pas de symbole, n'a pas de patrie ni de sympathie quelconque pour quoi que ce soit. Il est dans toutes les têtes, dans toutes les mouvances, dans tous les recoins du monde.
Il est l'homosexuel qui transgresse les lois de Dieu comme il est l'homophobe qui persécute ou abat l'homosexuel. Il est le régime nazi pour les meurtres en masse au nom de l'ordre, comme il est les alliés qui tuent et détruisent au nom d'une autre bannière comme celle de la liberté. Il se cache dans la maladie comme il se cache dans les remèdes chimiques qui dérivent de la destinée divine les vies qu'ils sauvent.
Le Mal, Satan, Sheitan, la négativité, il n'a pas de nom mais pourtant, présent dans tout atome. Il est pour l'ordre et le chaos, l'oppression et le laxisme. Le Mal guide le terroriste qui assassine, se réjouit du terroriste abattu comme pour le militaire qui l'aura abattu, prenant une vie à son tour.
Il est la religion et l'anti-religion, la glorification et l'humiliation, l'alliance et la discorde. Il est dans le renoncement de la personnalité et l'exaltation sexuelle, la drogue, le libre arbitre, la pédophilie, le meurtre, le viol, le vol. Il est le pour et le contre, avec nous et contre nous et dans ce qui génère une défiance, peu importe l'idée défendue, il ne cherche pas à avoir raison ou tort. Il est le Christ, Allah, Yahvé, Lucifer, Odin et tous les autres étendards existants, pourvu qu'ils engendrent le conflit, la soumission et la rébellion.
Nous vivons dans une époque où le veau d'or est une hydre au nombre de têtes infini. La perdition, peu importe son fondement et sa justification, est l'ultime but. N'importe quel sujet est un terrain fertile et cela a toujours été ainsi. Seuls l'orgueil et l'aveuglement d'une dictature fière offrira le leurre de discuter cet état de fait, mais ce fait discordant n'est-il pas le Mal en lui-même ?
Somme toute, qu'il s'agisse d'une entité à part entière ou d'un sentiment propre à l'Homme, cela a-t-il vraiment une importance? Le Mal n'existe que dans l'esprit de l'Homme, et l'esprit de l'Homme est la forge du monde duquel il s'entoure. Notre espèce est la seule, après des millions d'années d'évolution, à atteindre la quintessence du pire et à conceptualiser le « toujours plus bas » à travers une notion de bien et de mal arbitraire.
Pour finir, le Black Metal n'est en rien un exutoire pour critiquer une religion ou encenser un système (et donc espérer par extension un monde meilleur d'une manière ou d'une autre) si ce n'est que pour drainer encore plus de noirceur. Il n'est qu'un outil comme un autre, un support de propagande pour la crasse la plus pure et ce, d'où qu'elle vienne. Il est l'avènement de l'anéantissement.
Vos albums et/ou groupes fétiches ?
I.L : A froid, je citerai :
Mutiilation « Vampires of black imperial blood »
Mayhem « De mysteriis dom sathannas » & « Live in Leipzig »
Aghast « Hexerei Im Zwielicht Der Finsternis »
Vlad Tepes/Belketre « March to the black holocaust »
Darkthrone « Under a funeral moon »
Bathory « The return » & « Under the sign of the black mark »
King Diamond « Abigail » & « Them »
Graveland « Epilogue & In the Glare of Burning Churches »
Moëvöt, Burzum, Isengard, les vieux Destruction, Black Murder, Iron Maiden, … Il y en aurait d'autres, difficile de tout citer.
"Ajoutes ce que tu veux est l'essentiel de la loi" disait le grand Aleister SCRIBley !
A vous de compléter le blanc qui suit :
I.L : Nous commençons l'enregistrement du nouvel ENDE dans quelques semaines, nous espérons le voir sortir pour octobre prochain, nous verrons bien.
Merci pour ton intérêt & bonne suite.
Merci !
THE PUREST EVIL : INTERVIEW WITH ENDE
Ende is one of those rare resistants who perpetuate the infamous spirit of a Black Metal that is becoming exhausted and more and more accessible to seduce the masses of infidels. Luckily, these brave spadassins continue to preach the gospel of evil in these times of galloping political correctness and unbearable puritanism! Black Metal has not yet definitively given up, it's up to you to support the real ones, like Ende! Interview with a ship of darkness from the dead France...AMSG
Hello Ende! Welcome to the scribe of rock!
You've been playing Black Metal under this name since 2008! Already twelve years old...how does it feel and how do you look back on your career ?
I.L: Hi and thank you for your questions. I'm proud of what we've achieved by staying true to the values and philosophy that has driven ENDE since the beginning. Twelve years shared in three particular periods that gave the group the shape of the band as you know it today and that will remain immutable until the end.
Your Black Metal is particularly hateful and icy at the same time...where do your inspirations come from? Which bands have marked you the most ?
I.L: The retranscription of the universe that is imagined is the source of the band. It's a macrocosm apart, and it's gone through in order to draw from it what is necessary. It is fantasized and imagined, ancient and cold, muddy and gloomy, manipulative and icy, a place of perdition where plague and hatred reside, and in its centre dominates the character of the witch. It would take more than music to fully exploit the images that animate ENDE.
Silent cinema and its visuals, its atmosphere participate intimately in the conception of this world, I think of Nosferatu and Faust by Murnau or Häxan by Christensens. A little more recent, Bergman's The Seventh Seal. History and literature are not absent, neither are the Black Legions and Bathory. It's this mixture that gave ENDE its breeding ground.
"Goétie Funeste" your latest LP is an epic and majestic achievement! Can you tell us about its creation ?
I.L: The album was composed and recorded in the same way as its predecessors. The only difference is that the mixing and mastering was done by Xort, at the Drudenhaus Studio. Having since had the opportunity to reinstall my equipment, I will make the next albums again in their entirety.
Your second album, "The Rebirth Of I", has been re-released on vinyl. It's a particularly dark record. In what state of mind were you in when it was created?
I.L: I have a lot of consideration for this album, it's the first stone of what ENDE has become and will remain. It's a point of honour that it was re-released on vinyl, knowing that the CD and cassette formats are sold out on the label. We hope this kind of re-release in the future for other ENDE releases that are no longer available as well. We also have some material in stock with unreleased and live material, maybe we'll see to unify all this one day.
Your music exudes many magical scents...do you practice a mystical art in particular?
I.L: The intellectual laziness of our time has become so important in this world that thinking and conceiving is already part of a certain mysticism. The development of modern civilizations has given a growing advantage to material forces over spiritual ones, the world is getting bogged down and the future is slipping away from us.
I would simply reply that it is fundamental to maintain the fiery chambers to which we have access, whatever the means used.
I, Luciferia, in addition to the many cult groups to which you have contributed (among others Osculum Infame) you play in Reverence...can you give us some news about them?
I.L: Osculum Infame gives some concerts, I hope that an album will be released soon.
The new album of Glaciation " Ultime éclat " for which I composed the titles " Le rivage " & " Et puis le soufre " is available since a few weeks.
Arkhon Infaustus seems to be quite good on stage and the last mini CD is really good, it's a very good thing.
Seth recently did a series of dates for the 20th anniversary of "Les blessures de l'âme" and it seems to me that a new album has been composed.
As for Reverence, we've started recording the new album, the drums are done and the visuals are in progress. For the rest, we are waiting for the daily life to resume its usual course so that we can pick up where we left off.
You've released three splits...one with Gotholocaust, one with Sacrenoir and the very first one with Sorcier des Glaces. Can you tell us what you think of these bands, and how did these two splits come about?
I.L: During the recording of "The rebirth of I", we recorded four other tracks, including a cover of Bathory, these are the tracks that were used for the split with SDG. Monarque wrote the lyrics for the eponymous title "Le puits des morts", for which we shared the vocals with Sebastien, of SDG, of course.
The year following this release, Monarque came to play in France, we accompanied them on several dates in France and Germany, in particular. So we already knew and liked each other, so when he founded Sacrenoir, he offered us to share the split. This was the production that officially announced the birth of his new project. In the end, the course of events made us forge a special bond with the Quebec scene.
One of our former live guitarists officiates in Gotholocaust, which has allowed us, among other things, to share the stage together on several occasions over several years. We had the common idea of sharing a split together at one point, it was in itself logical.
About the tracks used for these 2 EPs, we originally had the idea to release a mini CD of four tracks. After the recording of "Goétie Funeste", we recorded them in turn, and then the projects for these EPs appeared. We came back to the idea of the mini CD and decided to use these tracks for the ENDE sides, hence the logic behind the titles: Liber Damnatus -Psalm I & II.
In the end, of these four titles, we still have two left, I hope that we can see them released one day soon.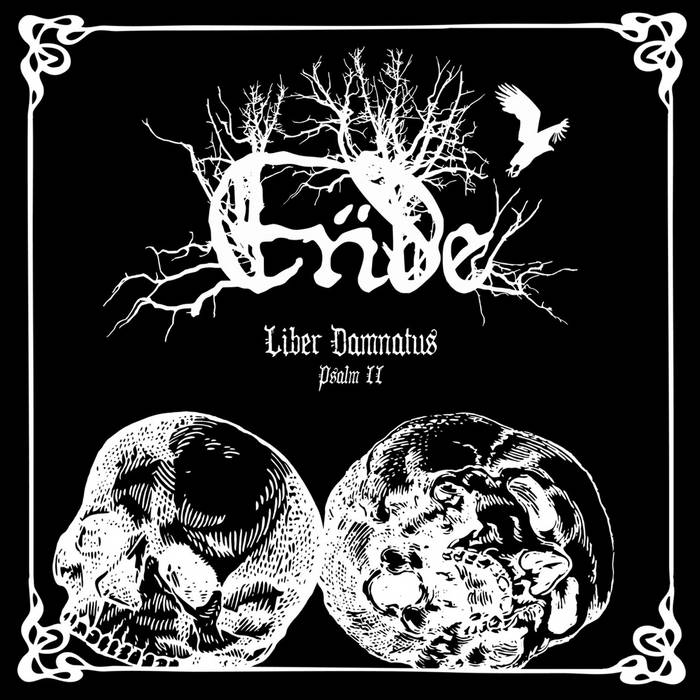 You've been compared to old school cult bands like Nehemah, Osculum Infame or Vlad Tepes...Is that ok with you?
I.L: Comparing one band to another is subjective, I only find it justified on rare occasions, except maybe for ersatz bands.
Osculum Infame because I officiated there, Vlad Tepes, because Wlad participated in ENDE twice and he's a close friend of the band. For Nehëmah, I imagine because we have a raven in the logo. And to make a synthesis of the three, maybe for the 90' spirit. If that suits us? I don't think that's really important.
How are you living the current period of confinement?
I.L: At this stage, it doesn't particularly upset my daily life. The notable changes will be, I imagine, after confinement. The State seems to take advantage of the situation to establish new social standards, monitoring etc.. Whether they are good or not, the greatest changes and the greatest advances have always been made in times of war or crisis, we have our own.
If Ende was a proverb, a quote?
I.L: It would be the motto that is present in each of our albums: And may fire ruin this world.
What is your vision of Black Metal in 2020?
I.L: Everything is desacralized, demystified, humanized, triggied, licked, down-to-earth, calculated, failed, fake... There is nothing dangerous, the antithesis of what Black Metal represents. The term itself is overused and in the end, few bands actually play it. However, there are black sheep here and there who spit out demos or albums that have kept this direct link with this egregore that is Black Metal, something that rises above people.
The truth is that Evil has no symbol, no homeland, no sympathy for anything. It is in every head, in every movement, in every corner of the world.
It is the homosexual who transgresses the laws of God just as it is the homophobe who persecutes or slaughters the homosexual. He is the Nazi regime for mass murder in the name of order, just as he is the allies who kill and destroy in the name of another banner such as freedom. He hides in sickness as he hides in the chemical remedies that derive from divine destiny the lives they save.
Evil, Satan, Sheitan, negativity, it has no name, yet it is present in every atom. It is for order and chaos, oppression and laxity. Evil guides the terrorist who murders, rejoices for the terrorist who is shot as for the soldier who shoots him, taking a life in his turn.
It is religion and anti-religion, glorification and humiliation, covenant and discord. It is in the renunciation of personality and sexual exaltation, drugs, free will, pedophilia, murder, rape, robbery. He is in the pros and cons, with us and against us and in that which generates mistrust, no matter what idea is defended, he does not seek to be right or wrong. He is Christ, Allah, Yahweh, Lucifer, Odin and all other existing standards, provided they generate conflict, submission and rebellion.
We live in a time when the golden calf is a hydra with an infinite number of heads. Perdition, no matter its basis and justification, is the ultimate goal. Any subject is fertile ground and it has always been so. Only the pride and blindness of a proud dictatorship will provide the lure to discuss this state of affairs, but is not this discordant fact evil in itself?
After all, whether it is an entity in its own right or a human feeling, does it really matter? Evil exists only in the spirit of Man, and the spirit of Man is the forge of the world around him. Our species is the only one, after millions of years of evolution, to reach the quintessence of the worst and to conceptualize the "ever lower" through an arbitrary notion of good and evil.
Finally, Black Metal is not an outlet to criticize a religion or praise a system (and thus hope by extension for a better world in one way or another) if only to drain even more darkness. It is just a tool like any other, a propaganda medium for the purest filth, wherever it comes from. He is the advent of annihilation.
Your fetish albums and/or bands?
I.L: Coldly, I will quote :
Mutilation " Vampires of black imperial blood "
Mayhem "De mysteriis dom sathannas" & "Live in Leipzig"
Aghast " Hexerei Im Zwielicht Der Finsternis "
Vlad Tepes/Belketre " March to the black holocaust "
Darkthrone "Under a funeral moon"
Bathory " The return " & " Under the sign of the black mark "
King Diamond "Abigail" & "Them"
Graveland " Epilogue & In the Glare of Burning Churches "
Moëvöt, Burzum, Isengard, the Old Destruction, Black Murder, Iron Maiden, ... There are others, it's hard to name them all.
"Adding what you want is the essence of the law" said the great Aleister SCRIBley ! It's up to you to fill in the following blank:
I.L: We start the recording of the new ENDE in a few weeks, we hope to see it out by next October, we'll see.
Thanks for your interest & good luck!