PAR LE FEU ET PAR LA FOUDRE ! INTERVIEW AMDUSCIAS - TEMPLE OF BAAL - FR/ENG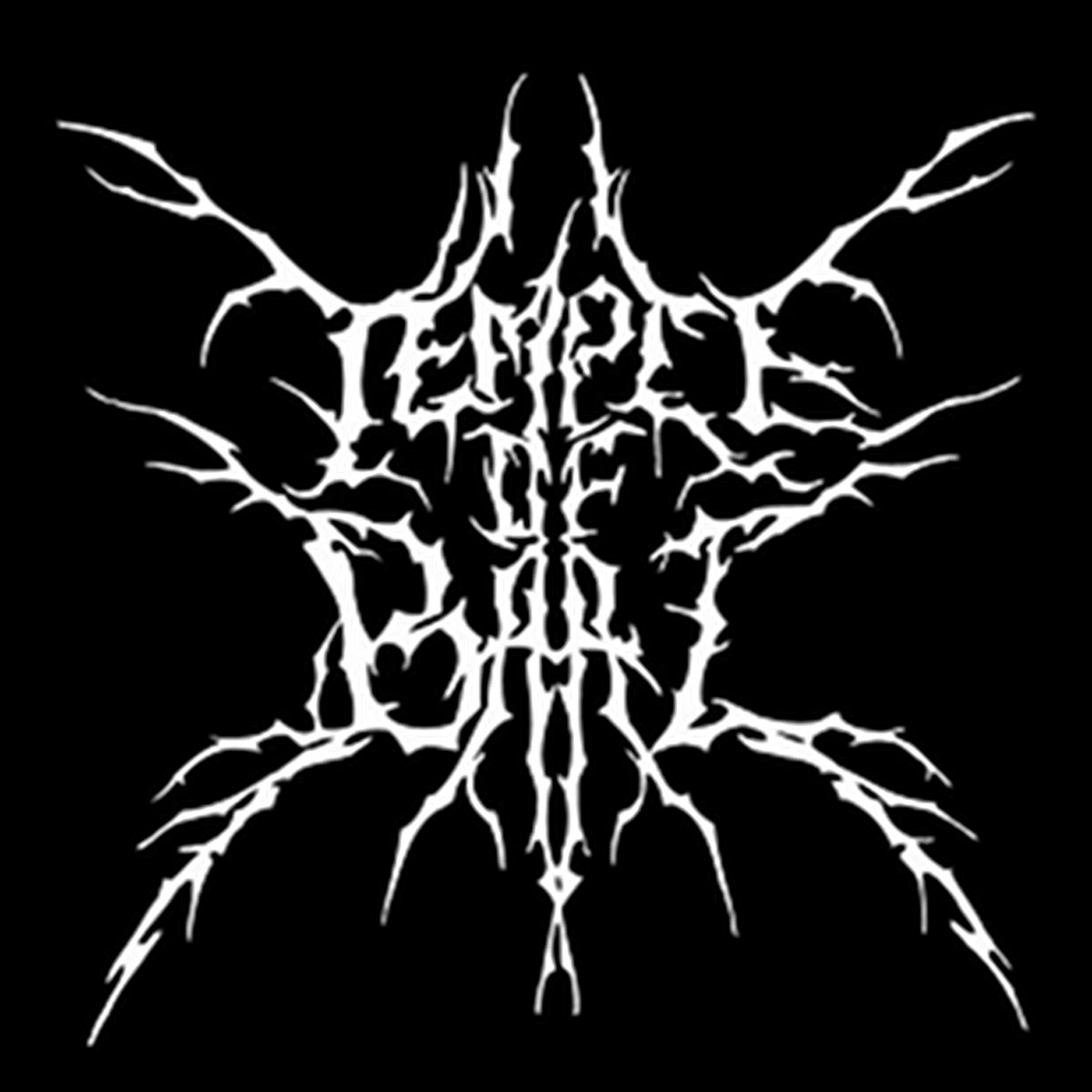 Temple Of Baal est un véritable mythe dans la légende noircie du Black Metal français. Apparus en 1998, ces adeptes d'un BM satanique renforcé d'une puissance de feu Death Metal qui les rend encore plus dangereux, ont décimé des légions d'adeptes sur scène comme sur disque. Amduscias, chanteur/guitariste et leader de la bête, revient avec nous sur les principaux épisodes d'une carrière bien remplie, dont on attend la suite avec impatience...
Bonjour à toi Amduscias et merci de répondre a mes questions. Cette interview ayant pour vocation d'être publiée dans mon livre "Black Metal : 35 ans de Metal Noir d'ici et d'ailleurs" nous allons parler de Black Metal, de Temple Of Baal et de tes divers projets dans ce style, et de ta vision du BM. Peux tu commencer par nous décrire comment s'est passée ta "rencontre" avec le Black Metal ?
Amduscias : Elle a eu lieu en 1994 je crois. A l'époque j'écoutais du Thrash et du Death, comme beaucoup, et j'étais un peu le seul de mon lycée à oser porter une veste à patchs, jusqu'à ce que se pointe ce grand punk de 2m10 de haut qui s'appelait Jean et qui avait un énorme dossard The Exploited. On s'est mis à discuter naturellement et il m'a demandé si j'écoutais du Black. Moi, oui, j'écoutais Venom, mais je ne savais pas qu'il y avait des "nouveaux" groupes de Black Metal ! Le lendemain, il me ramène A Blaze In The Northern Sky, je rentre chez moi, je profite d'être seul et je fous la cassette à fond dans le salon... Je suis tombé à genoux.
Je te sais, comme moi-même, amateur de Death et de Doom. Qu'est ce que le Black Metal a, selon toi, apporté de différent et de particulier par rapport aux autres courants du Metal Extrême ?
Amduscias : Une relation à l'occulte et au domaine du spirituel à laquelle je m'identifie et qui me semblait encore plus profonde et plus sincère que ce que je pouvais trouver dans les autres styles musicaux que je connaissais auparavant. Cela a résonné en moi. J'adore le reste, et il y a de la spiritualité dans le Doom également même si elle est différente, je reste également au fond de moi-même un invétéré Thrasher, mais le Black Metal, foncièrement Sataniste puis plus tard occulte au sens plus large du terme, était différent et le sera toujours. Il y a peut être une relation à l'esthétique sonore également, le fait que les premiers disques de Black Metal aient un son très brut et sale, comme Darkthrone le faisait, mettait cette musique à portée du musicien amateur. On entendait que c'était fait sur des petits amplis à transistors, des trucs que tu pouvais acheter 500 francs, la batterie avait également un son très acoustique, en fait ces albums avaient des productions de démo, avec, en plus, beaucoup de reverb et de delay sur la voix, et ça conférait à l'ensemble une atmosphère cryptique, vraiment prenante. J'y retrouvais un peu ce que j'avais trouvé sur la démo Feasting The Beast d'Amon/Deicide, dans une version magnifiée et encore plus profonde. Bref, ça me parlait, ça me semblait fait pour moi, et ça paraissait également à portée sur un plan technique, alors que les studios de référence type Morrisound ou Sunlight représentaient quelque chose d'inatteignable, nécessitant un budget qui nous semblait faramineux ! Il ne faut pas non plus oublier qu'à l'époque, personne dans le monde ne s'intéressait à la scène française, sortir un disque, même en autoprod, relevait de l'exploit dans les années 90. A l'écoute d'A Blaze In The Northern Sky, je me suis dit que les choses allaient forcément changer. On avait "le droit" d'enregistrer un album avec un son sale, démo, et cela pouvait même être une recherche, on pouvait même enregistrer un disque sur un 4 pistes à cassettes, en bravant tous les "interdits" sonores des ingénieurs du son qualifiés. Donc une nouvelle ère s'ouvrait. Et pour l'inspiration, j'avais avec moi le bagage, les expériences et lectures occultes. La scène, quant à elle, avait ce côté "secte" qui m'excitait vraiment, parce que tout passait par les fanzines, par les cassettes, qui représentaient des trésors qu'il fallait dénicher, ce n'était donc pas à la portée de tout le monde, il y avait vraiment un côté univers parallèle, accessible à une poignée d'initiés, et quand tu as entre 18 et 20 ans, faire partie de ça, c'est un véritable booster pour la créativité et l'inspiration.
Vous fondez Temple Of Baal en 1998, avec une première démo qui voit le jour en 99 ("Satanas Lux Solis"). Quel était l'état d'esprit dans lequel vous avez fondé ce groupe, quels objectifs vous aviez a l'époque, quelles influences ?
Les objectifs, à la base, étaient simplement de sortir notre musique au format démo puis album, de faire des concerts, et de porter la parole d'un Black Metal pur, à l'inverse du Black Metal symphonique et surproduit qui était à la mode à l'époque. Nos influences : Darkthrone évidemment, Mayhem, Bathory, Dodheimsgard, les premiers Carpathian Forest, la première période de Behemoth, Absu, Celtic Frost, Hellhammer, Sodom, Kreator, Destruction...
Au niveau purement chronologique vous appartenez a ce que certains considèrent comme une "3ème vague du Black Metal" après la première dans les années 80 (Venom, Bathory, Hellhammer/Celtic Frost, Sodom...) et la deuxième fin 80 début 90 (Mayhem, Burzum, Hadès, Darkthrone...). Quelle est ta vision de ces deux périodes, quels groupes t'ont le plus marqué parmi ces "historiques".
A peu près tous les groupes que tu cites nous ont marqué de façon indélébile à l'exception d'Hades sur lequel je n'ai jamais vraiment accroché. J'ai toujours eu un intérêt pour les groupes plus anciens, pour les influences des groupes que j'écoute, en général. Je lisais beaucoup d'interviews, et quand je tombais sur un nom de groupe que je ne connaissais pas, j'essayais de trouver le moyen d'écouter. Et cela a toujours été vrai, en matière de Black Metal ou non, j'aime savoir d'où viennent les groupes qui me plaisent, et faire des découvertes.
Le BM avait une aura maléfique dans les 90's qui s'est un peu perdue aujourd'hui, notamment avec la multiplication de sous-genres plus "inoffensifs". Comment vois tu cela ?
C'est dommage mais c'était prévisible. Le Black Metal est un style ancien, maintenant ! Comme tous les styles, avec le temps, il évolue, il mute, certaines choses restent très intéressantes du point de vue purement musical, après... Certains groupes actuels n'ont plus la connexion avec l'au delà qui me parlait à l'époque, il y a même du Black Metal "athée" ce qui pour moi n'a pas de sens mais qu'est-ce que j'y peux... A l'inverse, pas mal de groupes jouent à fond la carte pseudo -ou réellement- ésotérique, et se perdent dans des gimmicks visuels ou olfactifs... Mais ils sonnent tous pareil, font tous les mêmes arpèges, je n'y trouve aucun intérêt, je reviens très vite à mes vieux Darkthrone...
Avec votre premier album "Servants Of The Beast" vous donnez dans un Black Metal plutôt Old School et teinté de Thrash. Pas tentés par le BM "dissonant" ou "avant gardiste" ?
Pas du tout, le but était de faire du Black Metal, pas un cocktail musical hype. Le Black "dissonant" n'existait pas d'ailleurs, c'est Deathspell Omega qui initié ça surtout. Le Black Avant Gardiste était représenté par Arcturus que j'adore, et quelques autres noms moins connus comme Anubi par exemple, mais ça restait très marginal, et nous, ce qui nous parlait, c'était le Black Metal originel, le son sale, le riff accrocheur, l'atmosphère aussi bien sûr, mais nous voulions rester très basiques et directs.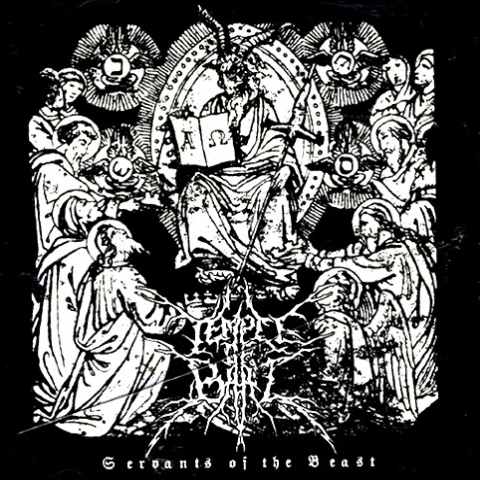 Quelles étaient vos relations avec d'autres groupes de l'époque ? Je pense aux plus vieux comme les légions, Gorgon ou le concilium, mais aussi des contemporains comme Antaeus (avec qui tu as joué) et autres ?
Nous avions surtout des rapports avec les groupes parisiens, absolument pas par snobisme, mais c'était comme ça. Antaeus reste un groupe dont nous sommes restés très proches, il y avait également Eternal Majesty avec lequel nous avions sorti un split sur End All Life, je correspondais pas mal avec Kult of Azazel aux USA aussi. Watain également, dont nous sommes restés assez proches d'une certaine manière. Erik a beaucoup fait pour solidifier la scène à l'époque, avec son fanzine Hellish Massacre, qui a été une sorte de creuset, une communauté d'esprits, autour de la scène qui formait le renouveau Black Metal que l'on a appelé "orthodoxe". Nous écoutions beaucoup les groupes des Black Legions (on disait Black Legions à l'époque, et non "Les Légions Noires"), en particulier le split Vlad Tepes/Belketre que je continue à trouver intouchable en la matière, et Mütiilation bien sûr. Nous n'avions cependant pas de rapport avec eux, jusqu'à ce que Meyhnac'h (Mütiilation) n'intègre Hell Militia, dans lequel officie toujours Arkdaemon, mais cela n'a pas pour autant affecté Temple of Baal.
En 2005 avec "Traitors Of Mankind" vous imposez de nouveau ce Black très "True" et Thrash a la fois. Tu nous en parles un peu ?
A l'époque de Traitors To Mankind, nous avions injecté un peu plus de Thrash dans le Black Metal de Temple of Baal, on pouvait également trouver quelques traces de Death Metal dans le morceau titre ou Flames of Baal, notre musique se développait mais restait tout de même foncièrement Black Metal. C'est un album lié à énormément de souvenirs... Je traversais à l'époque une période compliquée de ma vie pendant laquelle me suis pas mal abîmé, mais justement cela a influencé la composition du disque, ce qui lui confère un feeling assez particulier, je trouve. Nous étions parti l'enregistrer avec Ludovic Tournier dans la région Lyonnaise et nous avions passé une semaine là bas, en immersion totale, sans réel contact avec notre quotidien, c'était vraiment appréciable. Je continue à apprécier énormément Traitors To Mankind aujourd'hui encore plus qu'à l'époque. Les morceaux sont taillés pour le live, mais les atmosphères sont tout de même très présentes, avec des morceaux comme Bleeding Thoughts. Les paroles étaient plus personnelles que sur Servants Of The Beast, toujours en relation avec une dimension occulte, mais elles reflétaient assez bien le mal être que je ressentais à l'époque, j'ai vraiment mis mes tripes là dedans. Nous avions également un nouveau batteur en la personne d'Antares, qui avait appris les morceaux en quelques semaines, ce qui a rajouté une certaine urgence au caractère déjà tourmenté de cet album. Beaucoup considèrent ce disque comme notre meilleur, je ne sais pas si c'est vrai, j'aime chacun de nos albums pour des raisons différentes et chaque album a ses morceaux forts, mais je peux entendre que cet album parle à certains plus que les autres disques de Temple of Baal, c'est certain.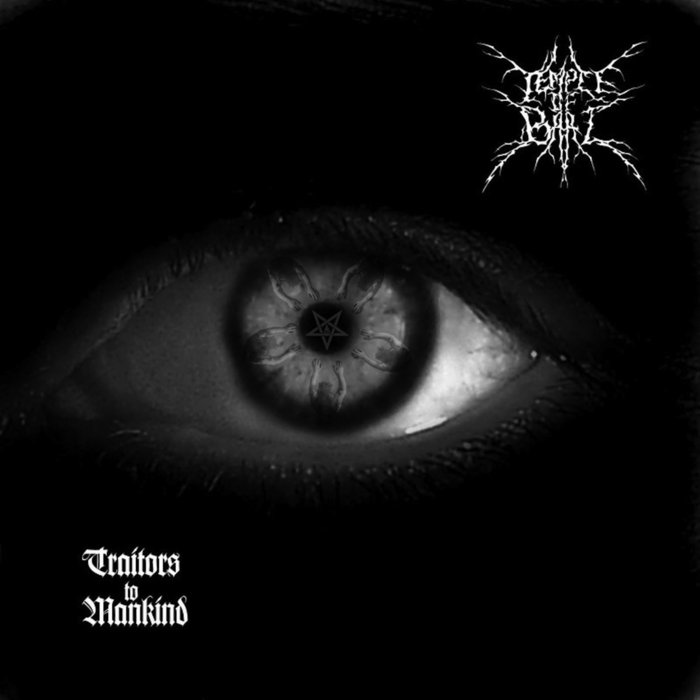 Pour avoir eu la chance de vous voir en live, je vous ai trouvé littéralement possédés et envoûtants. J'avais l'impression de ne plus être sur terre ! Quel est votre relation a l'occulte, la spiritualité, la philosophie, et pensez vous que le Black Metal se doit d'être mystique ?
Le Black Metal se doit d'être mystique, occulte, si ce n'est pas le cas ce n'est pas du Black Metal. Ensuite, la relation des musiciens à l'occulte reste pour moi un chemin très personnel et peut prendre diverses formes au long de l'existence, ça me parait même normal en fait qu'il y ait des changements au fur et à mesure que l'on apprend pour ainsi dire. Je ne comprends pas le Black Metal athée, sans relation à l'occulte et au spirituel. Pour ma part je suis passé au fil de ces longues années d'une vision très simpliste du Satanisme, à quelque chose de beaucoup plus complet, que j'aurais même du mal à définir, mais la relation à "d'autres dimensions" métaphysiques est toujours là, elle a toujours fait partie de moi depuis mon enfance, elle m'accompagne, c'est ainsi. Je parle ici de ma propre vision, mais il m'est difficile de parler pour les autres, l'occulte reste un chemin personnel, chacun y cherche et y trouve ce qu'il veut, ou ce qu'il peut. Ca va en tous cas bien au delà du simple et bête satanisme "evil" adolescent, qui est à mon avis absolument stérile et ne peut pas conduire bien loin. Je vois ça comme une réelle religion, une sorte de recherche d'absolu, cela transcende donc à mon sens toute définition, toute limite que des mots définitifs pourraient poser sur la chose. Il y a des limites, certainement, mais ce sont celles que l'on s'impose à soi-même, elles diffèrent donc d'individu en individu, chacun jouant avec ces dites limites, en les poussant plus ou moins loin selon les différentes étapes de la vie, pour rechercher cet absolu, évidemment indicible et indescriptible par essence. On l'approche, on s'en éloigne, on y revient, à travers des moyens qui encore une fois sont propres à chacun. La musique en est un, pour moi. Il y en a d'autres, à chacun de voir ceux qui vous correspondent.
Pourquoi Temple Of Baal ? Ce Dieu particulier et important vous a t'il particulièrement inspirés ?
A l'origine il y avait cette relation de Baal à l'élément du feu et à la foudre, qui me parlait particulièrement. Baal veut aussi dire Seigneur, donc il peut en fait englober beaucoup de choses. Il y avait en tous cas une dimension destructive/purificatrice qui continue à me parler encore aujourd'hui, consistant, disons, en une façon de "passer les vérités à l'épreuve du feu" et voir ce qu'il en reste. Une sorte d'incarnation divine du sens critique.
Que penses tu de sous courants comme le DSBM, le NSBM, le Black atmosphérique, le Post-Black ?
Les courants dont tu parles revêtent plusieurs aspects, pour certains philosophiques, pour d'autres strictement musicaux. Sur un point strictement musical, le DSBM, le Black atmosphérique et le Post-Black proposent chacun des choses intéressantes, nous avons pu nous-mêmes y tirer quelques influences par moment, tout en restant conformes à notre propre vision, il est hors de question de changer de visage avec la mode... Mais nous restons des musiciens, à l'écoute de ce qui se passe autour de nous, même si aujourd'hui pour ma part, les sorties actuelles ne me parlent pas et je reste ancré dans le Black Metal des années 90. En ce qui concerne le NSBM c'est autre chose, nous n'avons jamais été un groupe politique, nous ne le serons jamais, cela ne nous intéresse pas, et nous ne voulons absolument rien avoir à faire avec ça.
Penses tu que le Black Metal est encore vivant ?
Oui il l'est, des groupes de l'ancienne époque sont toujours présents, certains nouveaux tirent également leur épingle du jeu quoi que j'en dise. Le Black Metal évolue, parfois dans des directions qui me parlent, parfois non, je reste assez traditionaliste dans mon approche, mais après tout, c'est la mienne, n'est-ce pas. Un jeune de 20 ans qui se lance dans le Black Metal aujourd'hui n'a pas grandi dans la même époque, avec les mêmes groupes, nous n'avons donc pas les mêmes références et c'est normal.
Tu as toi même évolué avec le temps. Déjà TOB ont de plus en plus intégré d'éléments Death Metal dans leur musique, et tu t'es lancé dans un excellent groupe de Doom, Conviction. Es tu lassé du Black Metal ? Penses tu en refaire un jour ?
L'insertion de Death Metal dans la musique de Temple of Baal s'est faite naturellement, déjà parce qu'à l'époque de Lightslaying Rituals je voulais faire un disque qui tranche avec le caractère de Traitors To Mankind, et puis parce que le Death Metal faisait partie de notre culture, nous adorions Deicide, Morbid Angel, Carcass, Incantation... Cela a pu conduire à certaines incompréhensions d'ailleurs, mais nous n'avons jamais abandonné le Black Metal, il a toujours été présent, dans chacun de nos disques. Quant à la lassitude... L'inspiration m'a juste abandonné. A l'heure où je te parle, cela fait plusieurs années que je n'ai pas vraiment réussi à composer un morceau de Black Metal, qui me satisfasse, tout du moins. Je préfère donc ne rien sortir, je trouve cela plus intègre, plutôt que de me forcer et de sortir des albums bâclés juste pour entretenir un nom commercialement. Il y aura sûrement un prochain album, mais il sortira quand l'inspiration sera au rendez-vous. Oui, j'ai été lassé par le Black Metal, par une certaine monotonie de la scène, par une certaine routine musicale peut être aussi, j'avais besoin d'autre chose, mais je ne rejette pas l'éventualité d'une suite, il faudra simplement que j'estime que cela vaille la peine d'être mis sur disque.
Tes albums préférés de tous les temps ?
Il y en a trop... Si je dois faire une sélection drastique et rester dans le domaine du Metal je dirais :
Black Sabbath – tout jusqu'à Sabotage, plus les albums avec Dio y compris sous le nom Heaven & Hell
Pentagram – Relentless, Day of Reckoning
Iron Maiden – Killers
Mercyful Fate – Don't Break the Oath
King Diamond – Abigail et Them
Slayer – Decade Of Aggression
Deicide – Feasting The Beast
Morbid Angel – Tout jusqu'à Domination
Cathedral – Forest of Equilibrium
Darkthrone – A Blaze In The Northern Sky, Under A Funeral Moon
Mayhem – De Mysteriis Dom Sathanas
Absu – The Sun Of Tiphareth
Dissection – Storm Of The Light's Bane
Et tant d'autres. Je passerai sur le Rock, la musique classique, le Jazz etc, car sinon je vais te remplir un livre entier.
Que penses tu de ceux qui disent que le Black ou le Death sont des genres adolescents alors que le Doom est un genre plus adulte ?
C'est un gros raccourci de dire une chose pareille, pas mal de musiciens de Death et de Black Metal ont aujourd'hui une cinquantaine d'années et continuent à jouer, et à sortir des albums. Cependant, les albums composés à l'adolescence ou au début de l'âge adulte sont souvent plus forts, plus chargés en émotions, peut être parce que l'on ressent les choses plus violemment à l'adolescence. On tempère beaucoup plus à l'âge adulte, et la création s'assagit souvent, à part pour ceux qui restent d'éternels tourmentés, cela existe, mais se raréfie avec l'âge. La carrière d'Emperor illustre assez bien ce dont je parle, les premiers enregistrements sont vraiment habités, on sent que le groupe touche à quelque chose d'extrêmement puissant, et communie avec cette force. Ils n'ont pas encore 18 ans à l'époque et ils brûlent à l'intérieur. C'est d'une intensité qu'ils n'atteindront plus ensuite. Cela change déjà sur Anthems To The Welkin At Dusk, et la musique devient plus sage, plus technique et moins intense par la suite. C'est pareil pour beaucoup de groupes, Satyricon par exemple, les deux premiers sont complètement personnels et spéciaux, le troisième se standardise, il y a encore des fulgurances sur Rebel Extravaganza, puis cela s'affadit totalement d'album en album. Il y a donc en effet quelque chose de particulier à l'adolescence que l'âge adulte efface petit à petit. Mais "genre adolescent" je n'irai pas jusque là. Certains adultes sont encore capable de folie. Chimera de Mayhem est l'un de leurs meilleurs disques. Les disques d'Abigor restent totalement possédés quasiment trente ans après la création du groupe. Il y a donc, heureusement, des exceptions...
Carte blanche : a toi de conclure !
INTERVIEW WITH TEMPLE OF BAAL
Temple Of Baal is a true myth in the blackened legend of French Black Metal. Appearing in 1998, these followers of a satanic BM reinforced with a Death Metal firepower that makes them even more dangerous, have decimated legions of adepts on stage as well as on record. Amduscias, singer/guitarist and leader of the beast, comes back with us on the main episodes of a well-filled career, the continuation of which we are eagerly awaiting ...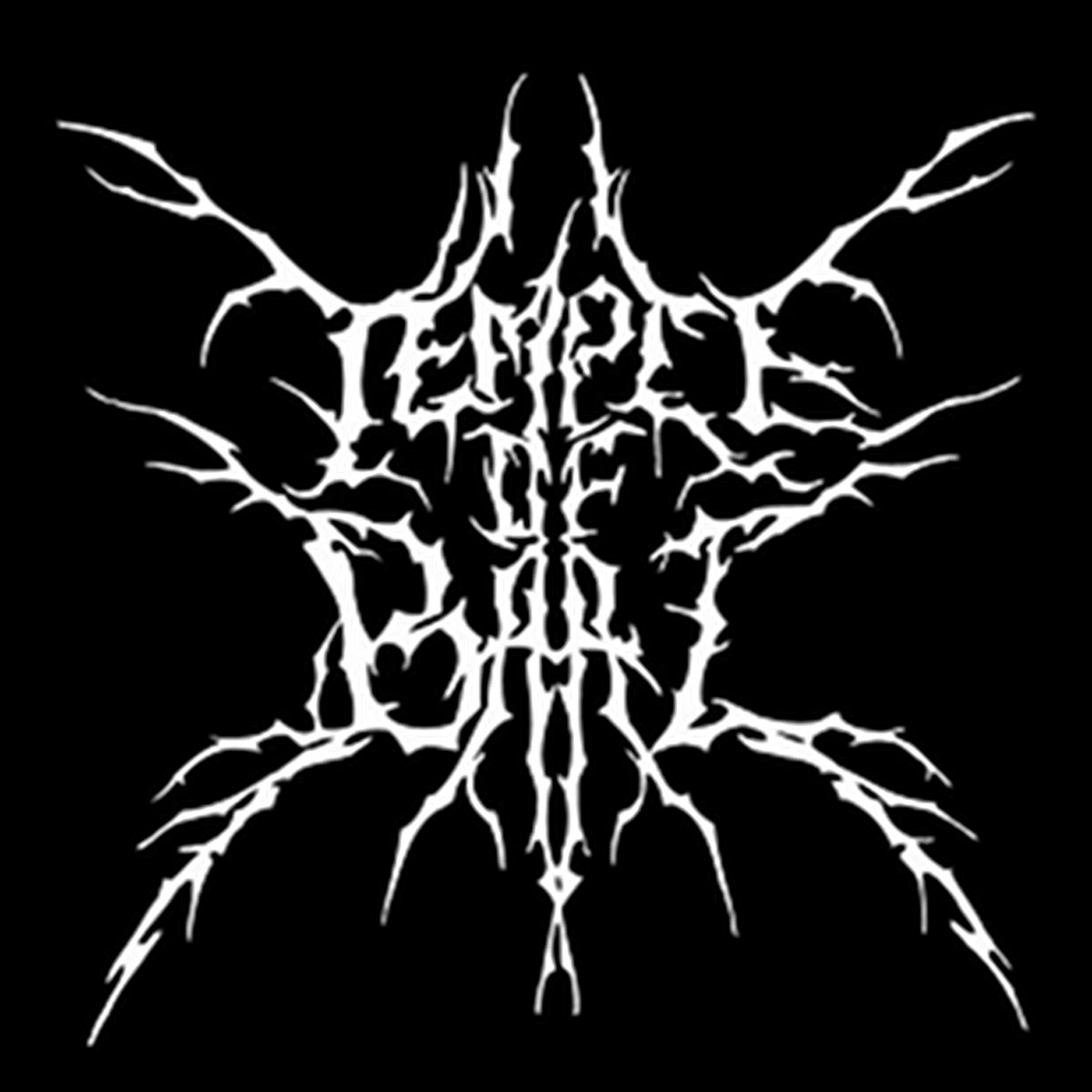 Hello Amduscias and thank you for answering my questions. As this interview will be published in my book "Black Metal: 35 years of Black Metal from here and elsewhere" we will talk about Black Metal, Temple Of Baal and your various projects in this style, and your vision of the BM. Can you start by describing how your "encounter" with Black Metal went ?
Amduscias : It took place in 1994 I think. At that time I listened to Thrash and Death, like many people, and I was the only one in my high school who dared to wear a patch jacket, until this big 2m10 tall punk named Jean, who had a huge The Exploited bib, showed up. We started talking naturally and he asked me if I listened to Black. I was listening to Venom, but I didn't know that there were "new" Black Metal bands! The next day, he brings me back A Blaze In The Northern Sky, I go home, I enjoy being alone and I throw the tape in the living room... I fell to my knees.
I know that you are, like myself, Death and Doom fan. According to you, what has Black Metal brought to the world that is different and particular compared to other currents of Extreme Metal?
Amduscias : A relationship to the occult and the spiritual realm that I identify with and that I felt was even deeper and more sincere than what I could find in other musical styles I knew before. It resonated with me. I love the rest of it, and there is spirituality in Doom as well, even if it is different, I am still deep down inside myself an inveterate Thrasher, but Black Metal, fundamentally Satanist and later occult in the wider sense of the word, was different and will always be different. Maybe there is a relation to the sound aesthetics as well, the fact that the first Black Metal records had a very raw and dirty sound, like Darkthrone did, put this music within the reach of the amateur musician. You could hear that it was done on small transistor amps, stuff you could buy for 500 francs, the drums also had a very acoustic sound, in fact these albums had demo productions, with a lot of reverb and delay on the vocals, and it gave the whole thing a cryptic atmosphere, really captivating. It was a bit like what I had found on the Feasting The Beast demo of Amon/Deicide, in a magnified and even deeper version. In short, it spoke to me, it seemed made for me, and it also seemed within reach on a technical level, whereas reference studios such as Morrisound or Sunlight represented something unattainable, requiring a budget that we thought was astronomical! You shouldn't forget either that at the time, no-one in the world was interested in the French scene, so releasing a record, even a self-produced one, was quite a feat in the 90s. Listening to A Blaze In The Northern Sky, I said to myself that things were bound to change. We had the "right" to record an album with a dirty, demo sound, and that could even be a research, we could even record a record on a 4-track cassette, braving all the "forbidden" sounds of qualified sound engineers. So a new era was opening up. And for inspiration, I had with me the baggage, the occult experiences and readings. As for the stage, there was this "cult" side to it which really excited me, because everything was going through fanzines, cassettes, which represented treasures that had to be unearthed, so it wasn't within everyone's reach, there was really a parallel universe side, accessible to a handful of initiates, and when you're between 18 and 20 years old, being part of that, it's a real booster for creativity and inspiration.
You founded Temple Of Baal in 1998, with a first demo that came out in '99 ("Satanas Lux Solis"). What was the state of mind in which you founded this band, what were your goals at the time, what were your influences?
The objectives, basically, were simply to release our music in demo and album format, to play gigs, and to carry the word of pure Black Metal, as opposed to the symphonic and overproduced Black Metal that was fashionable at the time. Our influences: Darkthrone of course, Mayhem, Bathory, Dodheimsgard, the first Carpathian Forest, the first Behemoth period, Absu, Celtic Frost, Hellhammer, Sodom, Kreator, Destruction...
On a purely chronological level you belong to what some people consider as a "3rd wave of Black Metal" after the first one in the 80's (Venom, Bathory, Hellhammer/Celtic Frost, Sodom...) and the second one in the late 80's and early 90's (Mayhem, Burzum, Hades, Darkthrone...). What is your vision of these two periods, which bands marked you the most among these "historical" ones ?
Almost all the bands you mention have left an indelible mark on us except for Hades which I never really liked. I've always had an interest in older bands, in the influences of the bands I listen to, in general. I would read a lot of interviews, and when I came across a band name I didn't know, I would try to find a way to listen. And this has always been true, in Black Metal or not, I like to know where the bands I like come from, and make discoveries.
The BM had an evil aura in the 90's that is a bit lost today, especially with the multiplication of more "harmless" subgenres. How do you see this?
It's a pity but it was predictable. Black Metal is an old style now! Like all styles, with time, it evolves, it mutates, some things remain very interesting from a purely musical point of view, after... Some bands today don't have the connection with the beyond that used to speak to me at the time, there's even "atheist" Black Metal which doesn't make sense to me but what can I do about it... On the other hand, a lot of bands play the pseudo - or real - esoteric card, and get lost in visual or olfactory gimmicks... But they all sound the same, they all do the same arpeggios, I don't find any interest in it, I come back very quickly to my old Darkthrone...
With your first album "Servants Of The Beast", you play in a rather Old School Black Metal with a Thrash tinge. Not tempted by the "dissonant" or "avant-garde" BM ?
Not at all, the goal was to make Black Metal, not a hype musical cocktail. The "dissonant" Black didn't even exist, it was Deathspell Omega who initiated it. The Black Avant Gardiste was represented by Arcturus that I love, and some other less known names like Anubi for example, but it was still very marginal, and what we were talking about was the original Black Metal, the dirty sound, the catchy riff, the atmosphere as well of course, but we wanted to stay very basic and direct.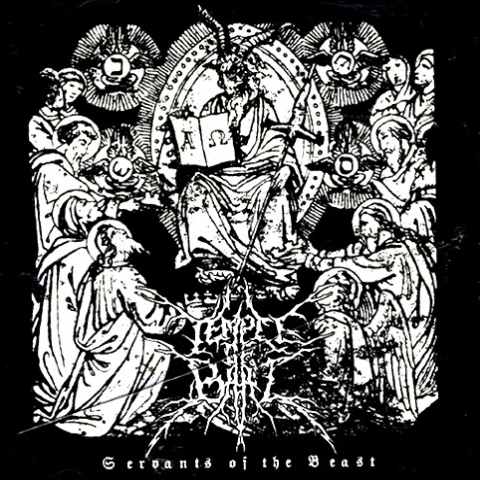 What were your relationships with other bands of the time? I'm thinking of older bands like the legions, Gorgon or the concilium, but also contemporaries like Antaeus (with whom you played) and others?
We mostly had relationships with Parisian bands, absolutely not out of snobbery, but that's the way it was. Antaeus is still a band we're very close to, there was also Eternal Majesty with whom we released a split on End All Life, I corresponded quite a lot with Kult of Azazel in the USA too. Watain too, which we stayed pretty close to in a way. Erik did a lot to solidify the scene at the time, with his fanzine Hellish Massacre, which was a kind of crucible, a community of spirits, around the scene that formed the Black Metal revival that we called "orthodox". We listened a lot to the Black Legions bands (we used to say Black Legions at the time, not "The Black Legions"), especially the Vlad Tepes/Belketre split that I still find untouchable in this matter, and Mütiilation of course. However, we had no relation with them, until Meyhnac'h (Mütiilation) integrates Hell Militia, in which Arkdaemon still officiates, but that didn't affect Temple of Baal.
In 2005 with "Traitors Of Mankind" you impose again this very "True" Black and Thrash at the same time. Can you tell us a little bit about it ?
At the time of Traitors To Mankind, we injected a little more Thrash into the Black Metal of Temple of Baal, we could also find some traces of Death Metal in the title track or Flames of Baal, our music was developing but still remained fundamentally Black Metal. It's an album linked to a lot of memories... I was going through a complicated period of my life at the time, during which I was quite damaged, but this influenced the composition of the record, which gives it a rather particular feeling, I think. We went off to record it with Ludovic Tournier in the Lyon region and we spent a week there in total immersion, without any real contact with our everyday life, it was really enjoyable. I continue to appreciate Traitors To Mankind today even more than I did then. The songs are made for live, but the atmospheres are still very present, with songs like Bleeding Thoughts. The lyrics were more personal than on Servants Of The Beast, always related to an occult dimension, but they reflected pretty well the evil I felt at the time, I really put my gut into it. We also had a new drummer in the person of Antares, who had learned the songs in a few weeks, which added a certain urgency to the already tormented character of this album. A lot of people consider this record as our best, I don't know if it's true, I like each of our albums for different reasons and each album has its strong tracks, but I can hear that this album speaks to some people more than the other Temple of Baal records, that's for sure.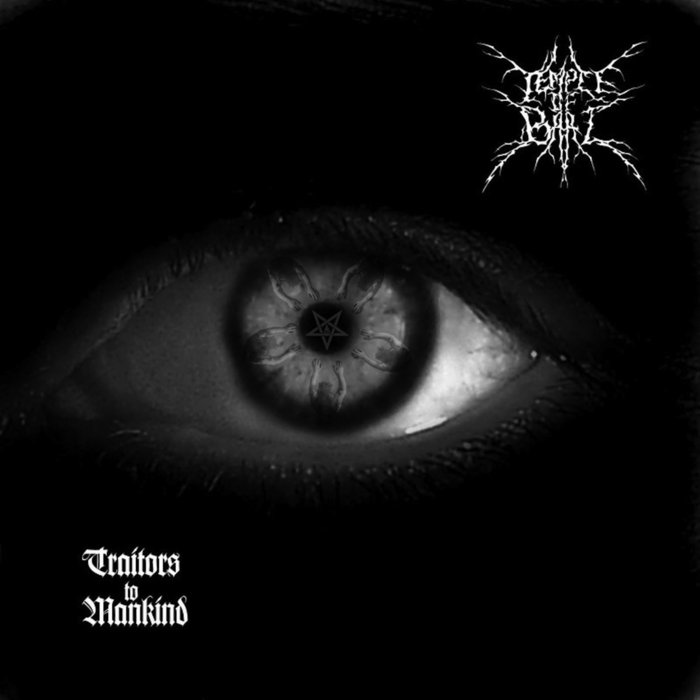 Having had the chance to see you live, I found you literally possessed and bewitching. I felt like I was no longer on earth! What is your relationship to the occult, spirituality, philosophy, and do you think Black Metal should be mystical ?
Black Metal has to be mystical, occult, if it's not, it's not Black Metal. Then, the relationship of musicians to the occult remains for me a very personal path and can take various forms throughout existence, it even seems normal to me that there are changes as we learn, so to speak. I don't understand atheist Black Metal, without any relation to the occult and the spiritual. For my part, I've gone through these long years from a very simplistic vision of Satanism, to something much more complete, which I would even find hard to define, but the relation to "other metaphysical dimensions" is still there, it has always been part of me since my childhood, it accompanies me, that's how it is. I am speaking here of my own vision, but it is difficult for me to speak for others, the occult remains a personal path, each one seeks and finds in it what he wants, or what he can. In any case, it goes far beyond the simple and silly "evil" adolescent Satanism, which in my opinion is absolutely sterile and cannot lead very far. I see it as a real religion, a kind of search for the absolute, so in my opinion it transcends any definition, any limit that definitive words could put on the thing. There are limits, certainly, but they are those that we impose on ourselves, they differ from one individual to another, each one playing with these so-called limits, pushing them more or less far according to the different stages of life, to seek this absolute, obviously unspeakable and indescribable in essence. We approach it, we move away from it, we come back to it, through means which again are specific to each one. Music is one of them, for me. There are others, it's up to each one to see which ones correspond to you.
Why Temple Of Baal? Did this particular and important God particularly inspire you ?
Originally there was this relationship of Baal to the element of fire and lightning, which spoke to me particularly. Baal also means Lord, so it can actually encompass a lot of things. In any case, there was a destructive/purifying dimension that continues to speak to me even today, consisting of, let's say, a way of "putting the truths to the test of fire" and seeing what's left of them. A kind of divine incarnation of the critical sense.
What do you think about sub-currents like DSBM, NSBM, Atmospheric Black, Post-Black?
The currents you're talking about have several aspects, some philosophical, others strictly musical. On a strictly musical point of view, DSBM, Atmospheric Black and Post-Black each offer interesting things, we ourselves have been able to draw some influences from them at times, while remaining in line with our own vision, it's out of the question to change face with fashion... But we remain musicians, listening to what's going on around us, even if today's releases don't speak to me and I remain anchored in the Black Metal of the 90s. As far as the NSBM is concerned it's something else, we've never been a political band, we'll never be, we're not interested in that, and we don't want to have anything to do with it.
Do you think Black Metal is still alive ?
Yes it is, some old bands are still around, some new ones are still alive no matter what I say. Black Metal is evolving, sometimes in directions that speak to me, sometimes not, I'm still quite traditional in my approach, but after all, it's my approach, isn't it. A 20 year old kid who starts Black Metal today didn't grow up in the same time, with the same bands, so we don't have the same references and that's normal.
You yourself have evolved over time. Already TOB have integrated more and more Death Metal elements in their music, and you started a great Doom band, Conviction. Are you tired of Black Metal ? Do you think you'll do it again one day ?
The insertion of Death Metal in the music of Temple of Baal was natural, already because at the time of Lightslaying Rituals I wanted to make a record that contrasts with the character of Traitors To Mankind, and then because Death Metal was part of our culture, we loved Deicide, Morbid Angel, Carcass, Incantation... This may have led to some misunderstandings, but we never gave up Black Metal, it was always present, in each of our records. As for lassitude... Inspiration just gave up on me. At the moment I'm talking to you, it's been several years since I've been able to compose a Black Metal song that satisfies me, at least. So I'd rather not release anything, I think it's more honest, than forcing myself and releasing botched albums just to maintain a commercial name. There will surely be a next album, but it will be released when the inspiration is there. Yes, I've been tired of Black Metal, of a certain monotony of the scene, of a certain musical routine maybe, I needed something else, but I don't reject the possibility of a sequel, I just have to feel that it's worth putting it on record.
Your favourite albums of all time?
There are too many... If I have to make a drastic selection and stay in the Metal business I would say:
Black Sabbath - everything up to Sabotage, plus albums with Dio including Heaven & Hell.
Pentagram - Relentless, Day of Reckoning
Iron Maiden - Killers
Mercyful Fate - Don't Break the Oath
King Diamond - Abigail and Them
Metallica - Kill 'Em All
Slayer - Decade Of Aggression
Deicide - Feasting The Beast
Morbid Angel - Everything until Domination
Cathedral - Forest of Equilibrium
Darkthrone - A Blaze In The Northern Sky, Under A Funeral Moon
Mayhem - De Mysteriis Dom Sathanas
Absu - The Sun Of Tiphareth
Dissection - Storm Of The Light's Bane
And so many others. I'll skip over Rock, Classical, Jazz etc, because if not I'll fill a whole book for you.
Q15: What do you think of those who say that Black or Death are teenage genres while Doom is a more adult genre?
It's a big shortcut to say such a thing, a lot of Death and Black Metal musicians are now in their fifties and still playing and releasing albums. However, albums composed during adolescence or early adulthood are often stronger, more emotionally charged, maybe because you feel things more violently as a teenager. One tempers much more in adulthood, and the creation often becomes less intense, except for those who remain eternally tormented, this exists, but becomes rare with age. Emperor's career illustrates quite well what I'm talking about, the first recordings are really inhabited, you can feel that the band touches something extremely powerful, and communicates with this force. They're not yet 18 at the time and they're burning inside. It's of an intensity that they won't reach afterwards. This is already changing on Anthems To The Welkin At Dusk, and the music becomes wiser, more technical and less intense afterwards. It's the same for a lot of bands, Satyricon for example, the first two are completely personal and special, the third one is getting more standardised, there's still some lightning on Rebel Extravaganza, then it gets totally dulled from album to album. So there's indeed something special about adolescence that adulthood gradually erases. But I wouldn't go so far as to say "teenager-like". Some adults are still capable of madness. Chimera de Mayhem is one of their best records. Abigor's records are still totally owned almost thirty years after the creation of the band. So, fortunately, there are exceptions...
Carte blanche: it's up to you to conclude!
I have nothing to add.