DEPRESSIVE BLACK METAL OMEGA - INTERVIEW AVEC LES CHRYSANTHÈMES DES ADIEUX - FRANCAIS/ANGLAIS
LES CHRYSANTHÈMES DES ADIEUX
"
C'est à la suite d'événements cauchemardesques que j'ai vécu que le déclic de créer un véritable viol sonore naquit. Le but était de créer une musique inerte sans vie et sans âme, une musique à mon image je dirais. "
Bonjour Mahr merci de répondre à mes questions. Peux tu nous présenter Les Chrysanthèmes Des Adieux ?
Bonjour Pierre, merci de me laisser la parole. Les Chrysanthèmes Des Adieux est né en 2014, mais l'idée a germé dans mon esprit vers 2012, C'est à la suite d'événements cauchemardesques que j'ai vécu que le déclic de créer un véritable viol sonore naquit. Le but était de créer une musique inerte sans vie et sans âme, une musique à mon image je dirais.
Alors comme ça l'île de la réunion est propice au DSBM ? On est loin de l'image d'Épinal, là ?
Propice au DSBM ? Oui et non, chacun réagit différemment aux épreuves et aux drames de la vie, rare sont ceux ici à vouloir plonger dans cet d'univers et encore moins dans ce style de vie, (ou peut-être que ces idiots du soleil sont encore à la plage...) Pour tout te dire, je ne connais personne qui fait du black métal dit «dépressif» à la Réunion, je crois même être le seul... En ce qui me concerne, mon histoire, mon passé, mes troubles, forge le ton de ma musique, rien n'a changé et rien ne changera, tout vient d'une incapacité d'adaptation, d'un décalage envers les autres, d'un contexte familial bien particulier, et d'une certaine attirance précoce pour la violence et surtout pour la pyromanie. Le fait d'avoir été un gosse livré à moi même, d'avoir traîné pendant des années tout seul dans des cimetières la nuit, à ramasser des animaux morts dans les caniveaux pour les disséquer, j'ai ainsi très vite développé une attirance pour la mort et l'auto-destruction. Enfant, mon plus grand fantasme était de faire l'amour à une femme décédée et la garder à jamais auprès de moi, à l'adolescence ma sexualité devenait un vrai problème car j'avais des fantasmes de viol et de meurtre. J'étais pris d'une profonde haine envers les Réunionnais, je ne supportais plus leur langue, leur indifférence, leur façon d'être, leur vanité, leur fierté mal placée, leur esprit trop étroit, et le fait de n'avoir jamais eu de vrai foyer m'a fait sentir comme... Seul contre Tous ! Rétroactivement je pense que le Black Métal que je produis s'est nourri de toutes mes frustrations et par cette fascination pour les génocides, pour les crimes de masse (en particulier par la fusillade de Columbine),pour les régimes totalitaires, pour les tueurs en série comme Ottis Toole, Henry Lee Lucas ou encore Gérald Schaeffer, je rêvais moi aussi de passer à l'acte, mais avec le temps, j'ai bouffé ma haine et j'ai fini par accepter le fait de vivre parmi les gens que je méprise le plus au monde, mais la bête est toujours là, j'apprends chaque jours à l'apprivoiser. J'attends avec impatience la venue de cette fameuse grande guerre civile pour que je puisse me lâcher un peu ahah ! J'y laisserai ma peau, mais j'en ai rien à foutre car je n'ai plus rien à perdre.
Il faut dire une chose, la Réunion n'est pas l'île paradisiaque que tout le monde pense et raconte, certes, les paysages sont magnifique, c'est vrai, mais la mentalité des Réunionnais est vraiment lamentable, alors bien sur, il y a des exceptions, mais en général, à chaque fois que je les croise, ou que j'ai le malheur de devoir leur adresser la parole, j'ai l'impression d'avoir a faire à des clones... l'île m'écœure je m'y sens comme un étranger. Individuellement nous ne connaissons même plus nos pays d'origine tellement la culture du métissage est omniprésente. La Réunion n'est vraiment qu'un pot pourri de toutes les putains de sales race humaines au monde et si il y a bien une question que je me pose depuis toujours c'est: «Pour quelles raisons mes ancêtres ont décidé de venir ici ?» ça fait des années que je rêve de revenir sur le sol Européen et retrouver ma vraie patrie.
La tristesse que dégage ta musique est profonde et intense. Quelle est la part autobiographique dans ton oeuvre ?
J'embrasse le déclin depuis longtemps. Depuis l'enfance j'ai tendance à m'abandonner à la mélancolie, je ne parle pas d'un spleen, mais bien d'une maladie qui ronge peu à peu mais auquel tu t'attaches malgré tout. J'étais très isolé et j'avais déjà l'impression à l'époque qu'il y avait un gouffre immense entre les autres et moi-même, j'avais tendance à me dissocier de la réalité. C'est une sensation très étrange que je ressens encore aujourd'hui, comme l'impression que tout n'est qu'un mauvais rêve, que tout n'est pas vraiment réel. Alors oui évidemment qu'il y a une part autobiographique dans LCDA, tu as eu quelques echo avec ma réponse de ta question précédente. Quand j'ai créer le premier album "s'atrophier..." c'était pour moi une nécessité de survie, j'étais psychologiquement et spirituellement au plus bas. Par exemple je ne supportais plus de sortir de chez moi, la lumière du jour m'accablais, me rendais mélancolique, seul, je ruminais et ruminais encore et encore des abus dont j'ai été victime quand j'étais gosse, je perdais la notion du temps, j'avais littéralement la sensation de perdre l'esprit. Alors évidemment ce premier album a été une véritable catastrophe autant musicalement que visuellement, ça donne des titres complètement insensés comme " Contempler les misères cachées dans les distorsions des réalités filtrées" C'est un album à jeter, c'est clair qu'il est raté, mais vu l'état dans lequel j'étais, je ne pouvais le réussir que de cette façon là. Il y a un morceau de cet album qui a vraiment marqué ceux qui l'ont écouté, c'est le morceau "émotions anesthésiées..." dans ce morceau j'avais samplé la voix d'une petite fille qui racontait le calvaire que son père lui faisait subir, certaines personne y ont vu une forme de voyeurisme morbide de ma part, mais il n'en ai rien, la raison pour laquelle j'avais décidé de faire ce morceau c'était tout simplement que je m'étais reconnu à travers cette petite fille et que j'ai voulu faire comprendre aux auditeurs que ce calvaire existe bel et bien, loin de leurs yeux aveugles !
Tu classes ton groupe comme faisant du Metal Noir Mélodramatique. Dur de faire mieux comme appellation ! Le monde dans lequel nous vivons créé t'il donc du DSBM ?
Oui c'est une certaine manière d'appréhender et d'interpréter ma musique, mais je dois avouer que c'est surtout une façon de me foutre de la gueule de ceux qui ne cessent de créer leurs propre étiquette, au final ce que je fais n'est que du black/doom avec des ambiances cinématographiques. Le terme "mélodramatique" colle assez bien à ce style car j'ai tendance à sur-intensifier de façon grotesque les émotions et les thématiques jusqu'au ridicule. LCDA n'existe que pour empoisonner les sens des auditeurs. Que ma mélancolie vous accable pour des siècles et des siècles ! Le monde m'a forcé à emprunter le langage de la musique pour pouvoir communiquer, Ce monde dans lequel nous vivons nous pousse toujours dans nos derniers retranchements, pour ma part je pourrais accuser longtemps cette ile de m'avoir déshumanisé mais ce ne serai pas honnête, il ne faut pas non plus tout reprocher au monde, si je fais cette musique, c'est sans doute qu'il y a une part de masochisme bien ancrée en moi et c'est par faiblesse que je m'y vautre.

Dieu affectionne particulièrement les ratés et pour moi-élu des caniveaux et souverain du désarroi chaque jours a un goût d'échec et chaque nuit une amertume d'ammoniaque alors comme le christ sacrifié je porterai devant vos yeux coupable et avide l'étendard de la médiocrité et ma croix trop lourde
En 2017 tu as sorti un double album absolument fascinant nommé "Vomir ce qui m'a été imposé, tendre vers ce qui m'est inaccessible". Avec de longs titres à la fois mélodiques et extraordinairement mélancoliques. Cet album a du représenter beaucoup de travail et n'a pas du être facile à "accoucher" ! Peux tu nous en parler ?
Ah bah merci, c'est sympa ahahaha !
Avec moi les choses peuvent être extrêmement simple comme elle peuvent être péniblement compliqué, tout dépend de mon état d'esprit, quand j'ai commencé à réaliser cette album, je sortais de l'hôpital psychiatrique, donc j'étais plus ou moins stable grâce au traitement et à l'encadrement, je crois que j'ai bouclé l'album en six mois, sans trop me prendre la tête, finalement ça a été plutôt simple de le composer et de l'enregistrer malgrè le peu de moyen que j'ai. J'en suis assez satisfait sauf pour le chant que je trouve horrible et ça ne risque pas de s'arranger car je me suis pété les cordes vocales quand je gueulais dans un ancien groupe. Quand on est con on est con !
Les groupes qui t'ont le plus marqué ?
J'écoute beaucoup de chose ! Du black évidemment, beaucoup de doom, du noise, de l'expérimental, du jazz, du rap un peu de tout en fait. Mais les groupes qui m'ont le plus marqué sont : Jean Louis Costes, VII, Paysages d'hiver, Worship, Loss, Funeralium, Shining, Xasthur, certains groupes des légions noires, Bethlehem, Forgotten tomb, Sale freux, Brouillard, Nortt, Mourning dawn, Manierisme, Hypothermia,Urfaust, Hate forest, et surtout, le groupe que j'admire le plus: Tümëur. Eclat cadavéreux je te salut! Chapeau l'artiste!
Tu as sorti cette année un titre avec Moyen, artiste que j'apprécie beaucoup et que j'ai interviewé dans ces colonnes. Comment s'est faite la rencontre ?
J'avais une chaîne youtube auparavant et par curiosité je suis allé consulter mes abonnés, il était abonné à ma chaîne le coquin ahahah ! alors je suis allé vérifié le contenu de sa chaîne... et la, je suis tombé sur des ovni musicaux, des clips complètement pété, et des fausses interview, au début je me demandais ce que c'était que ce bordel ! Mais par la suite je me suis rendu compte que c'était quelqu'un de bien plus fin et de bien plus intéressant que ça, alors je l'ai contacté sur sa page facebook, et nous avons sympathisé. J 'ai su alors que ça méthode de travail était de recycler des ébauches que d'autres musiciens jetaient, alors je me suis dit : "tiens, j'ai un morceau qui dors depuis je ne sais combien de temps dans mon disque dur c'est peut-être le moment d'en faire quelque chose d'intéressant et de différent" il a tout de suite accepté. Nous avons donc collaboré et par la suite décidé de le mettre sur cassette. Ce que j'aime bien avec ce mec, c'est qu'on ne peut pas cerner avec précision ce qu'il fait, ni ce qu'il est, il me donne parfois l'impression d'avoir des personnalités multiples ! Et j'aime ce genre d'artiste. Il n'y a pas d'art sans ambiguïté.
Selon toi que produit ta musique ? D'abord sur toi, et sur ton public ?
Faut pas se voiler la face, LCDA n'intéresse pas grand monde. Les gens qui tombe dessus adore, ou déteste totalement !Il y a certaines personne qui comprennent ce que je fais car eux aussi on vécu ce que j'ai vécu, en tout cas personnellement LCDA est un fardeau et en même temps un besoin vital, en combien de fois je me suis dit :"là j'arrête s'en est trop" et le lendemain j'y reviens encore et encore, je ne pense pas que j'arrêterai ce projet un jour, je pense qu'il sera toujours la, car je ne serai jamais en paix avec moi-même, et il aura toujours des moments ou j'aurais le besoin d'exploser. Sans cette musique dégénérée, si je n'avais pas connu le Black Metal, je serais surement aujourd'hui le Fourniret de la Réunion !
Comment vois tu la scène underground en 2019 ? Des coups de coeur ?
Tu sais, je vis à la Réunion, il n'y pas de scène Black Metal ici, c'est une île très isolé de ces courants là. Donc je ne préférerai pas parler de scène. Par contre le nombre de sorti sur le net m'impressionne, mais en général, j'aime pas ahahah ! c'est très fade, tiède. Je n'aime pas la tiédeur, j'ai le goût de l'extrême, dans le bon comme dans le mauvais, mais la tiédeur est à jeter ! Malheureusement pas de coup de coeur cette année...
Tes 20 albums préférés de tous les temps ?
Forgotten tomb - love's burial ground et l'album Song's to leave
Mütilation - Sorrow Galaxie
Worship - Last cd before doomsday
Xasthur - Subliminal Genocide
Mourning Dawn - Les sacrifiés
Maniersime - Everyone has two sides
Paysage d'hiver TOUT ! MAIS ABSOLUMENT TOUT
Abruptum - In Umbra Malitiae Ambulabo
Funeralium - Deceived Idealism
Bethlehem - Dictus te necare
Silencer - Death pierce me
Diagnose lesbengefahr - Transformalin
Navicon Torture techologies - VTERVS
La suite pour Les chrysanthèmes des adieux ?
Le troisième album "Défunte Solène" devrait sortir d'ici Janvier 2020 toujours sous le label France d'oïl productions, en attendant je prépare un EP sur "le silence éternel des espace infini" qui devrait sortir milieu 2020. Sinon l'avenir parait bien sombre, j'ai toujours des soucis de santé, j'essaierai quand même de ne pas crever avant d'avoir fini l'EP en tout cas.
Ajoutes ce que tu veux est la loi, dirait Crowley :
Merci encore pour l'intérêt que tu portes à mon projet, je préfère laisser la dernière phrase à un homme qui me surpasse au plus haut point :
«Nous sommes tous au fond d'un enfer dont chaque instant est un miracle»
THE ENGLISH VERSION
"It is following nightmarish events that I lived that the trigger to create a real sound rape was born. The goal was to create an inert music without life and soul, a music in my image I would say. "
Hello Mahr thank you for answering my questions. Can you introduce Les Chrysanthèmes Des Adieux?
Hello Pierre, thank you for letting me speak. Les Chrysanthèmes Des Adieux was born in 2014, but the idea germinated in my mind around 2012. It is following nightmarish events that I lived that the trigger to create a real sound rape was born. The goal was to create an inert music without life and soul, a music in my image I would say.
So the island of reunion is conducive to DSBM ? We are far from the image of epinal, there ?
Propitious to the DSBM ? Yes and no, everyone reacts differently to the trials and dramas of life, rare are those here who want to dive into this universe and even less into this lifestyle, (or maybe these idiots of the sun are still on the beach ...) To tell you the truth, I don't know anyone who makes black metal called "depressive" in Reunion Island, I even think I'm the only one ... As far as I'm concerned, my history, my past, my troubles, forge the tone of my music, nothing has changed and nothing will change, everything comes from an inability to adapt, a gap towards others, a very particular family context, and a certain early attraction for violence and especially for pyromania. Having been a kid on my own, having hung out for years alone in cemeteries at night, picking up dead animals from the gutters to dissect them, I very quickly developed an attraction for death and self-destruction. As a child, my biggest fantasy was to make love to a dead woman and keep her with me forever, in adolescence my sexuality became a real problem because I had fantasies of rape and murder. I was filled with a deep hatred for the Reunionese, I couldn't stand their language, their indifference, their way of being, their vanity, their misplaced pride, their narrow mind, and the fact that I had never had a real home made me feel like ... Alone against All! Retroactively I think that Black Metal fed on all my frustrations and by this fascination for genocides, for mass crimes (especially by the Columbine shooting), for totalitarian regimes, for serial killers like Ottis Tool, Henry Lee Lucas or Gerard Schaeffer, I too dreamed of doing something about it, but with time, I ate my hatred and ended up accepting the fact that I live among the people I despise the most in the world, but the beast is still there, I learn every day to tame it. I'm looking forward to the coming of this famous great civil war so that I can let loose a little ahah! I'll leave my skin there, but I don't give a damn because I have nothing left to lose.
One thing has to be said, Reunion Island is not the paradise island that everyone thinks and tells, of course, the landscapes are beautiful, it's true, but the mentality of the Reunionese is really lamentable, so of course, there are exceptions, but in general, every time I meet them, or I have the misfortune to have to talk to them, I feel like I'm dealing with clones... the island disgusts me and I feel like a stranger. Individually, we don't even know our countries of origin because the culture of crossbreeding is so omnipresent. Reunion Island is really just a rotten pot of all the fucking dirty human races in the world and if there's one question I've always asked myself it's: "Why did my ancestors decide to come here?" It's been my dream for years to come back to Europe and find my true homeland.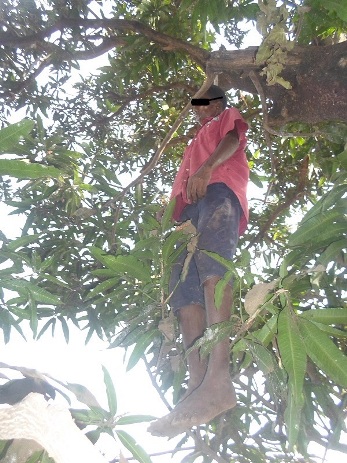 The sadness that your music exudes is deep and intense. What is the autobiographical part in your work?
I've been embracing decline for a long time. Since childhood I have tended to abandon myself to melancholy, I'm not talking about a spleen, but about a disease that eats away at you little by little, but to which you are attached in spite of everything. I was very isolated and I already had the impression at the time that there was a huge gulf between myself and others, I tended to dissociate myself from reality. It's a very strange feeling that I still feel today, like the impression that everything is just a bad dream, that not everything is really real, so yes of course there is an autobiographical part in LCDA, you had some echoes with my answer to your previous question. When I created the first album "s'atrophier..." it was for me a necessity of survival, I was psychologically and spiritually at the bottom. For example, I couldn't bear to leave my house anymore, the daylight was overwhelming me, it made me melancholic, alone, I was ruminating and ruminating again and again about the abuses I was victim of when I was a kid, I lost the notion of time, I literally had the feeling of losing my mind. So obviously this first album was a real disaster both musically and visually, it gives completely insane tracks like "Contemplating the miseries hidden in the distortions of filtered realities". It's a throwaway album, it's clear that it's a failure, but given the state I was in, I could only make it that way. There's one track on this album that really made an impression on those who listened to it, and that's the track "Anesthetised Emotions..."."In that song I sampled the voice of a little girl telling the story of the ordeal her father put her through. Some people have seen it as a form of morbid voyeurism on my part, but it's nothing of the kind. The reason I decided to do that song was simply that I recognised myself through that little girl and I wanted to make listeners understand that this ordeal does exist, far from their blind eyes!
You classify your band as doing Melodramatic Black Metal. It's hard to do better as an appellation! Does the world we live in create DSBM ?
Yes, it's a certain way of apprehending and interpreting my music, but I have to admit that it's mostly a way to make fun of people who keep creating their own labels, in the end what I do is just black/doom with cinematographic atmospheres. The term "melodramatic" fits this style quite well because I tend to grotesquely over-intensify emotions and themes to the point of ridicule. LCDA exists only to poison the senses of the listeners. May my melancholy overwhelm you for centuries and centuries! The world has forced me to borrow the language of music in order to be able to communicate, this world in which we live always pushes us to our limits, for my part I could accuse this island for a long time of having deshumanized me, but that wouldn't be honest, you mustn't blame the world for everything, if I make this music, it's probably because there's a certain amount of masochism ingrained in me and it's out of weakness that I wallow in it. God is particularly fond of failures, and for me, elected from the gutters and sovereign of confusion, every day has a taste of failure and every night a bitterness of ammonia, so like the sacrificed Christ, I will carry before your eyes the banner of mediocrity and my heavy cross, guilty and greedy.
In 2017 you released an absolutely fascinating double album called "Vomir ce qui m'a été imposé, tendre vers ce qui m'est inaccessible". With long tracks that are both melodic and extraordinarily melancholic. This album must have been a lot of work and it must not have been easy to "give birth"! Can you tell us about it ?
Ah well thank you, it's nice ahahahaha! With me things can be extremely simple as they can be painfully complicated, it all depends on my state of mind, when I started making this album, I was just out of the psychiatric hospital, so I was more or less stable thanks to the treatment and the supervision, I think I completed the album in six months, without taking too much of my time, in the end it was quite simple to compose and record it despite the little means I have. I'm pretty happy with it, except for the vocals which I find horrible and it's not likely to get any better because I broke my vocal cords when I was shouting in an old band. When you're stupid you're stupid!
Which bands have marked you the most?
I listen to a lot of things! Black of course, a lot of doom, noise, experimental, jazz, rap, a bit of everything in fact. But the bands that have marked me the most are : Jean Louis Costes, VII, Paysages d'hiver, Worship, Loss, Funeralium, Shining, Xasthur, some black legion bands, Bethlehem, Forgotten tomb, Sale freux, Brouillard, Nortt, Mourning dawn, Manierisme, Hypothermia,Urfaust, Hate forest, and above all, the band I admire the most: Tümëur. I salute you for your brilliant corpse! Hats off to the artist!
You released this year a track with Moyen, an artist I appreciate a lot and that I interviewed in these columns. How was the meeting?
I had a youtube channel before and out of curiosity I went to check my subscribers, he was a subscriber to my channel le coquin ahahah ! so I went to check the content of his channel... and there, I came across musical UFOs, completely farted clips, and fake interviews, at first I wondered what the hell was that ! But then I realized that he's a much sharper and more interesting person than that, so I contacted him on his facebook page, and we liked each other. I knew then that his way of working was to recycle sketches that other musicians were throwing away, so I said to myself: "Well, I've got a song that's been sleeping in my hard disk for I don't know how long, maybe it's time to do something interesting and different with it" he immediately accepted. So we collaborated and then decided to put it on tape. What I like about this guy is that you can't pinpoint exactly what he's doing or who he is, he sometimes gives me the impression of having multiple personalities! And I like that kind of artist. There is no art without amiguity.
What do you think your music produces? First of all on you, and on your audience?
Let's face it, LCDA doesn't interest a lot of people. People who fall on it love it, or totally hate it!There are some people who understand what I'm doing because they too have lived what I've lived, at least personally LCDA is a burden and at the same time a vital need, how many times have I said to myself : "I'm stopping now, it's too much" and the next day I come back again and again, I don't think I'll stop this project one day, I think it will always be there, because I'll never be at peace with myself, and it will always have moments when I'll need to explode. Without this degenerate music, if I hadn't known Black Metal, I would probably be today the Fourniret of Reunion Island!
How do you see the underground scene in 2019 ? Do you have any favorites ?
You know, I live in Reunion Island, there's no Black Metal scene here, it's an island very isolated from these currents. So I'd rather not talk about the scene. On the other hand, the number of releases on the net impresses me, but in general, I don't like ahahah ! it's very bland, lukewarm. I don't like lukewarmness, I have a taste for the extreme, in the good as in the bad, but lukewarmness is to be thrown away! Unfortunately, no crush this year...
Your 20 favorite albums of all time ?
Forgotten tomb - love's burial ground et l'album Song's to leave
Mütilation - Sorrow Galaxie
Worship - Last cd before doomsday
Xasthur - Subliminal Genocide
Mourning Dawn - Les sacrifiés
Maniersime - Everyone has two sides
Paysage d'hiver TOUT ! MAIS ABSOLUMENT TOUT
Abruptum - In Umbra Malitiae Ambulabo
Funeralium - Deceived Idealism
Bethlehem - Dictus te necare
Silencer - Death pierce me
Diagnose lesbengefahr - Transformalin
Navicon Torture techologies - VTERVS
What's next for Les Chrysanthèmes des adieux ?
The third album "Défunte Solène" should be released by January 2020, still under the France d'oïl productions label, in the meantime I'm preparing an EP on "the eternal silence of infinite space" which should be released mid 2020. Otherwise the future looks very dark, I still have health concerns, I'll still try not to die before finishing the EP anyway.
Add what you want is the law, Crowley would say:
Thanks again for your interest in my project, I'd rather leave the last sentence to a man who surpasses me in every way:
"We're all at the bottom of an inferno where every moment is a miracle."
CIORAN